VIENNA ― In just one of many recent tragedies involving refugees bound for Europe, an Austrian autobahn worker found the bodies of 71 people packed in a truck trailer on the side of the road Thursday.
It appears they may have died from suffocation, stuffed like cattle in the back of a truck and left near the border with Hungary. 
Austrian police said that of the 71 dead, 59 were men, 8 were women, and four were children. 
Thousands of men, women and children fleeing en masse toward Western Europe frequently face inhumane and dangerous conditions along the way, often perpetrated by the smugglers tasked with transporting them to safety.  
In interviews with The WorldPost over the past three weeks, migrants and refugees traveling through Turkey, Greece, Macedonia, Hungary, Serbia, Austria and Germany have told similar accounts ― the stuff of nightmares.
"We were put in a closed truck with 90 other people through the [Turkish] mountain roads," said Mohamed, a 28-year-old Syrian former law student, just hours after the Greek coast guard rescued him off the Greek island of Lesbos. "Do we have to die to get here?"
There was no way out of the packed moving vehicle, Mohamed said.
Numerous other refugees who made the same trip backed up his story, explaining there was rarely enough room to sit down. Trucks and other vehicles transport refugees and migrants from places like Izmir, on the Turkish coast, to points where smugglers push off rubber dinghies to Greece. The journey often takes hours; sometimes all night. People routinely get sick and there is no access to food or water, apart from the limited supplies travelers are allowed to bring on board.
It's the first dangerous leg of a journey that thousands brave. The trip, which can seem interminable, takes them through Turkey, Greece, the Balkans and on to Western Europe.
In early August, nearly a dozen Syrians died when a minibus that was packed well over capacity crashed. According to news reports, the bus was bound for the coastal city of Ayvalik, Turkey, where many people board dinghies.
The number of Syrians making the trek has surged in recent years as war ripped apart their country. Iraqis, Afghans, Pakistanis and migrants from other countries also join them. People from north and east Africa often take an arguably even more dangerous route from Libya to Italy.
Along the way, travelers face not only the inhumane conditions smugglers create, but also often police brutality, hostility from locals, mafias and robbers and long walks in intense heat. They often lack food, water and access to medical facilities.
More than 124,000 refugees and migrants have landed on Greek shores this year alone — and that number will likely continue to rise dramatically. People are desperate to make the trip before winter hits and before Hungary completes its planned border fence with Serbia. On Wednesday, as news broke of the refugees found dead on the side of the road, Balkan and Austrian leaders met with German Chancellor Angela Merkel in an effort to find a solution to the humanitarian crisis.  
Many migrants warn each other of the dangers along the route, particularly of the conditions in vehicles and on boats. One trick to surviving the truck ride through Turkey, some said, is to try to stand in the corner, where there is more room to breathe and less chance of getting trampled. Names of "trustworthy" smugglers are distributed across vast networks, from people who have survived the journey to those who have yet to make it.
At the pushoff point in Turkey, people are told to get into tiny, inflatable nubby dinghies, which smugglers purposely overpack to save money. If anyone refuses to get into the boats, smugglers often tell them they will lose the thousands of dollars spent on the trip — even though middlemen usually hold the cash until the passengers make it, to ensure against theft.
The boats routinely take on water and sink, or their engines give out, leaving people stranded between Turkey and Greece, where they risk drowning or being attacked by "commandos" who rob and beat people on migrant boats. 
"These smugglers are demons from the ground," Mohamed said, as family members tried to dry off their soaked clothing next to a makeshift camp in the Greek city of Molyvos. "The smuggler is more intelligent than any politician. He's a fox."
"We're just trying to live!" he continued. "If people opened their borders and let us pay to officially come, we would not have to do this."
Just on Tuesday, rescuers saved 3,000 people trying to make their way across the Mediterranean, but more than 59 others, mostly trapped below deck, died before they could be saved. And on Wednesday a boat carrying migrants capsized off the coast of Libya, possibly killing hundreds.
This year's migrant and refugee death toll on the seas likely surpasses 2,300 people, according to the International Organization for Migration. That number does not include those who have died on the land route to Europe — or those who are still missing.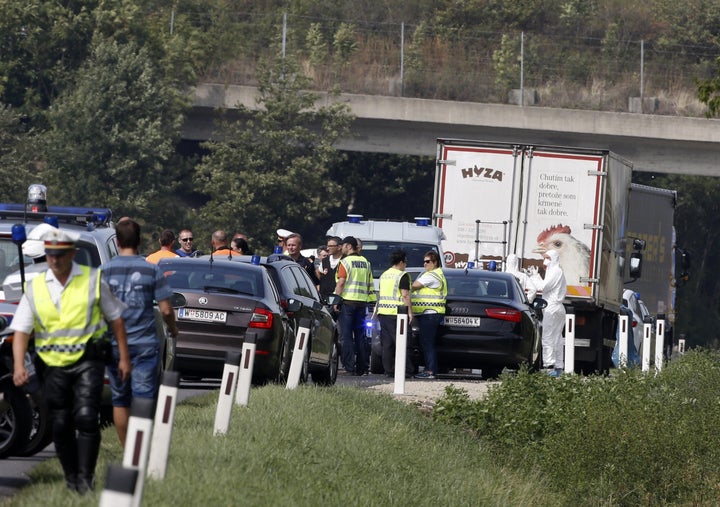 "Oh my god," said Hassan, a 27-year-old Syrian photographer from Damascus, when he heard news of the refugees found dead in Austria. Smugglers drove him through Hungary to Austria just weeks earlier.
"They put [20 to] 25 of us in one van, so some of us couldn't sit down," he recalled, remembering his own cramped trip from the Hungarian border. "From there, all the way to Vienna, it took us around seven hours." 
"Inside the van, the driver was drunk," he continued. "He kept yelling at us in his language, a language we didn't understand. Because there were so many people in the van, the back door broke down and the people who were sitting next to the back door were holding the door for seven hours."
The driver could have easily abandoned them at any point, Hassan said, taking all their money — a staggering 1,250 euros per person for the ride. 
It could have been him found dead in the back of the tractor trailer. 
"I am so lost," said Hassan. He is currently in a European country, but still unable to reach his intended destination. "I am so tired of this whole thing." 
Hiba Dlewati contributed reporting. 
Language has been added to reflect the updated death toll.