ISTANBUL — It was raining in Istanbul on Wednesday morning. As I watched the drops of water spray the street leading to the city's Galatasaray Square, I could still feel the uneasiness in the air. It is true that the coup was behind us, but the sense of anxiety it created still reigns in my city.
I remember seeing passing clouds in Istanbul on Friday, the night of the attempted coup: breezy weather, silent streets, an expectation of another set of terror attacks by the so-called Islamic State. Not even a week has passed, but the weather has turned decisively. Terror plots are forgotten. People feel safe in subways and public squares. They are on the streets, celebrating their defense of the status quo. Vendors are back in business.
It is true that the coup was behind us, but the sense of anxiety it created still reigns in my city.
A chickpea rice seller at Istanbul's Taksim Square, a place with a history of political significance in this country, was hard at work filling plastic plates on Sunday night, two days after the attempted coup. In the past year I've come across this boy a few times every week at his usual spot in front of the luxurious Marmara Hotel, the base for many foreign correspondents who drink and work in its outside cafeteria until the wee hours of the morning. On normal days, the boy sells colorful sock bundles. But on Sunday, the boy was not there. He was about one hundred meters away, serving freshly cooked rice to the numerous Istanbullu — Istanbulites — who filled the area between Taksim Square and the adjoining Gezi Park to protest Friday's failed coup.
As I approached the square, I walked past the TRT radio building, the public broadcaster that had been occupied by soldiers days earlier. Now I could see the silhouettes of a dozen cops sitting on the entrance steps of the radio building. On the evening of the attempted coup, it was eerily silent here; now I couldn't hear the podcast on my iPhone. A police van was waiting opposite the adjacent military building. Two days ago, this street had witnessed heavy fire exchange between police and soldiers who had been dispatched there in an effort to capture key buildings.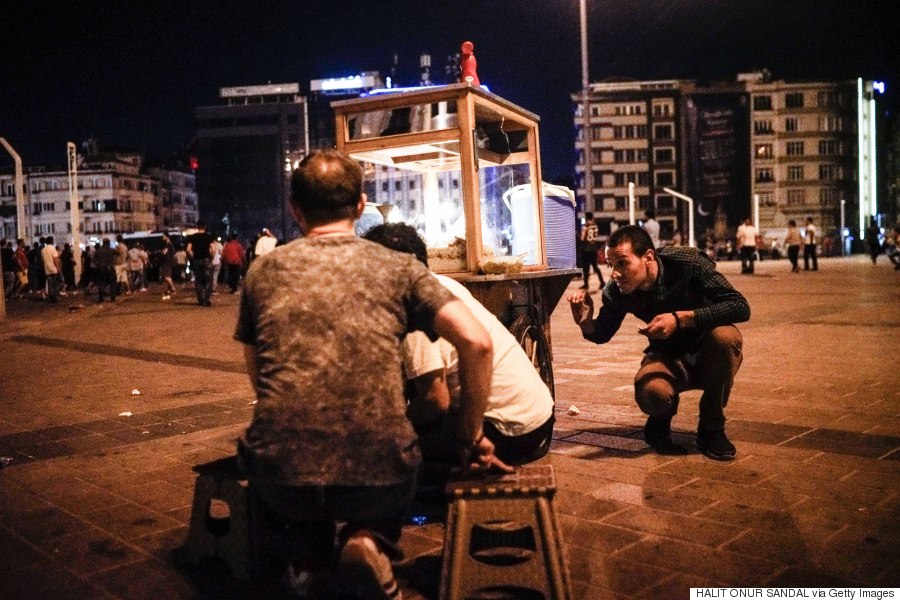 People take cover during clashes at Taksim Square in Istanbul on July 16, 2016. (HALIT ONUR SANDAL/AFP/Getty Images)
There were broken windows and other signs of the fight here and there, but the mood had definitely changed in Istanbul. The atmosphere around the Republic Monument was festive. This 36-foot high monument features leading figures of republican history — Mustafa Kemal Atatürk and İsmet İnönü — as well as Soviet revolutionary leaders Kliment Voroshilov and Mikhail Frunze. Now conservative youth and nationalist men flying Turkish flags were taking selfies next to these figures.
I watched as a middle-aged man climbed the podium to recount his experiences of coup night. His friends had been shot, he said, his tone strongly anti-militaristic, as if in a U.S. anti-war protest during Vietnam. He talked about those who climbed on military tanks with him. People listened, slices of watermelons in their hands. Some were wearing Turkish flags like cloaks. Red light enveloped it all as street lamps flooded the square with brightness. An elderly man warned a passing motorcyclist to slow his speed in such a crowded space.
"I am past 70," he said. "Careful, son. Don't drive so fast among us."
His friends had been shot, one man said, his tone strongly anti-militaristic, as if in a U.S. anti-war protest during Vietnam.
A couple was sleeping on the grass in Gezi Park. People smoked and talked about the night of the coup, in the same way this city's people had done after the massive earthquake in August 1999 — in shock, and hoping to heal through dialogue with strangers.
Public transport has been free in the city after the attempted coup. Cops have become invisible. The humid weather and increased tensions make it impossible for many to stay indoors. For the past four days everything has been in flow in the city. The Monday night following the coup, I talked to a group of youth in Taksim who emphasized the importance of the free flow of information and the arrival of 4.5 G telecommunications infrastructure in the country. Those kept the distribution of information alive, they said.
"I can't do work, Kaya," a friend also telephoned to tell me. "I can't stop checking my smartphone."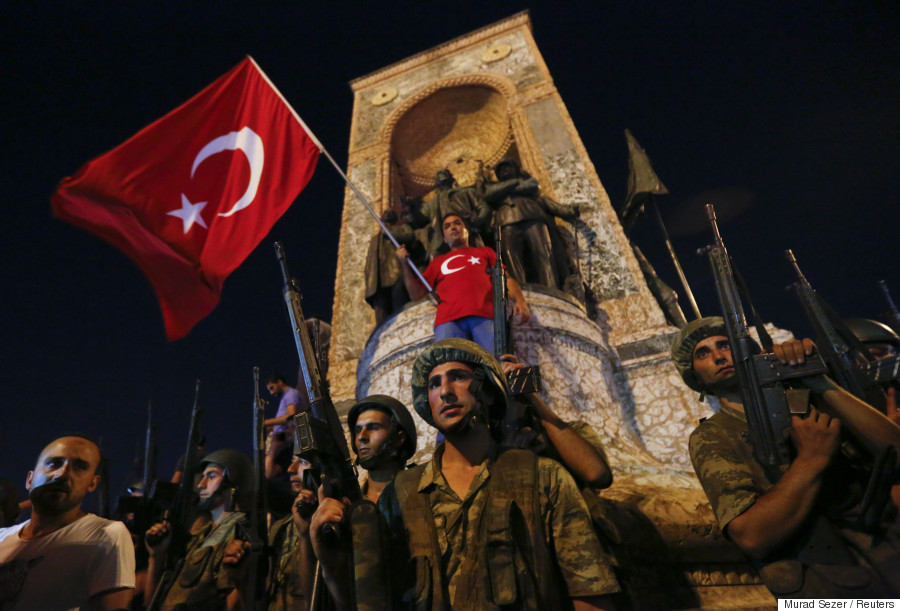 Turkish military stand in front of the Republic Monument at the Taksim Square in Istanbul, Turkey, July 16, 2016. (REUTERS/Murad Sezer)
I don't know if she'd read the great Turkish novelist Ahmet Hamdi Tanpinar who wrote something similar about Turkey not allowing "its children to care for anything besides its own problems," but I was reminded of that.
People have arrived at Taksim from the fringes of the city. One man told me he came from Bayrampaşa. At 1 a.m. when I asked if he often comes to the square at this time, he responded, "I usually sleep at that hour. Got to wake up early for work."
'I haven't slept for three days.'
The pouring out of people during the past few nights has shown what a wide ranging group of people these anti-coup protesters are. I saw secular nationalists, who had been accused of being coup plotters in the past, marching with slogans used in Kemalist rallies; a beautiful girl in a headscarf was chatting with her bearded father who carried a big placard in his right hand; on Twitter I saw the picture of a young protester holding a sign that thanked Beyonce for her support for the victims of Friday night in her Amsterdam concert. The singer dedicated her song "Halo" to people killed in the events.
I called my friend Nagihan Haliloğlu, a literature professor who was in Üsküdar Square across the city. I asked her to describe the mood for me there.
"I am watching a father and son playing football in the courtyard of the mosque in front of which the vigil is taking place," she said. "The club music coming from the cafe nearby, and the occasional communal cheers from the crowd make it sound like a rave party."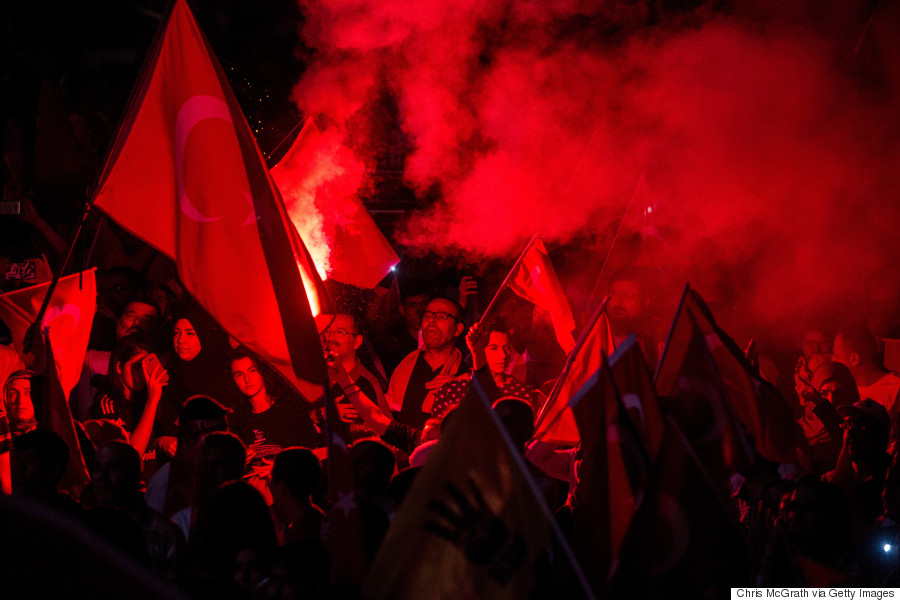 People watch on while Turkey's President Erdogan's speech is broadcast on a big screen in Taksim Square on July 20, 2016 in Istanbul, Turkey. (Chris McGrath/Getty Images)
For those not familiar with the lifestyles of Istanbullu, the people filling the streets in the wake of the coup are often seen as scary figures who lead sheep-like lives in distant neighborhoods where most people are pious. But the reality isn't so stark.
"I haven't slept for three days," a middle-aged protester told me. Like environmental protestors who pitched tents in Gezi Park, he was here for a cause.
Not trying to show any empathy with the people on the street is the greatest way of not understanding what goes on in Turkey these days.
Orhan Pamuk's novel "Snow," and the character who says, "No one could understand us from so far away," comes to mind. Seeing descriptions of these ordinary men and women as "sheep" and "mobs" in some places in the aftermath of the coup, I think of how Pamuk's challenge continues to this day. Not trying to show any empathy with the people on the street is the greatest way of not understanding what goes on in Turkey these days.
In the wee hours of the day I bought a corn on the cob from a street seller and watched the crowd pass in front of me. There were so many motorcycles that I couldn't count them all. There were youth associated with emo subculture and bodybuilders doing the wolf symbol of Turkish nationalists.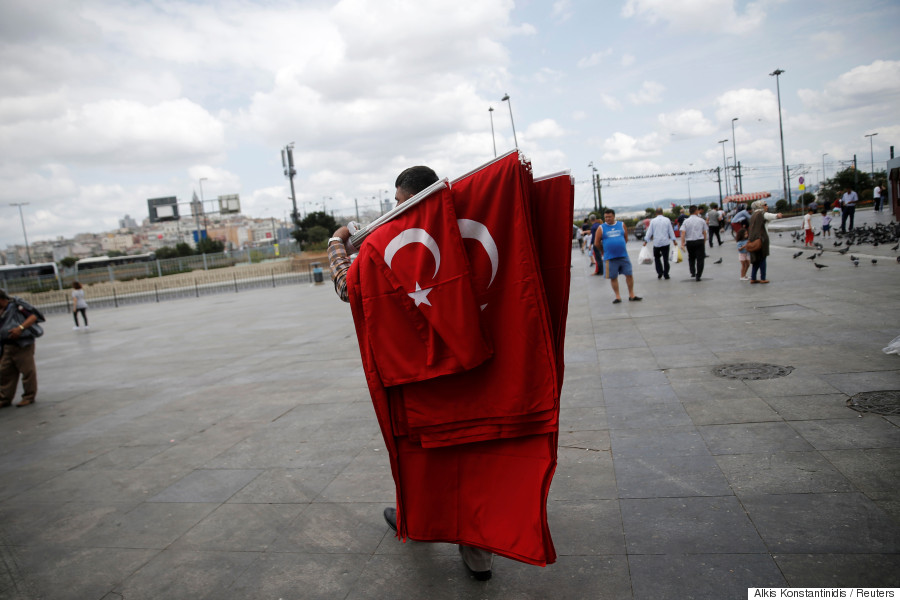 A street vendor sells Turkish flags at Eminonu district in Istanbul, Turkey, July 18, 2016. (REUTERS/Alkis Konstantinidis)
"People hit the road as if on their way to a wedding. Such convoys only appear during wedding ceremonies," Sernur Yassıkaya, a Turkish journalist who spent the night near the police headquarters on Istanbul's Vatan Street, told me. Car horns and cheers made it impossible to hear the rest of what he had to say.
What does the future hold for him or the street seller boy in Taksim Square, or me, I wondered on Wednesday morning, still watching as people anxiously ran away from the summer rain to find somewhere dry — and safe.