Through his new project, Ai Weiwei aims to powerfully illustrate a humanitarian crisis. 
The legendary Chinese artist, best known for his criticisms of the Chinese government, traveled across the globe, capturing the refugee crisis over the course of the year.
The result is "Human Flow," a documentary that features scenes from 23 countries, painting a picture of the experiences of those who have fleed their homes for a better life. 
The film opens in New York and Los Angeles on Friday, on the heels of the artist's New York City art installation "Good Fences Make Good Neighbors." More significantly, the documentary is being released against the backdrop of a contentious travel ban limiting entry from several Muslim-majority countries, first introduced by President Donald Trump in January. In fact, Trump recently capped U.S. refugee resettlement at 45,000 ― an all-time low.
In a way, Ai told HuffPost, his work is a message to the Trump administration. 
"It's about basic human rights. Defending our dignity, defending humanity," Ai said. "The U.S. today has really come to the lowest credit in those issues ― admitting refugees in such a small and unacceptable number and also trying to push out people who have been here for a long time."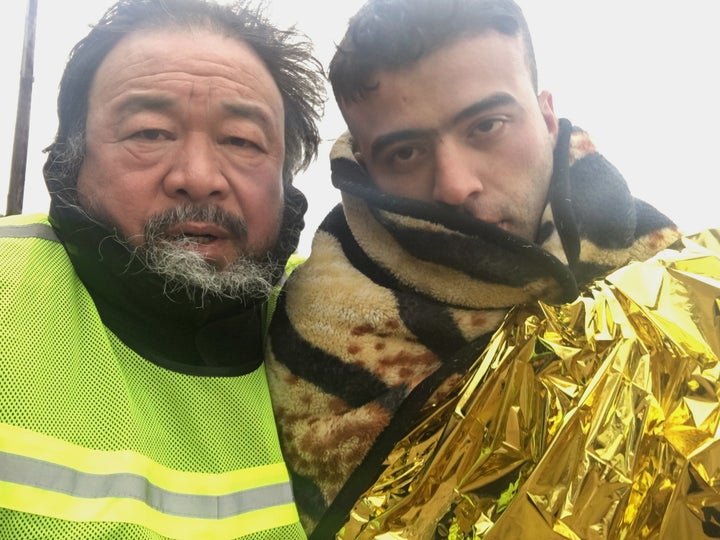 Ai's documentary takes viewers through Greece, Iraq, and Malaysia, among a host of other countries, stressing the massive scale of the human migration. It's shot during a time of "unprecedented" levels of displacement, with more than 65 million people forced from their homes, the UN refugee agency says. 
The refugees are shown making dangerous trips at sea to Greece, others with their belongings strapped to their backs, trekking their way across Europe. More are seen in refugee camps, seemingly attempting to find a shred of normalcy. There are scenes at the U.S.–Mexico border, featuring an uncomfortable encounter with a border patrol guard. Ai makes appearances at some of the locations, often adding moments of levity.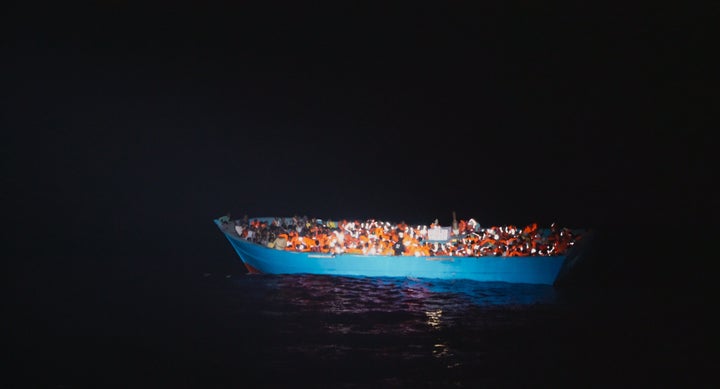 "Human Flow" is also peppered with stunning bird's-eye views of glistening bodies of water and other breathtaking landscapes. Then the camera zooms into the scenery to show dire situations ― people crammed in boats, trying to make it to shore, or refugees in camps searching for food, often waiting for hours. This contradiction shows that the crisis is completely manmade, Ai said. 
"I wanted to put this human crisis in the most powerful, beautiful indifferent nature," he said. "We don't appreciate what's given to human beings. We'd rather create this hatred or war or discrimination. … The nature is very generous, very open to everybody. Humans create the most ugly fences."
Though the documentary tackles crises born out of unique circumstances, the poor treatment of minority communities is a common theme. And it's one that hits home too. 
People of color and immigrant communities have been used as scapegoats at various points in U.S. history and painted as national security or economic threats. In fact, during his campaign, Trump portrayed China as the "economic enemy," which experts felt could be why hate crimes targeting the Asian-American community in Los Angeles County tripled in 2015. Ai has seen this time after time, he says.
"It only shows the narrow understanding of politicians and the public [to think] that someone is stealing jobs," He told HuffPost. "They need to focus on creating jobs. If the economy … declines, they always blame someone else."
While Ai rose to fame for his outspoken statements on freedom of speech and the Chinese Communist Party, his focus on the refugee crisis isn't part of some trend or fad, he insists to HuffPost. His activism is rooted in his experiences as a child, observing the way his father — famed poet Ai Qing — was punished and exiled for his work, he told HuffPost. 
His defense of human rights extends across the globe, he says, much like the film. 
"I always, always think of humanity, human rights [issues] as one. I've never separated it," he told HuffPost. "People think I'm someone against the Communist Party ― Yes, I'm against totalitarian society, but more than that, I am a defender of human rights as a more general condition."