LVIV, Ukraine ― Ernes and Alime Mambetov have been living with their 2-year-old son in the western Ukrainian city of Lviv for a little over a year. Both are practicing Muslims and Crimean Tatars that fled Crimea for mainland Ukraine after Russia's military seized control of the peninsula in 2014.
When they left in June of that year, young Crimean Tatar men were disappearing and reported to be abducted under the new Russian authorities. Ernes feared he could be next.
"When we crossed the border, I felt like a weight had finally been taken off of me," he said.
Both have been warmly received despite the fact Muslims had previously been a rarity in this part of Ukraine. Ernes' well-groomed beard passes for hipster chic, and though Alime wears a headscarf, she said she has never experienced more than an odd look.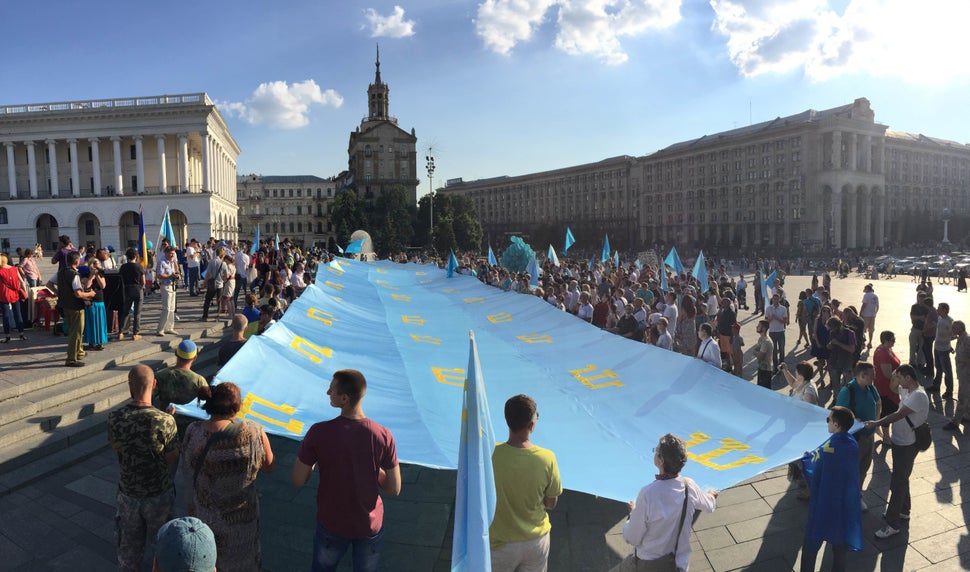 Lviv has a bloody history of ethnic cleansing of Jews and Poles in the 20th century, but in the 21st century it and the surrounding region have become an unlikely refuge for thousands of Muslim Crimean Tatars. The decision for Crimean Tatars to leave Crimea and come here was not easy. Soviet leader Joseph Stalin deported the entire Crimean Tatar population in cattle cars to Central Asia in 1944 and they were only be able to return to Crimea in the 90s after the collapse of the Soviet Union. For those leaving Crimea again now, it has meant losing their homeland a second time. With the continued suppression of Crimean Tatar leaders and other dissidents, including the revival of the Soviet practice of branding dissidents mentally ill and forcing them to undergo psychological testing, it is a decision more and more Crimean Tatars are forced to contemplate.
Fortunately for the Mambetovs, at a time when migration in much of Europe has become a hot-button issue, across Ukraine, Crimean Tatars have been welcomed with open arms. The Maidan revolution that ousted former Ukrainian President Viktor Yanukovych focused Ukrainian values on human rights and the freedom to assemble, expanding acceptance to groups historically discriminated against but seen to share those values. Crimean Tatars stood up for their right to assemble and be heard by protesting the Russian seizure of Crimea and became seen by many as the truest of Ukrainian patriots.
For Crimean Tatars, it has been a massive change in image within Ukraine. Where in the past stereotypes had remained about Crimean Tatars selling Ukrainians to the Ottoman Empire or encouraging modern fundamentalism, now talk about the brotherhood between Crimean Tatars and Ukrainians is a central part of official speeches at rallies.
'Maidan made you ask who you are. You didn't just stand on Maidan, you were standing for something and you needed to understand why.'Mustafa Nayyem
"Maidan made you ask who you are. You didn't just stand on Maidan, you were standing for something and you needed to understand why," said Mustafa Nayyem, a journalist turned member of parliament following the protests.
Nayyem was born into a Pashtun family in Kabul, Afghanistan before moving to Kiev as a child. He is widely credited as an instigator of the Maidan protests after calling people on to the streets via social media and has become one of the most prominent symbols both of the protests and post-Maidan Ukraine.
Nayyem sees Maidan as having made Ukraine a more tolerant place, making Ukrainians for the first time actively question what their values are and placing freedom and tolerance at the center of a new values structure despite economic collapse and war.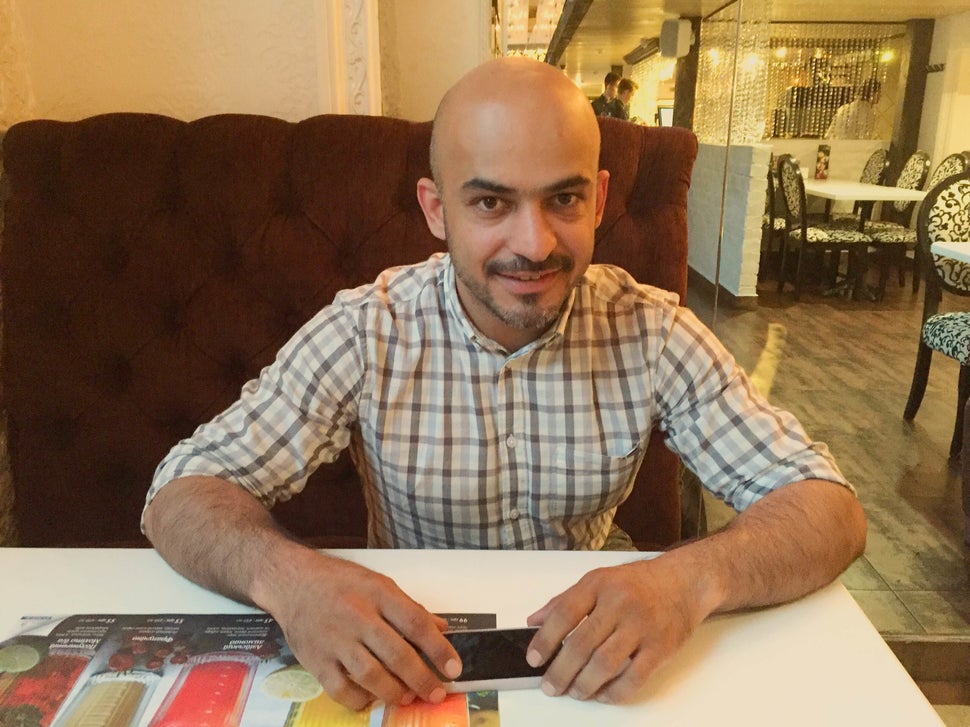 That shift stands in contrast to trends in the United States and the European Union, where populist politicians have argued that Muslims cannot be integrated because they are fundamentally unable to adopt western values. U.S. Republican presidential nominee Donald Trump has argued for a ban on Muslim immigration and similar sentiment has been echoed in parts of Europe. In July in the United States, anti-Muslim sentiment reached a new nadir when Trump dismissed criticism of him made at the Democratic National Convention by the parents of Humayun Khan, a Muslim Army captain killed in 2004 in Iraq, by suggesting Khan's father had made the speech because his mother wasn't allowed to.
In Lviv the reaction has been the opposite. Shortly after Russia forcefully took control of the peninsula in 2014, Lviv Mayor Andriy Sadovyi said the city would take in people from Crimea forced to leave their homes, calling on people to "banish hatred and support unity." Those words were followed by actions when the city provided apartments, created a new Muslim section of the municipal cemetery and allowed the opening of a new Muslim cultural center that includes a mosque. Opening new mosques is usually a near impossibility even in major post-Soviet cities like Moscow where city officials regularly block the building of mosques on new plots.
On a Friday during Ramadan this year in Lviv though, the usual mixture of Crimean Tatars, foreign Muslim students and Slavic converts were gathering to pray at the cultural center. As the sun set, Muslim men in the mosque followed the lead of the imam and broke their fast by beginning to eat the dried fruit laid out across the carpeted floor.
'Everyone listens to [the tragedy of the Tatars] and remembers the tragedy of their own people.'Tamila Tasheva
The new cultural center was named after Muhammad Asad, who was born Leopold Weiss into a Jewish family in Lviv in 1900. He later converted to Islam and became an Islamic scholar. Before the center was built, Syrian Kurd Alan Dakkouri had led the local Muslim community, which was mainly made up of foreign students who had started coming to Lviv through exchange programs first set up in the days of the Soviet Union. He came to study medicine but was stopped from being able to return home by the war in Syria. Instead he decided to stay in Lviv and married a Ukrainian convert to Islam. Though he says Syrian refugees have sometimes made it to Lviv, they have continued on to more prosperous central Europe. Since Russia's annexation of Crimea, the Muslim community in Lviv has become more Crimean Tatar with the arrival of Crimean Tatar internally displaced persons, as well as a new Crimean Tatar imam to run the cultural center.
So far backlash has not occurred in the same vein against Crimean Tatars as there has been towards Muslim migrants and refugees in the European Union. In the EU that backlash led to a burkini ban in France and plans for a partial burqa ban in Germany. It has also fueled support for anti-Muslim groups such as PEGIDA, French far right leader Marine Le Pen and even for the United Kingdom to leave the EU. In Ukraine, I have witnessed right-wing groups rally behind Crimean Tatars as fellow Ukrainian citizens, patriots and allies in the struggle with Russia.
Ukraine's Muslim population is small, estimated at roughly 1 percent of the overall population. Crimean Tatars make up the majority of the Muslim community and the overwhelming majority of Crimean Tatars live in Crimea where they made up some 12 percent of the population, according to the last census, conducted in 2001. That concentration has previously made Crimea the core of Islam in Ukraine, with many Crimean Tatars living in tightly knit communities set up after they occupied land after returning from Central Asia.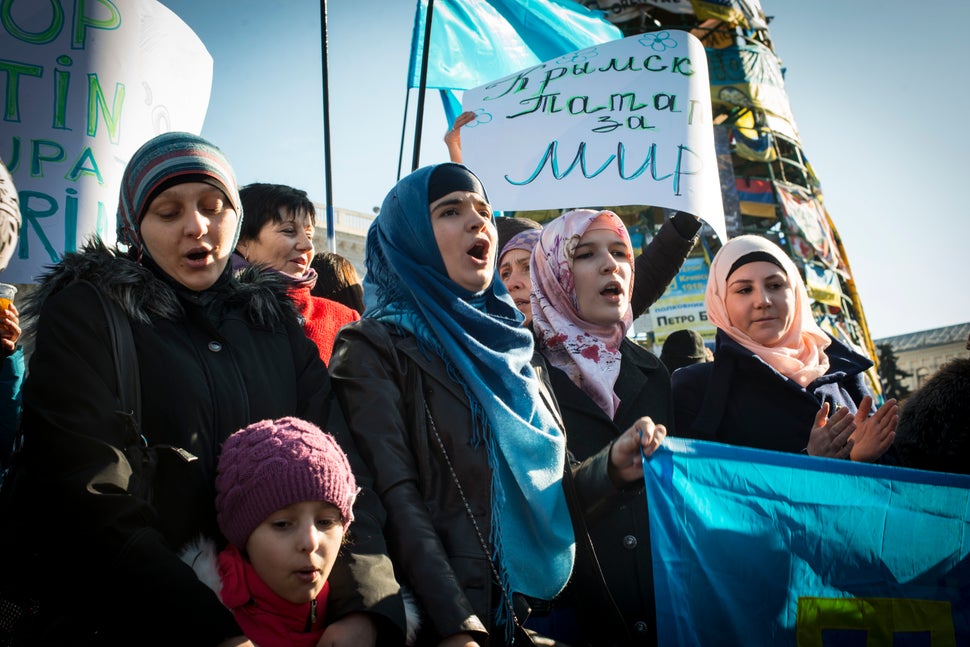 Since the conflict with Russia began, more Crimean Tatars have started living in other parts of Ukraine, forcing Crimean Tatar communities to adapt again, but also giving them a higher profile in Ukrainian society. Crimean Tatar singer Jamala won the Eurovision song contest this year with her song "1944" about Stalin's forced deportation of the Crimean Tatars.
Since winning, Jamala's song has become a sort of second anthem of Ukraine, heard across the country and on ringtones, making Jamala a symbol of post-Maidan Ukraine.
"Everyone listens to that tragedy and remembers the tragedy of their own people," said Crimean Tatar Tamila Tasheva, founder of Crimea SOS, an organization that helps Crimean Tatars and others who have fled the peninsula.
'Crimean Tatars were the most discriminated against by the Ukrainian government and then they turned out to be bigger Ukrainian patriots than Ukrainians themselves.'Mustafa Dzhemilev
Like Jamala, Tasheva was born in Soviet Central Asia after the Crimean Tatars were deported by Stalin during World War II after being declared Nazi collaborators. Both of their families were only to return to Crimea in the 90s when the Soviet Union collapsed and Ukraine became independent. According to Tasheva, many Crimean Tatars lived in temporary structures often without windows, gas or electricity for the first years after returning to Crimea, while still fighting for official residency rights. Now Tasheva helps some of Ukraine's estimated 1.79 million displaced persons find new homes. Though she says the majority are from separatist-controlled eastern Ukraine, Tasheva estimates there are some 50,000 from Crimea. Of those some 2,000 Crimean Tatars have be relocated to the Lviv region, she said.
"I feel the brotherhood and the empathy. Maybe it isn't everyone but there is a sense of guilt that the Ukrainian state couldn't protect us," said Sevgil Musaieva, editor-in-chief of Ukraine's premiere online newspaper Ukrainska Pravda.
But with the values question it is not just an issue of Ukrainian Muslims adopting Ukrainian values. In many ways, the new focus on resistance in spite of a foe who is stronger and commitment to freedom have made Ukrainian values more Crimean Tatar.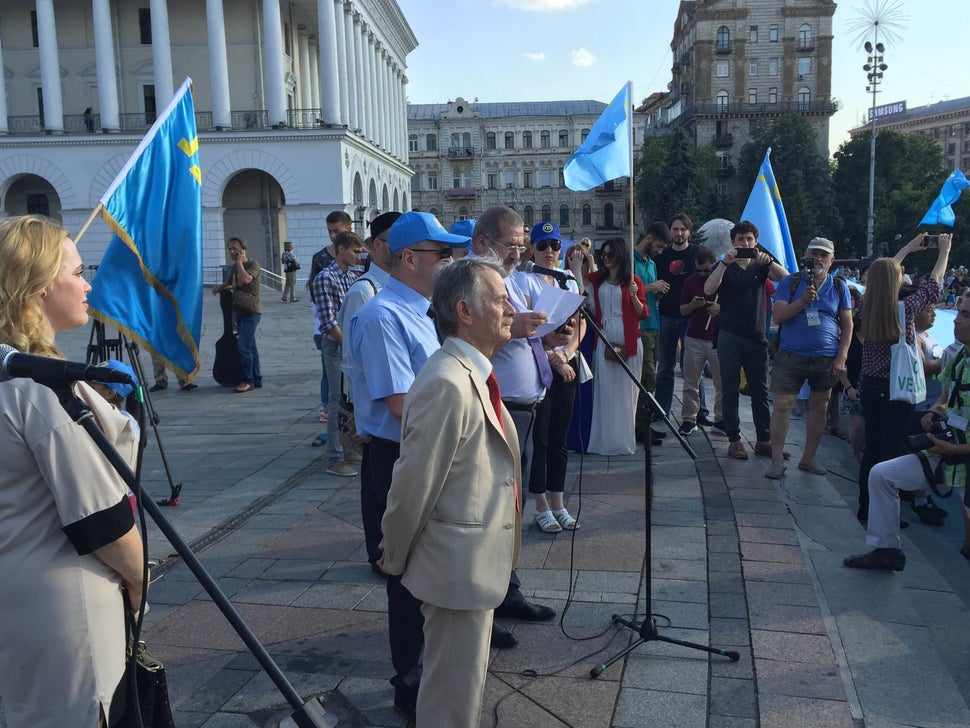 For decades now the epitome of those values has been 72-year-old preeminent Crimean Tatar leader and Ukrainian member of parliament Mustafa Dzhemilev. Only six months old when his family was deported in 1944, he grew up in Soviet Uzbekistan and wanted to study eastern languages and cultures but was denied because of his ethnic background. Sitting in a Tashkent library he was found by other Crimean Tatars working to return to Crimea, who identified him by his ability to read the Arabic script. Dzhemilev went on to become one of the key leaders of the Crimean Tatar protest campaign to return, spending time imprisoned in labor camps and leading one of the longest hunger strikes.
Later after returning to Ukraine, he led protests to win land for the Crimean Tatars, where they non-violently occupied vacant plots and faced off against riot police in scenes not unlike what would later come during the Maidan protests. Away when Russia seized control of Crimea, Dzhemilev has been barred by Moscow from returning and since then his small frame has become an iconic symbol of Ukrainian determination and steadfast resistance.
"It surprised a lot of people. Crimean Tatars were the most discriminated against by the Ukrainian government and then they turned out to be bigger Ukrainian patriots than Ukrainians themselves," he said. "Over the past two years Ukrainians have started to understand that a Ukrainian patriot doesn't have to be an ethnic Ukrainian."
This was produced by The WorldPost, which is published by the Berggruen Institute.