Credits
Nathan Gardels is the editor-in-chief of Noema Magazine.
SACRAMENTO, Calif. — Addressing concerns about the growing influence of special interests on California's initiative process and the decline of voter participation, Gov. Jerry Brown (D) signed legislation Saturday that strengthens legislative and public oversight of ballot measures and increases transparency within a century-old process that has been stubbornly resistant to change.
"SB 1253 strengthens the integrity of the initiative process, which is uniquely influential in California political life," said Nicolas Berggruen, chairman for the Think Long Committee for California. "It introduces transparency of funding while also enabling broader debate and public review so that measures can be modified before they go to the ballot, avoiding unintended consequences."
SB 1253, the Ballot Initiative Transparency Act, was authored by Senate President Pro Tem Darrell Steinberg (D-Sacramento). Under the new law, the legislature holds hearings months before ballots go to print, allowing lawmakers and proponents to make changes, corrections and compromises before ballots go to the voters. Initiative backers also gain the ability to correct mistakes before an initiative appears on the ballot, preventing drafting or legal errors that have led to litigation and confusion. And the law pushes the secretary of state to feature the top funders of proposed initiatives in online ballot materials.
"Together these changes let voters and the legislature see what the ballot might look like months before the election," said Robert Hertzberg, former assembly speaker and Think Long Committee member. "That lets lawmakers get to work on the policy issues at the heart of the various initiatives, make them public, make compromises, and fix errors, so voters get only clear and effective initiatives on their ballots. These changes are about making better public policy and making initiatives serve their intended purpose."
Although California isn't unique in its direct voter participation measures, many see a particular need for a law change in the state.
"California is not the only state to allow direct voter participation through initiatives," said Ronald George, former chief justice of the California Supreme Court and a member of the Think Long Committee. "But too often here, ballot measures are confusing and poorly written, and there has been no chance for initiative backers to make even the most routine changes let alone drive compromise. All of that stands in the way of voter confidence and understanding, and leads to bad policy outcomes."
The changes in the law reflect what voters want to see. Nearly eight in 10 California voters want to see the legislature do more to improve initiatives, want review and revision of measures, and support more clarity and information surrounding initiatives — and their support crosses party lines, according to polling by the Public Policy Institute of California. But according to the PPIC, the last significant reforms to the process date back to 1974.
Other changes in the law: initiative backers can withdraw a measure after petitions and signatures are submitted, but before ballots are printed, simplifying the ballot and helping to avoid unintended consequences; voters can request an email version of the voter guide, reducing costs; and it extends the time for signature gathering by a month to allow more grassroots participation.
Initiative reform was a central recommendation in the Think Long Committee's "Blueprint to Renew California," released in November 2011. This bipartisan plan to restore the state's dysfunctional democracy was based on a year of discussions and meetings with key stakeholders in the state, including Governor Brown.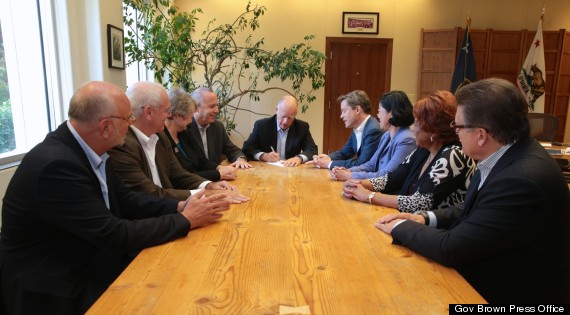 Governor Brown signs Senate Bill 1253 in his office Saturday, with bill's supporters at the table. Measure changes are intended to improve California's initiative process.
On SB 1253, the Think Long Committee worked for a year with a diverse and bipartisan coalition from across the political spectrum. Other supporters of the legislation include the League of Women Voters of California, California Common Cause, the California Chamber of Commerce, California Business Roundtable, California NAACP, California AARP, California School Employees Association, California Council of Churches IMPACT, and California Forward, among others.
The Ballot Initiative Transparency Act addresses California voters' greatest concerns about the initiative process. According to a PPIC survey earlier this year, 83 percent of Californians agree that initiative wording is too complicated and confusing. Eighty-four percent favor increasing public disclosure of funding sources for both signature gathering and initiative campaigns. And 77 percent support a review process to help avoid legal problems and drafting errors.
"The new law will give voters clear information about who special interests are, what they want, and how much they are spending," Berggruen said. "At the same time, the legislature and proponents of ballot measures will have avenues for correction and compromise, paving the way for clearer ballots and better policies."