While the global conversation about the Internet and China tends to focus on censorship, hacking and the Great Firewall, many Chinese parents are worried about a far different problem: addiction.
That's because thousands if not millions of Chinese parents have watched their children get sucked into a vortex of gaming marathons and endless chat room conversations. Gamers — most of them young men — sometimes spend days or even weeks at Internet cafes, subsisting on minimum sleep. Some teens have even committed suicide and killed in the name of gaming. One Chinese expert has estimated the number of Internet addicts in the country at 24 million.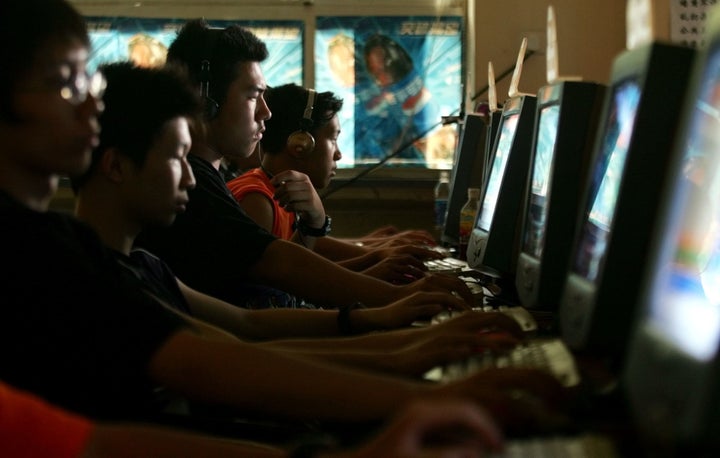 "A hundred years ago we had opium dens," Tao Hongkai, a sociologist who writes on Internet addiction, told The Los Angeles Times. "Now we have these [cafes], which are the equivalent of spiritual opium." 
In response to this trend, China has been making concerted and controversial efforts to stem the tide. Several years ago, China became the first country to classify excessive attachment to the Internet — electronic heroin, as one expert called it — as a clinical addiction. (Many health experts in the U.S. have disputed the classification, while still noting there can be real issues with screen obsession.) 
But if there's one public health hazard greater than excessive Internet use in China, it just might be the draconian response of health officials.
Internet detox boot camps have sprung up around the country, using a combination of therapy and intense physical training to yank kids out of the digital world and back to the real one. But in this emerging field, reports of abuse and even deaths have shocked parents and raised questions about which is worse: the disease of the cure? 
Two Israeli filmmakers set out to explore that question and the nature of interpersonal relationships in the digital age in the documentary "Web Junkie," currently available for streaming on PBS' POV. 
The documentary goes behind the scenes at one of China's first Internet addiction boot camps, looking at the lives of teens who chose binge gaming over their friends, schoolwork and even families. In the film, some of the young men brag about spending 300 hours playing World of Warcraft, with the only breaks coming in the form of short naps at their computer.
"They drop out of school, they lose touch with friends, they lose interpersonal communication skills, they stop working," "Web Junkie" director Hilla Medalia told The Huffington Post. "They're online day and night, and in extreme cases they use diapers."
Tracking the teenagers during their time at the Daxing Boot Camp outside of Beijing, the filmmakers heard teens express that they were disillusioned with the world around them. "Reality is too fake," remarked one young man, even while fellow patients laughed at him for forming an emotional bond with someone he met online.
"We're always connected, but we're much more alone," said Medalia. "We've created this new solitude."
The filmmakers didn't witness outright physical abuse at the Daxing facility, but the same can't be said for Internet camps in other parts of China. Wired reported in 2010 that at a military-style camp in southern China, a teenage boy was beaten to death less than 24 hours after entering the camp when he couldn't continue running around a track.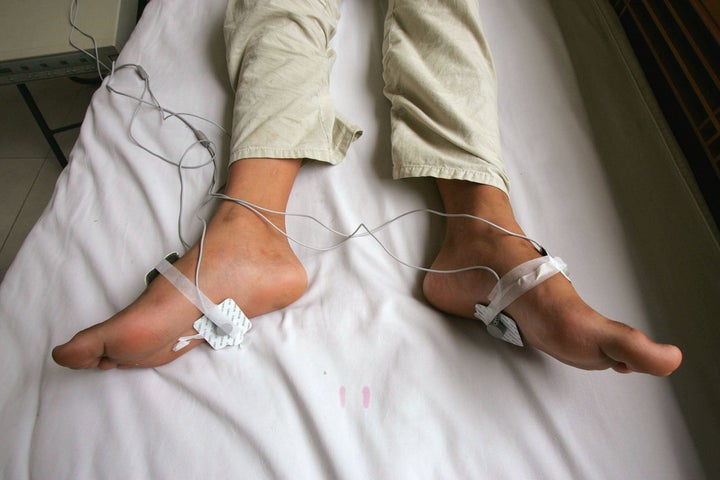 The Beijing News reports that a couple had to return to a camp in the city of Zhengzhou to pick up their daughter's body after she died from being "repeatedly dropped." When they were there, they were bombarded with phone numbers from fellow campers desperate for their parents to come and rescue them. Students in several camps have hung "SOS" signs outside of windows when outsiders appear.
Parents say they followed up on advertisements about the camps out of desperation while watching their children plunge deeper and deeper into the online world. "Web Junkie" reveals that many children are booked involuntarily, taken to the boot camps after being drugged or tricked.
The shocking stories of physical abuse have led to crackdowns on unauthorized facilities — some of which are run for profit by those with no medical background. It has also started a national conversation about how to treat children excessively attached to Internet gaming.
Many Chinese and international experts advocate traditional talk therapy, or even innocuous hobbies such as raising puppies or horses. Psychologist Kimberly Young, a frequently cited expert on Internet addiction, recommends softer approaches such as family therapy and support groups.
But Tao Ran, the founder of the Daxing Camp, says he sees similar biological and behavioral patterns in Internet and heroin addicts. Medalia said the Daxing Camp claims it has cured around 70 percent of Internet addicts at its facility, but it's not possible to independently verify that number.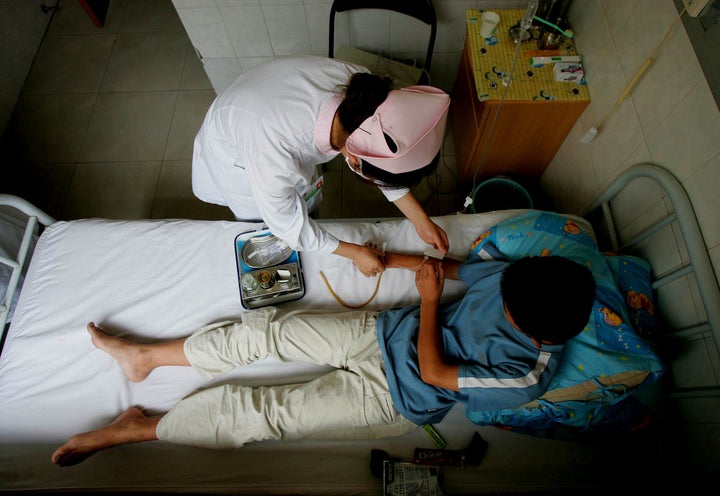 The directors of "Web Junkie," Shosh Shlam and Hilla Medalia, also hoped to bring the conversation beyond China, examining how the increasingly blurred lines between the digital and physical realities are reshaping relationships as we know them.
Internet addiction is a "universal issue that is becoming progressively all encompassing as the boundaries between the real and the virtual become increasingly blurred," Shlam and Medalia wrote in a filmmaker statement for PBS' POV. "Through this process, we could not help but feel that something is lost in the physical, 'real,' everyday lives of those living in the Western world. This phenomenon, these feelings are what inspired us to take this journey."