DEBAGA CAMP, Iraq ― It took five attempts before Umm Khaled and her young children were able to flee their hometown of Hawija, controlled by the so-called Islamic State group.
Each time, the nightmare played out the same: Under cover of night, they crept out of their homes, praying they would survive the ISIS landmines, though others had not. Each time, the militants hiding in the shadows would grab them as they ran and force them to leave the dead and dying behind. Each time, ISIS took what hard-earned money they had left and whipped the men traveling with them into submission.
"I can't explain the feeling," Umm Khaled said, describing the memory of comforting a female relative after ISIS dragged her away from the corpse of her 15-year-old son. One fatal step took her son's life when they had tried to flee Hawija through a minefield. "There was madness," Umm Khaled said, shaking her head.
It was before the sixth attempt that Umm Khaled decided enough was enough. (She is a mother in her thirties who asked not to give her real name and instead go by what translates in Arabic to "mother of Khaled," her son.)
Umm Khaled and several women from Hawija who fled with her made a heartbroken choice: separate men from women ― husbands from wives, brothers from sisters ― to give the women a better chance to flee near-starvation, brutal ISIS rule and U.S.-led coalition airstrikes targeting ISIS in Hawija. They left their men behind, not knowing if they'd ever see each other again.  
This time, guided by a masked smuggler, Umm Khaled and her children made it to safety. As it had in past attempts, the trip cost $500 per adult, though kids were smuggled for free.
"It was so exciting," she said, speaking of the moment she crossed into territory controlled by the Kurdistan Regional Government during a nine-hour journey. "But if we knew what the situation was here, we wouldn't have been so happy."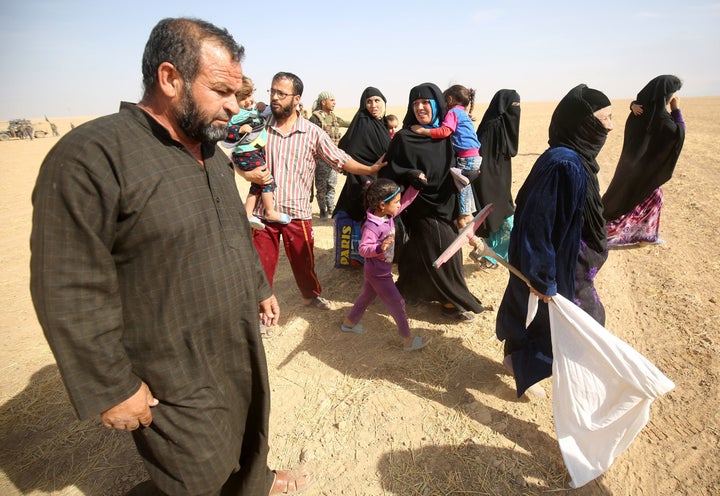 Umm Khaled says she and her family are essentially prisoners, just as they were under ISIS. But now, she says, their fates ― and the fates of thousands of other Sunni Arabs ― rest in the hands of Kurdish and predominantly Shiite Iraqi forces who view them as terrorist sympathizers.
Thousands of civilians are fleeing as a massive U.S.-backed and Iraqi led offensive, launched Oct. 17, pushes towards ISIS' last major Iraqi stronghold of Mosul. Cash-strapped and overwhelmed aid groups worry there could be a humanitarian disaster as civilians try and flee Mosul. But men, women and children fleeing ISIS areas who survive landmines and the threat of kidnapping arrive in Iraqi Kurdistan, in the north, to find what they describe as prison-like conditions and people being unlawfully detained.
"Psychologically, we're sick," she said, sitting in filth at Debaga camp in northern Iraq, as flies buzzed around her wailing infant son. His body was covered in itchy scabs, his belly distended from sickness.
When Umm Khaled arrived at Debaga, she found that her husband was locked in what security forces called a "screening center." The KRG-run camp is roughly 25 miles south of Erbil ― supported by the United Nations refugee agency and other organizations ― and provides water, shelter, education and medical support.
Families are split up when displaced Iraqis ― mainly Sunni Arabs from ISIS-controlled territory ― arrive at Debaga. The men are taken to a "screening center" managed by the KRG's security forces known as Asayesh, while women and most children are able to enter the camp directly.
The Asayesh claim that no boys under the age of 18 have to go through screening. But during several visits to Debaga, The WorldPost saw young men and boys held in a fenced-in area around Debaga's screening center who were clearly younger than 18. Human Rights Watch recently said boys as young as 15 are detained for weeks at a time without access to lawyers. ISIS has recruited children, often by force, to fight and die for their cause.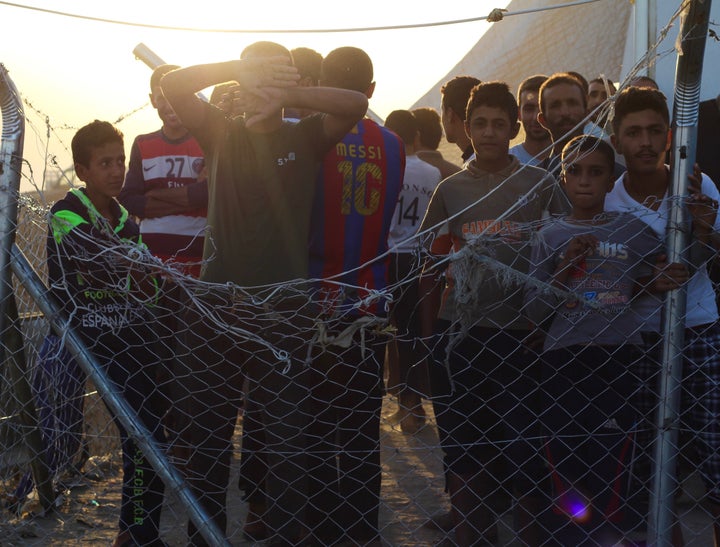 After two weeks and no word from her husband in detention, Umm Khaled sold all her jewelry and paid a "broker" to facilitate her husband's release. It remains unclear if this money served as a bribe for the Asayesh, or otherwise.
Some men are released after a few days, but others are held for weeks. And then there are those who simply disappear.
"We want our men back!" screamed another woman who introduced herself as Umm Zeinab, a 41-year-old mother also from Hawija. Her husband was also in detention, she explained. And sitting next to her, a woman holding her sleepy daughter explained that her husband had been transferred from Debaga's screening center ― a bad sign. He's being held at an undisclosed location in Erbil, camp authorities told her.
Some men who had successfully passed the screening process at Debaga slammed the interview process as horribly unfair.
"Many people were arrested after investigations," said Abdel Hamid, a 37-year-old teacher from Shirqat. "Some were innocent."
"'Why didn't you fight back?' they ask," he said. "'Why did you sell things to [ISIS]?' But you can't do anything."
Another man next to him said he was asked why he served ISIS fighters tea. The reason, he said, was simply because he did not want to die.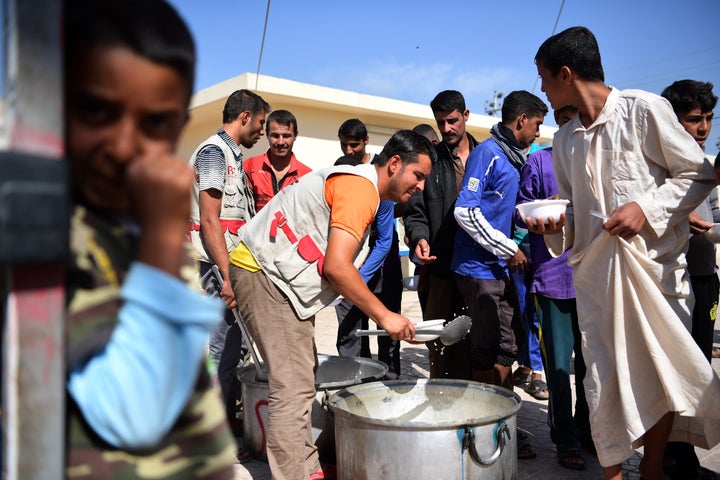 In some areas, like Mosul, overrun by ISIS in 2014, many locals welcomed the fighters as liberators, not invaders. They despised Iraq's then Prime Minister Nouri al Maliki and his Shiite-led government, slamming their policies as increasingly authoritarian and violently sectarian.
One man, Raed, a 22-year-old former student, said that when ISIS drove into his northern Iraqi city of Baji with its heavily armed pickups and black flags fluttering, it was a revolution for Sunni Arabs. But that support quickly faded, he said, when they realized ISIS was no better than the government they so loathed and feared.
Supposed support for ISIS is exactly what the Asayesh at Debaga ― and in other camps and former ISIS-controlled areas ― are searching for, according to officials.
"Twenty-five percent of the people in this camp support ISIS," said Captain Zerar Majid, a member of the Asayesh at Debaga, not elaborating on how he determined that number. 
As he spoke, the television in front of him blared news of the bloody Oct. 21 ISIS attack on the oil-rich city of Kirkuk.
"If there are Arabs in a place, then ISIS can enter," he said frankly.
He writes off the accounts of Umm Khaled and Umm Zeinab ― who claim their husbands had nothing to do with ISIS and were victims ― as pure lies.
"We cannot believe them," he said.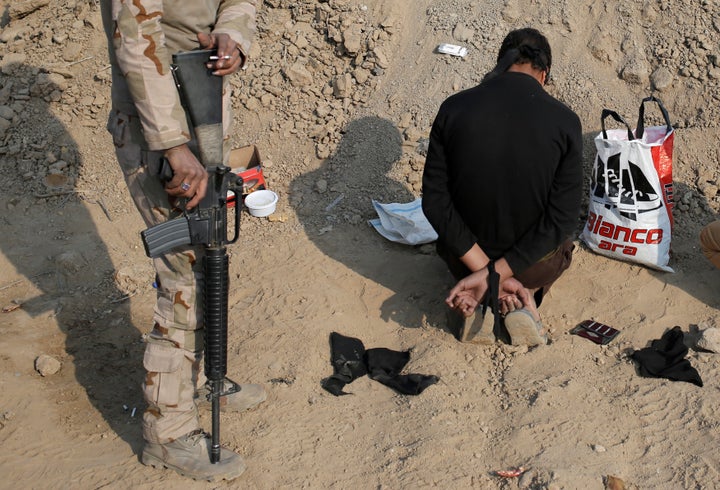 Another key part of the KRG security plan is making sure displaced Iraqis coming from ISIS areas cannot move about freely, out of fear that ISIS supporters or sleeper cells will infiltrate civilian areas and launch attacks.
If displaced Iraqis want to leave Debaga camp, he says, they need to have a local sponsor ― a family member or a friend ― vouch for them. But people coming from places like Hawija often don't know anyone in Erbil, Kirkuk or other major cities under KRG control.
"It's a prison," shouted Raed, the student, when asked if he could leave the camp, though others in the camp showed some support for the screening procedures, saying it help secures the camp. "It's just one prison to another," Raed said.
While some civilians are being driven out of certain areas, others living outside the camps say they are, essentially, trapped.
"The people are trying to leave, but the Kurdish Peshmerga and Iraqi forces won't let them leave unless they have a sponsor in the KRG," said a medical assistant and resident of Qayyarah, where the air is so toxic people are seeking medical attention en masse.
ISIS lit oil wells ablaze in August, and months later, they're still burning. And more recently, the militants torched sulphur piles at the nearby Mishraq sulphur plant, leading to over a hundred people seeking medical attention there. At least two civilians died.
And yet, many say they cannot leave.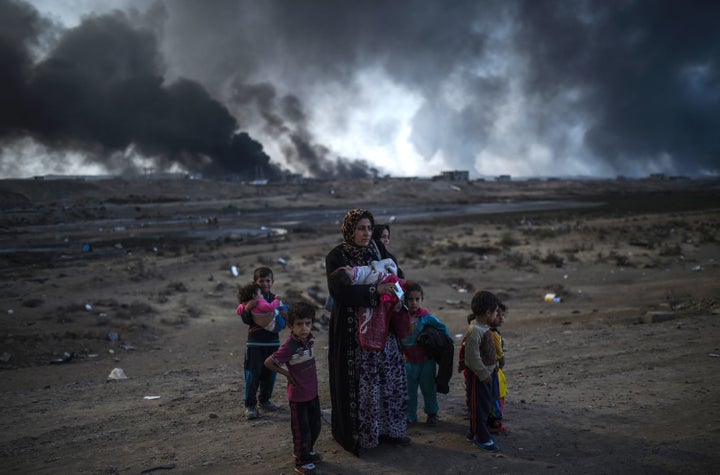 ISIS infiltrating the civilian population is a major concern in the KRG, and the recent attack on Kirkuk ― which left around 100 civilians and security forces dead, in addition to 81 ISIS fighters ― has only inflamed tensions between Kurds and Sunni Arabs.
"We know ISIS changes clothes, shave their beards and comes with families," Kirkuk governor Dr. Najmaldin Karim said in a recent interview with The WorldPost in his heavily fortified government office. He believes the militants come from Mosul, passing through Hawija.
"We have suffered a lot with these internally displaced people," he lamented, explaining how they drained electricity and other essential resources. Locals, he said, are afraid and fed up.
His offered solution: "These people have to go back."
At least 250 displaced families living in Kirkuk were forced out following the attack, according to the U.N. refugee agency. The families ― reportedly living in mainly Kurdish areas ― received "forced return notifications" instructing them to leave.
While Karim denied any official involvement in those cases, he did compare the presence of thousands of displaced Sunni Arabs in Kirkuk to house guests who have overstayed their welcome.
Standing next to Debaga's screening center, a Kurdish camp worker who introduced himself as Hunar glanced over at the young and old men peering out of a wire fence. His distaste towards Sunni Arabs was personal, he explained.
"When Saddam Hussein used chemical weapons on us, nobody helped," said Hunar, referring to the 1988 Halabja chemical attack on Kurds that left thousands of people dead, wounded and sickened. "Why are we helping the Arabs now?"
Kamiran Sadoun contributed reporting.