GAZIANTEP, Turkey — Syrians say there's little to celebrate even if Kurdish fighters, aided by a barrage of U.S.-led airstrikes, have successfully driven the Islamic State from the Kurdish town of Kobani in northern Syria earlier this week.
Sure, the U.S. has applauded the news, and Kurds across the border in Turkey danced in the streets. But the regime of President Bashar Assad continues to drop barrel bombs on its citizens –- without any meaningful U.S. response — and the Islamic State, also known as ISIS, is tightening its grip elsewhere in Syria.
U.S. officials have told The WorldPost that Kobani was a critical battle for Washington. Pushing the Islamic State from the border town, they say, was a way to tackle the militants at a higher level by taking direct aim at their chief asset: their narrative of invincibility. Military commanders also noted that Kobani was a significant hub of Islamic State forces, which the U.S.-led coalition sought to identify and then target with airstrikes. Indeed, since September, close to 75 percent of coalition airstrikes have been aimed at Kobani and the surrounding areas.
However, a number of Syrians told The WorldPost that the significance of Kobani was being overstated.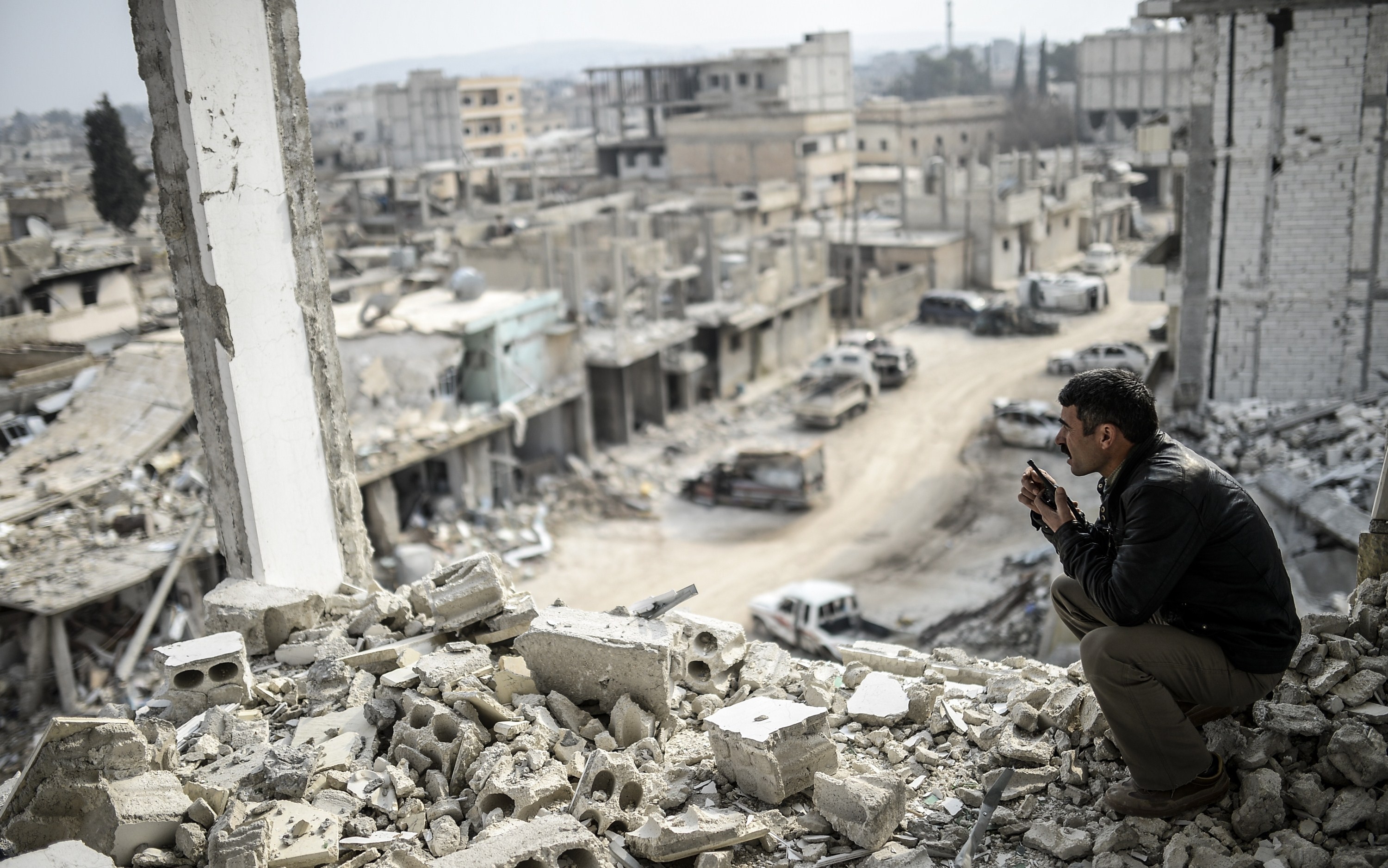 A Kurdish man talks with a radio as he checks the eastern part of the Syrian border town of Kobani on Jan. 28, 2015. Kurdish forces recaptured the strategic town on the Turkish frontier on Jan. 26 in a symbolic blow for the jihadists who have seized swathes of territory in a brutal onslaught across Syria and Iraq (Photo: BULENT KILIC/AFP/Getty Images)
"Kobani is not an achievement — it's a small city," said Salim al-Omar, a 29-year-old Syrian writer from the regime-controlled port city of Latakia on Syria's west coast. "There are tens of cities bigger than Kobani under [Islamic State] control, and there are tens of cities under regime control that are being shelled."
Al-Omar said he resents that the United States pounded the Islamic State in Kobani with hundreds of airstrikes for months, but has not tackled Assad. The Syrian president's iron-fisted rule sparked largely peaceful pro-democracy protests in 2011. The dissent was met with a violent government crackdown, which has led to an all-out civil war that is estimated to have claimed 200,000 lives or more.
"The regime has killed thousands of Syrian people," al-Omar said angrily. "But the regime doesn't threaten U.S. interests, so they don't care. The Islamic State does threaten their interests, so they fight them only. The United States will not do anything, even if Syria burns, if it's not in its interests."
The U.S. has said that while it seeks the removal of Assad, his exit should be through a political transition, not a military confrontation. It has made that message clear even to groups of U.S.-backed rebels, whom the CIA has been covertly aiding in the fight against Assad since 2013. Now, Washington believes the Islamic State is the more important threat — and recent indications suggest that the Obama administration is backing down on its opposition to Assad, perhaps hoping for his help in the fight against ISIS. Many Syrians bitterly note that the Assad regime and the United States now frequently strike the same Islamic State targets -– a move some see as blatant and unacceptable coordination.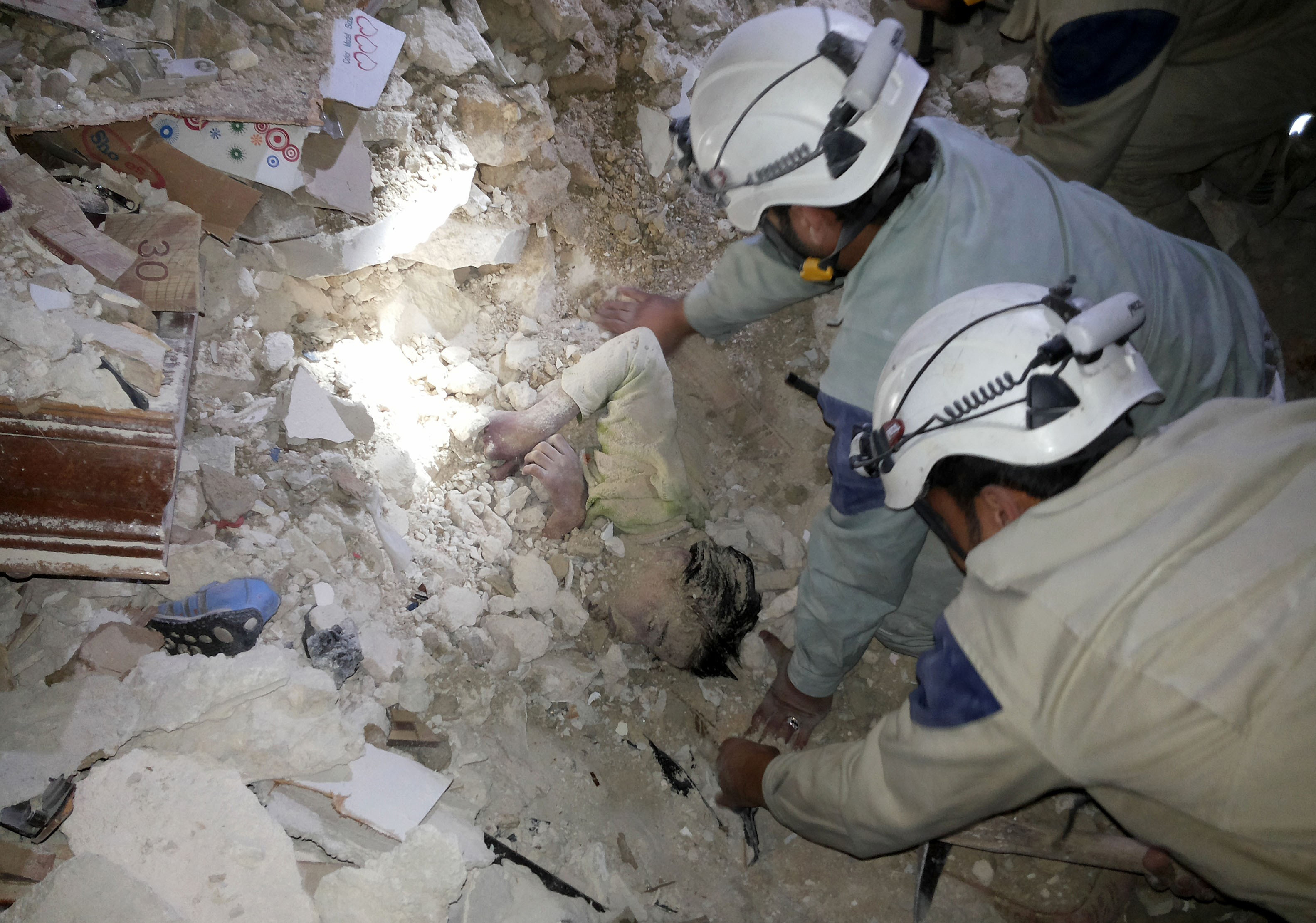 Members of Civil Defense team try to rescue a woman from the debris of a building in the Al-Bab district of Aleppo, Syria, on Nov. 9, 2014 following a Syrian regime barrel bomb attack on Islamic State-held territory. (Photo: Stringer/Anadolu Agency/Getty Images)
Twenty-three-year-old Syrian refugee Malak says she just doesn't understand the United States's strategy in Syria. Malak used to be a teacher, but fled her home in Islamic-State controlled Manbij, a town in Aleppo Governorate in Syria's north. She now works at a small supermarket in a Turkish border town.
"Kobani's freedom is good," Malak explained. "But I don't know why the United States focused on Kobani. Compared to what's happening in the rest of Syria — it's nothing."
Four years into the war that is tearing the country apart, many Syrians are losing hope, like Mutasem Abou al-Shamat, a 32-year-old activist from Damascus. With no end in sight to Assad's rule, and the Islamic State gaining more and more ground, he fears the worst for his country.
Al-Shamat closely monitors the United States' involvement in the Syrian conflict. Asked whether he thought the Islamic State was indeed the bigger threat, his answer was clear and firm.
"The problem is in Damascus," he said, referring to the Assad regime. "That's where it all started."
"The reaction is in Raqqa," he added, speaking of a city that the Islamic State has claimed as its de facto capital. In his opinion, the emergence of ISIS is a result of the regime's actions and the chaos that ensued after Assad violently cracked down on his people. Al-Shamat says the international community is to blame for not intervening sooner.
"We have to cut the head off before we can find a solution for the rest," he said.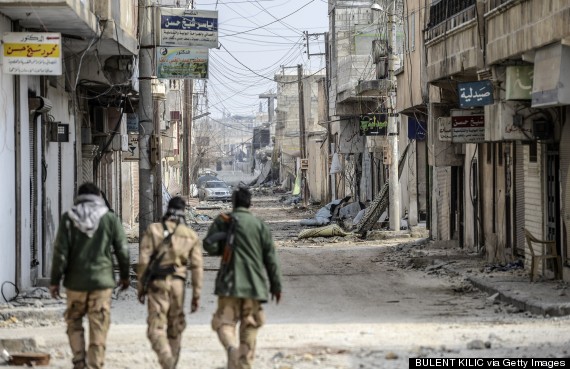 Kurdish fighters walk through the wreckage left by fighting on a street in the center of the Syrian town of Kobani, also known as Ain al-Arab, on January 28, 2015. (Photo: BULENT KILIC/AFP/Getty Images)
Meanwhile, opposition groups whom the U.S. has deemed moderate say they have yet to receive the training and weapons they were promised. President Barack Obama has said he wants the groups to use U.S. assistance to fight ISIS — but the rebels say they would rather turn the weapons on Assad. The CIA's efforts to train and arm moderate rebels to fight the Assad regime have largely been slammed as a failure. Fighters say the limited supplies of weapons and equipment were far from enough, and have cited other problems such as rebels switching groups on a whim and U.S. weapons ending up in the wrong hands.
Now, the U.S. is instead pouring resources into battling the Islamic State.
In addition to the airstrikes campaign, the U.S. in October distributed ammunition, weapons and other supplies to Kurdish forces defending Kobani. (The supplies were provided by the Iraqi Kurds, a U.S. partner in the anti-ISIS effort.) Earlier this month, the Pentagon announced it would soon deploy upwards of 400 U.S. soldiers to train Syrian rebels to fight ISIS. And in Iraq, the Obama administration recently signed off on the deployment of 3,000 U.S. advisers to train Kurdish and Iraqi soldiers battling the Islamic State. Some skeptical lawmakers have sought to curb the administration's efforts, citing concerns about an open-ended campaign and moving to pass an Authorization for the Use of Military Force.
"Our first enemy is the Assad regime," says a Syrian opposition fighter who introduced himself as Abu Hussein, a commander of the Free Syrian Army-aligned First Coastal Division, which is fighting the Syrian regime in Latakia. He claims that the United States made a promise last year to his group of fighters — who number over a thousand — that they would receive training and arms. They're still waiting.
Hussein read of a long list of things his fighters have received from the Americans: cars, trucks, tents, bulldozers, medicine and communication devices. And he claims his fighters have U.S.-made TOW anti-tank missiles, provided by another country he declined to name. Still, the U.S. hasn't directly provided the weaponry it promised.
Now, he's confronted with the news that the U.S. might be shifting its position by downplaying its earlier demands for Assad to step down. If that became official U.S. policy, Abu Hussein says, he'd change his own position and refuse to work with the Americans at all.
"We want [U.S.] training to fight our number one enemy: the Assad regime," he said. "We wouldn't collaborate with any support not [meant] for fighting the regime."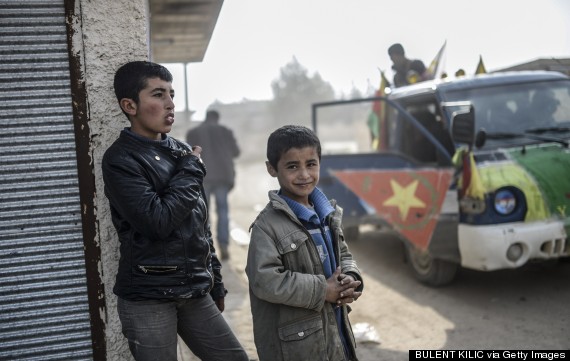 Kurdish children stand in the center of the Syrian town of Kobani, also known as Ain al-Arab, on January 28, 2015. (Photo: BULENT KILIC/AFP/Getty Images)
Zaher Said contributed reporting from Gaziantep and Akbar Shahid Ahmed contributed reporting from Washington, D.C.