ISTANBUL — Aug. 14, 2013, is a big day in history, a bloody day.
It was the largest mass killing in Egypt in recent memory and one of the biggest massacres of demonstrators in the world in a single day. And yet nobody has been prosecuted. Those responsible have pushed it under the rug, silencing and denouncing any criticism that comes their way. It's like it never happened.
On that Wednesday, Egyptian security forces raided two largely peaceful sit-ins, one small and one filled with thousands of men, women and children. At least 800 people were killed in what Human Rights Watch says was an attack orchestrated at the highest levels of the Egyptian government.
The demonstrators had rallied for six weeks against Islamist President Mohammed Morsi's military ousting. But they were in the minority. Much of the country applauded the removal of the first democratically elected president, calling Morsi grossly incompetent and slamming him as power hungry and undemocratic. The man behind the ousting, then Gen. Abdel-Fattah el-Sissi, became like a celebrity and later got elected as Egypt's president, a post he holds now.
I was living and reporting in Egypt at the time and spent countless hours interviewing the protesters, before and after the attack. The weeks leading up to what is now often referred to as the Rabaa massacre — named after the Rabaa al-Adawiya Mosque, where the main sit-in took place — were chaotic and unpredictable.
The demonstrators knew that the attack was coming because they had been warned. Night after night, I'd wake up every hour checking Twitter and making phone calls. Security forces had already killed dozens of protesters in smaller attacks. Rabaa's field hospital had seen a lot of blood, and so had I.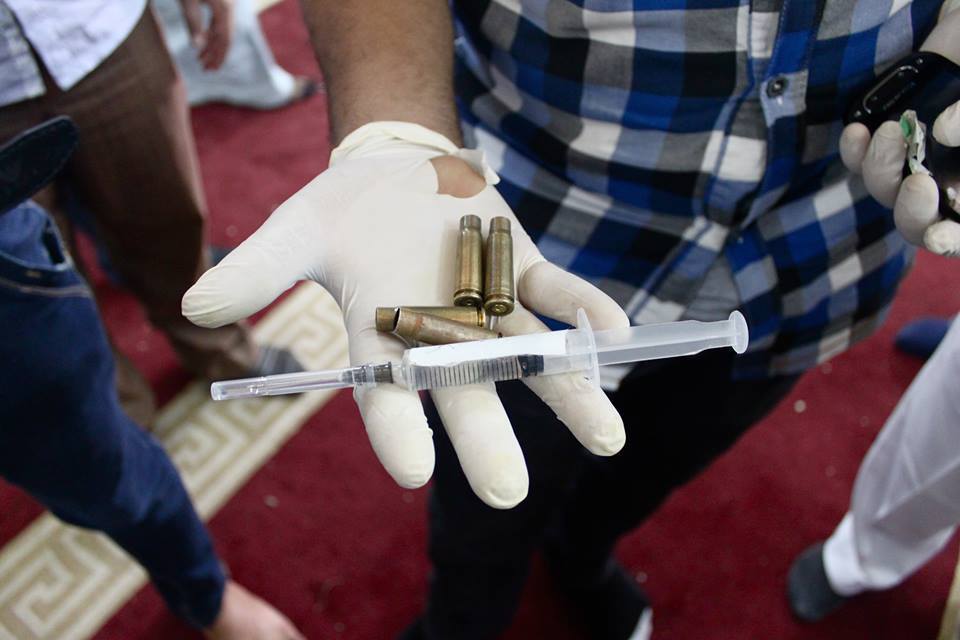 A volunteer medic in a makeshift field hospital holds up bullets reportedly fired in a smaller attack by security forces at Rabaa's mass sit-in on July 27, 2013.
The morning the sit-ins were cleared, I awoke to a buzzing phone with a series of frantic messages from demonstrators and fellow journalists. Along with my colleague — who would later be arrested and beaten by security forces near the Rabaa mosque — I headed out to cover protests around the city. But security forces weren't just violently clearing the two main sit-ins. They were quelling any hint of protest in the city.
In the Cairo neighborhood of Mohandiseen, I ended up running from heavily armed security trucks shooting live rounds at journalists and unarmed pro-Morsi protesters. I remember sprinting for cover and looking behind me, seeing a terrified elderly man trip and fall. A few teenagers turned back, risking their lives to help him up.
Protesters, doctors and journalists began referring to the Rabaa field hospital as "sniper valley" because they had to try to avoid getting shot by strategically placed government snipers.
It took around 12 hours for Rabaa to be cleared. By the time it was over, the carnage was unbelievable.
The government says that Rabaa was a hotbed of terrorism, filled with people who were heavily armed with the intent to harm civilians. But this was not the Rabaa I was familiar with. I saw mothers braiding the hair of their children, young students eager to voice their political opinions, Egyptian civilians fearful of what was to come after their leader's dramatic fall from power.
In all my time covering the pro-Morsi demonstrations, I only once saw a weapon used by an Islamist protester, and it was not at the sit-in at the Rabaa mosque. I tweeted this photo on Aug. 16, two days after the sit-ins were cleared, from above Cairo's 15th of May Bridge as pro-Morsi and anti-Morsi demonstrators clashed. I remember rummaging through my bag to find my phone and quickly snap a picture — it was the first and last time I would see an armed Islamist protester.
But the Egyptian government has insisted that the protesters were dangerous, and has blamed them and Muslim Brotherhood supporters for the surge in terrorist attacks on the country. In the months that followed the sit-ins, the government initiated a massive security crackdown and rounded up thousands of people, including Morsi supporters, suspected Muslim Brotherhood members, and revolutionaries who broke Egypt's strict protest laws. Many of my contacts stopped answering their phones and emails. I found myself wondering: "Is he in jail now, or is he dead?"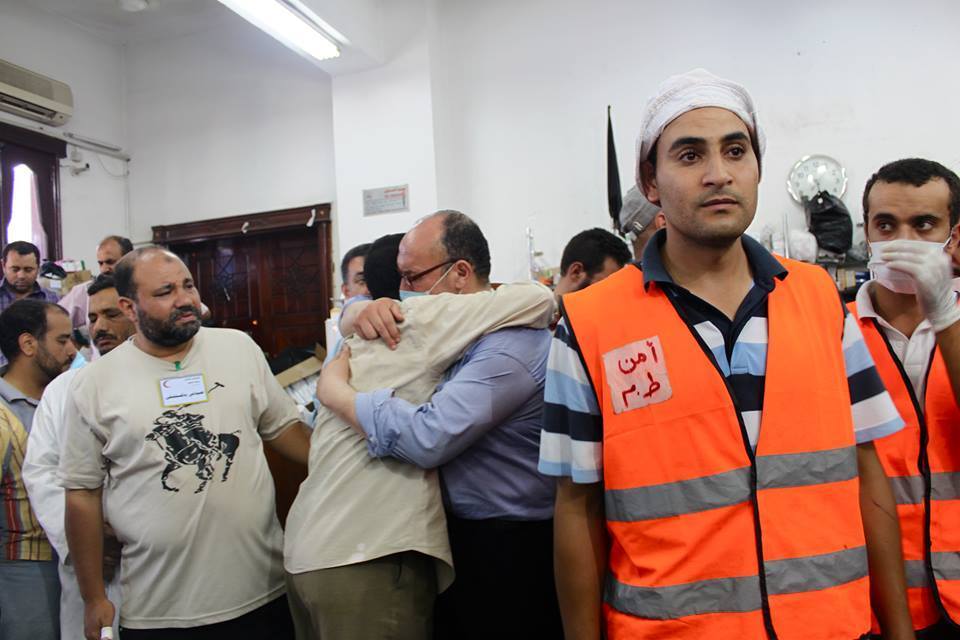 Men hug in a field hospital after dozens of protesters were killed in a smaller attack by security forces at Rabaa's mass sit-in on Jule 27, 2013.
Egypt has also cracked down on both Egyptian and foreign reporters whose stories don't line up with government rhetoric. Fearing arrest myself for a time, I had to hide from authorities in a friend's apartment, my "safe house." I've called lawyers to help journalist friends get out of Cairo jails. And it took me nine months to get a press card (which is nearly impossible to acquire, but is needed to prevent getting arrested).
An Al Jazeera crew of Peter Greste, Mohamed Fahmy and Baher Mohamed have been locked up for more than 200 days on grounds that they aided the now-banned Muslim Brotherhood and reported false news. Greste and Fahmy were sentenced to seven years in jail and Mohamed to 10 years.
Just this week, two senior Human Rights Watch executives flew to Cairo airport, ready to unveil a heavily researched 188-page report in front of officials and journalists detailing what happened at Rabaa. They got as far as the airport holding cell, but they weren't allowed to enter the country.
According to the Egyptian government, Human Rights Watch violated Egypt's sovereignty and its findings were part of a plot to carry out "further acts of violence and terrorism against the Egyptian state and innocent civilians." When top human rights activists are barred from a country, it shows how little room for dissent or questioning there is.
Resistance is few and far between in Egypt these days. Its revolutionary fervor is now just a cloudy memory. But the people who are responsible for the massacre one year ago have still not been brought to justice.
Just this morning, an Egyptian friend posted on Facebook about his reflections on Rabaa and his country.
"One does not need to be a supporter of Morsi nor the Brotherhood at large to see the massacre in Rabaa as tragic," he wrote. "Indeed, I consider myself an opponent of Morsi and the Brotherhood."
"The death of 1,000 Egyptians at the hands of their state is not a partisan nor political controversy," he continued. "It is a national and human tragedy. August 14th is a tragic day in Egypt's history and only when a larger section of the population recognizes it as such will Egypt be on a better, healthier and more peaceful path."