QAYYARAH AIRFIELD WEST, Iraq ― The Yazidi sex slaves once held here are nowhere to be seen. Islamic State militants dragged them off months ago, before they retreated from this sprawling air base and its surrounding town in northern Iraq. 
Survivors, officials and activists say Islamic State used Qayyarah Airfield West as a jail for its opponents, including Yazidis. Now, it has assumed a different role: it's a base camp for hundreds of U.S. troops, as it was over a decade ago.
Q-West, as it is known to the Americans, will be the key staging area and joint logistics hub for U.S. and Iraqi forces as they wage the biggest operation yet against Islamic State, also known as ISIS: The battle to retake Mosul, Iraq's second largest city. The WorldPost traveled to Q-West last week, the first news outlet to visit the remote base by land since the United States reestablished a base here. (Another team of reporters flew in.)
U.S.-backed Iraqi government forces, Sunni Muslim tribal fighters, Kurdish Peshmerga, lran-linked Shiite militias, Turkmen fighters and Turkish forces have all voiced desire to take part in Mosul's liberation. It shows: A half-dozen checkpoints and outposts, which at least three different groups operate, dot the road leading to Q-West.
The planned offensive against ISIS, led by Iraqi forces but reliant on U.S. airpower, could see the group driven from Mosul before the end of the year, according to American and Iraqi officials.
But who will control Mosul after ISIS — and whether the city will descend once more into sectarian violence — is far from clear. And as they were when they first invaded Iraq almost 15 years ago, the U.S. government and military are focused more on the foe in front of them than on what will happen after that enemy is beaten.
"It's certainly something that needs to be addressed," said Lt. Col. Christopher D. Payant, commander of 39th Brigade Engineer Battalion at Q-West, referring to fears over sectarian bloodshed post-ISIS. "But the Iraqi government will deal with that, and, I'm sure, the U.S. government."
The focus is on the present: how U.S. troops, estimated at nearly 6,000, (the numbers fluctuate) can best train, advise and assist the Iraqis for what would likely be a grueling, months-long operation.
U.S. TROOPS RETURN
The boom of U.S. artillery fire rang out as Payant trudged through ankle-deep sand at Q-West. Several hundred American service men and women here are working alongside the Iraqis to rebuild Q-West and construct a joint operations center.
It is here where U.S. forces will advise their Iraqi counterparts on strategy, supporting local ground troops with advanced and precise air power.
ISIS militants had nearly destroyed the air base. They even pulled copper piping out of the ground during their retreat.
The destruction, while worse than anything Payant has ever seen, is part of the extremist group's scorched earth campaign: take everything worth anything and destroy the rest on the way out.
Smoke billows in the distance from oil wells that the militants set ablaze. There is little escape from the desert heat and sand that seems to coat everything. U.S. troops here sleep, eat and often work inside concrete bunkers. ISIS fighters are less than 10 miles away and that threat is not taken lightly.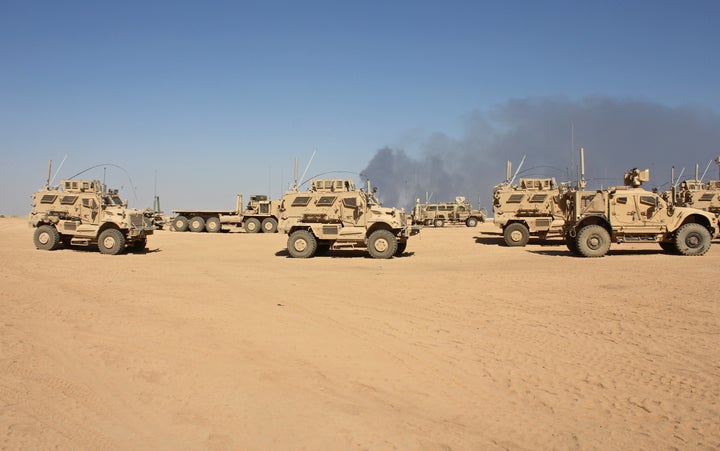 "You get used to having a little grit in your teeth," said Payant, looking out at the place he'll call home for nine months, after which another battalion is due to take their over.
The landscape at Q-West is far more hostile and rudimentary compared to nearby coalition base Camp Swift, where head-to-toe body armour isn't required. There, U.S. troops and their Iraqi and coalition counterparts monitor large screens showing drone feeds over ISIS territory and coordinate airstrikes. Eighteen ISIS leaders died in such airstrikes in September alone, according to the U.S. military. Most of them were in Mosul.
The United States' role in Iraq is different than before, when American forces were leading on the front lines at the "pointy edge of the spear," said U.S. Army Col. Brett Sylvia, commander of 2nd Brigade Combat Team, 101st Airborne Division, at Camp Swift.
"We're soldiers. Our profession is to be up front, rifles in hand, going after the enemy," he said. "But that's not our mission today."
But that doesn't mean U.S. troops are out of harm's way. U.S. troops, mainly special forces, have recently seen and died in combat.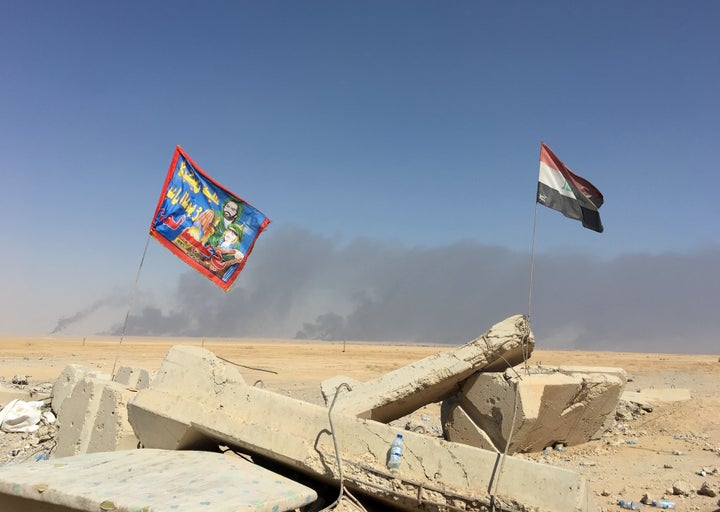 SHIITE MILITIAS' ROLE
Close to the highly secured compound housing U.S. troops at Q-West, Iran-linked Shiite militias have hoisted their own flag. American forces do not support or work with such militias, who operate under the umbrella of the Hashd al Shaabi, or Popular Mobilization Forces, according to U.S. officials, despite their obvious presence and approval from the Iraqi government to fight ISIS.
Some Shiite militia leaders have voiced their distaste for U.S. involvement in the fight against the Islamic State.  
"Hashd is welcoming any national forces but opposing foreign presence and will treat them as enemies if they participate on the ground," said Sheik Aws al Khafaji, leader of Brigade of Abu al-Fadl al-Abbas, U.S. and Turkish forces.
Rights groups have raised the alarm over what they say is routine sectarian violence and 'revenge killings' on the part of the militias, targeting Sunni Arabs deemed pro-ISIS.
Human Rights Watch urged the Iraqi government in late July to ban militias from the Mosul operation. Militias have carried out "horrific, sometimes wide-scale abuses, most recently in Fallujah, with no consequences despite the government's promises to investigate," according to the HRW statement.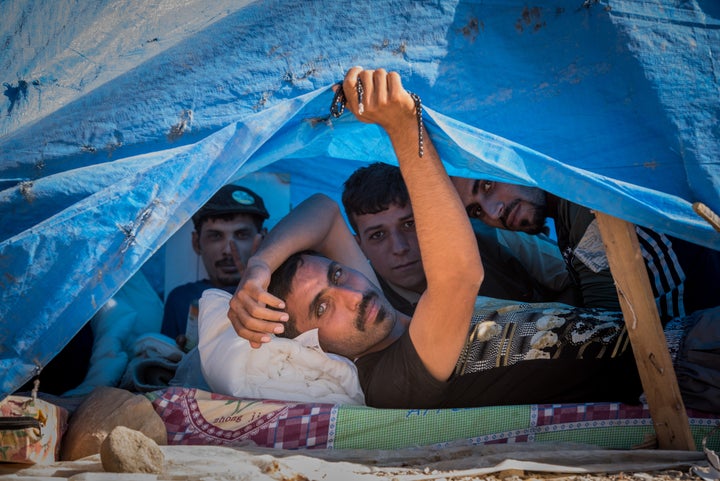 SUNNI ARABS' FEAR
Some Iraqi Sunnis welcomed ISIS when the hardline group took over Mosul and large swaths of Iraq in the summer of 2014. Many Sunnis loathed then-Prime Minister Nouri al Maliki, slamming his policies for being sectarian and authoritarian.
The rise of ISIS was a "Sunni revolution," said a group of displaced men at a camp called Debaga for displaced Iraqis, outside Erbil, the capital of Iraq's semi-autonomous Kurdish region. But support for the group faded when the extremists' rule turned out to be even worse than that of the Baghdad-based government.
However, Sunni Arab tribal fighters have also fought and died battling ISIS. Thousands of the tribesmen are set to play an important role in the battle for Mosul, a predominantly Sunni city.
In towns like Qayyarah and camps like Debaga, both Iraqi and Kurdish security forces routinely investigate people for ties to ISIS. Meant to round up residents suspected of being ISIS supporters, collaborators and fighters, these investigations range from gathering local men and having them point out the accused to individual questioning.
The investigations are nerve-wracking and sometimes horribly unfair, the men at Debaga camp told The WorldPost.
It took a week for one young man The WorldPost interviewed to clear his name. Forty-five days for the man standing next to him. "Why did you serve tea to ISIS?" security forces asked. "Why did you sell them goods at the market?".
"Daesh would have killed us," said 37-year-old Abdel Hamid, a teacher from Shirqat, using the Arabic acronym for ISIS.
Most Sunni Arabs, especially men, cannot easily leave refugee camps like Dabega to travel to places such as Erbil. Kurdish officials say they restrict refugees' movements because of security concerns.
"It's just one prison to another," shouted 22-year-old Raed Riad, a former student.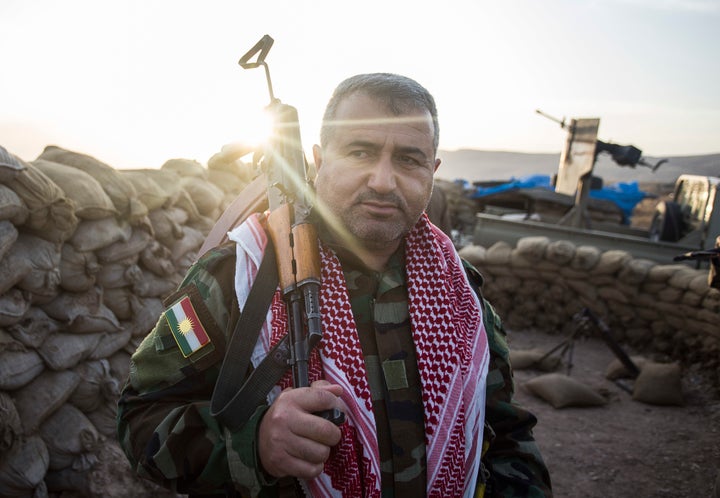 THE KURDS, A KEY U.S. ALLY
The Iraqi Kurds, long desperate for a chance to gain more independence from Baghdad, also seek to play a leading role in the battle for Mosul.
Kurdish Peshmerga fighters stepped in, assuming greater power, after ISIS arrived in Mosul.
Many Iraqi forces fled for their lives, stripping off their uniforms, dropping their weapons and abandoning expensive military vehicles on the road leading from Mosul to Kurdish controlled territory.
The Kurds, a key U.S. ally against ISIS in Iraq, have capitalized on this strength and expanded their semiautonomous territory by 40 percent or more since then.
"The day after liberating Mosul is very important to us," said Brig. Gen. Hajar Ismail, director of coordination and relations at the Ministry of Peshmerga. "We believe that post-Daesh is more important than liberating Mosul."
The Kurdish Peshmerga, also trained by U.S. and coalition forces, has clashed with Baghdad over involvement in the battle against ISIS. Shiite Muslim fighters have accused Kurdish forces of razing Shiite Turkmen homes in Iraq.
The battle for Mosul will likely have a massive impact on Iraqi Kurdistan, the semi-autonomous Kurdish region in northern Iraq. More than a million people could flee Mosul when the coalition's offensive begins, triggering one of the worst humanitarian human-inflicted disasters in years, according to the United Nations. Many camps are already at capacity.
The coming battle comes down to one question, Brig. Gen. Ismail says: "Who will control Mosul?"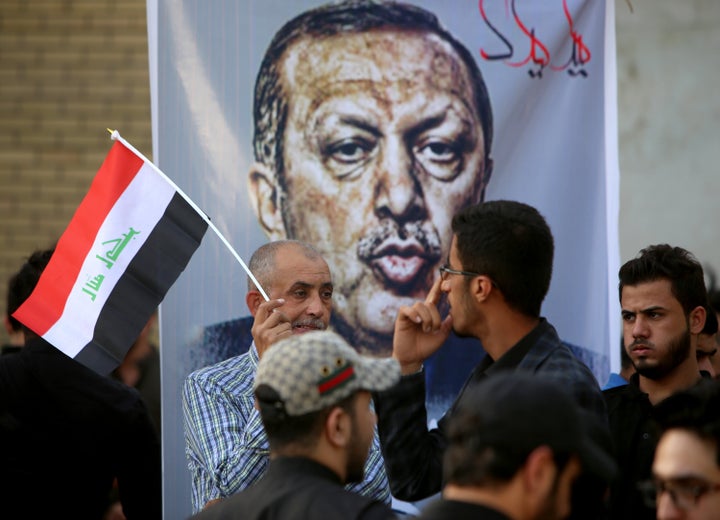 TURKEY TENSIONS
Turkey has an estimated 2,000 troops in northern Iraq, though they play no role in the U.S.-led coalition fighting ISIS here.
Tensions between Baghdad and Ankara have flared after Turkey's parliament voted to extend troop deployment to Iraq for another year. Iraqi Prime Minister Haider al Abadi warned that the "Turkish adventure could turn into a regional war" and called for the NATO member country to pull out its troops.
Turkey's President Recep Tayyip Erdogan has rejected this demand and lashed out at Abadi personally, calling the ability of other countries to join the Mosul battle "crookedness".
Erdogan vowed that Turkey would continue with its plans, without Baghdad's permission.
"You should know that we will do what we want to do," he said. "Who's that? The Iraqi prime minister. First, you know your place!"
THE IRAQI ARMY, AND THE FIGHT AHEAD
Fears over post-ISIS sectarian violence in Mosul are blown way out of proportion, said to Maj. Gen. Najim al Jabouri, the Iraqi general in charge of the fight for the city, from his office inside of an Iraqi base in Makhmour, just next door to Camp Swift.
"It's not that everything will be OK after we liberate Mosul, but the scene isn't as bad as some people imagine," he said.
"What we need is a strong local government after we liberate Mosul," added al Jabouri, formerly mayor of Tal Afar, now controlled by ISIS. "And we need police to enhance the law."
It's been a long struggle for Iraqi forces over the past two years since the Islamic State took Mosul. 
Iraqi forces now face an imminent battle that could shape the course of the country's history. And they are ready, according to Iraqi and U.S. military leaders, who say the troops now possess something they lacked in 2014: confidence.
"Daesh will be defeated after Mosul," Maj. Gen. Gary Volesky, commander of coalition land forces in Iraq, said confidently, adding that the city was the extremist group's "crown jewel". But it won't just come down to the readiness of Iraqi forces.
There is an ongoing discussion on "how to get the dynamics right" in Mosul, explained Volesky, to ensure that the operation doesn't lead to revenge instead of progress.
Volesky knows firsthand the significance that Mosul holds in Iraq. Six years ago, he commanded U.S. forces there. He never expected to be back.
Kamiran Sadoun in northern Iraq and Omar Khalil in Baghdad contributed reporting.