ERBIL, Iraq — Kosrit Maged has thrived as the owner of a small fabric store in this northern Iraqi city for the past 18 years. On a good week, he is used to selling about 10,000 meters of fabric. But now he's often down to 200 meters at best.
The reason for the drastic downturn, Maged says, is the Islamic State in Iraq and Syria, an extremist Sunni militant group that in recent days has taken over several cities, including Mosul — the country's second biggest city, just 190 kilometers away. Tens of thousands of Iraqis fled Mosul to this semiautonomous Kurdish region to escape the group, known for carrying out mass executions and beheading those who don't follow its strict brand of Islam. But even though Erbil is calm and quiet, defended by well-trained and fiercely loyal Kurdish fighters, business is far from usual.
Merchants here have lost access to many products because their business partners in Mosul have shut down their shops. Businesses can no longer get cheap goods that come by ship from places like China, as there are few safe ways to travel here from the southern Iraqi port of Basra. And people like Maged who sell nonessential goods have seen a huge drop in business because many residents are saving money to prepare for a potentially long, bloody battle that could destroy livelihoods and inflate prices.
"Now there is almost no one," Maged said as he paged through his log from the week. "People are afraid. They want to save money."
Like many Iraqis, his livelihood is closely tied to the security situation. Most people aren't focused on buying fabric to make curtains or sew clothing these days, since extremist rebels are rampaging the country, instituting Sharia law, and proudly posting graphic photos and videos of executions on social media.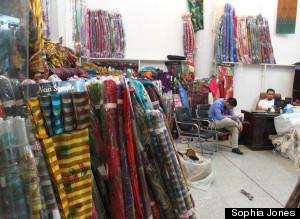 Bored merchants play with their cell phones and browse the Internet in a fabric shop in Erbil, Iraq.
A small store down the street from Maged's that sells items like electric shavers, irons and blow dryers is facing the same drop in business. The manager said that before ISIS took hold of Mosul and other towns in northern Iraq, he sold about 30 cartons of goods per day. Now, he said he considers himself lucky if he sells even one carton.
And at a high-end phone shop several blocks away, dozens of boxes of iPhones are neatly stacked against the wall. But hardly anyone is coming in to buy them.
"It's gotten much worse," said the store's manager, Mabaz Sabir. "If we sold 100 mobiles [daily] before the crisis, it's less than 30 per day now."
"It's not like we're selling tomatoes," he added with a laugh.
Most of Sabir's clients are based in Mosul and Baghdad, he said, and buying iPhones is the last thing on their minds. Mosul is now controlled entirely by ISIS, forcing those who don't support the militant group to flee for their lives. And Baghdad, about 300 kilometers south of Erbil, is bracing itself for what could be an unprecedented attack by the group.
The mass exodus of people fleeing the violence has prompted a large increase in business for airlines. On one main road in Erbil late last week, a crowd surrounded a small Iraqi Airways office, now unable to keep up with the number of people booking flights. Many are fleeing cities that have been taken over by extremist militants aligned with ISIS, or are desperately trying to get to Baghdad and join the fight to defend their country. Those waiting in line said that it's taken a day or more for people to get tickets.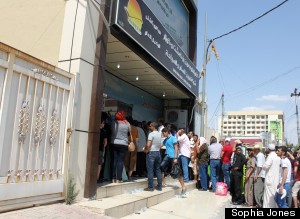 Business is booming for Iraqi Airways, with hundreds lining up to buy plane tickets to leave Erbil.
Rumors circulated outside the airline office that Iraqi soldiers who fled their posts in northern Iraq in the face of ISIS's takeover are sometimes getting tickets faster than others and getting free flights to Baghdad as a bribe to help defend the capital against ISIS. Although there is still a strong military presence in the capital, as many forces as possible are needed to prevent it from falling into the hands of the militants.
Taxi drivers are also making a pretty penny. With hundreds of thousands of people having fled Mosul alone, and scores of others leaving places like Tikrit and Tal Afar (which are are now under ISIS control), taxis packed to the limit are seen regularly passing through checkpoints.
Hotels in Erbil, especially the cheap ones, have also seen an uptick in business. At some family-friendly hotels, people who were displaced from their homes have settled in, waiting to see if ISIS will maintain its grip on northern Iraq or if the Iraqi or U.S. governments will order airstrikes. One hotel downtown with simple, dorm-like rooms has been filled mostly by Iraqi soldiers who fled their postings in Mosul last week, according to hotel staff. Soldiers at the hotel said they aren't sure how long they'll have to stay, or if they'll ever be able to return home.
The hotel's manager, Nawzat Mustafa, said that despite the circumstances, he's glad to see most of his rooms occupied. "After the fall of Mosul, it's full of people," he said, sitting in the hotel reception area with soldiers gathered around him. "Before that, it was almost empty."
But for business owners here who have lost access to goods and customers, they fear that they may have to close their doors and find a new way to support their families if ISIS continues to wreak havoc on the country.
"This is not new for us," Maged said, standing between rolls and rolls of unsold fabric. "We have these situations all the time in Iraq. But if the situation doesn't get better, we'll have to think twice about this business."