ISTANBUL ― British journalist and photographer John Cantlie, a captive of the self-proclaimed Islamic State, has appeared in yet another propaganda video, this time looking noticeably pale and gaunt.
Released on July 12 by the ISIS-affiliated media outlet Amaq, the video purportedly shows Cantlie in the Iraqi city of Mosul, currently under ISIS rule.  
Wearing a baggy button-down shirt that hangs off of him, he stands in front of buildings that appear to have been destroyed in airstrikes.
"Hello, I'm John Cantlie, and today we're at Mosul University ― or at least, what's left of Mosul University," he says.
In the video, which is just over three minutes long, Cantlie slams the university's destruction and claims that coalition airstrikes are targeting civilians in heavily populated areas of Mosul.
U.S. and Iraqi officials maintain that the campus was being used as a military headquarters where fighters manufactured explosives. The U.S.-led coalition bombed the university on March 19. Drone footage in the ISIS video shows large parts of the city destroyed.
While the seasoned journalist seems eerily poised in his report, it is widely assumed that Cantlie ― who has worked for outlets such as The Sunday Times, The Sunday Telegraph and BBC ― is being forced to appear in propaganda videos under duress.
In addition to a dozen video appearances, ISIS has published several columns supposedly written by Cantlie in its slick, highly produced propaganda magazine, Dabiq. It cannot be confirmed whether the British photojournalist was forced to pen the columns, or whether he wrote them at all.
No good reason why John Cantlie should be so thin. There are no food shortages in Mosul & the fighters eat very well https://t.co/bYCvnGYor1

— Liz Sly (@LizSly) July 13, 2016
Cantlie's weight loss and emaciated appearance only add to concern that he is being harmed or even tortured. His hair is longer and more disheveled than it was in the March video in which he last appeared.
The footage shows him wearing sandals and black capri-like trousers cropped above the ankle ― typical garb of ISIS fighters who preach a violent and distorted version of Islam.
Journalists and others took to social media following the video's release to express their horror over Cantlie's appearance, but also a sense of reserved relief that he is still alive.
Unlike many of the extremist group's captives who have suffered gruesome fates ― including being beheaded, blown up, burned alive and drowned ― Cantlie is still living after more than three years in captivity.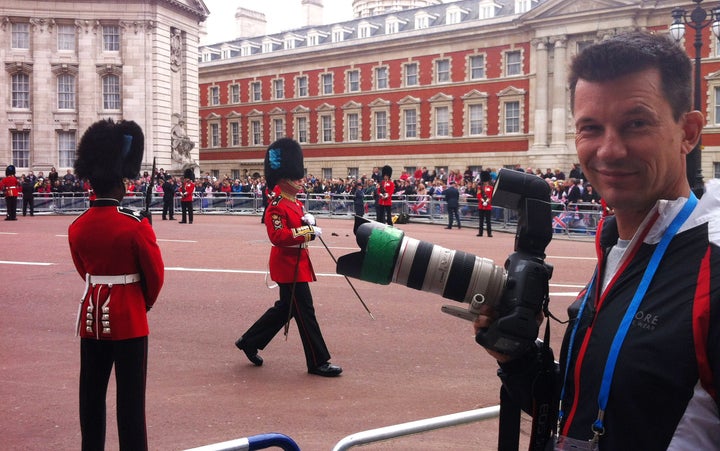 Cantlie was first kidnapped in Syria in July 2012, narrowly escaping with the help of Free Syrian Army fighters. He decided to go back to Syria to continue reporting months later.
Cantlie and American journalist James Foley went missing on Nov. 22 of that year, after crossing into Syria through Turkey. The extremist fighters who kidnapped them both would later be known as the Islamic State. 
ISIS brutally beheaded Foley in a widely circulated propaganda video released on Aug. 19, 2014.
While much attention has been placed on the terror group's brutal killings of foreign aid workers and journalists, most ISIS victims have been Syrian and Iraqi Muslims.