Credits
Kathleen Miles is the executive editor of Noema Magazine. She can be reached on Twitter at @mileskathleen.
HOLLYWOOD, Calif. — Days before celebrities strut their Armani and Gucci gowns at the Oscars, protesters rallied on the red carpet Friday to shine a spotlight on one of the awards show's biggest disparities.
The security officers and others who make the star-studded event happen often earn yearly wages that are topped by the price of a single designer dress. About 50 security officers and supporters demonstrated in the lobby of the Dolby Theatre on Hollywood Boulevard to protest the low pay and part-time work schedules they said leave security officers in poverty.
"When a dress becomes more valuable than the security officer who is protecting the lives of the entertainers and the folks that come to the event, that's tragic," Robert Branch, a security officer who has a full-time, union-negotiated job in downtown Los Angeles, told The Huffington Post.
The protest was coordinated by the Service Employees International Union, which represents some security officers, janitors and other service workers, including Branch.
The Academy of Motion Picture Arts and Sciences, which coordinates the Oscars every year, contracts its security officers through Security Industry Specialists, a non-union security company. According to the SEIU, SIS pays security officers about $15 an hour, but keeps most workers on part-time schedules, preventing them from qualifying for health insurance and paid sick days.
Part-time hours also prevent a viable income, the union said. If a security worker is making $15 an hour and working 20 hours a week, for example, earnings before taxes would be about $15,000 a year. Oscar gowns, by comparison, reportedly can cost upwards of $15,000.
"It's hypocritical for Hollywood, with its Screen Actors Guild and other unions, to contract out non-union security officers," Branch continued. "Why can't security officers have protection too?"
The academy declined to comment.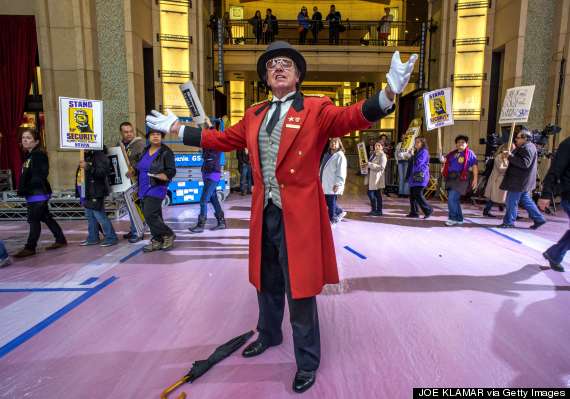 Tom Seltz, co-president of SIS, said fewer than half of SIS employees are part time, although he said he did not know the exact number. In December, NPR reported that more than half of SIS employees were part time and without benefits, some relying on public assistance.
SIS provides security for large companies in Silicon Valley, including Google, Apple, Twitter and EBay. The security company is growing in Los Angeles, but still only has a few clients. For the Oscars, SIS subcontracted security officers to two companies, Staff Pro and McRoberts Protective. Seltz said he's not sure what hours and wages the two subcontractors provide, and neither company responded to HuffPost's request for comment.
Seltz maintained that when SIS has enough work to justify making an employee full time, it does so. He said SIS pays hourly wages ranging from $15 to $24. He accused SEIU of harassing SIS security officers about joining the union.
SEIU said in a statement that more than 40,000 security officers in the U.S., including more than 7,000 in California, have joined the union. Security officers in Los Angeles negotiated their first union contract in 2006. Branch said that, compared when he was a non-union security officer, he has more money, more employment security and more sick and vacation time as a union member.
Earlier this month, SEIU protested with about 40 security officers and community members at the Oscars nominee luncheon, attended by more than 100 nominees, including A-list actors and directors. The group plans to protest at the red carpet again during the Oscars on Sunday.