KILIS, Turkey — As extremists who call themselves the Islamic State readied their rocket launcher and eyed this Turkish city of Kilis just across Syria's border, they had no way of knowing what exactly the rockets would hit.
Perhaps they wanted to inflict terror on Turkey, a NATO member battling the hardline fighters in both Iraq and Syria. Or perhaps they hoped to kill anyone opposed to their violent, warped version of Islam, like the many Syrians who refused to pledge allegiance to ISIS and instead fled to Turkey.
But on this particular afternoon of April 18, as one of the projectiles hurtled towards Kilis, a group of young school-aged Syrians, three of them siblings, played on a rooftop in the afternoon sunshine. A rocket would tear through that same rooftop just moments later.
Four children — Yasmin, 13, Tesnim, 12, Muhammed, 12, and Mutasem, 8 — would die from wounds inflicted by that strike.
"I feel as though every part of the world has taken a portion of our blood," says Abdul Ghani Alshawakh, director of the Fatih Sultan Mehmet organization in Kilis that cared for the four children and others like them. Their fathers had been killed in Syria's war or reportedly forcibly disappeared by Bashar Assad's regime, leaving the children and their mothers without a means to support themselves.
The organization had tried, in vain, to provide a semblance of safety.
"Syrians are dying in the sea and Syrians suffer at Europe's border," Alshawakh says, sadly, flipping through graphic pictures on his phone of the children's bloodied bodies after the strike. "And here, we're dying."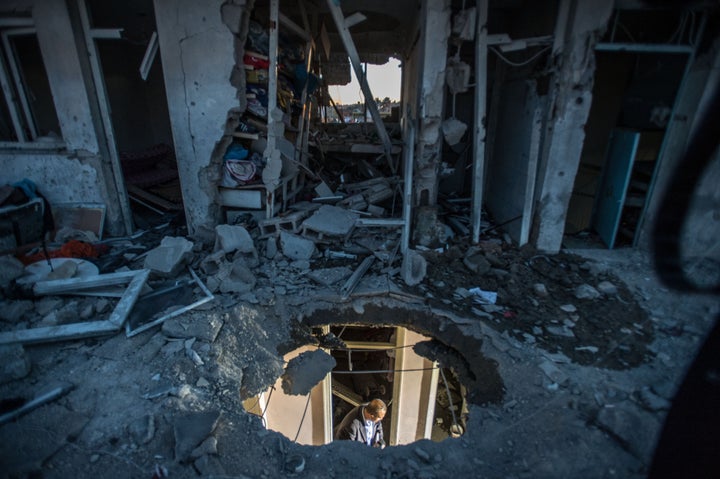 Many Syrians in Kilis now find themselves dreaming of the very thing that compelled them to cross the border in the first place: safety.
It was hardly the first time rockets had pounded Kilis, where cross-border ISIS shelling has become commonplace. It would not be the last attack, either. In the days since, rockets have continued to slam into the border city, killing and wounding Turks and Syrians.
Since Jan. 18, at least 41 rockets have hit the city, according to the mayor's office. Eighteen people have been killed. Syria's war is raining down on Kilis. Many residents are now hiding in their homes, too scared of rockets to venture outside, though a roof wouldn't do much against a Katyusha rocket. 
While Turkish forces have returned fire into ISIS territory and recently beefed up military presence at the border, there seems to be no immediate solution to protecting civilians once rockets have been fired.
The United States plans to send a High Mobility Artillery Rocket System to Turkey's southeast to help the Turks battle ISIS fighters, Turkey's foreign minister, Mevlut Cavusoglu, said Tuesday. The system reportedly will be operated by U.S. forces.
As of yet, there are no protective bunkers or shelters in Kilis, and there aren't any air raid sirens to raise the alarm of incoming rocket fire. Some locals who have protested recent ISIS strikes and perceived government inaction have reportedly been met with water cannon used by Turkish authorities.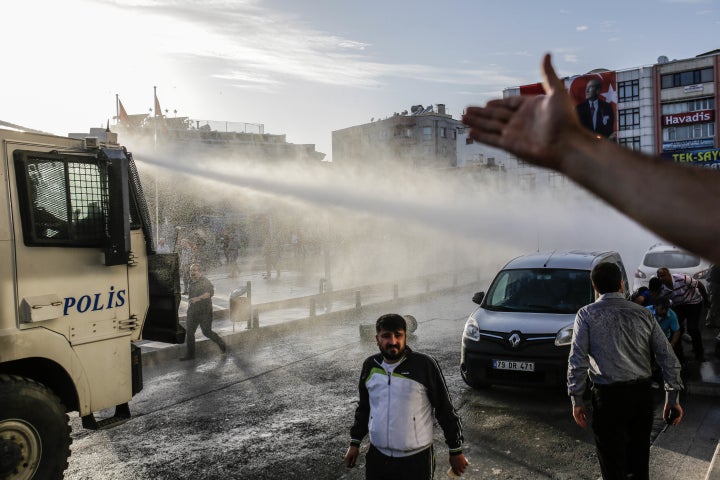 The EU insists that Turkey is a safe enough country to which they can deport migrants and refugees from the Greek islands. Under a controversial deal implemented on March 20, the dangerous but direct illegal sea path to Europe has essentially been closed, and people found journeying across the Aegean Sea are to be returned to Turkey. For every Syrian sent back from the Greek islands, a Syrian residing in Turkey is to be legally resettled in the EU.
As part of the deal, the EU is supposed to allocate up to 6 billion euros to Turkey to help lessen the financial burden of over 2.7 million Syrians seeking refuge within Turkey's borders. In addition to cash, Turkey has been promised expedited visa-free travel in the EU for Turkish citizens.
While much of Turkey is arguably safer than the bloodbath that is Syria — despite a series of deadly terrorist attacks in Turkey and increasing violence in the southeast between Kurdish militants and Turkish forces — Kilis is another story.
Most in Kilis cannot brave the sea to Europe the way friends and family members have done before them because of the travel restrictions under the new EU deal. For those living in government-run refugee camps, leaving that lifeline could mean destitution — there are few formal job opportunities for Syrians and work permits are difficult to come by.
Recent security measures now prevent many Syrians who lack paperwork like residency permits (the process is painstakingly long, bureaucratic and expensive) from traveling from one city to another without official approval.
That leaves the border city, its Syrian "guests," as they're called under Turkish law, and their Turkish hosts who can't or won't leave, stuck in the line of fire.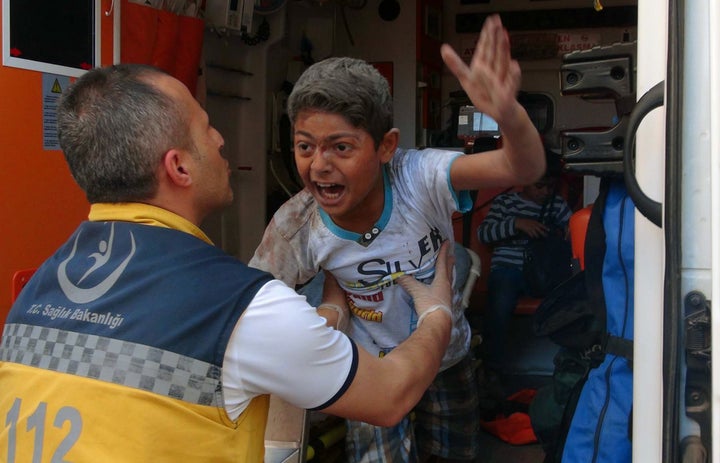 "When shelling takes place, my son becomes angry, agitated and unresponsive," says Najla, a former Arabic teacher and psychosocial counselor from the Damascus suburbs who runs an organization for Syrian women and children in Kilis. "He asks: 'Why is war coming after us?'"
While the city is hardly a ghost town, with markets still bustling and people out and about, locals say many people are afraid to leave their homes.
"We used to have forty children a day," she explains, referring to the children's education programs. "And now we only have ten."
Many of the children at the municipally funded center, including Najla's 13-year-old son, show symptoms of Post Traumatic Stress Disorder, like bed wetting, she says.
After witnessing his school teachers dying in Syrian government airstrikes, that trauma that has only been compounded by cross-border ISIS attacks targeting what is supposed to be a refuge from war.
Kilis Mayor Hasan Kara says the city has welcomed Syrians with open arms, but that the security situation is worsening for everyone.
"When immigrants go to Europe, [the EU] says there's a problem," Kara told The WorldPost in a recent interview. "But when the people die here, and even the soil dies, they don't say anything."
No Turkish city has experienced the harsh blow of refugee spillover from Syria as much as Kilis. Roughly 129,000 Syrians now call the city home, far outnumbering some 93,300 local Turks.
Before the war, the city generated 30 tonnes of trash daily, Kara says. Now it generates 160 tonnes daily. Water is in short supply, and so is space.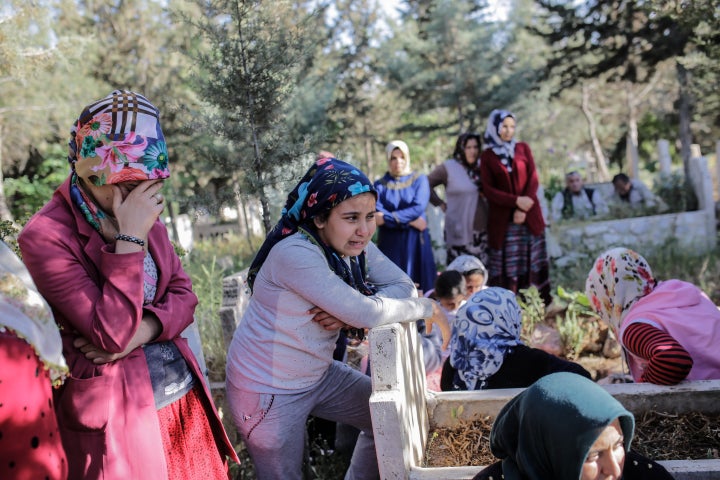 Just over the border in northwestern Syria, there are tens of thousands of internally displaced Syrians who, given the opportunity, would gladly seek shelter in Turkey. Some have recently fled camps that were later seized by ISIS. Others have escaped government airstrikes in Syria's second city of Aleppo.
They've all found a closed border and, according to refugee testimony and rights groups, Turkish border guards using live fire to prevent people from crossing illegally. 
For years, Turkey maintained an open border policy, allowing millions of Syrian refugees, as well as hardline fighters, much to the dismay of western leaders, to cross with relative ease. Those days are over, it seems, with the border staying closed to everyone apart from the gravely wounded, registered aid groups and those who are lucky enough to get their names placed on official lists at the border.
"Our limit is finished — it's full," Kara says. "We want to make a safe zone. If we can't keep them in the safe zone, we must keep them here. And if they come here, they'll stay for one night and go to Europe."
Like many other Kilis residents, Alshawakh, the director of Fatih Sultan Mehmet, has little choice but to stay and pray that rockets don't strike twice. His duty is to protect the children who survived and are still under his care.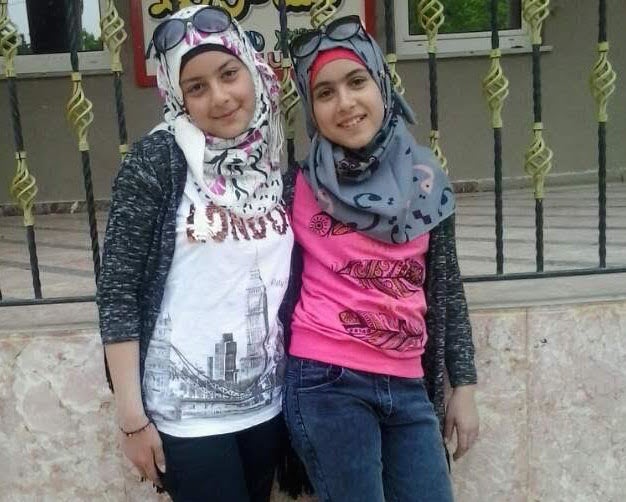 He looks down at a picture of Yasmin and Tesnim, the best of friends who didn't make it. 
"They were so close," he says, with a smile. "They did everything together, as if they were twins. Even their fate was the same."
Despite their violent deaths, Alshawakh says he'll forever remember the girls as they were in the photograph — hand in hand, and full of life.
Abdul Salam Dallal contributed reporting. 
The death toll in this article has been updated, and information about the United States' High Mobility Artillery Rocket System has been added.