ISTANBUL ― Less than a week after the family of renowned American journalist Marie Colvin sued the Syrian government for her death, Syria's Bashar Assad shot back with his own version: It was all her fault.
"It's a war and she came illegally to Syria, she worked with the terrorists, and because she came illegally, she's been responsible of everything that befall on her," the embattled president said in an exclusive interview with NBC News in Damascus published Wednesday.
Colvin, a veteran conflict reporter for The Sunday Times of London, died alongside French photographer Remi Ochlik in a February 2012 rocket attack on a makeshift media center in the besieged, rebel-held city of Homs, western Syria.
Her family maintains that the Syrian government ordered her killing "as part of its effort to crush political opposition."
One major piece of evidence in the suit is fax, that Syria's military intelligence forces sent in August 2011, which calls for harsh dealings for "those who tarnish the image of Syria in foreign media and international organizations", Reuters news agency reports.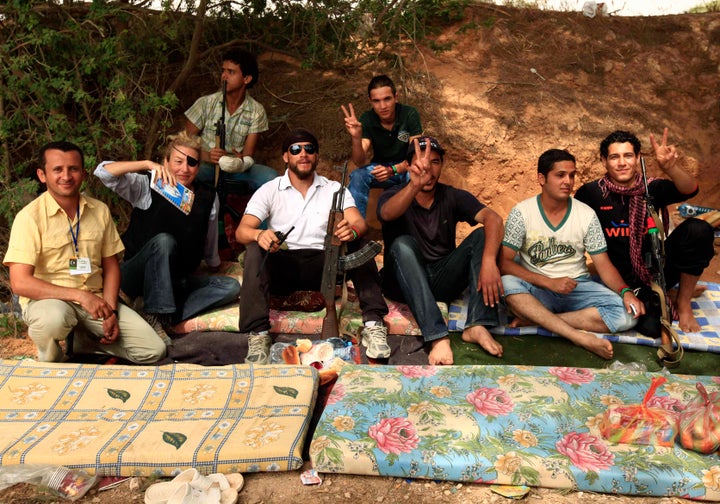 Syrian government forces have routinely attacked journalists and media activists. And tens of thousands of civilians ― many of whom have dared challenge the government line ― have been forcibly disappeared, according to Amnesty International.
Colvin knew the risks associated with reporting in war zones, but she determined that such an important and under-reported story must be told.
She spoke with Anderson Cooper on CNN the night before her death about watching a baby die from shrapnel wounds in front of her.
"It's a complete and utter lie that they're only going after terrorists," Colvin said, referring to the Syrian military. "There are rockets, shells, tank shells, anti-aircraft being fired in parallel lines into the city. The Syrian Army is simply shelling a city of cold, starving civilians."
Colvin was, and still is, celebrated for her bravery and determination to expose the truth, despite the great risk to her own life.
Her tenacity in East Timor in 1999 could very well have helped saved the lives of some 1,500 women and children encircled by Indonesian forces. Colvin insisted on staying along with two other female journalists. In doing so, she convinced a United Nations commander to stay, thus potentially diverting a massacre.
Colvin's trademark black eye patch was a testament to her character ― she lost an eye under government fire in Sri Lanka in 2001 ― as was her sense of style.
The killings of Colvin and Ochlik shocked the international community and the press corps in particular, making an already difficult-to-cover war even more off-limits.
Syrians have been largely tasked with the dangerous job of reporting on their country's war. Foreign journalists and observers are now a rarity. Both Syrian government forces and rebels have been known to kidnap or kill members of the press.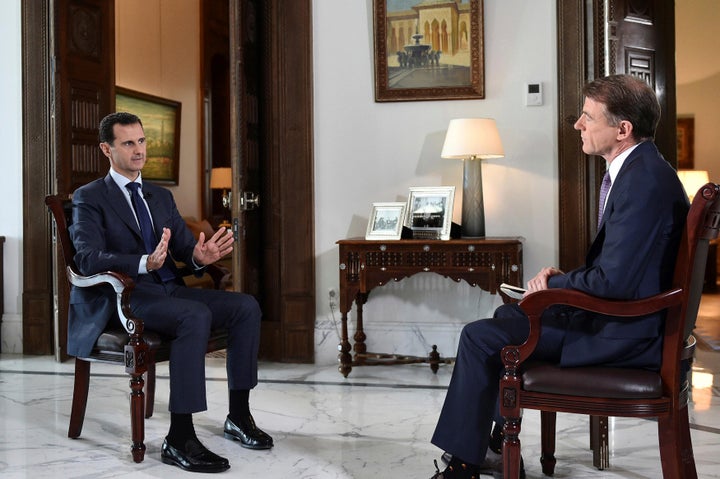 Syria's bloody civil war, now in its sixth year, first largely began as peaceful demonstrations in which Syrians demanded freedom and justice from what they called a brutal Assad dictatorship.
Despite evidence of routine torture in government prisons and barrel bomb attacks on civilian neighborhoods, Assad has denied any wrongdoing in the civil war that has left an estimated 400,000 people dead.
"Have you heard about a good war?" Assad said in the NBC interview.  "I don't think that anyone has heard about a good war. It's a war. You always have causalities, you always have innocent people being killed by any means, and no one can tell how."