GAZA CITY — For days, Israeli strikes have been pounding northern Gaza, a major launching point for Hamas rockets fired toward Israel. But Saturday night, when Israeli leaflets fluttered down from military aircraft instructing Palestinian civilians to evacuate the area within 12 hours or risk death from imminent strikes, Mohamed al-Attar and his family decided it was finally time to go.
The group of 45 people, including al-Attar's children, grandchildren and other extended family members, grabbed what they could carry, hoisted the youngest children onto their backs, and walked over two miles through night clashes between Israel and Hamas to a United Nations school in Gaza City.
UNRWA, the U.N. organization that aids Palestinian refugees, says that at least 17,000 people from northern Gaza have sought refuge in U.N. shelters like these schools. But refuge is hard to come by these days.
"We're dying," al-Attar says, palming white prayer beads in one of the classrooms of the U.N. school. All around him, family members, exhausted from their midnight escape, sleep on the floor. The afternoon heat hangs thick in the air. "We just want peace."
At least 168 Palestinians in Gaza have been killed since Israel launched its offensive on Tuesday, with Gaza firing rockets at major Israeli cities and Israel striking Gaza from land, air and sea. Headless and charred bodies constantly arrive at Gaza morgues, and Israelis, in places once deemed safe from rocket fire, now find themselves running to and from bomb shelters, day and night.
While there have been injuries reported in Israel, the country has kept its death toll at zero, mostly thanks to its Iron Dome missile interceptor. Israel claims it only targets Hamas fighters in Gaza, but says that the Islamist militant group purposely fires rockets from civilian areas. Palestinians here decry Israel's bombardment of civilian areas, saying the country does little to avoid killing noncombatants.
Palestinians from northern Gaza, many of whom now find themselves once again displaced, don't know if they'll be able to go back home any time soon, or if their homes or farmland will be there when they return. Many only fled with the clothes on their back and important documents necessary for medical treatment and identification.
Jamal al-Attar, a farmer from the northern city of Beit Lahia who is not related to Mohamed, says he used to work in Israel before the border was closed. Now, the only way his family survives is by living off of his meager potato fields, he says, and he expects them to be destroyed in the strikes. All he can do is wait.
Some Palestinians at one school, the New Gaza Preparatory Boys' School, say the United Nations hasn't provided them yet with food or water, and they're just receiving shelter. They're relying on each other, they say.
U.N. staff at the school say they're doing the best they can to provide food, water, shelter and psychological assistance to families. Everything is limited due to the huge number of displaced people, they note.
"We complain to God first and then the United Nations second," Jamal al-Attar says, a little girl peeking out of a school room window behind him. Nobody flinches at the sound of a trio of explosions in the distance. "There's nothing we can do."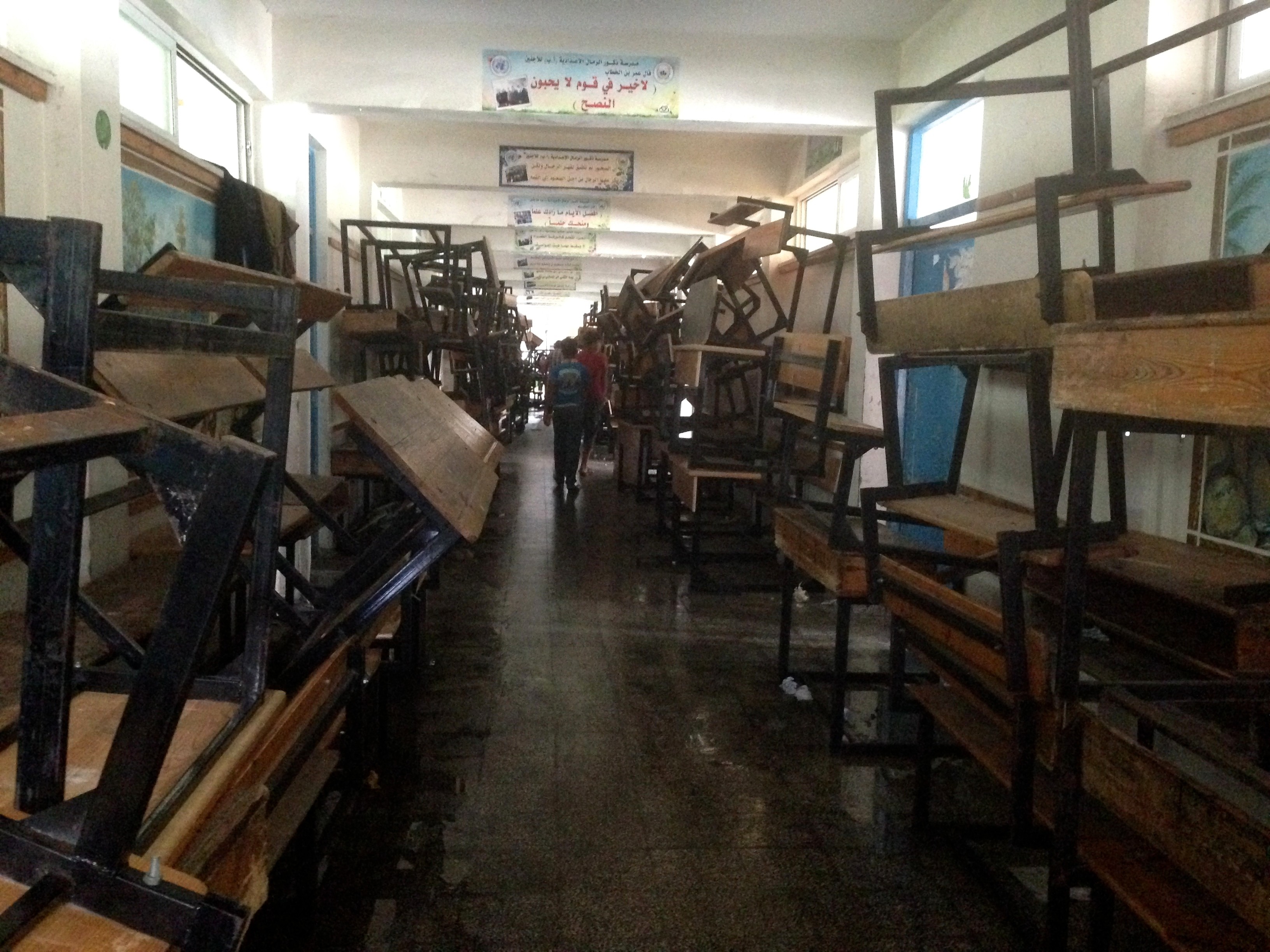 A U.N. school in Gaza city, where residents of northern Gaza fled after Israel issued a warning to evacuate. Corridors are filled with desks as classrooms are turned into makeshift shelters for families.
In another UN school courtyard, Umm Mohamed Sultan and her family rest in the shade as cars drive up packed with mattresses, food, and other belongings. She says they received leaflets and recorded phone calls telling them to flee. Some Palestinians say they've repeatedly received the phone calls, but ignore them since the promised strikes don't always arrive. But for Sultan, the clashes and shelling were so bad she couldn't fathom staying put, she says. She rushed to the UN school as soon as she could.
"My son was so scared," she says, holding a screaming child still in shock from last night's ordeal. "He covers his ears and yells whenever there are bombings. My daughter shakes."
Many Palestinians who've fled their compounds perceive U.N. schools as safe zones. But in the past day or so, at least nine UNRWA schools have been damaged in clashes and strikes across Gaza.
"During the Gaza fighting in 2008/9, over 50,000 people took sanctuary in UNRWA installations," UNRWA spokesman Chris Gunness said in a written statement to journalists. "As a direct result of military operations, people who came to UNRWA installations because they thought they could find safety and security for themselves and their families were killed."
According to Jamal al-Attar and other residents of northern Gaza, many people who received Israel's warnings decided not to come to U.N. schools or other places seen as safe. Some Palestinians say they worry about becoming refugees for a second time if they leave their homes for safer ground. Most Palestinians living in Gaza are refugees, directly displaced after 1948 when the state of Israel was created, or descendants of refugees.
"They'd rather get demolished in their houses than start their lives all over again," Jamal al-Attar, the farmer, says.
Ahmed Rezeq contributed reporting from Gaza City.