WASHINGTON — The Pentagon said on Friday that its attack on a Doctors Without Borders hospital in Kunduz, Afghanistan, last October was not a war crime because the attack was not intentional. The military released a redacted 3,000-page internal investigation into the deadly bombing, which destroyed the only free trauma center of its kind in the country's northern region and killed 42 patients, staffers and caretakers.
"The label 'war crimes' is typically reserved for intentional acts," Gen. Joseph Votel, commander of U.S. Central Command, said on Friday. "The investigation found that the tragic incident resulted from a combination of unintentional human errors and equipment failures, and that none of the personnel knew that they were striking a medical facility."
Votel specifically cited battlefield fatigue, following several consecutive days of fighting after Taliban forces had taken over the strategic city of Kunduz, and technological issues, which compromised the AC-130 gunship's GPS sensors and video transmitters used to locate targets. A combination of these factors, he said, led U.S. troops to repeatedly bomb the hospital instead of their intended target, a building 400 meters away.
The military said it punished 16 unnamed service members for mistakes that led to the airstrikes that destroyed most of the hospital. Five of the 16 individuals were removed from Afghanistan. Other disciplinary action included suspension and removal from command, letters of reprimand, counseling, and retraining.
Doctors Without Borders slammed the "administrative punishments" as "out of proportion to the destruction of a protected medical facility, the deaths of 42 people, the wounding of dozens of others, and the total loss of vital medical services to hundreds of thousands of people."
"The lack of meaningful accountability sends a worrying signal to warring parties, and is unlikely to act as a deterrent against future violations of the rules of war," the medical humanitarian agency said in a statement shortly after the Pentagon's announcement.
Since the October attack, the military has taken steps to prevent a similar incident from happening in the future, said Votel. They gave the leadership of Doctors Without Borders — also known as Médecins Sans Frontières or MSF — better contact information to reach U.S. forces, provided 9,000 personnel with additional training on the rules of engagement, and moved to pre-load aircraft computers with the no-strike list, which included the Kunduz hospital. (The AC-130 crew involved in the October attack didn't have the list, due to an early takeoff.)
Throughout the press briefing on Friday, Votel repeatedly emphasized that the U.S. did not intentionally bomb the Doctors Without Borders facility — possibly an effort to quash rumors circling in Afghanistan that the military knowingly targeted the hospital because some of the patients there were Taliban soldiers.
But intent is not the only consideration in determining whether a military attack is within the laws of war. International law also prohibits "recklessly" launching attacks.
"Under laws of war,  you have to take feasible precautions to minimize harm to civilians," Naureen Shah, director of Amnesty International's Security With Human Rights program, told The WorldPost. "They have acknowledged all of these mistakes — that there were so many things they could have done to prevent this from happening," she continued. "Twenty-nine minutes of bombing a hospital and no one notices that the wrong building is being bombed — if that's not recklessness, I don't know what is."
The Pentagon's investigation leaves unanswered several questions about what happened during the Oct. 3, 2015, attack and why it took the military so long to realize its mistake.
In November, Gen. John F. Campbell, the commander of U.S. forces in Afghanistan, told reporters that the military realized its mistake less than a half hour into the bombing, after receiving a phone call from Doctors Without Borders, and halted the attack. But the humanitarian agency, which compiled a detailed log of phone calls made during the airstrikes, has said the bombing dragged on for at least an hour, despite multiple calls to U.S. and Afghan contacts. Surviving patients, staffers present that night and local Kunduz residents confirmed the agency's timeline in interviews with The WorldPost.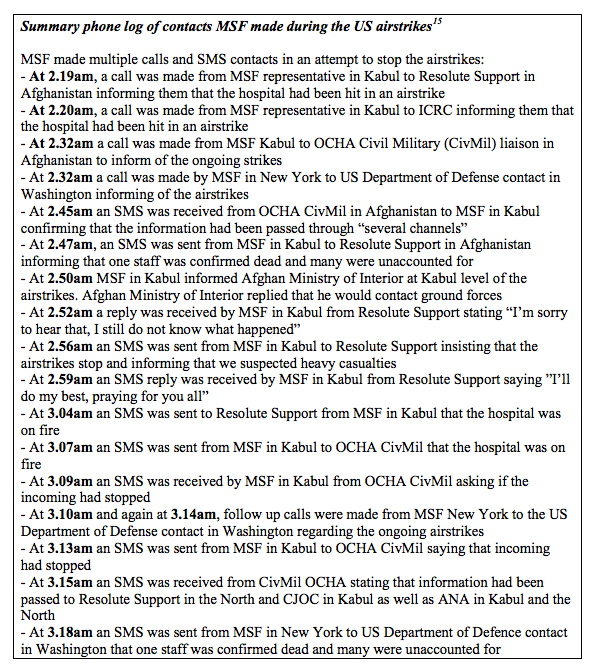 Doctors Without Borders, which accepts patients from all warring sides but prohibits them from bringing weapons inside its facilities, said it was treating about 20 Taliban patients at the time of the attack.
Some Afghan government officials defended the attack, which only added to speculation that Afghan forces had intended for the U.S. troops to hit the hospital and its Taliban patients.
"That was a time of fighting — some things happen," Hamdullah Danishi, acting governor of Kunduz, told The WorldPost in February. "I know the Taliban. They are using everywhere as bases. I cannot say if [the hospital] was a military base or not. But they were there, 100 percent."
President Barack Obama and the U.S. military have ignored repeated calls from Doctors Without Borders for an outside investigation into the attack, which the organization has described as a war crime. Gen. Campbell told reporters in November that the U.S. investigation, as well as a NATO and joint U.S.-Afghan assessment, would provide a "thorough and unbiased inquiry."
Gen. Votel said on Friday that the officers who conducted the investigation visited the site of the attack in Afghanistan and interviewed more than 65 witnesses. Those officers were selected, he said, because they came from assignments outside Afghanistan and could provide an "objective and independent perspective."
But Shah, of Amnesty International, rejected the idea that an internal military investigation could produce unbiased results. "We can't trust an investigation by the U.S. military because you should never ask an entity to just merely police itself," she said.
The military has allocated $5.7 million to rebuild that hospital and made "condolence payments" to Afghans directly affected by the strikes, Votel said Friday. Over 170 such payments have been made, he said, in sums of $3,000 for those wounded in the attack and $6,000 to families of those killed.
Recipients of condolence payments have told The WorldPost they received similar amounts. One father, who watched in horror as his 9-year-old daughter burned alive in her hospital bed during the attack, said the cash was hardly enough to replace his dead child.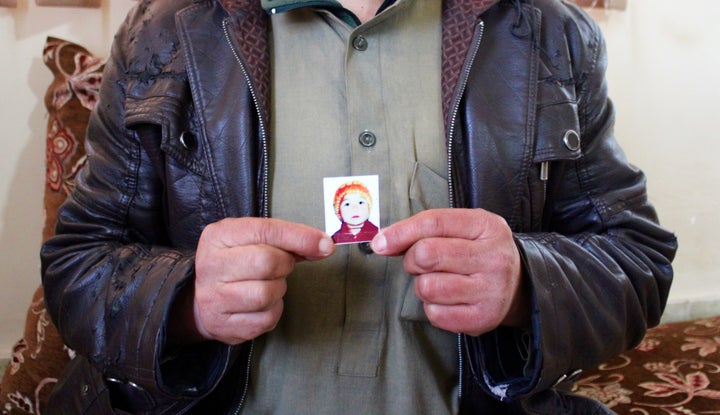 Doctors Without Borders has said it does not plan to rebuild or reopen the Kunduz hospital until all warring parties will ensure the safety of its staffers and patients. "We need assurances that we can work according to our core principles and international law," a spokesperson for the group told The WorldPost last month. "Namely that we can safely treat all people in need, no matter who they are or for which side they fight."
Without the 92-bed medical clinic in Kunduz that treated Afghans for free, people in need of emergency care in northern Afghanistan are forced to choose between local medical care that many residents say they can't afford or is unreliable, or risk the hours-long haul to Kabul. There, the Italian-run Emergency hospital treats war-wounded for free. For patients who have lost limbs in mine explosions or suffered critical injuries in firefights, those 200 or so miles from Kunduz to Kabul could be the difference between life and death.
Jessica Schulberg reported from Washington and Sophia Jones reported from Istanbul.
CORRECTION: A previous version of this story stated that Doctors Without Borders was treating 65 Taliban patients at the time of the attack. It treated that number of Taliban patients the Wednesday before the bombing.