Credits
Nathan Gardels is the editor-in-chief of Noema Magazine.
What global interdependence giveth it can also take away. As long as China's economy grew rapidly, as it did over recent decades, the demand for Brazil's iron ore, oil and soybeans generated enough rising prosperity to disguise the cracks in the democratic system of Latin America's largest country.
China's slump has now exposed the malignant corruption and mismanagement that festered in the shadows of the "Brazilian miracle," sending the nation into a downward spiral of deep recession, high inflation and burdensome debt. Social unrest and massive demonstrations have regularly filled the streets, culminating in the impeachment of President Dilma Rousseff.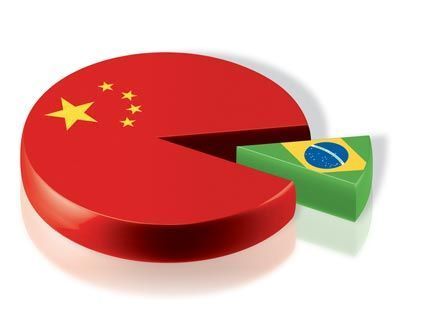 Animated chart representing China and Brazil's economic relationship. (Getty)
Writing from Sao Paulo, Brazil's revered former president, Fernando Henrique Cardoso says, "Brazil has turned a sad page in its history. I would have much preferred that Dilma Rousseff had proved the political and administrative capacity to complete her mandate. Unfortunately the crime of responsibility was compounded by the collapse in her overall ability to govern." But, for Cardoso, Brazil's troubles reflect a larger calamity. Representative democracy is in crisis across the West, he writes. "At the core of this crisis is the widening gap between people's aspirations and the capacity of political institutions to respond to the demands of society. It is one of the ironies of our age that this deficit of trust in political institutions coexists with the rise of citizens capable of making the choices that shape their lives and influence the future of their societies." The challenge for all democracies, he concludes "is to bridge the gap between demos and res publica, between people and the public interest, reweaving the threads that may reconnect the political system with the demands of society."
Writing in HuffPost Brazil, Raphael Tsavkko Garcia warns of further turmoil ahead. "Don't fool yourself; Dilma's impeachment won't alleviate Brazil's current crisis," he says. "For the next two years, [President Michel] Temer's government will be under strong (and necessary) pressure. Cuts on the social programs that Dilma started may be increased and accelerated. … Our problems didn't start yesterday, and they won't go away anytime soon."
On the other side of the globe, China is seeking to expand its integration with the economies of Central and South Asia through reviving the Silk Road by building out new infrastructure and trade routes. Peter Cai reports on the wariness over China's plans he found during a recent visit to India. "At the heart of India's reluctance to embrace Beijing's promise of road building and connectivity," he writes, "is strategic mistrust. The country is wedged between two nuclear-armed neighbors and has fought wars against both in the last 60 years." Cai cites local experts who see China's effort to build roads and bridges "as instruments of Beijing's intention to build influence in its neighborhood." Some, he says, even suggest that a "new Great Game," not unlike when Russia and Britain jostled for power in the region in the early 20th century, is now underway.
In a WorldPost debate, China scholars Jeffrey Wasserstrom and Kate Merkel-Hess spar with Beijing-based scholar Daniel A. Bell over claims in an essay I wrote recently arguing that Chinese President Xi Jinping's current crackdown on an independent civil society must be understood in light of that country's long history as a unitary state with no autonomous realm beyond its fold. Wasserstrom and Merkel-Hess argue that President Xi is selectively reading China's history, dismissing periods of pluralism as a way to justify authoritarianism. Bell argues that Wasserstrom and Merkel-Hess display a "colonial mindset" by engaging in their own selective reading of Chinese history to suit Western notions of human rights and democracy. All agree, as Bell puts it, that "It's a mistake to say that there is only one political tradition in Chinese history and to draw implications for contemporary China based on that assumption."
In an essay in HuffPost France, Prime Minister Manuel Valls condemns what he calls the "proselyte contestation" of those in France who "seek to defy two of the fundamental principles of our country" — the equality of men and women and secularism. Marc Steinau, Benjamin Reuter and Nicholas Miriello report that political violence is rising in Germany along with the right-wing Alternative for Deutschland (AfD) party.
Seyed Hossein Mousavian, a former member of Iran's National Security Council, and Hesam Rahmani assess the state of the Iran nuclear deal, which continues to be attacked by opponents both in the U.S. and Iran. The fear, they write, is that "radical voices on both sides that have sought to undermine the deal will win, and escalation will once again become the name of the game between Iran and the U.S. The path to peace will diverge back onto the path to war."
As if it couldn't get worse, Willa Frej reports that child suicides are escalating in the besieged Syrian town of Madaya. Rowaida Abdelaziz, however, has a glimmer of hope from there — a family suffering from meningitis has been evacuated for treatment just weeks after one member, an 11-year-old boy, had himself been removed due to the same illness. On the anniversary of the 9/11 terror attacks on the World Trade Center in New York, Dean Obeidallah surveys how the lives of Muslims in the Middle East have been impacted.
Arthur Molella contends that the 1900 world's fair in Paris has shaped our present-day attitudes toward technology He recalls Henry Adam's reflections at the time. "In a chapter titled 'The Dynamo and the Virgin,' he cites Adams as "ponder[ing] the implications of the machine age, expressing deep concern over what he sees as a dangerous clash between the seductive grandeur of modern science and technology — what he calls 'the Dynamo' — and the essential undergirding of humanity, religion and traditional values, which he christens 'the Virgin.'"
Finally, our Singularity series this week talks to virtual reality pioneer Chris Milk, who says, "I don't think the future of VR looks like video games; I don't think it looks like cinematic VR; I think it looks like stories from our real lives."
WHO WE ARE

EDITORS: Nathan Gardels, Co-Founder and Executive Advisor to the Berggruen Institute, is the Editor-in-Chief of The WorldPost. Kathleen Miles is the Executive Editor of The WorldPost. Farah Mohamed is the Managing Editor of The WorldPost. Alex Gardels and Peter Mellgard are the Associate Editors of The WorldPost. Suzanne Gaber is the Editorial Assistant of The WorldPost. Katie Nelson is News Director at The Huffington Post, overseeing The WorldPost and HuffPost's news coverage. Nick Robins-Early is a World Reporter. Rowaida Abdelaziz is World Social Media Editor.

CORRESPONDENTS: Sophia Jones in Istanbul.

EDITORIAL BOARD: Nicolas Berggruen, Nathan Gardels, Arianna Huffington, Eric Schmidt (Google Inc.), Pierre Omidyar (First Look Media), Juan Luis Cebrian (El Pais/PRISA), Walter Isaacson (Aspen Institute/TIME-CNN), John Elkann (Corriere della Sera, La Stampa), Wadah Khanfar (Al Jazeera), Dileep Padgaonkar (Times of India) and Yoichi Funabashi (Asahi Shimbun).

VICE PRESIDENT OF OPERATIONS: Dawn Nakagawa.

CONTRIBUTING EDITORS: Moises Naim (former editor of Foreign Policy), Nayan Chanda (Yale/Global; Far Eastern Economic Review) and Katherine Keating (One-On-One). Sergio Munoz Bata and Parag Khanna are Contributing Editors-At-Large.

The Asia Society and its ChinaFile, edited by Orville Schell, is our primary partner on Asia coverage. Eric X. Li and the Chunqiu Institute/Fudan University in Shanghai and Guancha.cn also provide first person voices from China. We also draw on the content of China Digital Times. Seung-yoon Lee is The WorldPost link in South Korea.

Jared Cohen of Google Ideas provides regular commentary from young thinkers, leaders and activists around the globe. Bruce Mau provides regular columns from MassiveChangeNetwork.com on the "whole mind" way of thinking. Patrick Soon-Shiong is Contributing Editor for Health and Medicine.

ADVISORY COUNCIL: Members of the Berggruen Institute's 21st Century Council and Council for the Future of Europe serve as the Advisory Council — as well as regular contributors — to the site. These include, Jacques Attali, Shaukat Aziz, Gordon Brown, Fernando Henrique Cardoso, Juan Luis Cebrian, Jack Dorsey, Mohamed El-Erian, Francis Fukuyama, Felipe Gonzalez, John Gray, Reid Hoffman, Fred Hu, Mo Ibrahim, Alexei Kudrin, Pascal Lamy, Kishore Mahbubani, Alain Minc, Dambisa Moyo, Laura Tyson, Elon Musk, Pierre Omidyar, Raghuram Rajan, Nouriel Roubini, Nicolas Sarkozy, Eric Schmidt, Gerhard Schroeder, Peter Schwartz, Amartya Sen, Jeff Skoll, Michael Spence, Joe Stiglitz, Larry Summers, Wu Jianmin, George Yeo, Fareed Zakaria, Ernesto Zedillo, Ahmed Zewail and Zheng Bijian.

From the Europe group, these include: Marek Belka, Tony Blair, Jacques Delors, Niall Ferguson, Anthony Giddens, Otmar Issing, Mario Monti, Robert Mundell, Peter Sutherland and Guy Verhofstadt.
MISSION STATEMENT
The WorldPost is a global media bridge that seeks to connect the world and connect the dots. Gathering together top editors and first person contributors from all corners of the planet, we aspire to be the one publication where the whole world meets.
We not only deliver breaking news from the best sources with original reportage on the ground and user-generated content; we bring the best minds and most authoritative as well as fresh and new voices together to make sense of events from a global perspective looking around, not a national perspective looking out.