Credits
Nathan Gardels is the editor-in-chief of Noema Magazine.
Every year The WorldPost joins with MIT collective intelligence research scientist Peter Gloor and the Gottlieb Duttweiler Institute in Zurich to measure the most influential thought leaders and the top platforms for the exchange of ideas in the global digital realm. The latest results are reported in the 2016 Global Thought Leaders Index, which examines the English, Spanish, German, Chinese and Arabic language areas on the web. You can find the methodology here. 
As the map below of the globally-dominant English language web shows, The WorldPost/Huffington Post is the most prominent idea-spreading digital platform along with The New York Times outside of social media, which is dominated by Facebook and Twitter.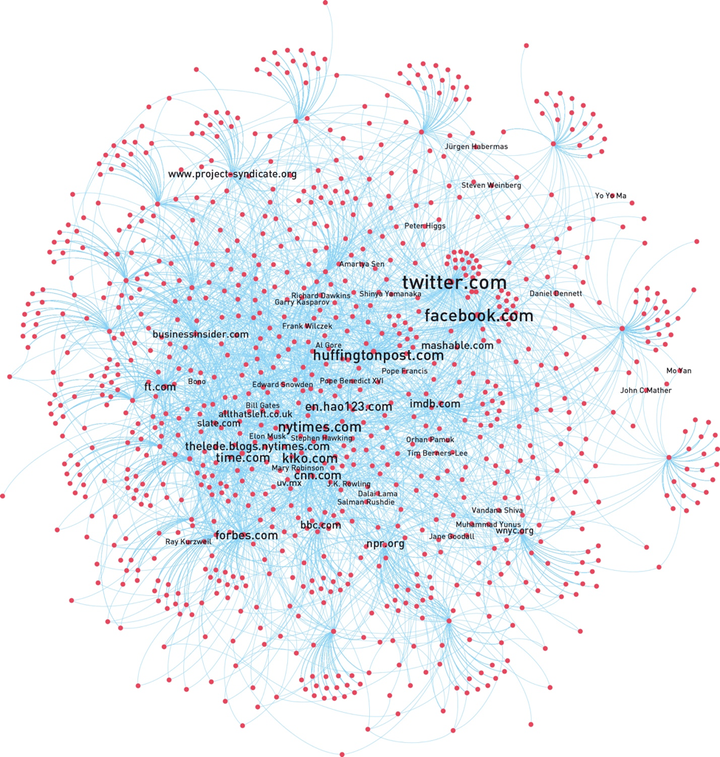 What this year's analysis also reveals, as I write in my summary of the key findings, is that, "the passionate political environment of 2016 appears to have marked a tipping point … where the influence of individuals sharing information on social media surpassed that of established media platforms. This shift matches the inversion of the old pyramid in which the authority and influence of elites in both society and the media once held the most sway over the majority of the population." 
Today, most now trust their peers but distrust elites and public institutions. "The combined result of these related developments … is [thus] the emergence of two parallel webs," I continue. The new sway of social media has divided our discourse. In short, one internet, two conversations.
The present elites may have failed to address what matters most in people's lives. But if peace is made in the "minds of men," as the poet Archibald MacLeish said at the founding of UNESCO after World War II, the separation of authoritative knowledge from influence in a world where the social medium is not only the message, but the route to power, is a menacing turn for society.
By way of example, our study shows that while individuals associated in some way with elite institutions like Harvard, MIT or Princeton figured prominently on the platforms favored by what the Edelman Trust Barometer labels "the informed public," alt-right sites like Breitbart News barely registered. Yet their anti-elite message was widely boosted by social media campaigns associated with Donald Trump.
In an interview that in itself, perhaps, illustrates the divide between elites and the social media-driven populist worldview, Harvard professor Joseph Nye warns that President-elect Trump's "America First" policy, which would retreat from alliances as well as trade and climate pacts, risks undermining the liberal world order. "If there is no American power behind Western values," he says, "they will become a façade."
Chandran Nair looks at the damage Trump's election has caused America's image as the model democracy from the perspective of developing nations. "For those who have held up the U.S. as the bastion of all things good and right," he writes, "this may be a wake-up call ― a realization that the country has serious flaws and that its shortcomings and mistakes have major implications for the rest of us."
The anti-establishment dynamic was at work this week in Italy as well, where the populist 5-Star Movement led by social media star Beppe Grillo played a key role in defeating Prime Minister Matteo Renzi's constitutional referendum. As HuffPost Italy's editor Gianni Del Vecchio writes from Rome, "The most important message of this referendum is that Italians are angry with their politicians. As we saw during the U.S. elections and the Brexit referendum, citizens have just uttered a loud scream." Also writing from HuffPost Italy, Lucia Annunziata agrees: "Unhappiness, discontent, bitterness, and a desire to overturn the status quo," she writes, "are prevalent across every region in Italy."
The march of populist and nationalist politics is not confined to the Western democracies, but vexes India as well. Writing from New Delhi, Shashi Tharoor scores "the worldwide swell of nationalist fervor" that "notched up a curious victory last week when India's Supreme Court, once seen as a bastion of liberalism … issued an 'interim ruling' making it compulsory for all movie theaters to screen a picture of the national flag and play the national anthem, and for all movie-goers to stand while this is done. The ruling of the court, Tharoor continues, "has transformed an ordinary citizen's love of his country into a 'duty' to the state, the Constitution from an embodiment of the ideals of freedom to a coercive instrument and the movie theater from a place of entertainment to a venue for demonstrating patriotism."
The clash between the duty of patriotism and the desire for democracy is also stirring passions in Hong Kong, which is trying to negotiate the "one country, two systems" arrangement agreed by Beijing and Hong Kong's last British governor, Chris Patten, when Great Britain relinquished colonial control in 1997. Patten, now the chancellor of Oxford University, is worried that brash young activists in Hong Kong are making a big mistake by mixing up demands for advancing democracy with the taboo idea of Hong Kong independence. "The reality is that Hong Kong is not an incipient nation-state, and it will not become one," he writes. "China would oppose this idea to the bitter end. It is not a fight Hong Kong would win. Instead, Hong Kong is a Chinese city with a strong sense of identity as a free, plural, decent and open society under the rule of law. This is what democracy activists should be discussing. This is where they are on sound footing and can advance positive goals." Writing from Hong Kong in the wake of the furor caused by President-elect Donald Trump's call with Taiwan's president, Tsai Ing-wen, Cary Huang examines how "Tsai has been walking a tightrope between the island's localist sentiment and the mainland's nationalistic mentality."
All this spreading turmoil around the world worries Charles Taylor, this year's winner of the Berggruen Philosophy Prize. In conversation with CNN's Fareed Zakaria at the New York Public Library during the recent award ceremony, Taylor articulated a fear on many minds these days: "The present danger of our global political environment is that we do something irreparable."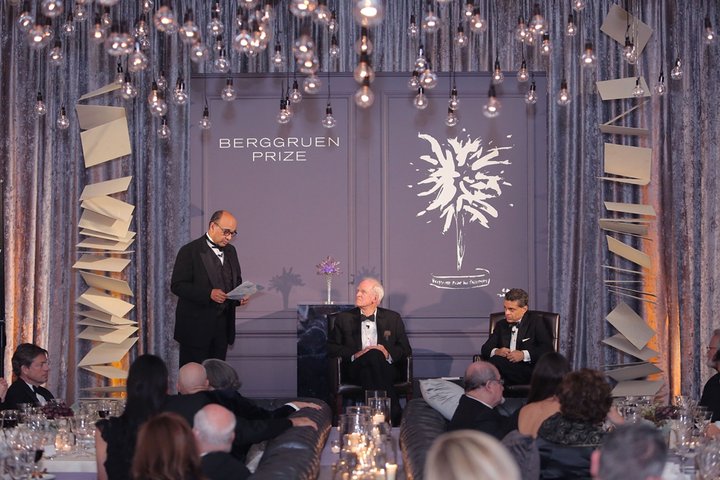 In presenting the award, jury chairman Appiah lauded Taylor for helping us, "to imagine a politics that takes social identities seriously, as sources of solidarity within but also of connection without. It is a politics for human beings as we actually are, as we actually live, in our actual quest for what we judge to be good." 
Dominique Mosbergen uses the new update of Google Earth's Timelapse feature to portray the impact of climate change over recent decades, particularly through images of receding glaciers. This week the Future of Life Institute's Ariel Conn discusses how the HBO show "Westworld" explores the dangers of conscious AI. Finally, our Singularity series this week examines how AI mental health tools beat human doctors in assessing patients.
WHO WE ARE

 

EDITORS: Nathan Gardels, Co-Founder and Executive Advisor to the Berggruen Institute, is the Editor-in-Chief of The WorldPost. Kathleen Miles is the Executive Editor of The WorldPost. Farah Mohamed is the Managing Editor of The WorldPost. Alex Gardels and Peter Mellgard are the Associate Editors of The WorldPost. Suzanne Gaber is the Editorial Assistant of The WorldPost. Katie Nelson is News Director at The Huffington Post, overseeing The WorldPost and HuffPost's news coverage. Nick Robins-Early and Jesselyn Cook are World Reporters. Rowaida Abdelaziz is World Social Media Editor.

CORRESPONDENTS: Sophia Jones in Istanbul.

EDITORIAL BOARD: Nicolas Berggruen, Nathan Gardels, Arianna Huffington, Eric Schmidt (Google Inc.), Pierre Omidyar (First Look Media), Juan Luis Cebrian (El Pais/PRISA), Walter Isaacson (Aspen Institute/TIME-CNN), John Elkann (Corriere della Sera, La Stampa), Wadah Khanfar (Al Jazeera), Dileep Padgaonkar (Times of India) and Yoichi Funabashi (Asahi Shimbun).

VICE PRESIDENT OF OPERATIONS: Dawn Nakagawa.

CONTRIBUTING EDITORS: Moises Naim (former editor of Foreign Policy), Nayan Chanda (Yale/Global; Far Eastern Economic Review) and Katherine Keating (One-On-One). Sergio Munoz Bata and Parag Khannaare Contributing Editors-At-Large.

The Asia Society and its ChinaFile, edited by Orville Schell, is our primary partner on Asia coverage. Eric X. Li and the Chunqiu Institute/Fudan University in Shanghai and Guancha.cn also provide first person voices from China. We also draw on the content of China Digital Times. Seung-yoon Lee is The WorldPost link in South Korea.

Jared Cohen of Google Ideas provides regular commentary from young thinkers, leaders and activists around the globe. Bruce Mau provides regular columns from MassiveChangeNetwork.com on the "whole mind" way of thinking. Patrick Soon-Shiong is Contributing Editor for Health and Medicine.

ADVISORY COUNCIL: Members of the Berggruen Institute's 21st Century Council and Council for the Future of Europe serve as theAdvisory Council — as well as regular contributors — to the site. These include, Jacques Attali, Shaukat Aziz, Gordon Brown, Fernando Henrique Cardoso, Juan Luis Cebrian, Jack Dorsey, Mohamed El-Erian, Francis Fukuyama, Felipe Gonzalez, John Gray, Reid Hoffman, Fred Hu, Mo Ibrahim, Alexei Kudrin, Pascal Lamy, Kishore Mahbubani, Alain Minc, Dambisa Moyo, Laura Tyson, Elon Musk, Pierre Omidyar, Raghuram Rajan, Nouriel Roubini, Nicolas Sarkozy, Eric Schmidt, Gerhard Schroeder, Peter Schwartz, Amartya Sen, Jeff Skoll, Michael Spence, Joe Stiglitz, Larry Summers, Wu Jianmin, George Yeo, Fareed Zakaria, Ernesto Zedillo, Ahmed Zewail and Zheng Bijian.

From the Europe group, these include: Marek Belka, Tony Blair, Jacques Delors, Niall Ferguson, Anthony Giddens, Otmar Issing, Mario Monti, Robert Mundell, Peter Sutherland and Guy Verhofstadt.
MISSION STATEMENT
The WorldPost is a global media bridge that seeks to connect the world and connect the dots. Gathering together top editors and first person contributors from all corners of the planet, we aspire to be the one publication where the whole world meets.
We not only deliver breaking news from the best sources with original reportage on the ground and user-generated content; we bring the best minds and most authoritative as well as fresh and new voices together to make sense of events from a global perspective looking around, not a national perspective looking out.