Credits
Nathan Gardels is the editor-in-chief of Noema Magazine.
In his recent rant against a 62-year-old Indiana-born Latino judge, Donald Trump reveals that he is more than anti-Mexican. He is un-American.
America, after all, is but an idea inhabited by immigrants and their descendant generations. With the obvious exception of the native population, everyone originated from elsewhere. As is often said, America is not about where you came from but where you are going. The American creed is not based on race, ethnicity or religion, but on a shared ideal of tolerance and freedom in the pursuit of happiness. Integrating immigrants as individuals and providing them with the means of upward mobility is what has distinguished America from the old world cultures of Europe. It is the foundation upon which America's celebrated aspirational culture has been built.
To suggest otherwise in 2016 — as Trump has done in questioning whether a U.S.-born judge of Mexican lineage can fairly try the case against Trump University — is also to deny the mixed races and ethnicities that constitute America's makeup today. U.S. President Barack Obama, a self-described "mongrel" of mixed racial descent, is far more the face of America's future than Trump. America's largest state, California, already has more Latinos than whites, and when the growing Asian population is factored in, it is a "majority-minority" state.
As Howard Fineman points out in announcing that The Huffington Post will be starting up a new edition in Mexico City, "there are more immigrants in the U.S. now than at any time in more than a century — and many more of them are from Mexico than from any other country." Trump aside, the U.S. is inching ever closer to what José Vasconcelos, Mexico's education minister in the post-revolutionary years, envisioned as "La Raza Cósmica." He believed the Americas would give birth to a new universal race of mixed blood from all over, just as was already the case in his country. In an interview, one of Mexico's leading historians, Enrique Krauze, discusses the "cultural homogeneity" of his country's mestizo makeup and how "cultures permeate each other."
Ironically, in light of Trump's take on Mexicans and Muslims, this week Americans across the board also mourned the death of Muhammad Ali, the great boxer who proudly and loudly lived and professed his Muslim faith. Muhamed Sacirbey — a former Bosnian foreign minister who is also an American citizen — writes that, "Muhammad Ali defined my assimilation as an American and growth as [a] global citizen."
Looking further south in Latin America beyond Mexico, Rafael Osío Cabrices says his country, Venezuela, "is about to explode." He warns that, "Venezuela could end up as a failed state" not unlike Somalia once was, but "in the Caribbean." Writing from Havana, dissident Miriam Leiva reports on a proposed new law in Cuba that will recognize private property as legitimate. "Private property," Leiva says, "will no longer be considered a capitalist disease." This striking photo essay takes you to Copacabana beach in Rio where an underwear protest against violence against women took place this week. On the political front, Brazil seems headed from bad to worse as the interim president, says Grasielle Castro, stumbles from crisis to crisis. "The longtime politician is considered a politically savvy ruler," she writes from Brasilia, "but he lacks the expertise of politics in a larger sense. He is accustomed to operating in small political circles and behind closed doors."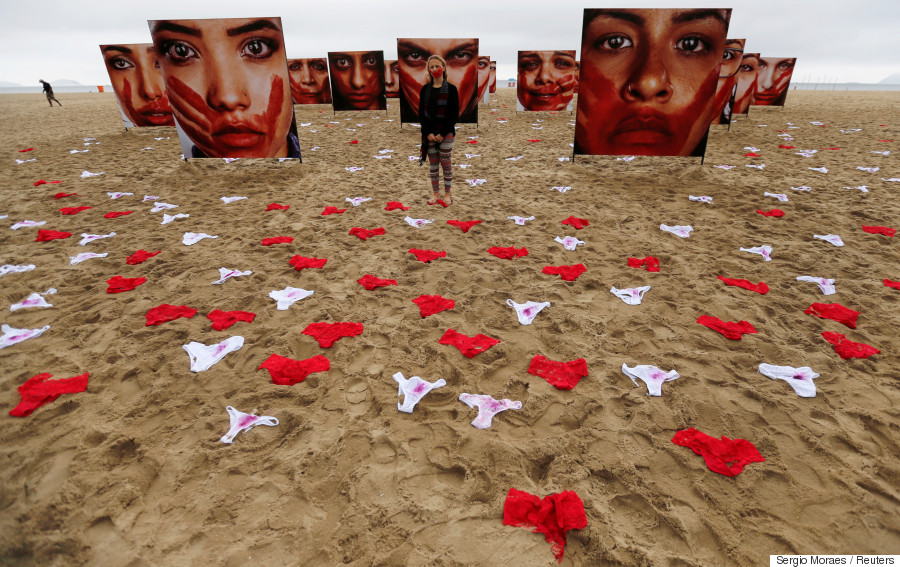 An activist poses for picture during a protest by NGO Rio de Paz against rape and violence against women on Copacabana beach in Rio de Janeiro, Brazil, June 6, 2016. (REUTERS/Sergio Moraes)
Writing from Beirut as Hillary Clinton clinched the Democratic nomination for the U.S. presidency, former MI6 agent Alastair Crooke sees her "liberal interventionist" policy advisers as lining up with the neocons who have stirred up chaos and war in the Middle East while clinging to the Saudi Arabian alliance as a way to sustain American power in the region. He slams a new policy document that blames all problems on Iran. "So the spread of cultural and militant Wahhabism has nothing to do with tension in the region?" he asks rhetorically. "Here we see that the crux of the joint neocon, liberal-interventionist foreign policy for the Middle East is to cast Iran as the source of all 'regional tensions.'" Jorrit Kamminga scores the strategy of decapitating the Taliban leadership in Afghanistan as a path to peace. "Drones may kill some symbols and symptoms of the current conflict in Afghanistan," he writes, "but to create a real breeding ground for peace in Afghanistan, we need to bring all the Taliban 'influentials' and regional players on board, instead of antagonizing them."
Betwa Sharma contrasts the high rhetoric about freedom of speech and religion in Indian Prime Minister Narendra Modi's speech to the U.S. Congress this week with what his political allies are saying back home. "While Modi was telling U.S. lawmakers that 'India lives as one, India grows as one; India celebrates as one,'" she writes from New Delhi, "Vishwa Hindu Parishad leader Sadhvi Prachi was openly calling for India to get rid of its Muslims."
Laurent Leylekian applauds a German parliamentary vote recognizing the Armenian genocide as, "a way for Angela Merkel and her government to say 'stop' to Turkey's gradual shift toward autocracy." Writing from Spain, Juan Fernando López Aguilar recalls Europe's bloody past born of nationalist aggression and says, "to prevent a similar tragedy, we need new Europeans who are committed to Europe in every election and every ballot box," including the upcoming Brexit vote in Britain. Writing from Paris, French philosopher Bernard-Henri Lévy mocks the dogmatic posture of the once powerful General Confederation of Labor, which refuses to compromise over a new labor law proposed by French President François Hollande that would give more flexibility to employers in hiring and firing workers. Vytenis Andriukaitis calls out his fellow Europeans on the "immorality of food waste." Unconscionably, he writes, "88 million tonnes of food are wasted annually" by the European Union.
In this week's "Forgotten Fact," World Reporter Charlotte Alfred discusses the moral dilemmas faced as the EU works with African governments — including dictators and autocrats — to stem the flow of migrants across the Mediterranean. Writing from Singapore, Richard Javad Heydarian is concerned about the increasingly confrontational tone between the U.S. and China as expressed in the recent Shangri-La Dialogue which, he writes, "exposed the fracturing pan-regional security architecture and its potentially disastrous consequences for Asia. The South China Sea has become Asia's new battleground."
As globalization enters a new round of the division of labor, Eric Olander and Cobus van Staden look at how Africa has a chance to pick up some of the industrial production now leaving China. Sarah Grossman reports that billionaire tech titan Bill Gates this week announced his new initiative to fight extreme poverty particularly in West Africa — providing 100,000 chickens to families living there in dire straits. Damon Beres and Andy Campbell report on how Apple and other smartphone companies are resisting proposed "right to repair" legislation. They quote a New York state senator who is proposing such an amendment: "In essence people are forced to buy new computers, new software and new technology on a regular basis because it's so expensive to have them repaired at the manufacturer. The landfills are filling up and they're a very difficult thing to recycle."
In this photo essay, 10 photographers post the "decisive moment" in their career images. Next Gen Scientist Aaron Pomerantz offers a glimpse of the curious sneezing iguanas he filmed recently while visiting the Galápagos islands. Finally, our Singularity series this week looks at a new project by Japanese entrepreneur Lena Okajima that will rain down an artificial meteor shower into our atmosphere from a satellite.
WHO WE ARE

EDITORS: Nathan Gardels, Co-Founder and Executive Advisor to the Berggruen Institute, is the Editor-in-Chief of The WorldPost. Kathleen Miles is the Executive Editor of The WorldPost. Farah Mohamed is the Managing Editor of The WorldPost. Alex Gardels and Peter Mellgard are the Associate Editors of The WorldPost. Katie Nelson is the National Editor at the Huffington Post, overseeing The WorldPost and HuffPost's editorial coverage. Charlotte Alfred and Nick Robins-Early are World Reporters. Rowaida Abdelaziz is Social Media Editor.

CORRESPONDENTS: Sophia Jones in Istanbul

EDITORIAL BOARD: Nicolas Berggruen, Nathan Gardels, Arianna Huffington, Eric Schmidt (Google Inc.), Pierre Omidyar (First Look Media) Juan Luis Cebrian (El Pais/PRISA), Walter Isaacson (Aspen Institute/TIME-CNN), John Elkann (Corriere della Sera, La Stampa), Wadah Khanfar (Al Jazeera), Dileep Padgaonkar (Times of India) and Yoichi Funabashi (Asahi Shimbun).

VICE PRESIDENT OF OPERATIONS: Dawn Nakagawa.

CONTRIBUTING EDITORS: Moises Naim (former editor of Foreign Policy), Nayan Chanda (Yale/Global; Far Eastern Economic Review) and Katherine Keating (One-On-One). Sergio Munoz Bata and Parag Khanna are Contributing Editors-At-Large.

The Asia Society and its ChinaFile, edited by Orville Schell, is our primary partner on Asia coverage. Eric X. Li and the Chunqiu Institute/Fudan University in Shanghai and Guancha.cn also provide first person voices from China. We also draw on the content of China Digital Times. Seung-yoon Lee is The WorldPost link in South Korea.

Jared Cohen of Google Ideas provides regular commentary from young thinkers, leaders and activists around the globe. Bruce Mau provides regular columns from MassiveChangeNetwork.com on the "whole mind" way of thinking. Patrick Soon-Shiong is Contributing Editor for Health and Medicine.

ADVISORY COUNCIL: Members of the Berggruen Institute's 21st Century Council and Council for the Future of Europe serve as the Advisory Council — as well as regular contributors — to the site. These include, Jacques Attali, Shaukat Aziz, Gordon Brown, Fernando Henrique Cardoso, Juan Luis Cebrian, Jack Dorsey, Mohamed El-Erian, Francis Fukuyama, Felipe Gonzalez, John Gray, Reid Hoffman, Fred Hu, Mo Ibrahim, Alexei Kudrin, Pascal Lamy, Kishore Mahbubani, Alain Minc, Dambisa Moyo, Laura Tyson, Elon Musk, Pierre Omidyar, Raghuram Rajan, Nouriel Roubini, Nicolas Sarkozy, Eric Schmidt, Gerhard Schroeder, Peter Schwartz, Amartya Sen, Jeff Skoll, Michael Spence, Joe Stiglitz, Larry Summers, Wu Jianmin, George Yeo, Fareed Zakaria, Ernesto Zedillo, Ahmed Zewail, and Zheng Bijian.

From the Europe group, these include: Marek Belka, Tony Blair, Jacques Delors, Niall Ferguson, Anthony Giddens, Otmar Issing, Mario Monti, Robert Mundell, Peter Sutherland and Guy Verhofstadt.
MISSION STATEMENT
The WorldPost is a global media bridge that seeks to connect the world and connect the dots. Gathering together top editors and first person contributors from all corners of the planet, we aspire to be the one publication where the whole world meets.
We not only deliver breaking news from the best sources with original reportage on the ground and user-generated content; we bring the best minds and most authoritative as well as fresh and new voices together to make sense of events from a global perspective looking around, not a national perspective looking out.