DIYARBAKIR, Turkey — Sixteen years ago, Erzihan said goodbye to her daughter. The quiet and somber Kurdish mother remembers it like it was yesterday.
"The police came to my house," she says, sitting in a park in this Kurdish city in southeast Turkey. "And they took my child."
Her daughter, then 20 years old, was accused of helping the Kurdistan Workers' Party, known as the PKK, a group deemed a terrorist organization by Turkey and the United States for its history of violent resistance against the Turkish state.
Erzihan is still waiting for the day her daughter will be released from jail. She is not alone in her grief.
For three decades, Kurds, many of them youth, have joined what is known here as "the resistance." They've planned political rallies, thrown stones, and taken up arms with one goal: Freedom, and perhaps, one day, a country of their own. Thousands of Kurds have died or ended up behind bars.
But some young Kurds choose another path: The mountains.
While the trend is nothing new, the unrest raging in neighboring Syria and Iraq has lured even more young Kurds from Turkey — some younger than 18 — who deem their struggle and the conflicts over the border as one and the same. Young men and women are leaving home by the thousands, their parents say, to head to the Qandil mountains in northern Iraq to become fighters.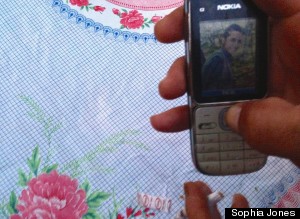 A Kurdish father shows a picture of his 19-year-old daughter, Yezidar, on his phone. She left her home in Diyarbakir, Turkey a year ago to become a fighter.
For decades, while the Kurds in Turkey fought for their own nation (a demand that has been dropped, for now), Kurdish fighters across borders were often at odds. But today, many Kurds from Turkey have joined Kurdish fighters in Syria and Iraq to battle the hardline jihadist group known as the Islamic State, whose fighters have claimed their goal is to establish an Islamic caliphate. The militants are known for terrorizing, kidnapping, and massacring civilians, including Kurds.
But some Kurds, like the ones here who are staging a small sit-in turned support group, say taking up arms in Turkey or elsewhere won't solve any problems for Kurds here. They blame the PKK for recruiting their children, as well as the Turkish government they say is still routinely imprisoning and oppressing Kurds.
As the sun sets, dozens of men and women gather for a late dinner at a park. Sitting cross-legged on the ground, they share a simple meal in front of the municipal building, as they have every day for months.
Everyone in the group has lost a son or daughter to war. Some of their children are still alive — where, they often don't know — and others, buried far too young.
Here, under the night sky, they battle boredom and grief by trading stories of their children.
"This became our destiny as Kurdish mothers, to lose our children," says Amina, whose 17-year-old daughter Hava left three months ago to fight. But it's a destiny she's not willing to accept.
One day, Hava didn't come home from school. Her high school friends told Amina that her daughter had joined the PKK with several male friends, something she had feared would happen.
"She didn't say anything, but I felt it," she says. Her daughter had been giddy the night before, as if she was waiting for something big to happen. She laughs and says she wrongly asked Hava is she had a new boyfriend — something she scoffed at. She had bigger things to think about than boys.
Now, her daughter is training to be a fighter.
Amina gets occasional updates from the PKK on her daughter, who now has a code name, though the distressed mom doesn't know where Hava is based.
"She's a strong girl," she says, in a tone that is both proud and concerned. "She's a very beautiful girl."
Amina pulls out her cellphone, a photo of a young, smiling girl beaming in the darkness. It's the last picture she took of her daughter.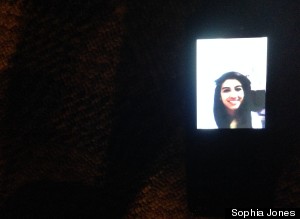 Kurdish mother Amina holds up a photo of her smiling 17-year-old daughter Hava, who didn't come home three months ago. She is now training to be a fighter.
Hostilities between Turkey and its Kurdish minority (making up 18 percent of the country) have flared recently. A PKK attack on security forces in the city of Van killed a Turkish soldier on Tuesday. The group objects to Turkey's recent move to build more military outposts in the southeast.
And last week, Turkey dismantled the statue of one of the PKK's founders, Mahsum Korkmaz, prompting protest from Kurds in Diyarbakir, the unofficial Kurdish capital. At least one protester was killed, reportedly from live rounds fired by Turkish forces, and two others wounded.
Meanwhile, Kurds say peace talks with the government are going nowhere.
"We are here today to call for the Turkish state to make steps towards peace," Amina says, rocking a silently slumbering baby boy.
Over the years, the conflict has claimed more than 40,000 lives, most of them Kurdish. The PKK declared a ceasefire in the spring of 2013, and the group's leader instructed his fighters to withdraw to Iraq. Its fighters are now based in the Qandil mountains near where where the Iraqi, Turkish, and Iranian borders touch.
Many parents here have lost their sons and daughters to these same mountains. "I had a child in the mountains," one mother said of her son, who joined the PKK at age 20. "But he was martyred."
That's where 19-year-old Hevidar, another young Kurdish woman who recently left Diyarbakir, is now.
Hevidar's father, Razmi, says she had just finished high school before leaving to fight a year ago. When she wasn't dreaming of going to college and studying computer science, she buried herself in political books.
Then, one day, she left a note explaining that she was 'joining the fight to liberate the Kurds'. And with that, she was gone.
"Our identity, our language, our culture has been stolen from us for many years," he says. "But we want this fight to end. We hope all the kids in the mountains will come home to their mothers."
As much as he misses his daughter, and desperately wants her to come home, he says he understands and respects her choice. Many of Hevidar's young friends never got to go to college, or join the PKK to fight. They're in Turkish prisons.
"The kids tell me, 'It's better to fight in the mountains than to end up in jail and lose our lives here.'"
Angel Ucar contributed reporting from Diyarbakir.