MONG KOK, Hong Kong — Police can't conquer it and protest leaders can't control it. Local politicians have called it the ticking "time bomb" of the Umbrella Movement, and it's seen the fiercest clashes between the pro-democracy protesters demanding freer elections in Hong Kong and anti-occupy groups that oppose them.
It's the Mong Kok protest site, and for the past month, it has been the gritty and grungy counterpoint to the festival atmosphere found at other occupied sites, where colorful tributes to John Lennon abut origami circles and study corners.
Located in a neighborhood better known for organized crime and prostitution, Mong Kok draws a more combative and politically radical crowd. Protest leaders have called for a retreat from the neighborhood, but the occupiers of Mong Kok have refused to yield. In the past two weeks they have beaten back police attempts to clear the street, endured an attempted arson and seen bags of feces flung from the buildings above.
Here, The WorldPost takes you behind the Mong Kok barricades, chronicling a 24-hour stretch from the morning of Oct. 24 to Oct. 25.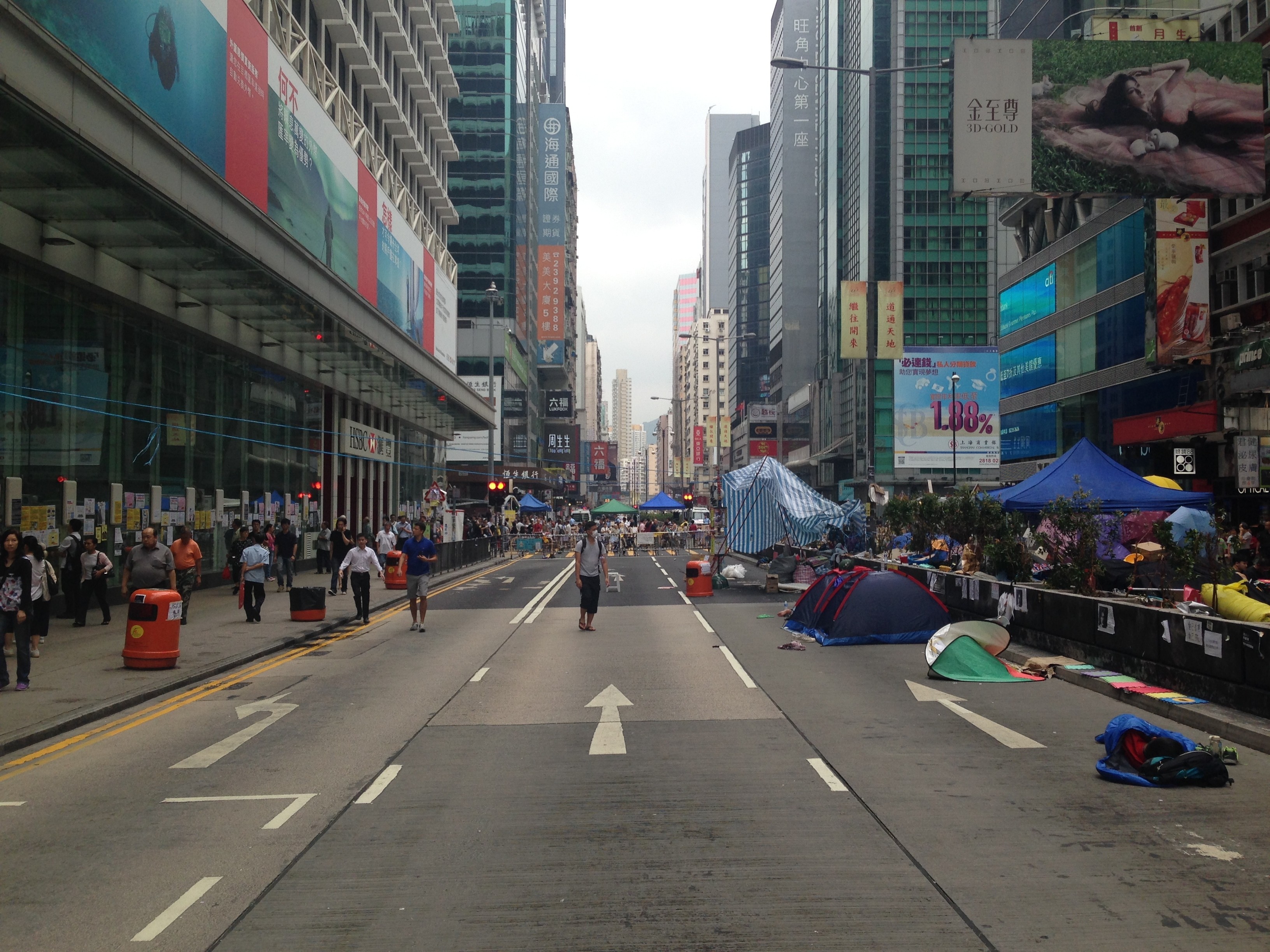 The streets of Mong Kok are calm as the neighborhood gears up for another weekend of protests. (Photo: Matt Sheehan/The WorldPost)
10:30 a.m.
Quiet beginnings: The streets of Mong Kok are quiet, with large stretches of Nathan Road barricaded off but lightly populated. Some occupiers sit around reading books while others lie sprawled on improvised mats. It's a subdued atmosphere here on the front lines.
This four-block stretch of road is bookended by barricades made of trash cans, wood palettes and metal police fences, all strung together with zip ties and duct tape. On the blocked-off roads lie an assemblage of tents and the public infrastructure of occupation: supply tables, first aid stations, religious altars and umbrella-themed arts and crafts stands.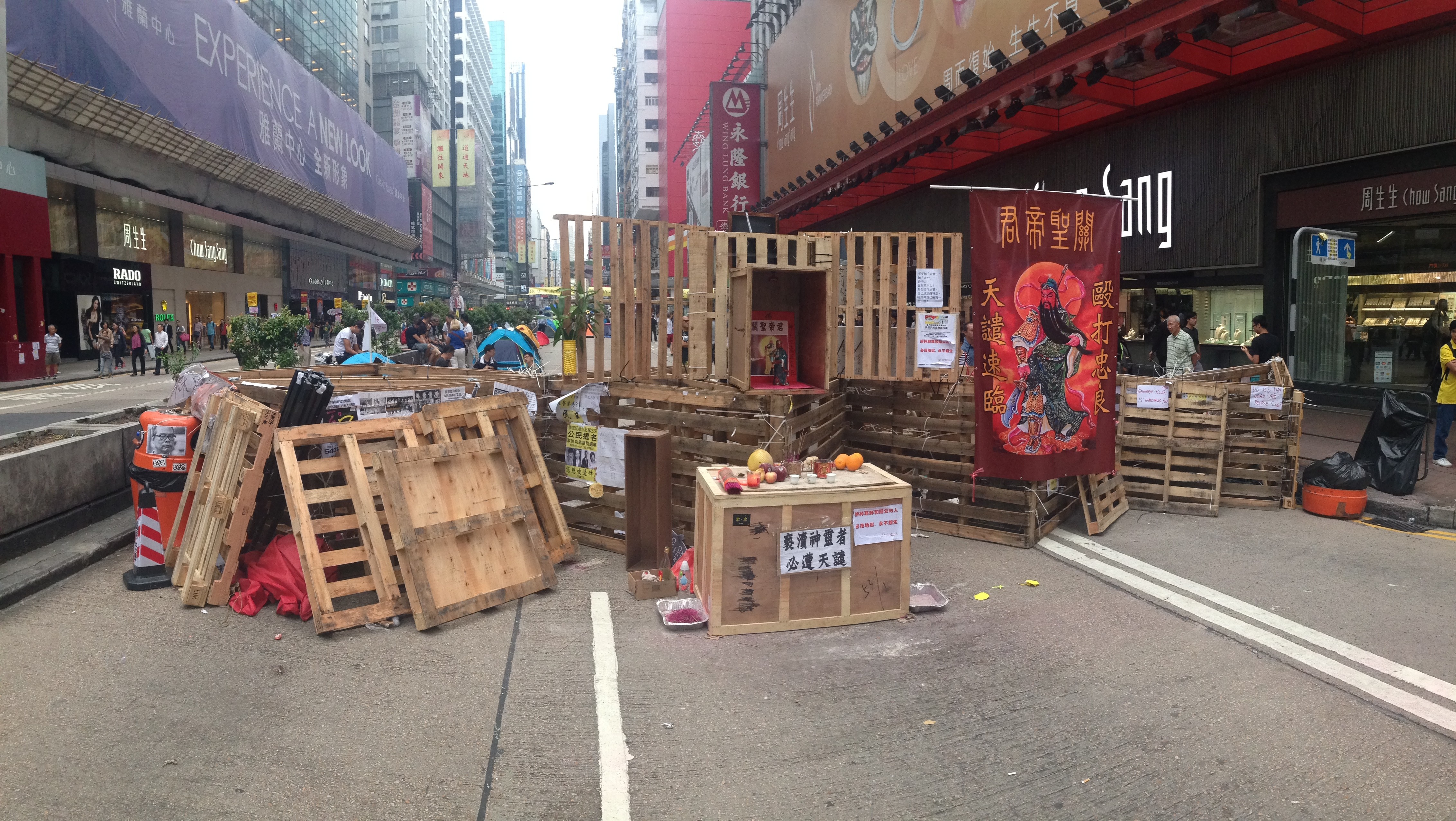 A barricade on Nathan Road doubles as an altar to Guan Yu, a legendary Chinese general and folk deity. (Photo: Matt Sheehan/The WorldPost)In recent weeks anti-occupy groups, including taxi drivers, have attempted to forcibly demolish the barricades and reopen the roads, but almost every loss of occupied territory has been regained by protesters. Police try to mediate between the groups, often preventing forced barricade demolitions but also attempting a few land grabs of their own. This morning each barricade is protected by a handful of students, some leaning lazily against the structures while others patrol in full suits of improvised riot gear.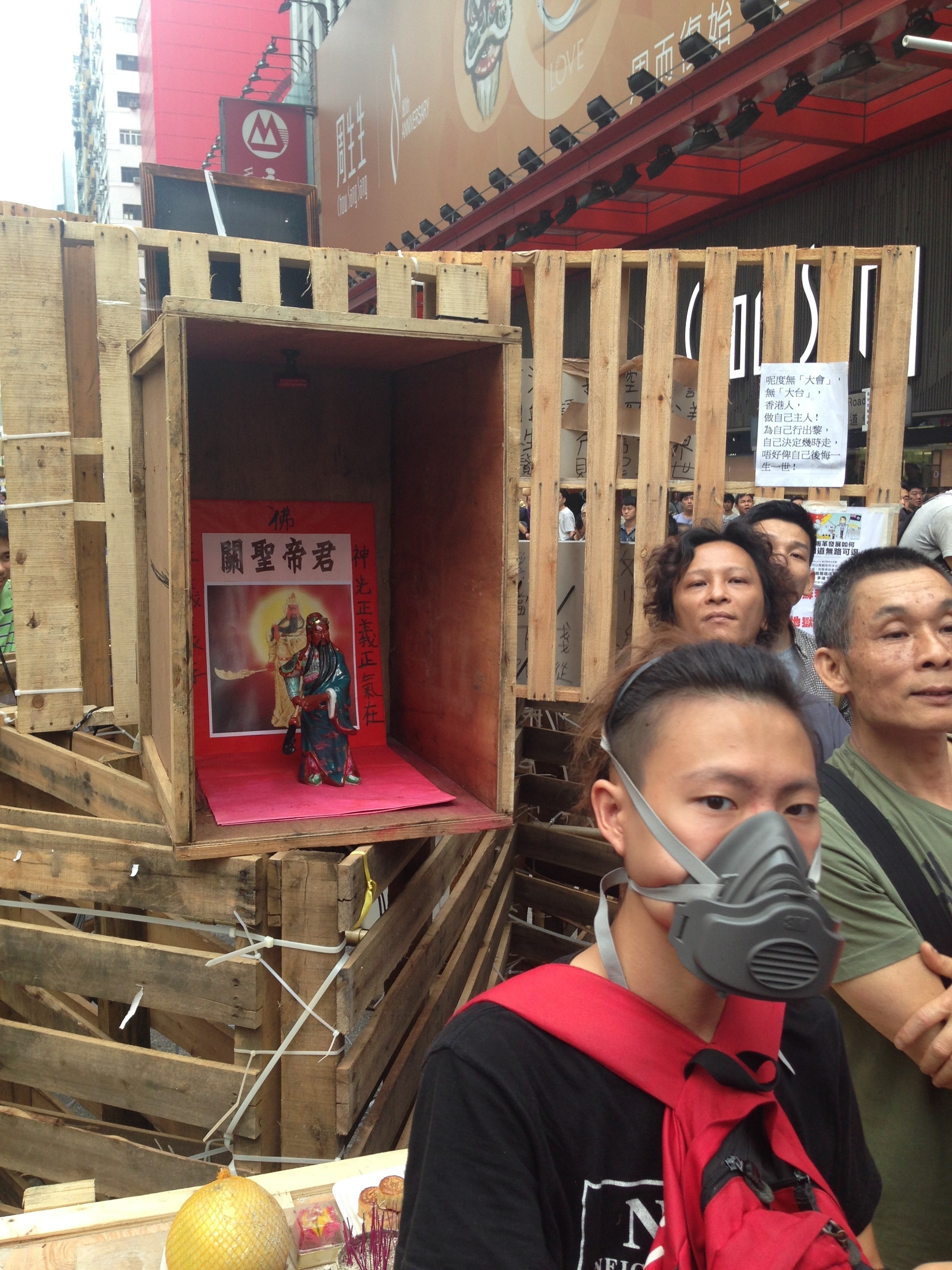 One protester donned a gas mask while patrolling the area in front of the altar to Guan Yu. (Photo: Matt Sheehan/The WorldPost)
11:10 a.m.
Age-old Chinese tradition: Groups of older men gather around the barricades at Nathan Road and Argyle Street. This has been the site of some of the fiercest and most violent clashes to date, but this morning the men seem content to partake in an age-old Chinese tradition: complaining about the youth. The only difference is this time the focus of their ire isn't a lack of grandchildren, but the number of roadblocks springing up in their neighborhood.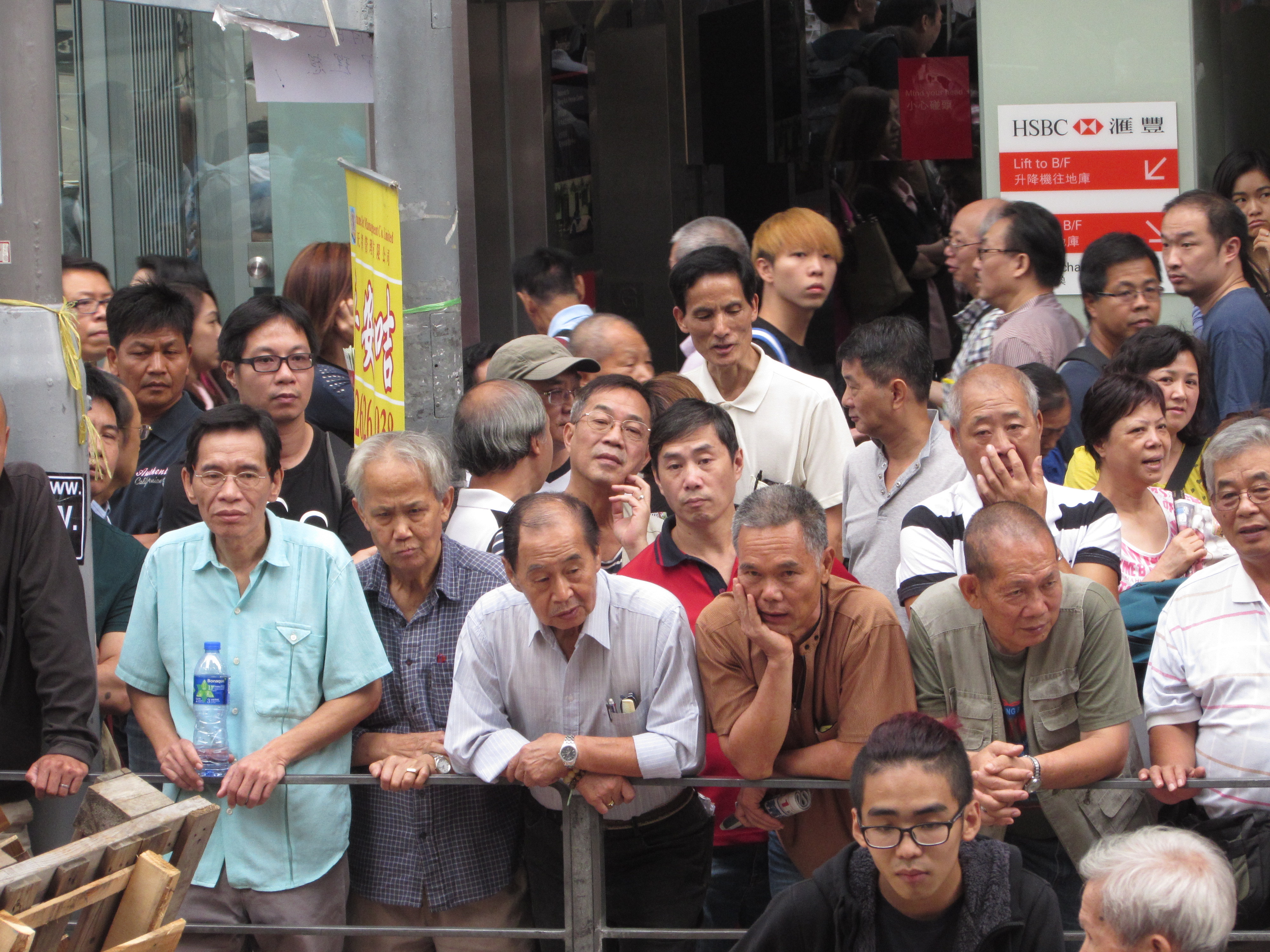 Older men and women often gather around Mong Kok intersections to watch the action and complain about today's youth. (Photo: Matt Sheehan/The WorldPost)
11:45 a.m.
"They will never change their minds": Alice Ngai, a 22-year-old clerk, stands on the street corner watching the ongoing debates in her work clothes: a white blouse, blue sweater and flower-embroidered black skirt.
Ngai's parents adamantly oppose the pro-democracy demonstrators, often denouncing the protests while watching television in the family home. But sometimes she comes out anyway, telling them that she's going shopping or meeting a friend. "I want to talk to them about it, but I think they will never change their minds," she says.
12:57 p.m.
Puppy proxy wars: At the intersection of Argyle and Portland streets, a fluffy white dog has been outfitted with the protesters' signature yellow ribbon. A few meters away, an older woman eggs on her miniature brown poodle as it disparages the demonstrators with its yaps and lunges menacingly at the other dog. The white dog walks in three circles as it ponder its next move. After a moment's consideration, it lifts a leg and pees on the street.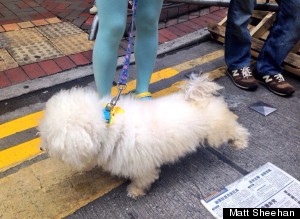 A pro-democracy dog.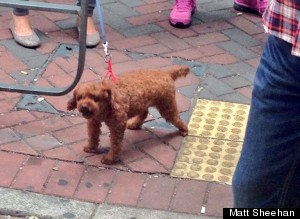 This puppy is fed up with the occupation.
1:06 p.m.
Captain America to the rescue: Verbal jousting is in full swing at one intersection, as an older woman on a bullhorn lays into protesters. But just as the young occupiers begin to cower before the hostile crowd, a savior arrives: Captain America. A tall and sturdily built young man decked out in protective gear steps between the two camps, deflecting the insults of the anti-occupy crowd by raising a shiny Captain America shield.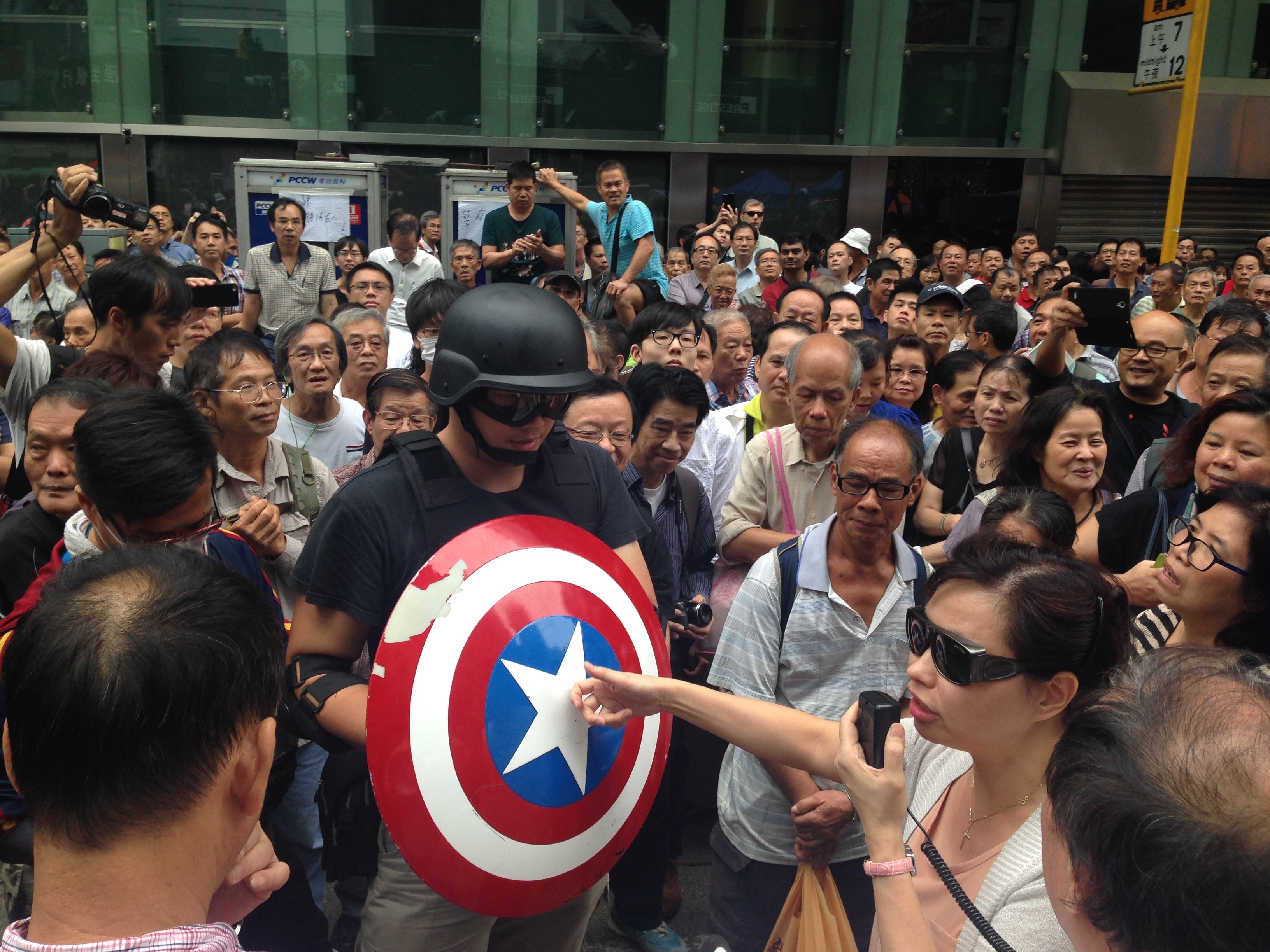 A young man toting a Captain America shield steps between an anti-occupy demonstrator and the students she is lambasting. (Photo: Matt Sheehan/The WorldPost)
1:20 p.m.
"I saw it on Facebook": A young freelance programmer who gave only his last name of Ho stands ready to defend the barricades on Argyle Street. Ho says he's heard that the anti-occupy onlookers on the corner get paid 300 Hong Kong dollars (around $38) to stand around the barricades, while the more aggressive and confrontational participants get HK$2,000 ($257) a day. "But I don't have it really confirmed," said Ho. "I saw it on Facebook."
3:15 p.m.
Fighting over flags: The first scuffles of the day break out when a small group of men attempt to march through the protest grounds carrying a Chinese flag. The three or four men are quickly surrounded by hundreds of demonstrators in front of the altar to Guan Yu. The war of words soon bubbles over into a proper scuffle, with shoving, punching and attempts to seize the man's flag. The police rush in, and after speaking with many witnesses, they arrest the man carrying the flag and load him into a nearby police van. Things ended well for the protesters, but many see it as a bad omen of further violence once the sun sets.
7:45 p.m.
"I never thought I'd be doing this in Hong Kong": Samantha Leigh was raised in Hong Kong, and she now works in the city as an artist and volunteer medic. She's volunteered in places as far-flung as Syria, but tonight she decided to come to Mong Kok because she thought violence might erupt here again. "I never thought I'd be doing this in Hong Kong," said Leigh.
She says the worst injuries thus far have come from police baton blows to the head, but she sympathizes with a police force that's been working double shifts for a month at a job they're not properly trained to do.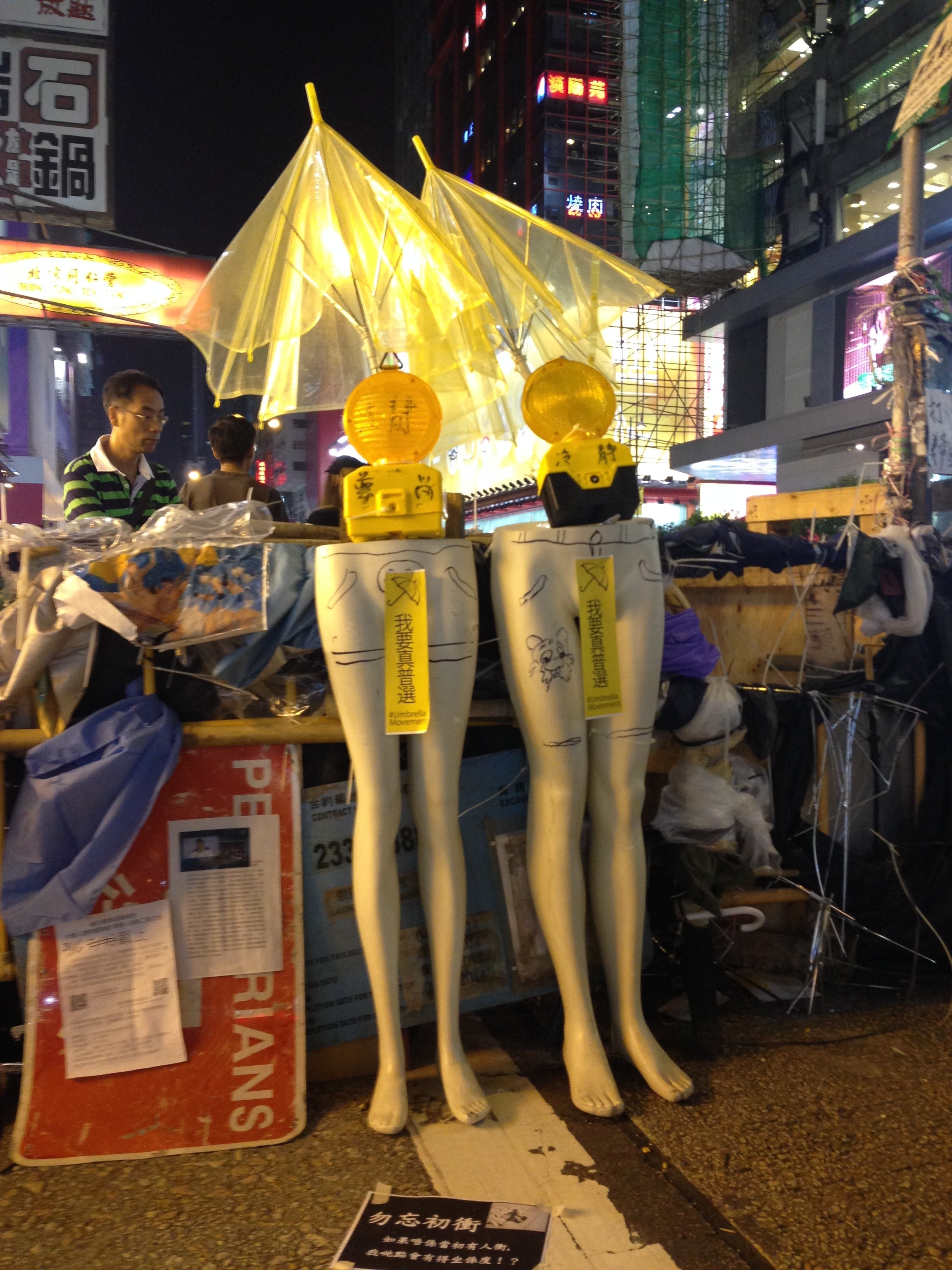 Mong Kok is home to Hong Kong's most infamous red light district, and this piece of installation art grooves with the local zeitgeist. (Photo: Matt Sheehan/The WorldPost)
8:12 p.m.
Hard times for fortune tellers: A local palm reader and fortune teller who goes by the name Sister Fen sets up shop in the doorway to an ATM. She tells this reporter that he is 20 years old (wrong), that his girlfriend is tall and fat (wrong), and that they will break up in two years' time (wrong, we hope). She also says business has been bad since protesters began occupying the streets surrounding her palm reading stand.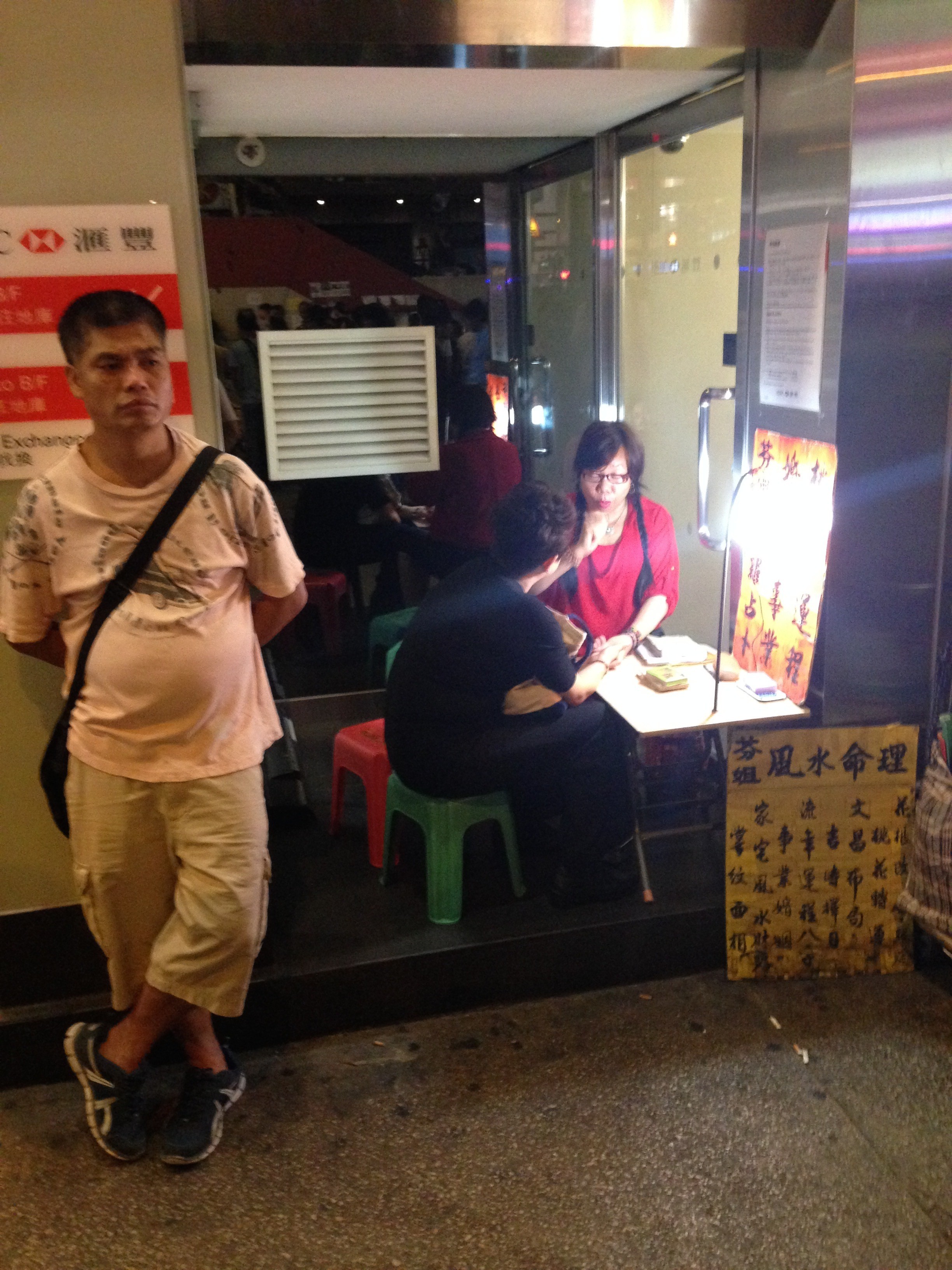 Sister Fen has been reading palms in Mong Kok for 20 years, but she says the protests have taken a toll on the fortune telling business. (Photo: Matt Sheehan/The WorldPost)
9:45 p.m.
Soapbox street: Friday night brings out more protesters and passersby to Nathan Road. In past weeks, this has been the witching hour: As people get off work and flood into Mong Kok, opposing groups face off across the barricades with verbal arguments frequently turning physical. But tonight the four-block stretch of road is taking on a revival atmosphere, as soapbox speakers mount their podiums and work their rhetorical charms on small groups of attentive listeners. The protesters are not yet in the clear, but with no signs of impending clashes, the tension is beginning to ease.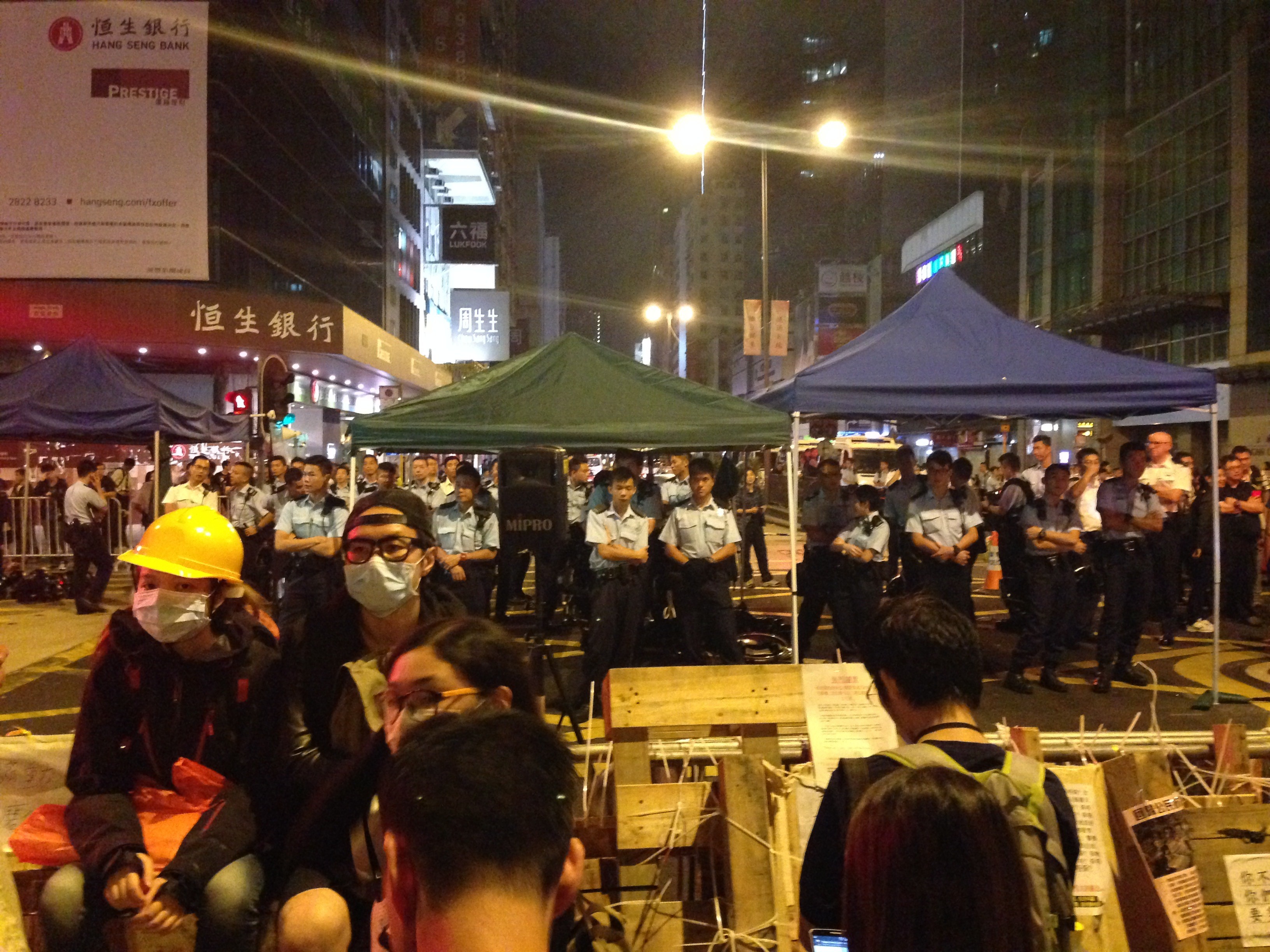 Mong Kok protesters remain vigilant, but the threat of violence appears to be diminishing this night. (Photo: Matt Sheehan/The WorldPost)
10:17 p.m.
Spider-Man arrives: It's the web-shooting superhero who seals the deal. Yellow umbrella in hand, Spider-Man strolls onto Nathan Road while demonstrators cheer. The sheer absurdity of the moment seems to somehow signal that violence won't be coming to the streets tonight.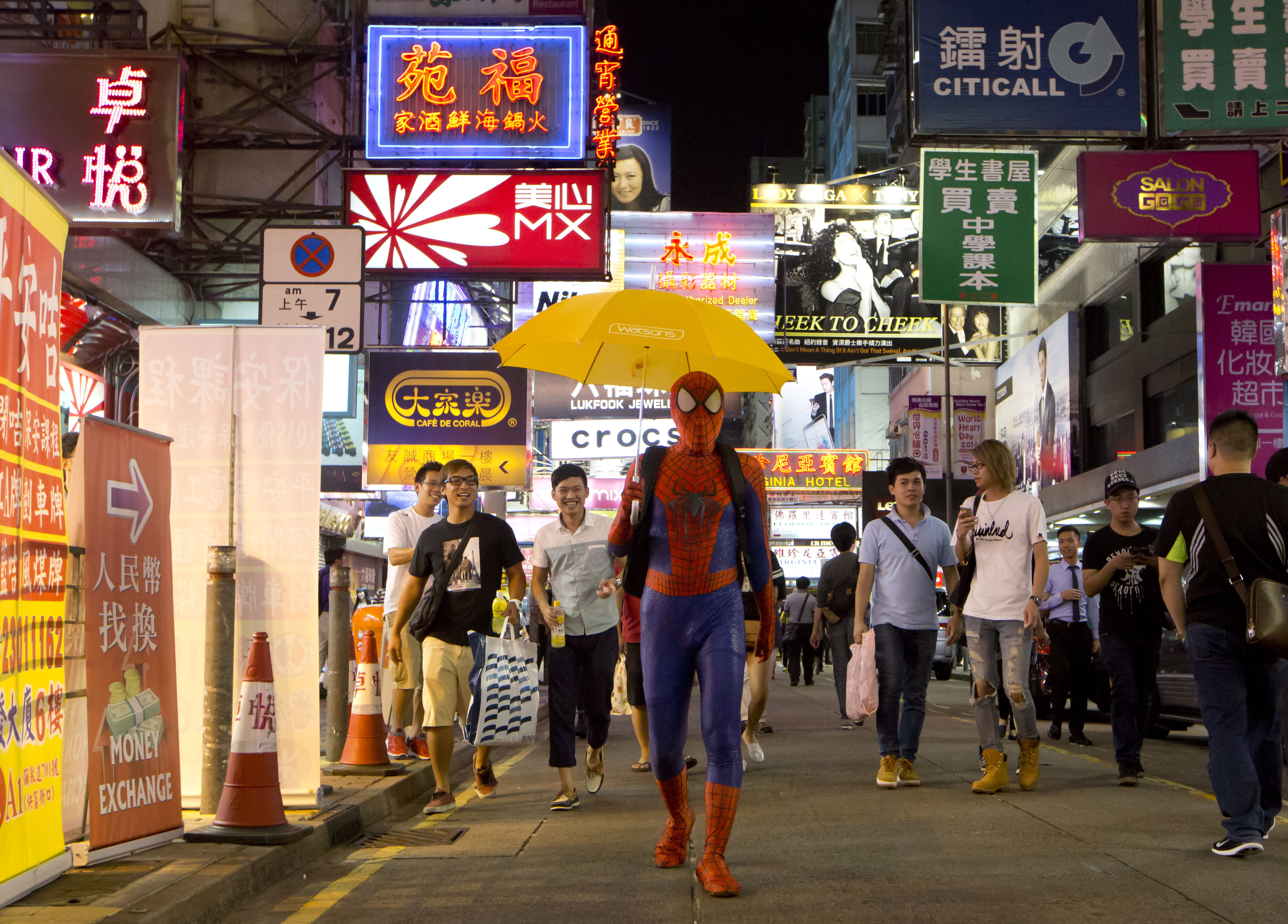 Spider-Man's arrival at Mong Kok put an end to the nervous anticipation that had gripped Mong Kok for much of the day. (Photo: Matt Sheehan/The WorldPost)
11:30 p.m.
Hitting the pavement: Protesters appear to have breathed a collective sigh of relief as they settle down for the night. The well-equipped crawl into their tents, while the rest search for a cozy piece of concrete on which to lay their head.
8:15 a.m.
Rise and shine: A persistent cell phone alarm awakens all those in the area except the one demonstrator who set it for himself.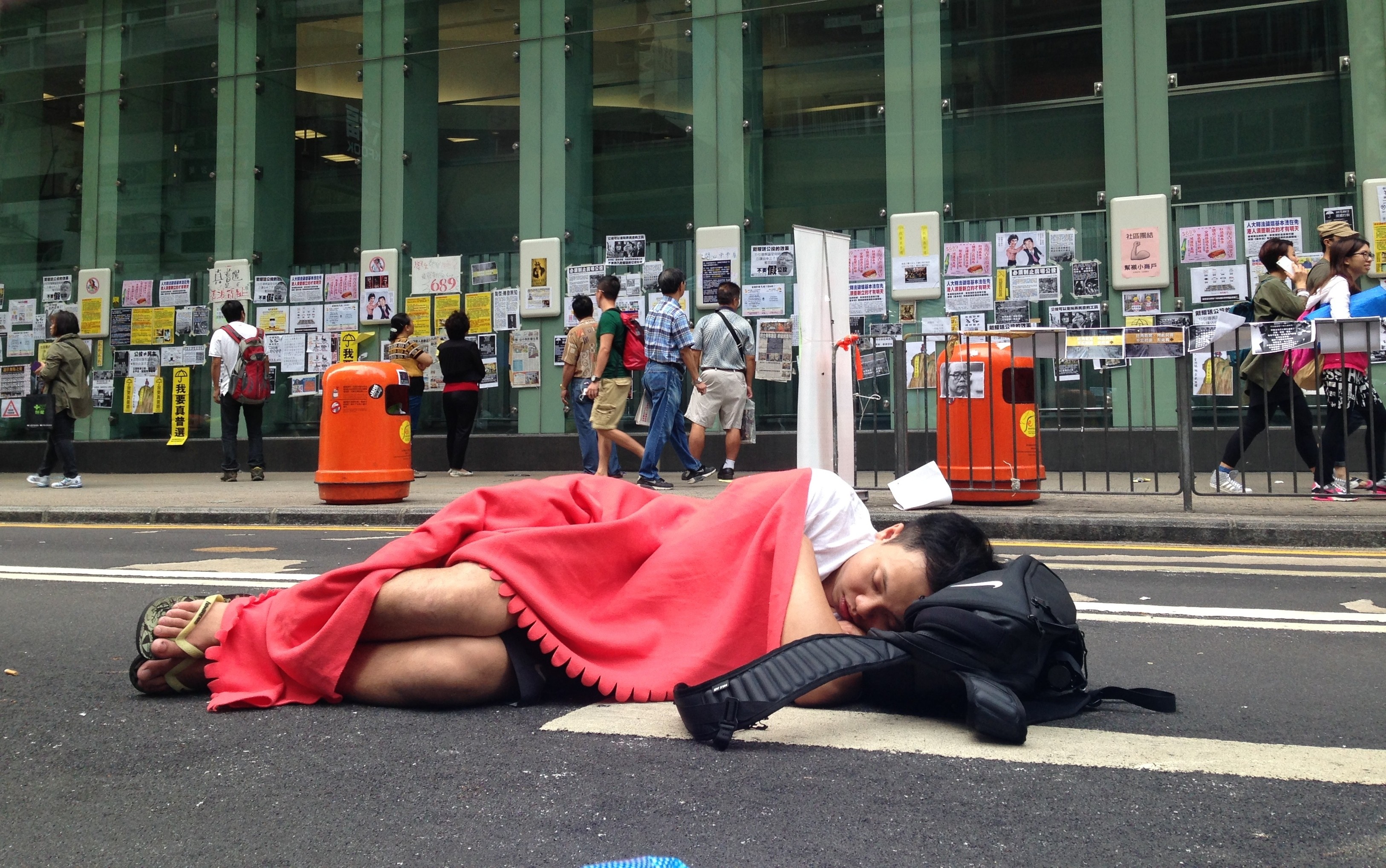 This demonstrator's early morning cell phone alarm aroused everyone except him. (Photo: Matt Sheehan/The WorldPost)
8:45 a.m.
The screamer: He's elderly, shrill and quite punctual: a man dubbed "The Screamer" by the regular protesters begins his morning rounds, shrieking and gesticulating at protesters as he makes his way up and down the street. He can be intimidating at close range, but The Screamer has been integrated into the new normal of protest life: Some demonstrators now rely on his services as a human alarm clock.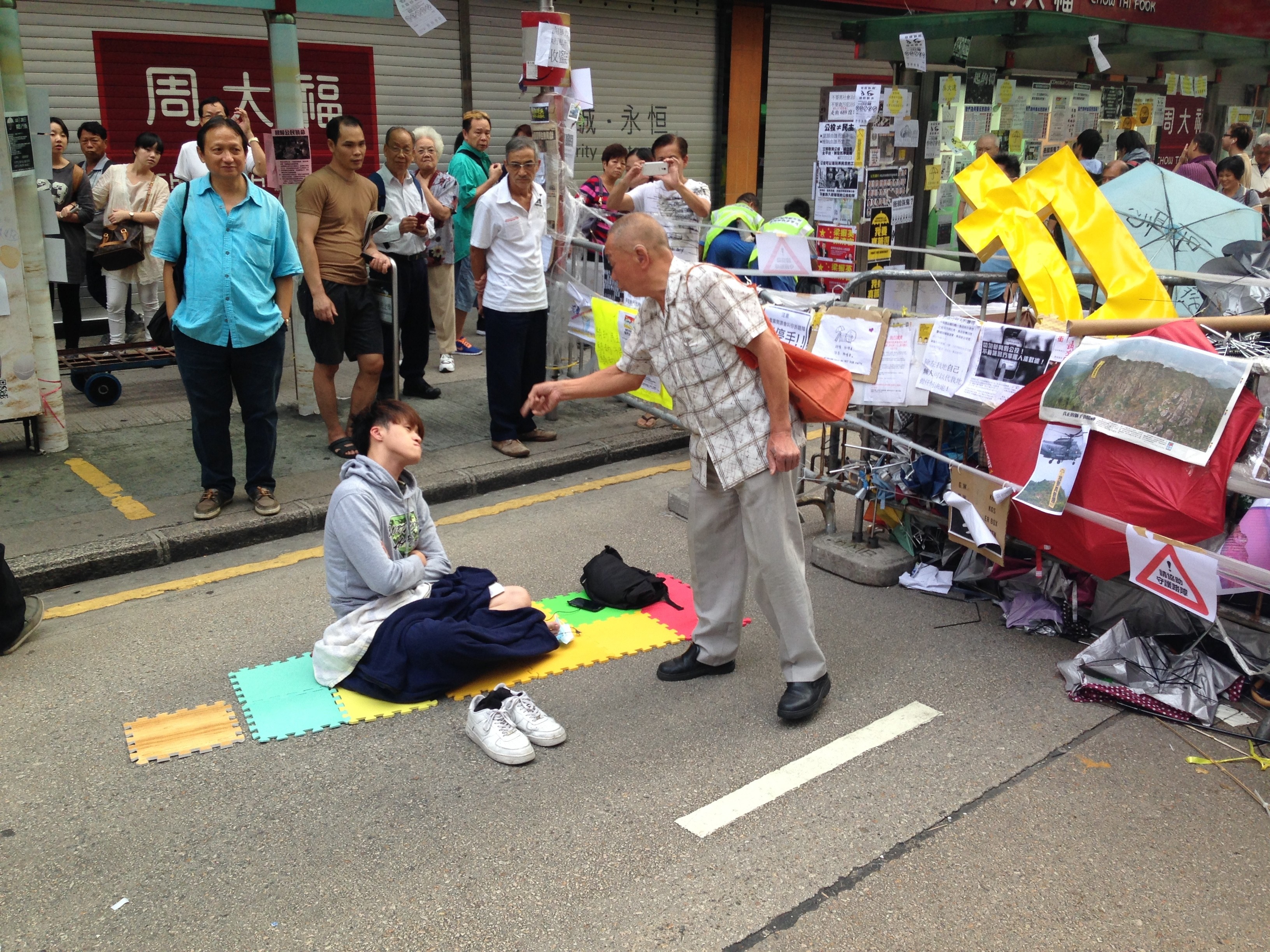 Dubbed "The Screamer" by protesters, this man shrieks at the top of his lungs while waltzing down Nathan Road each morning. (Photo: Matt Sheehan/The WorldPost)
10:15 a.m.
And it begins again: Twenty-four hours have passed, and Mong Kok looks much as it did the day before: tents, posters and protesters are strewn across the concrete as everyone grudgingly prepares to repeat the process.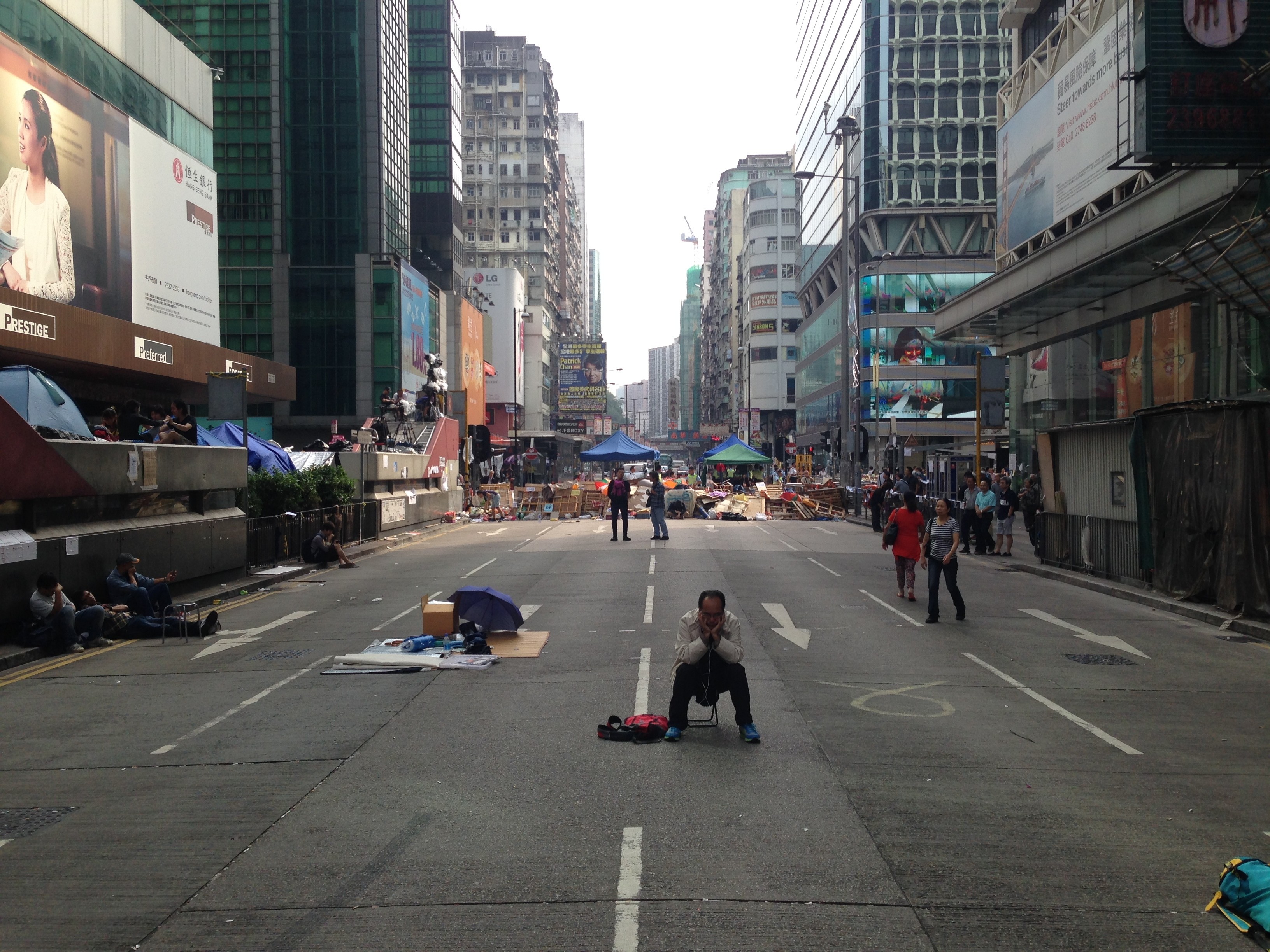 A month into the Umbrella Movement, there are no signs of an end to the occupation of Mong Kok. (Photo: Matt Sheehan/The WorldPost)