JEAN DENIS, Haiti — At the health clinic here, three hours northwest of Port-au-Prince, a crowd of mostly women and girls linger in the shade away from the afternoon sun, waiting to see a doctor. This is one of the least developed areas of the poorest country in the Western Hemisphere. For miles around, this clinic is the only place people can come for modern medical attention.
"You are standing at the edge of the heartland of the rural area," said Francoise Peak, a translator who frequently works with the United Nations and joined a group of reporters at the clinic. In rural Haiti, she said, people can blame even simple health problems on spiritual disturbances rather than a medical matter: "Out there, if you're sick, it's not because of a health issue. It's because someone cast something on your family. A spiritual problem. Serious business, voodoo." 
Five years after a devastating earthquake hit the island and leveled towns and infrastructure, providing care out in the rural part of Haiti remains a monumental challenge, especially when it comes to women and children.
Medical workers must overcome the limitations that extreme poverty imposes on the vast majority of this area's residents, as well as many people's cultural and religious aversion to modern medicine. Health care providers are overworked. Many clinics, few and far between, are understaffed and poorly equipped.
At the hot and sparsely furnished compound in Jean Denis, goats outnumber employees. A corner of the waiting room serves as the ER, walled off by plywood that doesn't reach the ceiling. The whole place is run on a single diesel generator. Nevertheless, Fabiola Coqmard, the head of the clinic, and a small staff manage to serve an estimated 44,000 people living in over 50 villages in the surrounding countryside.
Coqmard explained one of the major hurdles she faces is a lack of "modern" education in nearby communities. "They have some customs and beliefs that make them reluctant to accept modern medicine," she said.
So-called health agents — there are 26 of them at the Jean Denis clinic — roam through nearby communities, vaccinating children and teaching women about breastfeeding and family planning, among much else. They are particularly vital as they are often the only link between rural communities and modern health care. They go out on home visits, encouraging pregnant women to try to make it to the clinic to give birth instead of staying at home in the care of a traditional birth attendant, most of whom aren't formally trained. They vaccinate children against polio, tetanus and rotavirus, among other common illnesses. They weigh newborns and check for malnutrition. Even Coqmard does her share.
"She goes into the field. She pulls up the legs of her trousers. She goes into the mud," said Haumanet Occeus, one of the health agents at the Jean Denis clinic. "She's never stopped by that. She's never held back by any situation."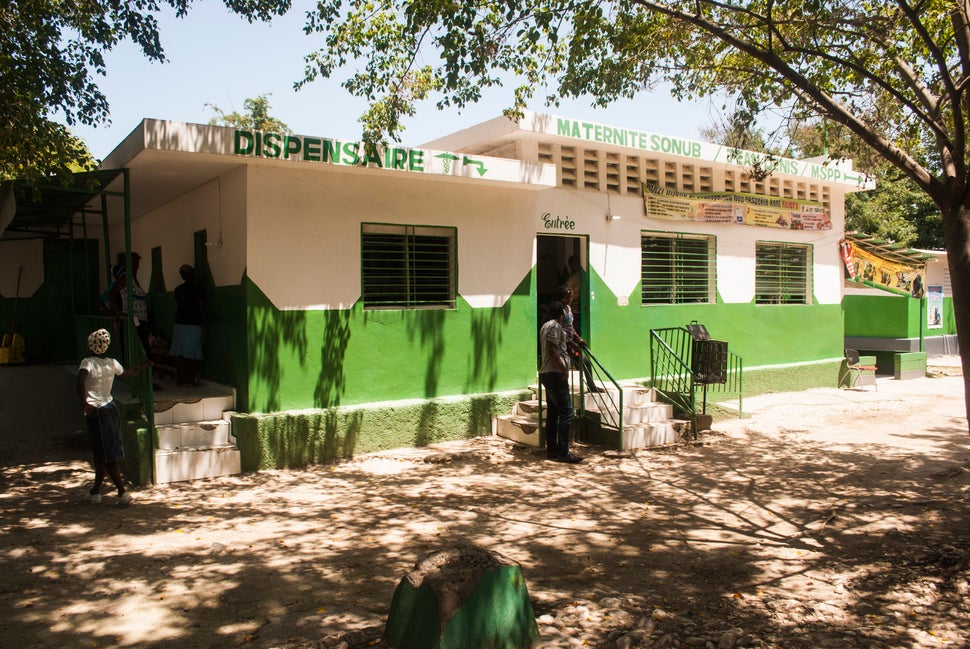 Ketia Orvilus, another health agent, works out of a small dispensary and clinic in the village of Robin, high in the hills above Port-au-Prince. The facility has no electricity. A single refrigerator, containing vaccines and medicine to serve the roughly 10,000 people who live in nearby villages, runs on propane. A piece of paper taped to the refrigerator door indicates the temperature, checked and noted in pencil every morning. A larger poster displays the drugs the clinic keeps in store. There hasn't been any vitamin A in two months.
Support for the work health agents like Orvilus do is not guaranteed because USAID, which funds this program, does not have as much money to spend in Haiti as it did immediately after the earthquake. 
"Our funding has been falling," said Reginalde Masse, a Haitian development worker who works for USAID. "In past years it was more. We are being asked to do more with less now." The U.S., Haiti's largest foreign donor by a large margin, spent $157 million on Haiti's health sector in 2014, a drop of almost $50 million from the year after the earthquake. USAID-supported health care facilities — including very basic ones like the dispensary in Robin — still reach only half of Haiti's population.
Masse and Orvilus walked along a narrow dirt track that clung to steep hillsides, past small plots of zucchini, tomato and onion, toward Orvilus' home village of Orangers. This trek was on the short side for Orvilus. Six days a week, she journeys out from Robin to surrounding villages, an insulated case of vaccines and medicine strapped to her back, worn leopard-print flats on her dusty feet.
Orvilus is 38 years old. She finished secondary school in 2010 and went on to study nursing before deciding she wanted to be closer to home. A job as a health agent in Robin made sense. In Orangers, the families all know her and trust her, an important aspect to her work since modern health care workers are rare out here, their medicines and activities still uncommon.
"I love this work. I love being useful to my community," she said, walking past a hodgepodge of goats and cows and farmers harvesting vegetables in the intense heat of the afternoon. She gestured across a wide valley at small clumps of houses barely visible in the distance, all home to people she brings medical care to.
She stopped in front of a cluster of two women and a handful of children who seemed to be expecting her. One woman, Marie, held a 2-month-old boy who hadn't yet been named. Orvilus and other health agents aim to check on newborns multiple times over the first few months, weighing them, vaccinating them, and offering advice and care to mothers.
Orvilus pulled out a card used to keep track of the child's weight and what medicines he had received and when. She also used an Android smartphone, entering data that would be uploaded to a central database. She administered polio, rotavirus and pentavalent vaccines, the last of which will guard the child against five potentially deadly diseases. Then she packed up and moved up the hill to another house and another child.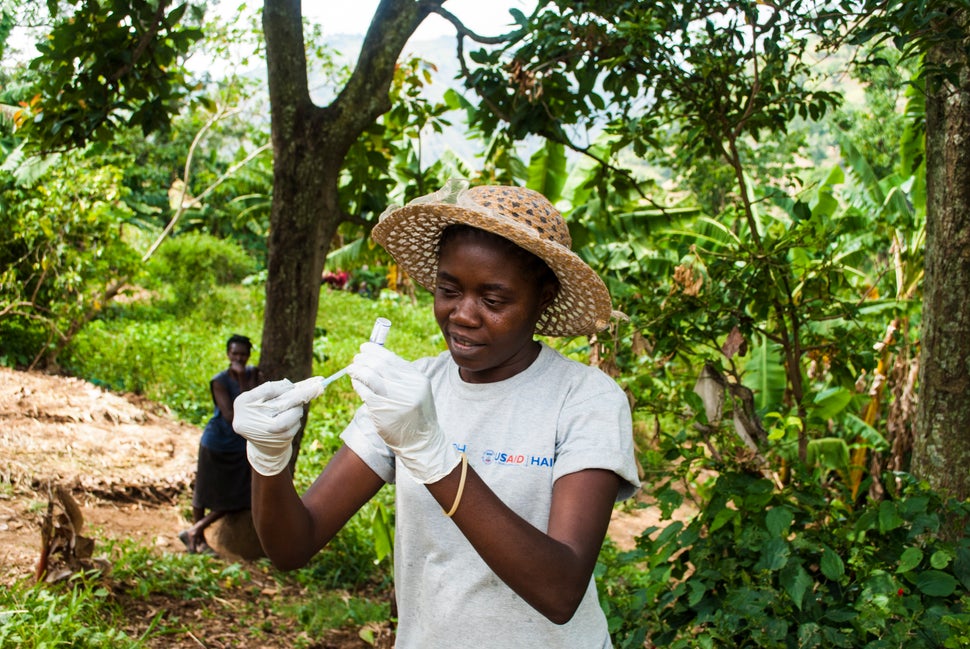 Nearly 400 women still die during childbirth per 100,000 live births in Haiti, making it the third worst country in the world outside of African nations for maternal mortality. One of the major reasons for this is that few births take place in a modern health care facility under the attention of trained staff. In the country's rural areas, just 25 percent of births take place in a clinic, often because the distance between home and the clinic is too far for a woman in labor to walk. Traditional birth attendants aren't equipped to deal with complicated pregnancies. Haiti also struggles with a high number of teenage pregnancies, which often result in medical complications.
"Maternal mortality is down," said Pamela White, the U.S. ambassador to Haiti, whose career includes decades at USAID in Haiti and several African countries. The rate in 2013, the last year for which data is available, was Haiti's lowest ever. "Not as far as we'd like, but way down," White said.
The work of the health agents is tiring and unglamorous. Necessary equipment, drugs and training are scarce. But because of it, little by little, Haitians are receiving protections against some of the dangerous diseases and afflictions that make this country among the worst in the world for maternal and child mortality.
"You can see some real, deep, important changes here," said White. "It's a very positive story. But there's a long way to go."
This was produced by The WorldPost, which is published by the Berggruen Institute.
The reporter traveled to Haiti on a media trip organized and funded by the United Nations Foundation.