A witch hunt is brewing in Turkey, one that could result in the leading politicians within the country's pro-Kurdish party being sent to jail as terrorists.
"Executives of this party should pay," Turkish President Recep Tayyip Erdogan said at a fiery press conference Tuesday, referring to the Peoples' Democratic Party (HDP). "The Turkish state has the power to make so-called politicians [and] so-called intellectuals pay for the blood of its martyrs." 
During the same press conference, Erdogan, formerly the country's prime minister, signaled an end to negotiations with Kurdish insurgents. If his comments are evidence of what's to come, then there could be a war on the horizon reminiscent of Turkey's not-so-distant bloody past.
After over 30 years of conflict between Turkey and the Kurdistan Workers' Party (PKK) — which the U.S. has designated a terrorist group for its use of violence to push for greater freedoms for the Kurds, a historically oppressed ethnic minority — it's hardly shocking that Erdogan would call out Kurdish fighters or even link high-profile politicians to the group.
But the country's period of relative calm during negotiations — a yearslong break from the conflict that has killed nearly 40,000 people — seems to be over. Tensions are boiling out of control.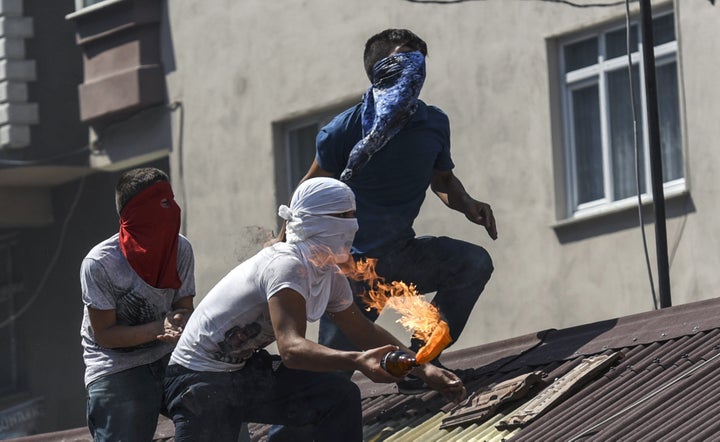 The PKK has been accused of and claimed responsibility for various recent deadly attacks on military and police, including one that killed a military officer while he was driving with his wife and child. The government has ramped up its rhetoric against the Kurdish fighters, and against pro-Kurdish politicians and individuals. Hundreds of Kurds have been rounded up and arrested in recent days, lumped into the same "terrorist" group as accused Islamic State members. 
The fragile and long-hoped-for peace process between the state and the PKK looks dead in the water as Turkey bombs the group in northern Iraq, where it is now based — alongside a bold new campaign to clamp down on the so-called Islamic State. But while Turkey says it's reeling in terrorists both on the battlefield and in political positions, many critics insist it's all a ploy to give the ruling AK Party the upper hand in possible early elections.
"[The AK Party] is sending a very powerful message," said Aaron Stein, a non-resident fellow at the Atlantic Council's Rafik Hariri Center for the Middle East. "This is already being viewed as nakedly political and in preparations for elections."
The HDP shocked the nation when it won 13 percent of votes in June's landmark election — enough to secure seats in parliament and destroy the AK Party's chance at changing the national constitution to grant Erdogan sweeping powers. Now, those same politicians who gave unprecedented hope to Kurds across the country could face jail time if Erdogan gets his way and there's a majority vote in parliament to strip politicians of immunity from prosecution.
"No one should doubt that we will protect the right of HDP politics and everyone who's been elected," Sezgin Tanrıkulu, the deputy head of Turkey's main opposition Republican People's Party, wrote on Twitter following Erdogan's comments.
The current government, led by Prime Minister Ahmet Davutoglu but largely seen as in thrall to Erdogan, has until Aug. 23 to form a coalition government. But talks between the parties have been utterly fruitless. Many Turks say they expect another election in November.
"The underlying strategy is to coerce the HDP to physically renounce what the PKK is doing," said Stein. Such statements, or arrests of major political players, could weaken the pro-Kurdish vote. In a speech directly following Erdogan's press conference, HDP co-chair Selahattin Demirtas denied any links to the PKK and said the party's "only crime was to get 13 percent of votes" in the election.
"They'll make us into enemies of each other by burdening our shoulders with coffins, and reign in their sultan rule with joy," Demirtas said, as tweeted by his party's official Twitter account in English.
While Erdogan's comments were aired on major Turkish television stations, Demirtas' speech was nowhere to be found on those same channels mere minutes after Erdogan finished. Dozens of Kurdish and pro-Kurdish websites have been blocked in recent days.
"There's a reason [Demirtas'] speech wasn't on television. They aren't going to let this get out," Stein told The WorldPost. "[The state] will block the Kurdish narrative and block Kurdish websites. It shows the extent to which they're trying to cut this off."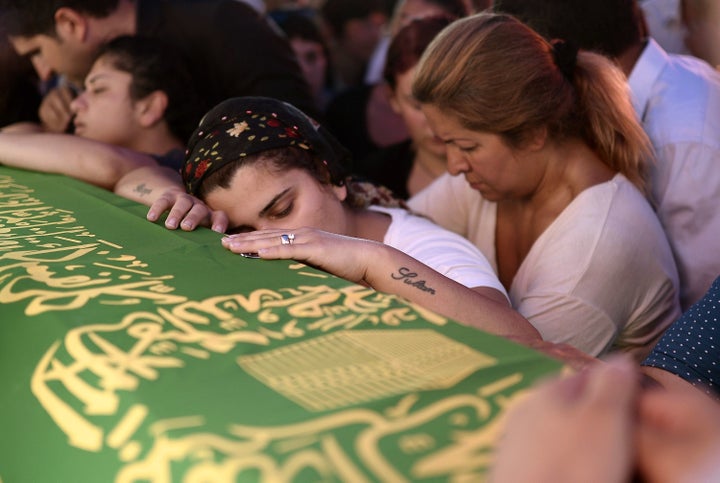 Hostilities reached a breaking point on July 20 when a suicide bombing in Suruc, Turkey, killed 32 people and wounded 104 others who were headed to the Syrian Kurdish town of Kobane, which has been ravaged by the Islamic State, to help rebuild.
Many Kurds claim that Turkey not only hasn't done enough to reel in the Islamic State, but is secretly sponsoring terrorism, even as Turkey pledges to ramp up attacks on the Islamic State in Syria and grants the U.S. access to its Incirlik air base to strike the militant group across the border. For years, the international community has slammed Turkey's failure to crack down on Islamic State cells across the country or tighten up its porous 550-mile border with Syria, often referred to as the "jihadi highway."
Turkey's dramatic moves to counter the Islamic State have been met by some with concern that it is all a plot to stop Syrian Kurds — arguably the best U.S. partner fighting the Islamic State on the ground in Syria — from establishing a Kurdish enclave just over the border.
In an emergency meeting Tuesday requested by Turkey, NATO said it was in "strong solidarity" with the Turkish government in its fight against the Islamic State. But according to a NATO official quoted by the Associated Press, members also cautioned against using excessive force and abandoning the peace process with the PKK.
Many Kurds say the government will stop at nothing — even attempting to jail some of Turkey's top Kurdish political voices — to put the Kurds in check and hold on to power.
"After Erdogan's election loss in the June 7 elections, it made Erdogan crazy," Bercan Aktas, a member of the HDP's Party Council, told The WorldPost.
Erdogan's speech was meant for one reason, according to Aktas: to instigate war with the Kurds and foster chaos for his own benefit.
"We won't give permission for his crazy demands," he said. "Erdogan should accept the election results and stop this approach if he wants peace and democratization in Turkey."
Hazal Arda contributed reporting from Antalya, Turkey.