ATHENS ― For months, aid organizations warned of deplorable conditions at Moria camp, an outdoor Greek detention center housing some 4,000 migrants and refugees on the island of Lesbos. They slammed an asylum process that caused refugees to languish. 
On Monday, a violent confrontation between desperate refugees and migrants left people bloodied and bruised. Rumors of mass deportations to Turkey only added to the panic. Then, a fire engulfed the camp. 
When American attorney Ariel Ricker saw the flickering flames Monday evening at Moria, she ran home and picked up her small first aid kit. Soon, thousands of people who had fled conflict and persecution found themselves displaced once again.
"It was unbelievably horrifying," said Ricker, director of the organization Advocates Abroad, which provides free legal assistance to people seeking asylum. "There was lots of panic and fear and uncertainty."
Authorities have arrested nine people suspected of starting the fire inside Moria. But Spyros Galinos, mayor of Lesbos, has said that he doesn't rule out the possibility that members of the ultra-conservative party Golden Dawn started the blaze to create "a climate fertile to fascist ideas."
Protests are common on Lesbos and other Greek islands, where desperate men, women and children have arrived by the thousands on dangerous dinghies and rafts. Fearing the influx of desperate people and the dramatic impact on tourism, locals have turned out to demonstrate against the newcomers.
Refugees, meanwhile, have protested the difficult conditions they're facing. Instead of finding a better life on Lesbos, they're forced into overcrowded camps with no privacy and limited access to basics like water and shelter.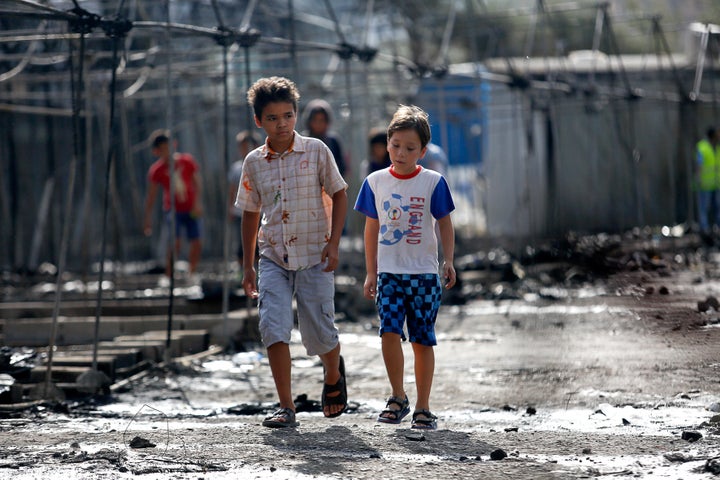 The Greek asylum process is complicated, lengthy and depends on nationality, breeding resentment among refugees and migrants from different countries. Syrians are viewed as "lucky" in the great race for asylum, whereas Afghans, Pakistanis, Iraqis and others have a harder time convincing authorities they're at risk.
The number of refugees arriving in Greece has dramatically dropped since its peak last year, when some 1,700 people arrived every day. But recently, the cash-strapped country has noticed an uptick in arrivals. The refugee crisis is far from over. 
"This is a buildup of the past weeks and months," Adil Izemrane, a Dutch entrepreneur-turned-director of the Movement on the Ground, told The WorldPost by phone from Lesbos. "There is a lot of friction within the camp," he said. "It was a ticking time bomb."
If nothing changes, this is going to happen again and again and again.Benjamin Anoufa, IRC field coordinator
Izemrane's organization provides hot meals to thousands of hungry refugees and migrants by way of a food truck. He jokes it's the "largest one in Europe." On Monday night and early into Tuesday morning, he joined other colleagues and volunteers at Moria and tended to people suffering from smoke inhalation, broken bones and other injuries.
"New arrivals find themselves in a desperate situation," Izemrane said. "They're looking for dignity and humanity ― and at this moment, this is not something we're fulfilling in Europe and in Greece."
A local citizens' initiative called "Coexistence and Communication in the Aegean Sea" has raised awareness about at-risk unaccompanied minors in need of shelter. "The safety of 90 unaccompanied children were put in great danger during the violence in Moria," the group said in a letter to the government's Coordinating Body for Refugee Crisis Management.
The unaccompanied minors forced to leave Moria camp were transferred early Tuesday to PIKPA, a local shelter where they spent the night.
Some people with nowhere to go are pitching tents on top of the charred remains of Moria camp.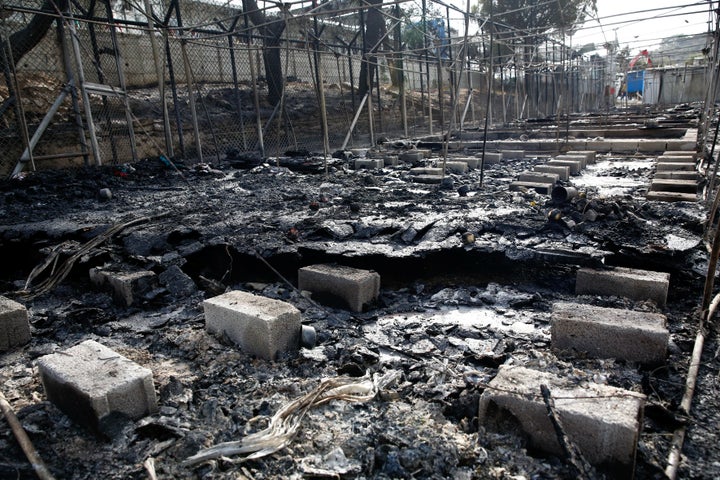 The International Rescue Committee issued a damning statement on Tuesday, decrying conditions within Moria as "unacceptable" and calling Monday's fire the result of a failed European response to the refugee crisis.
"Surely, world leaders can do much better than this," the statement read.
The Greek government is moving fast to charter a passenger ferry that will provide emergency accommodation to at least 1,000 migrants and refugees.
Greek Migration Minister Giannis Mouzalas assured the mayor of Lesbos in an official letter that there is not going to be a new "hospitality center" built on the island. He insisted that the government is working hard to decongest Lesbos and other Greek islands sheltering thousands of desperate arrivals.
Plans for a new refugee center had been a point of great contention for some locals.
"This aim, however, should not be achieved to the detriment of the EU-Turkey agreement," Mouzalas added, confirming that the government will transfer refugees who have applied for asylum to the mainland and reinforce police and health services on location to ease the pressure on the islands.
"If nothing changes, this is going to happen again and again and again," said Benjamin Anoufa, an IRC field coordinator on Lesbos who arrived at the scene just after midnight to pass out tents, sleeping mats and sleeping bags. "We are talking about people who fled war, surely at night, walked at night to cross borders, who stayed in Turkey four to five years. And now, they arrive into circumstances like this."
Anoufa says he's not surprised that some people, already traumatized by war, had panic attacks during the fire and unrest.
"These people are not fighters," he continued. "These people, they were fleeing Moria as if they were fleeing a civil war."
Danae Leivada reported from Athens and Sophia Jones reported from Istanbul.