BEIJING — It took a trip across the Pacific, but this week seven Chinese same-sex couples finally had the chance to say "I do" in West Hollywood.
In an event co-sponsored by Chinese e-commerce giant Alibaba and the Chinese gay dating app Blued, the lucky couples won the chance for a destination wedding and star treatment in Los Angeles. The winning couples were chosen this February through online voting on Alibaba's shopping site Taobao. They were married this Tuesday at the West Hollywood Library, with the city's mayor officiating.
"Today we really could feel how friendly the U.S. is toward the gay community," Liu Xin, who married his boyfriend of seven years at the ceremony, told The WorldPost. "Today there were so many reporters and so many residents of West Hollywood who came on their own to wish us well."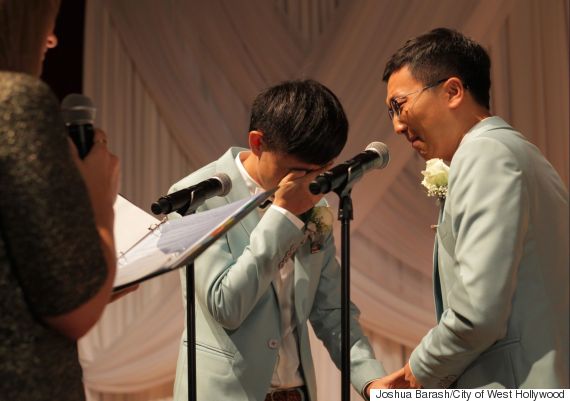 In his video applying for the contest, Liu described the pivotal moment early in his relationship with Hu Zhidong. Hu took a ring off his own finger and, without saying a word, put it on Liu's hand. Liu has worn that ring for the last seven years, and on Tuesday their commitment finally found legal footing in West Hollywood.
China does not recognize same-sex marriage or civil unions. Activists and academics have begun pushing amendments to Chinese law, but the legalization and recognition of gay marriage still appears to be several years away. While the marriage certificates issued this week won't be recognized in China, they are considered valid in the United States.
The highly publicized event makes Alibaba perhaps the first major Chinese company to come out publicly as an ally of the lesbian, gay, bisexual and transgender community. The $220 billion company prominently featured video entries for the contest, called "We Do," on Taobao during Valentine's Day.
Ever since decriminalizing homosexuality in 1997, the Chinese government has taken a relatively hands-off approach to many LGBT issues. But conservative cultural norms in much of the country attach deep stigma to homosexuality. Many Chinese parents see the birth of their grandchildren as the capstone of a successful life, and gay Chinese are often pressured into heterosexual marriages.
After the wedding, Liu Xin told The WorldPost that he hoped the marriages would inspire and encourage LGBT couples back home.
"We hope that through this event we can spread positive energy to the LGBT community in China," Liu said. "We hope everyone can have the courage and confidence to embrace a joyful future."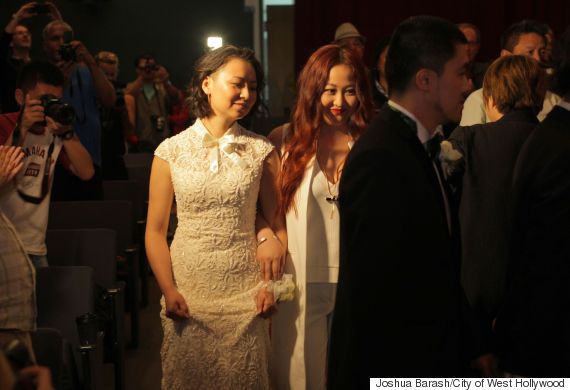 West Hollywood has been a beacon in the LGBT community since it was officially incorporated over 30 years ago. More than 40 percent of the city identifies as LGBT, and West Hollywood actively promotes itself as a destination for LGBT tourism and weddings.
"We hope that this wedding will send a strong message, especially to LGBT people across the globe, that the City of West Hollywood celebrates your right to marry and welcomes your destination wedding as a symbol of our commitment to equality for all," said Mayor Lindsey Horvath in a statement.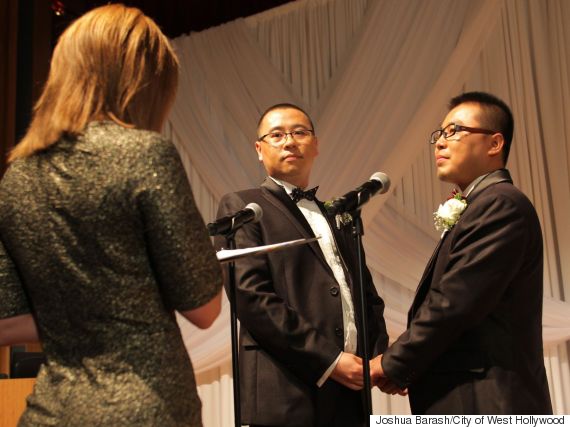 That reputation has helped West Hollywood attract LGBT tourist dollars, and some Chinese companies like Alibaba may be eying a similar phenomenon in their own country. Recent reports suggest that China's LGBT citizens represent a vast and untapped market — up to $300 billion, according to some estimates. Those shoppers are also believed to be more loyal to brands they perceive as LGBT-friendly.
Liu sad that he and the other newlywed couples hoped the event would nudge China toward greater awareness and ultimately respect for LGBT relationships.
"We really hope that in the future we'll be able to enjoy [in China] the same treatment, responsibilities and duties that we took on here in Los Angeles," he said. "We hope we'll be able to truly turn this into a legal Chinese marriage."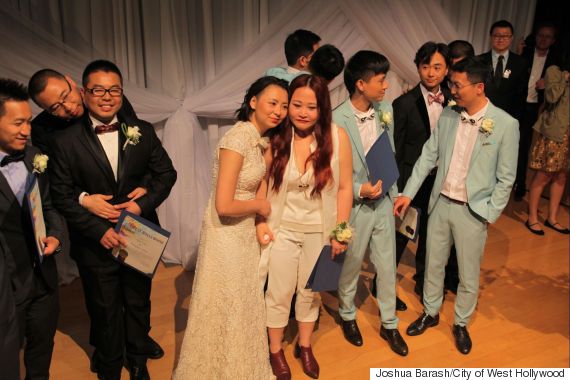 See more photos of the couples below: