TIKRIT, Iraq — There's a ghost town called al-Dour on the way from Baghdad to the besieged city of Tikrit, where the United States began striking the Islamic State on Wednesday. All that's left of al-Dour is a burned-out and bullet-scarred carcass of what used to be home for thousands of people. The doors of shops and homes are eerily ajar, their contents strewn out before them like intestines. Buildings are leveled, and others, engulfed in flames. It's a place that, depending on whom you talk to, has several different stories. Ask Iran-backed Shiite militiamen who are now controlling what's left of predominantly Sunni al-Dour — after they helped drive ISIS out in early March — and they'll likely say they're there to secure the area, removing widespread ISIS-made booby traps and bombs so that civilians can someday return. But ask al-Dour residents who were forced from their homes and livelihoods, and many have a very different answer: Shiite militias are burning Sunni homes, taking whatever they want, and instilling harsh sectarian control over areas they now hold. "I'm afraid for my life to return," Maksoud al-Douri, the mayor of al-Dour who fled to the northern Iraqi Kurdish city of Erbil, told The WorldPost by phone. He's just as afraid of ISIS, who he says burned down his house, as he is of the Shiite militias now controlling his town. In many ways, al-Dour represents the greater issue in the battle for Tikrit — a messy fight that includes a slew of conflicting ideologies and allegiances in which the United States now plays a central role, three years after U.S. troops pulled out of Iraq.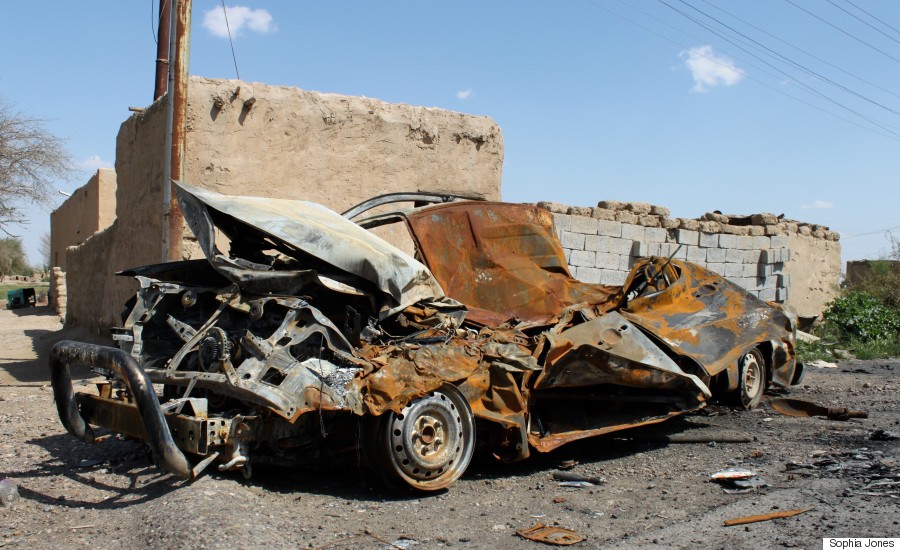 A burned-out car sits on the outskirts of Tikrit, Iraq, evidence of recent clashes when the Islamic State fiercely fought to hold ground.
"These militias who came from outside al-Dour don't want to show the real picture of al-Dour's destruction," the mayor said. Shiite militias, hailed as heroes by some and accused of widespread human rights abuses by others, are a dominant force in the battle for Tikrit. Militiamen who escorted The WorldPost by car through al-Dour — the only way press can get to Tikrit nowadays — warned that photography, both with a camera or a phone, was strictly forbidden in the ransacked town. It was the only place on the road from Baghdad to Tikrit where journalists were barred from taking photos. Shiite militiamen reportedly beat up an Iraqi journalist several days ago for ignoring their orders and snapping photos of the startling destruction. During the Iraq War, the United States conducted airstrikes on al-Dour — where Saddam Hussein was found in 2003 — targeting suspected al Qaeda militants. As the convoy speedily passed through miles of complete ruin, most of it from clashes between Iraqi fighters and Shiite militias battling ISIS, the fighters radioed to tell journalists that the fires and occasional blasts were only their men detonating makeshift ISIS bombs scattered throughout the area.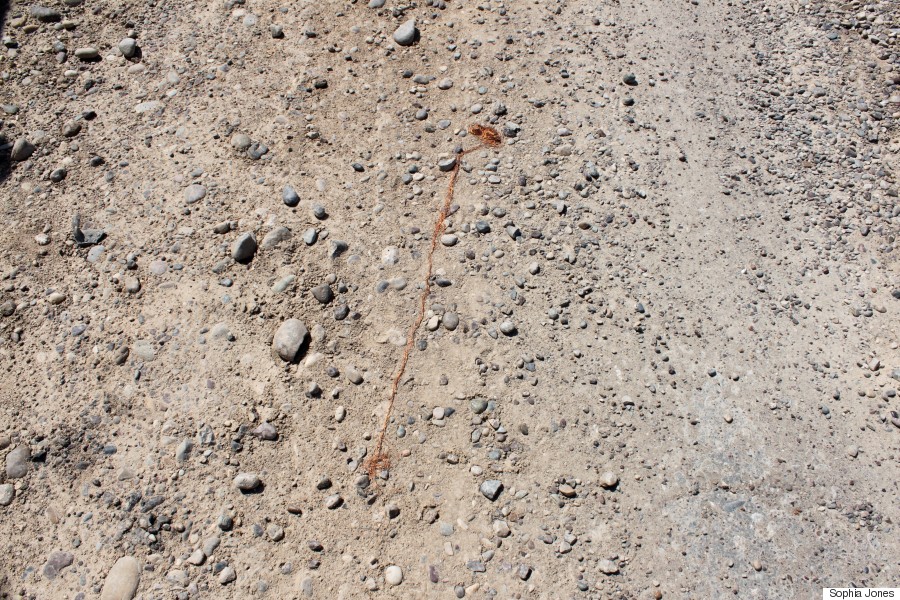 The wire from what Shiite militiamen said on March 25 was from an Islamic State-made IED that went off in Tikrit, Iraq.
But al-Douri says otherwise, stressing that all the Shiite militias wanted was revenge: "The militias have bombed all the houses of the commanders who participated in the Iran-Iraq War of the 1980s." He also accused them of looting. On Thursday, The WorldPost witnessed Shiite militiamen carrying electronics from an abandoned store. The mayor says he was nothing but relieved when al-Dour was, in his own words, liberated from ISIS — until the town was handed over to Shiite militias who act independently of the government. The fighters, who have formed much of the front against ISIS after the Iraqi army nearly crumbled last summer, control most of the area surrounding Tikrit. They man the roads and checkpoints leading immediately to the war-torn city, and patrol neighborhoods that are not their own, acting as local law enforcement. Sectarian tensions in Iraq are high, with Shiite militias accused of killing Sunnis, and car bombs targeting civilians in Shiite neighborhoods.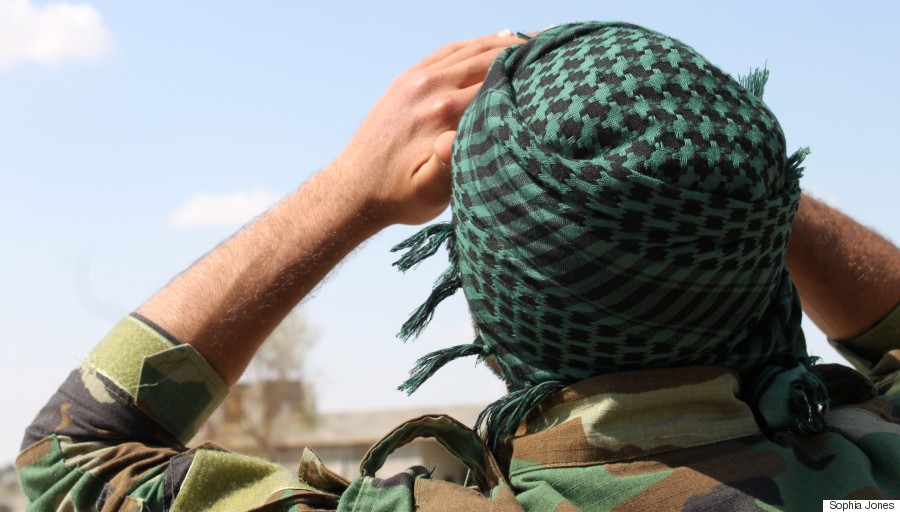 A young man belonging to the Iran-backed Shiite militia known as the Badr Organization looks up at a drone over Tikrit, Iraq, on March 25.
On Thursday, the day after the United States began bombing Tikrit at the request of the Iraqi government, The WorldPost confirmed that there were, in fact, Iran-backed Shiite fighters involved in the battle for the city, despite U.S. insistence otherwise. One group warned it would not only stay in the fight, but would target American forces in Iraq. Many Iraqis applaud the militiamen as heroes. While some powerful Iran-backed militias provide weapons and salaries to their men, others are unpaid volunteers who joined after Iraq's top Shiite cleric, Grand Ayatollah Ali al-Sistani, issued a call to arms out of fear that Baghdad could fall to the extremists. Thousands of men joined forces to tackle the extremist group that was kidnapping, killing and wreaking havoc across large parts of Iraq.
"We never would have been able to return home if it weren't for the marjaya call [to arms]," said Latif al-Jaboori, a resident of al-Alam, close to Tikrit, who recently returned to his home after militias drove out ISIS. Shiite militiamen sat next to him, smiling like old friends. Only a small group of civilians have been allowed to return home to al-Alam, most of them members of his prominent Sunni al-Jabouri tribe that has expressed open support for the militias.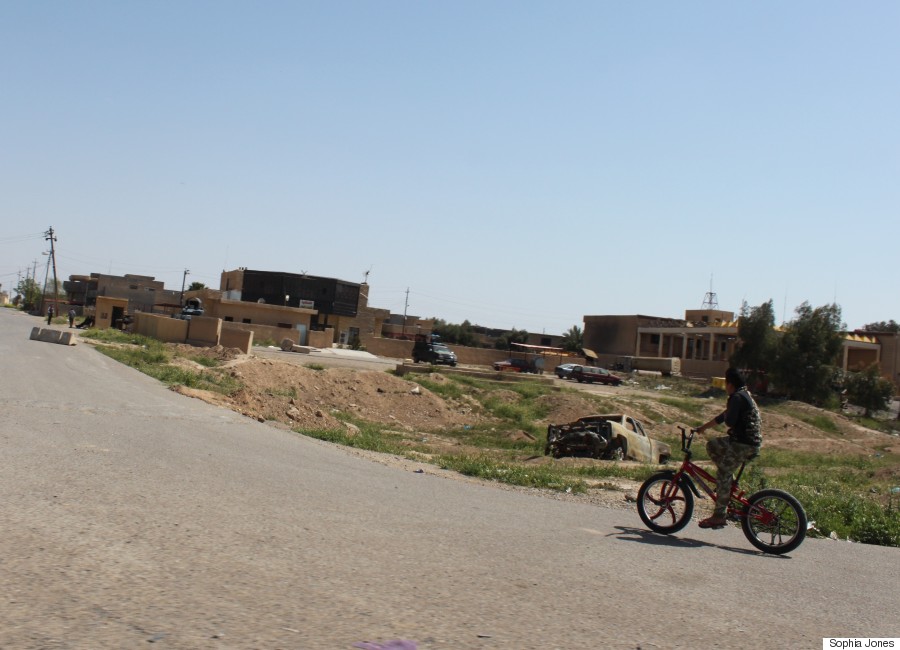 A boy rides past a burned-out car on his bicycle in al-Alam, Iraq, held by the Islamic State until recently.
They are the lucky ones. Meanwhile, thousands of other Sunni residents from places now controlled by Shiite militias, who left during fighting or after the militias took over, cannot return. "I wish I could go home, where we grew up, and bring back our memories," said 64-year-old Thamer Mohsen, who fled his city of Jurf al-Sakhar, now known as Jurf al-Nasr, 40 miles southwest of Baghdad. He agreed only to speak by phone and not meet in person, because he was terrified that Shiite militias who control where he lives now would track him down if they saw him talking to a journalist. "Nobody dares go back," he said, alluding to Shiite militias possibly detaining or killing those who returned. "We are stuck between ISIS and the militias." But Zuhair al Juthari, a member of the Babylon Provincial Council that represents the governorate where Mohsen used to live, decried any accusations of wrongdoing. "We are not punishing them," he said, explaining that they were instead weeding out possible ISIS supporters so that innocent civilians could return home. "They might be still with internally displaced people. We are very concerned to open the doors back to these families because ISIS might take advantage and create a stronghold." Mohsen's fear of being labeled an ISIS supporter, despite his hatred of the group, is for good reason. Al-Douri, the mayor, says Shiite militiamen arrested 13 members of his own family and carted them off to an unknown place. While al-Douri says that some residents did support ISIS — furious with the central government that many Sunnis say has abandoned them — he insists they all left with ISIS when the group fled. Those who remained were subjected to collective punishment, he explained.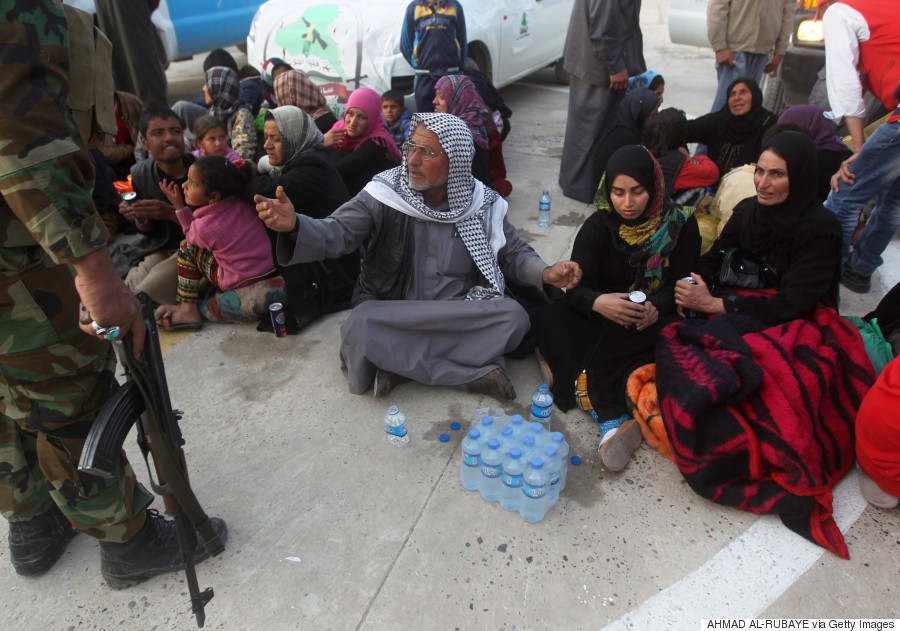 Displaced Iraqi Sunni families who fled fighting between the Islamic State and government forces backed by Shiite militias rest after arriving at an army camp in the city of Samarra on March 8.
Al-Douri says he hopes that the American government, leading a bombing campaign that he openly supports, will take the opportunity to reel in the militias and put a stop to what he calls a "disaster." The mayor-in-exile is firm in his faith that the Iraqi armed forces — backed by U.S. airpower — will successfully clear Tikrit of the holed-up extremists. But then he pauses, and adds: "I just hope they don't give Tikrit to the militias." An Iraqi journalist contributed reporting from Tikrit and Baghdad.