BEIJING — The Beijing subway is a madhouse and a miracle, and the record-breaking system is expanding into new corners of the city. On Sunday, Beijing opened 37 new miles of track and instituted a fare hike, plowing ahead with a frenzied building boom that aims to stay one step ahead of the city's exploding transportation needs.
Between 2007 and 2014, Beijing added 235 miles of new routes — a length greater than the entire New York City subway system. Even with construction crews crews digging, burrowing and building new subway lines 24 hours a day, at rush hour passengers still have to claw and shove their way onto subway cars that appear ready to burst at the seams. And while transportation planners have spent a decade pushing through one of the greatest expansions of public transportation in history, Beijing's roads remain gridlocked, its skies smog-choked and its transportation infrastructure pushed to the limit.
The graphic below shows the astonishing expansion of the Beijing subway from 2001-2014, including new lines projected to open through 2016. Continue reading below.
Now stretching approximately 327 miles, Beijing's subway system is second in length only to Shanghai's (340 miles) and far ahead of London's (250 miles) and New York's (232 miles). The Seoul Metropolitan Subway is sometimes considered to be 611 miles long, according to a broad definition that includes lines operated by neighboring cities, but a more restrictive measurement puts the length at 203 miles.
Plans for Bejing's near future call for roughly forty miles of track to be added to the system in both 2015 and 2016, bringing total length to around 406 miles. Some forecasts predict that the city will have over 621 miles of subway operating by 2020, though plans for new lines remain tentative.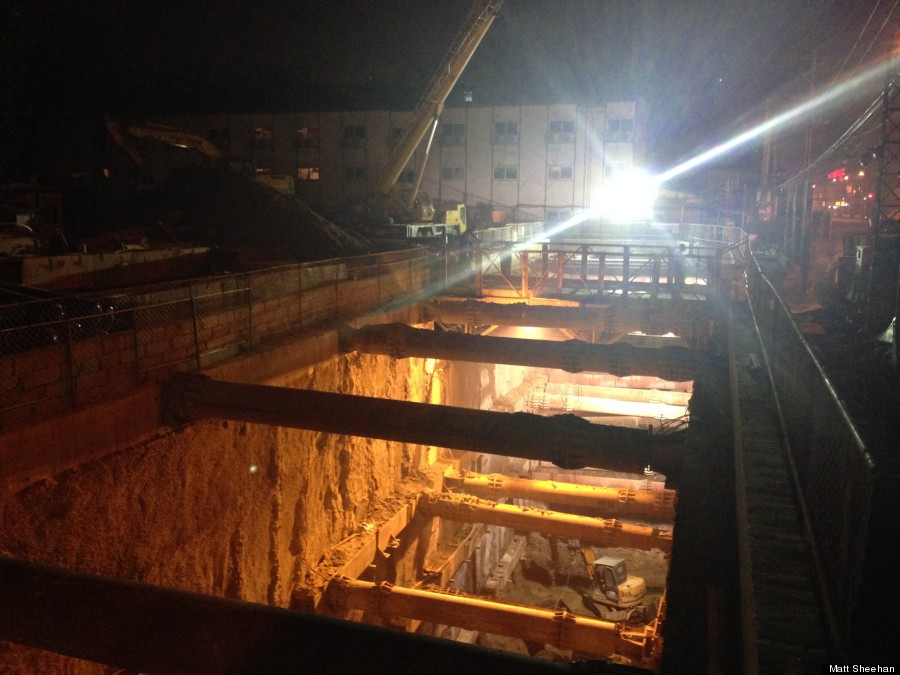 This picture from September shows the gaping pit that has since become the newly opened Jintai Lu station on Line 14.
The current sprawl of the Beijing subway is even more surprising given where the system was just a few years ago: In 2001, the entire system was a mere 32 miles long, and as late as 2007, it boasted just 84 miles in track. Since then, a massive construction boom has taken place, fueled by preparations for the 2008 Olympics, as well as China's economic stimulus plan during the global financial crisis. These factors have led to a near-quadrupling of track length in just seven years, helping Beijing break records with a daily ridership over 10 million and an annual ridership over 3 billion.
With new track opening each year, the subway system is enabling Beijing's expansion, while also struggling to keep up with the city's breakneck population growth. Beijing adds roughly 500,000 new residents each year, and its current population of 21 million is approaching that of the whole continent of Australia, 23 million. The full crush of the city's population explosion hits riders hardest during rush hour: Boarding mobbed trains can be a test of brute force, and surviving a jam-packed ride requires a zen-like equanimity. Videos depicting the mayhem of Beijing's rush hour have gone viral.
This 2013 video of the rush hour struggle at Line 13's Xierqi station went viral.
Subway lines continue to form a dense web in the center of the city, with increasingly longer lines pulling surrounding farmland into the urban orbit. The expansion pushes out the borders of urban Beijing, but also leads to the destruction of property and modes of life that aren't consistent with the new economic calculus. The arrival of a new subway line often leads to skyrocketing property values, with high-rises replacing houses and new businesses clustering around subway stations.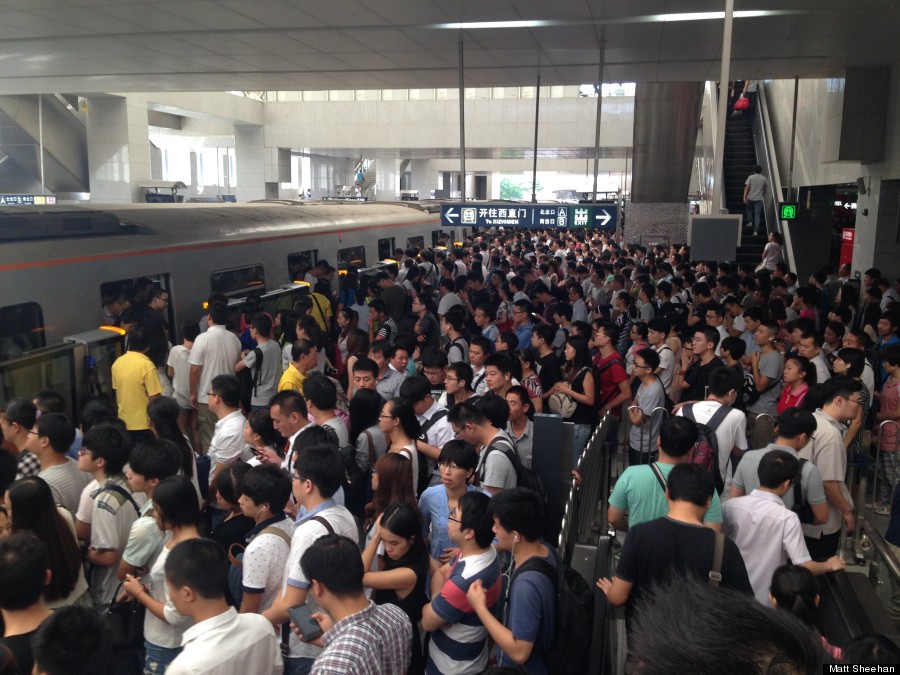 As it extends out into the city's rural outskirts, the Beijing subway both accommodates and feeds into China's massive urbanization push.
In addition to opening a new line and extending three existing lines, on Sunday Beijing also implemented the first subway price increases since 2007. The system has long operated at huge losses due to a low flat fare of around $0.32 for all rides. By raising base fares to the equivalent of 48 cents and implementing distance-based pricing, the city hopes to thin out ridership at key times and reduce the $3.2 billion in subsidies it paid to the subway system in 2013.
The photos below document the construction and operation of Beijing's subway lines. Scroll down for year-by-year graphics of the expanding subway map.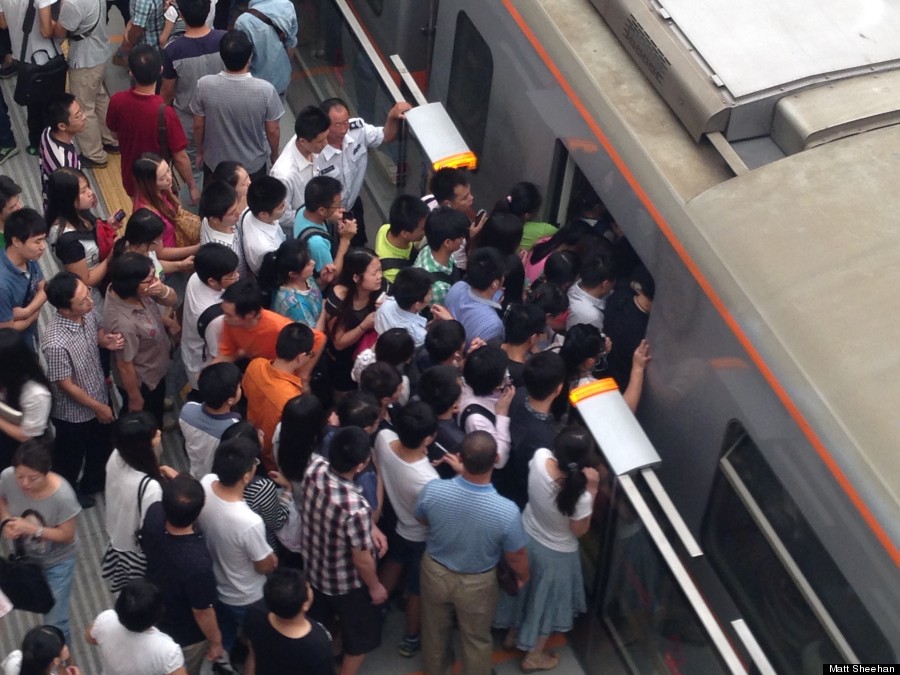 Morning rush hour at Xierqi station on Line 13 sees some of the largest crowds and most intense struggles to board.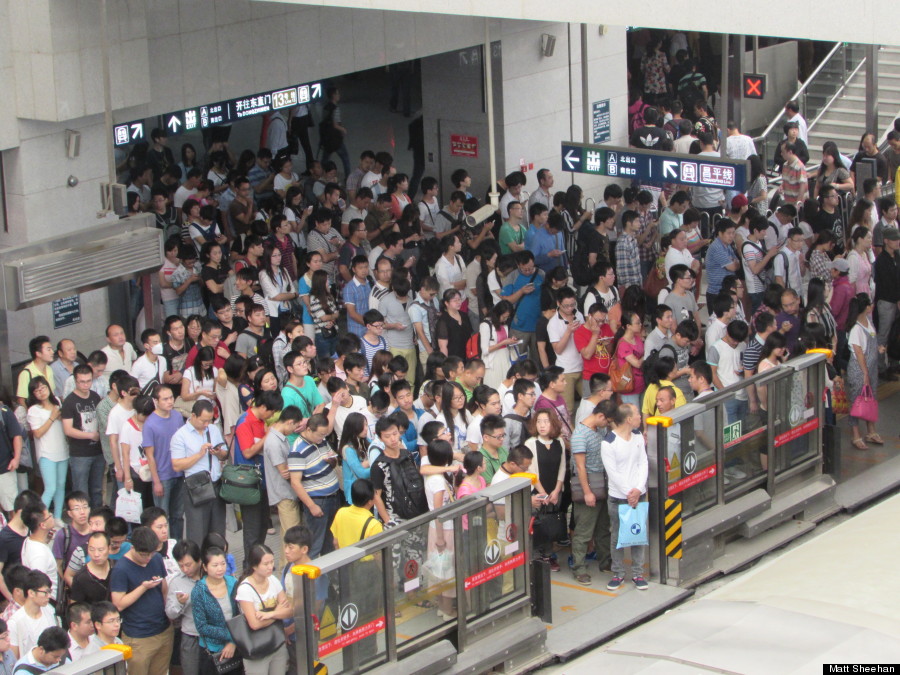 Crowds await rush hour trains at Xierqi station. As a main interchange station for commuters from Beijing's northeastern outskirts, the station sees massive overcrowding at rush hour.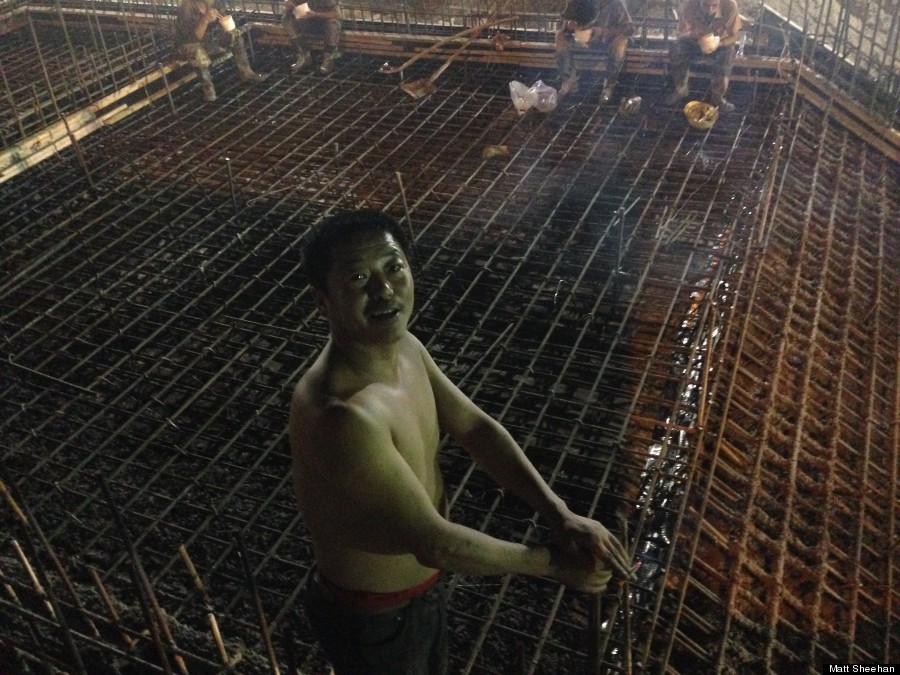 A migrant worker from northeast China takes a break from working on the Jintai Lu station.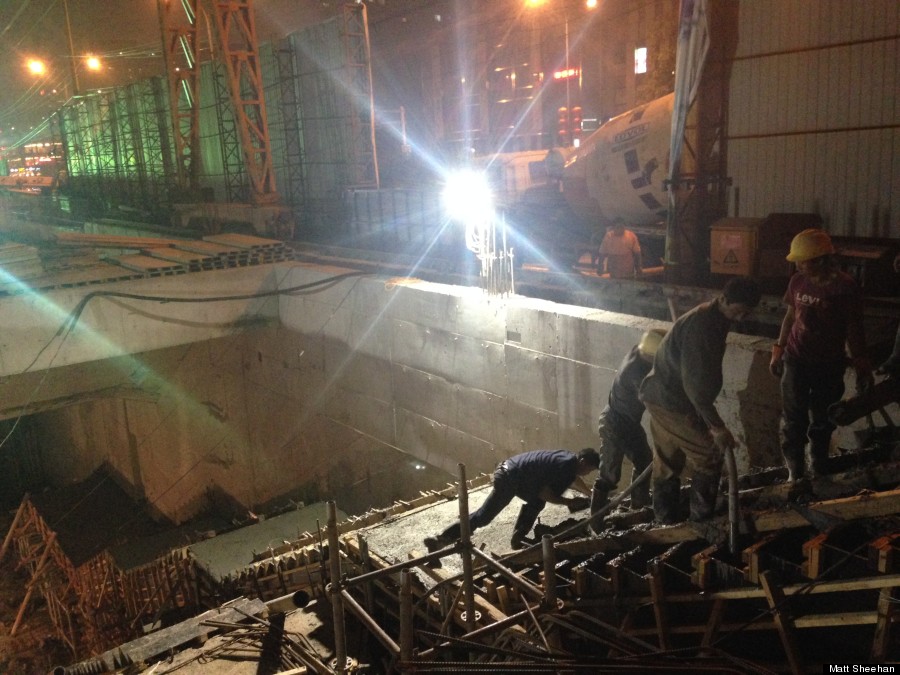 Laborers smooth cement for a staircase at the Jintai Lu station. Construction crews alternated 12-hour shifts in order to complete construction by December 28th.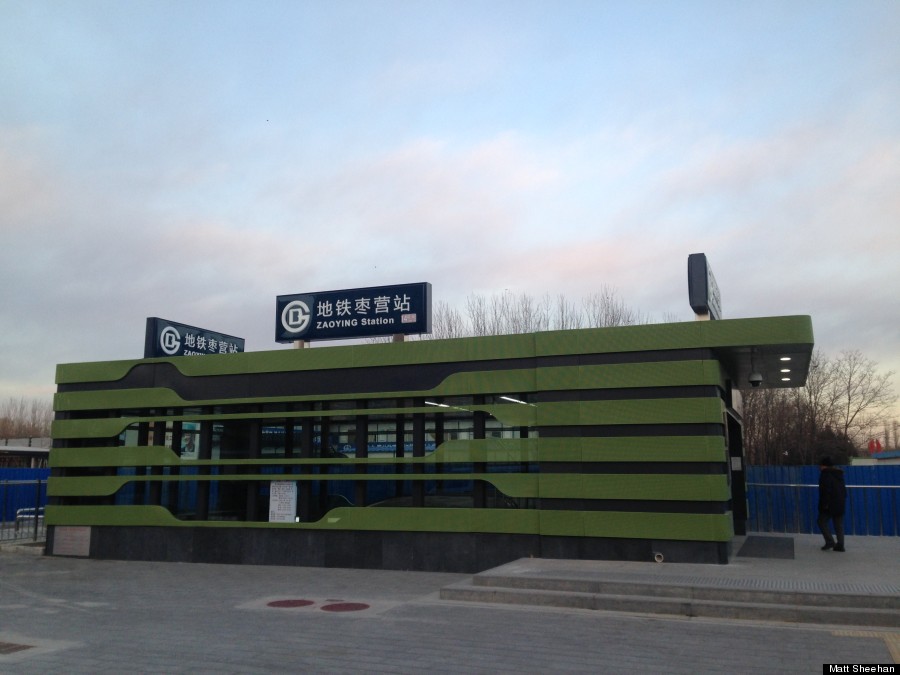 Newly opened Zaoying station on Line 14 increases access to Chaoyang Park, the city's largest green space.Beijing's expanding subway system, 2001-2016:
2001
2002
2003
2004
2005
2006
2007
2008
2009
2010
2011
2012
2013
2014
2015
2016
Map source: Wikimedia CommonsGraphic by Hilary Fung and Alissa Scheller