SAN FRANCISCO — When Sir Paul McCartney rocked out for 49,000 fans at San Francisco's historic Candlestick Park last week, it marked the stadium's final public event before its demolition. McCartney closed the show with an emotional rendition of the Beatles classic "The End." But for the surrounding communities, the occasion signals something of a new beginning.
Candlestick's demolition will kick off the next stage in San Francisco's largest redevelopment project ever. Over the next 15 years, the San Francisco Shipyards project will create more than 12,000 housing units, hundreds of acres of parks, 800,000 square feet of retail and 3.1 million square feet for office and commercial research and development, much of it in the chronically impoverished neighborhoods of Bayview-Hunters Point and Candlestick Point. The predominantly black neighborhoods in the area have been labeled the only part of San Francisco experiencing "extreme poverty," and local homicide rates have been nearly five times the city average.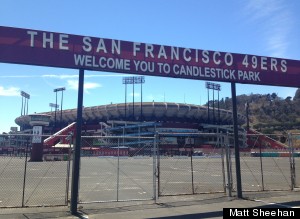 Candlestick Park will be demolished to make way for San Francisco's largest ever redevelopment.
The Shipyards project, funded by hundreds of wealthy Chinese investors, aims to change that. The money flowing into the project is part of a recent infusion of Chinese capital breathing life into long-dormant development projects in the Bay Area. Developers, city planners and community groups hope the Shipyards project will bring much-needed construction and retail jobs into this geographically and economically isolated corner of the city, but some local residents fear it may signal the beginning of a new wave of gentrification — this one funded by detached foreign investors.
In exchange for their investment, the Chinese hope to attain American green cards through the federal EB-5 program, which allows foreigners to obtain the residency permits for themselves and their families in exchange for investments of $1 million — with the threshold for high unemployment areas, like the Shipyards, set at $500,000.
In the aftermath of the 2008 financial crisis, leveraging the $8 billion needed for the Shipyards project required the developer, Lennar Urban, to tap into Chinese markets still overflowing with capital.
"We're very grateful for the monetary support that our Chinese friends have lent to the city and county of San Francisco to make projects like the Shipyards happen," said Dr. Veronica Hunnicutt, chairwoman of the local Citizens Advisory Committee, which advocates for community interests on the project. "It's a model program for the community, city and really the nation."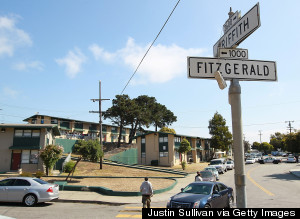 The Alice Griffith Housing Project near Candlestick Park remains one of the most dilapidated and dangerous projects in the city.
The Shipyards project has been decades in the making, but at a crucial juncture following the financial crisis, it was money from China that paved the way forward.
"The housing markets, the whole capital markets collapsed, which certainly slowed down access to credit to begin any vertical construction," said Kofi Bonner, regional vice president for Lennar Urban and head of the Shipyards project. "We found that land development capital was very, very difficult to find in the U.S. … which led to our first foray into the Chinese capital markets."
Initial plans involved a $1.7 billion loan from the state-owned juggernaut China Development Bank, but when that deal fell through in early 2013, Lennar began to lean heavily on money raised through its EB-5 partner organization, the San Francisco Bay Area Regional Center (SFBARC). Over the past two years, SFBARC has tapped into a groundswell of Chinese interest in the EB-5 program, raising $200 million to date. It plans to raise another $250 million in the coming year.
"The homes that are being sold right now at The Shipyards were financed by EB-5," explained Ginny Fang, CEO of SFBARC. "Would they have been built without EB-5? Maybe. But the fact is there was a major gap and we came in with funds mostly from China to fill that gap."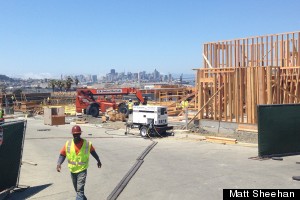 Workers erecting San Francisco Shipyards homes in Bayview-Hunters Point.
Though the EB-5 program is open to all foreigners, in recent years it has been dominated by an explosion of interest from wealthy Chinese looking for a route to citizenship abroad. Between 2007 and 2013, annual issuance of EB-5 visas multiplied more than tenfold to 8,567, and many predict that growth from China will soon cause the program to hit its maximum annual quota of 10,000. Fang says that more than 80 percent of SFBARC's clients are Chinese, many of them looking to move their children away from the toxic air and stultifying education system in many Chinese cities. According to Fang, SFBARC's investors in the project have had a 100 percent success rate in their green card applications.
Many involved in the Shipyards project describe it as a showcase of how to leverage Chinese funds for urban renewal. Chinese money is now behind the two largest redevelopment projects in the Bay Area. Oakland's massive Brooklyn Basin project had languished for lack of funding before Beijing developer Zarsion Holdings Group came in with a pledge of $1.5 billion last year. Like the Shipyards, the Brooklyn Basin project will transform a dilapidated industrial waterfront into a mix of residential, retail and park space.
"This massive influx of Chinese investment will put thousands of Californians to work and dramatically improve Oakland's waterfront," Gov. Jerry Brown (D) said at a signing ceremony for the Brooklyn Basin deal. "This project is just one example of what's possible when business leaders in two of the world's most dynamic regions connect."
In the case of the Shipyards project, Lennar Urban signed an extensive community benefits agreements in exchange for being gifted over 700 acres of public land. That agreement, negotiated between Lennar, the city and the Citizens Advisory Committee, stipulates tens of millions of dollars for job training and sets high goals for local employment in all phases of the project. It also provides for 30 percent of the future housing to be priced below market rates, and requires Lennar to completely rebuild the notoriously dilapidated and dangerous Alice Griffith Housing Project located on the site.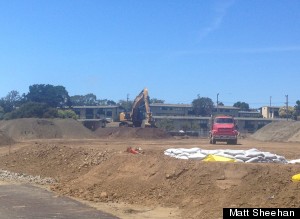 Lennar has pledged to completely rebuild the Alice Griffith housing project for current residents.
But despite those pledges of assistance, some Bayview-Hunters Point residents remain wary of a looming wave of foreign-funded gentrification, saying that after years of work on the site, the community has still yet to feel the promised benefits.
"I haven't seen nothing yet. That money flows back to where it comes from," said resident Bob Pinkard, who has owned nearby Surfside Liquors for more than 40 years. "We're just going to let these folks come in and buy the land right out from under us –- straight cash and no money trail."
Charles Gadeken, who has run an industrial art collective down the street from the Shipyards project for more than 15 years, echoed Pinkard's fears of displacement.
"Our lease is up in five years and I assume at that point they'll be building condos and we'll be kicked out," Gadeken said. "This is the last true industrial art space in San Francisco and it'll be gone. It's sad but it's inevitable."
Concerns over displacement run especially high in Bayview-Hunters Point, which many residents describe as the last predominantly black community in San Francisco. And looming large in any conversation about redevelopment is the history of San Francisco's Fillmore district, a once thriving black community that was known as "the Harlem of the West." In the 1950s the city's redevelopment commission labeled the area "blighted," and the ensuing redevelopment plan displaced and bankrupted hundreds of black businesses and homeowners, contributing to the prolonged exodus of the city's black population that continues today.
Local leaders have specifically pledged not to repeat what happened in the Fillmore, stressing that the Citizens Advisory Committee has spent nearly two decades shaping the project so that it benefits the community.
"I think we've learned the lessons from what happened in Fillmore," said Shamann Walton, Executive Director of Young Community Developers, a group that has partnered with Lennar in training local youth for jobs in the trades and construction. "We're preparing for the upcoming opportunities, and things like the rebuild of the Alice Griffith project mean everyone will be able to stay."