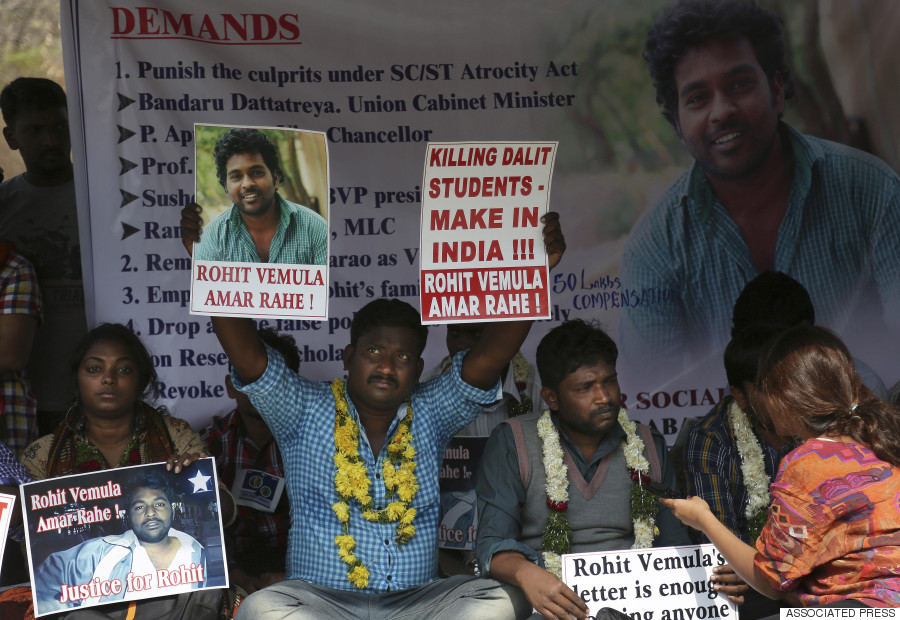 NEW DELHI — "Duck, you f**ker, duck!" The cameraman leapt off the fence as a large rock whistled through the air and clanged into the broadcast van parked outside Patiala House, one of New Delhi's six district courts.
Inside the court premises, on Feb. 17, a mob of lawyers strutted about the landscaped lawns, waving upraised fists, sticks and Indian flags and flinging rocks and abuse at the television cameras positioned beyond the tall iron gates of the courthouse.
"He's here!" The lawyers darted towards the rear entrance of the compound and pounced upon Kanhaiya Kumar, a slender, bearded graduate student, as he appeared before the court. On Feb. 12, Kumar, who is the student union president of Jawaharlal Nehru University, one of India's premier public universities, was arrested for allegedly raising "anti-national" slogans on campus and booked for sedition under a 156-year-old colonial era law.
"Shoot the traitor! Hang the traitor!" the lawyers screamed as they punched, kicked and slapped Kumar until ineffectual policemen dragged him away to the magistrate's chambers. "Long live Mother India! Long live Mother India! Mother, we bow before you!"
Later, the mob would charge at the gates once more, flinging stones at reporters, harassing women, thumbing their noses at the law. The police did little to stand in their way.
The violent lawyers — some of whom were associated with the Bharatiya Janata Party, India's ruling party — would later justify their behavior on TV, claiming they were unable to tolerate any insults to the nation.
"I was standing at a courthouse in the heart of the national capital, not far from the Supreme Court, the highest seat of justice in the land, and I was beaten by lawyers," a TV reporter who was attacked when he recorded the violence told me. "It's unbelievable."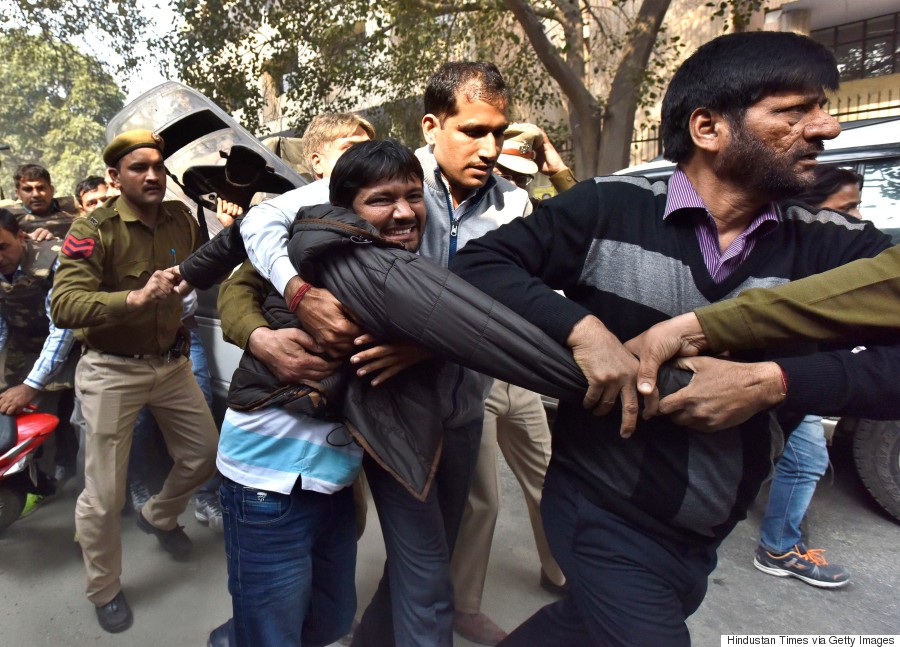 Kumar, after being arrested for sedition, is taken to court on Feb. 17 in New Delhi, India. The hearing descended into chaos as protesting lawyers chanting pro-government slogans barged into a courthouse compound. (Virender Singh Gosain/Hindustan Times via Getty Images)
A fever of political dissent has swept India's universities. The unrest, government ministers claim, is the work of forces determined to destroy the country from within. In a speech on Feb. 21, Prime Minister Narendra Modi lashed out at a presumed campaign by unnamed nongovernmental organizations to destabilize his government at the behest of their presumed foreign funders.
Since assuming power in May 2014, Modi's government has branded dissenters — filmmakers, actors, writers, students, scholars, activists and environmentalists — as "anti-nationals." In the name of national interest, students have been jailed, businesses vandalized, film screenings halted and the consumption of beef criminalized to the extent that mobs of enraged Hindu activists have lynched Muslims on the suspicion of eating beef or transporting cows to slaughter.
Government-funded educational institutions have received special attention: in one memorable instance, a prestigious film institute found its new chairman was an actor whose only qualification appeared to be a career-defining role as Prince Yudhisthira in a television series based on the Hindu epic "Mahabharata."
'I was beaten by lawyers. It's unbelievable.'
The current wave of unrest began in January, when Rohith Vemula, a young PhD scholar at Hyderabad Central University, a public university in southern India, died by suicide after a senior BJP minister denounced him as being "anti-national."
Vemula was the son of a single mother who worked as a tailor for about $2 a day to raise him and his two siblings. Vemula and his family are Dalit, the lowest group in India's caste hierarchy and one of the most discriminated against.
His suicide in Hyderabad and the events that have followed point to a question both fraught and fundamental: What does it mean to live in this land — if you are Dalit? Or Muslim? Or Kashmiri? Or just unhappy with your government?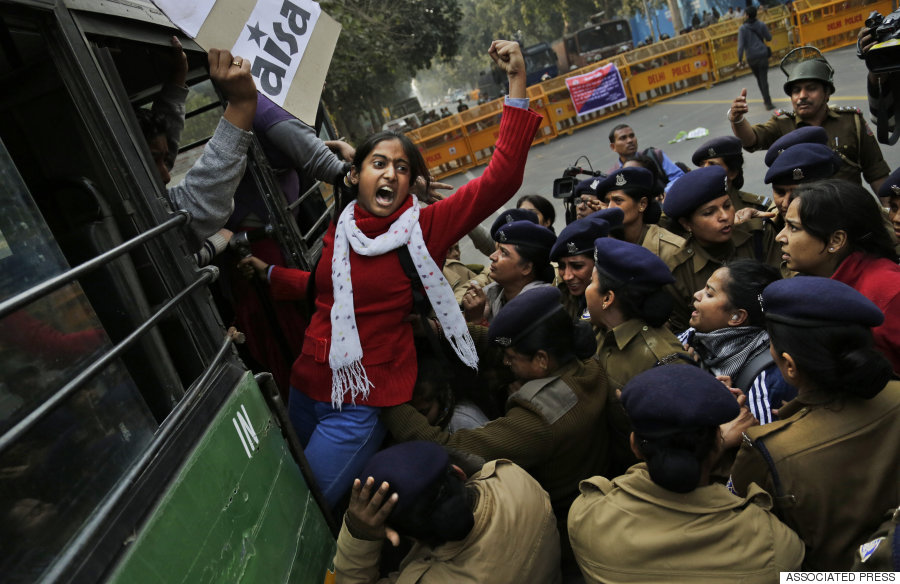 A student is detained by police on Jan. 27 in New Delhi during a protest after Vemula's death. (AP Photo/Altaf Qadri)
Two years after young people overwhelmingly voted Modi to power, spirited resistance in campuses across the country suggests the politics of India's youth are more fluid and assertive than expected. The mid-1990s empowerment of historically oppressed castes, narratives of economic aspiration from the 2000s and an instinctive suspicion of authoritarianism have come together to forge a bold poetic new politics of desire that has befuddled even ruthless and astute politicians like the prime minister.
"I always wanted to be a writer. A writer of science, like Carl Sagan," Vemula wrote in a letter that has been cited widely since his death. But, he continued, "the value of a man was reduced to his immediate identity and nearest possibility. To a vote. To a number. To a thing. Never was a man treated as a mind. As a glorious thing made up of star dust. In every field, in studies, in streets, in politics, and in dying and living."
'The value of a man was reduced to his immediate identity and nearest possibility.'
Modi's government uses outdated laws, a pliant police force and Hindu student organizations as a battering ram to crush this awakening, exacerbating the discord between a prime minister determined to stamp his authority on an unruly nation and students enraptured by a thrilling moment of unlikely solidarities that could define their generation.
From September to November last year, the Ministry of Human Resource Development sent five separate letters to Hyderabad Central University, demanding action on a complaint by Bandaru Dattatreya, the minister of labor and employment.
"Hyderabad Central University," Dattatreya claimed, had become "a den of casteist, extremist and anti-national politics." At the heart of this conspiracy, he alleged, was a group of Dalit students from the Ambedkar Students Association — Rohith Vemula's organization.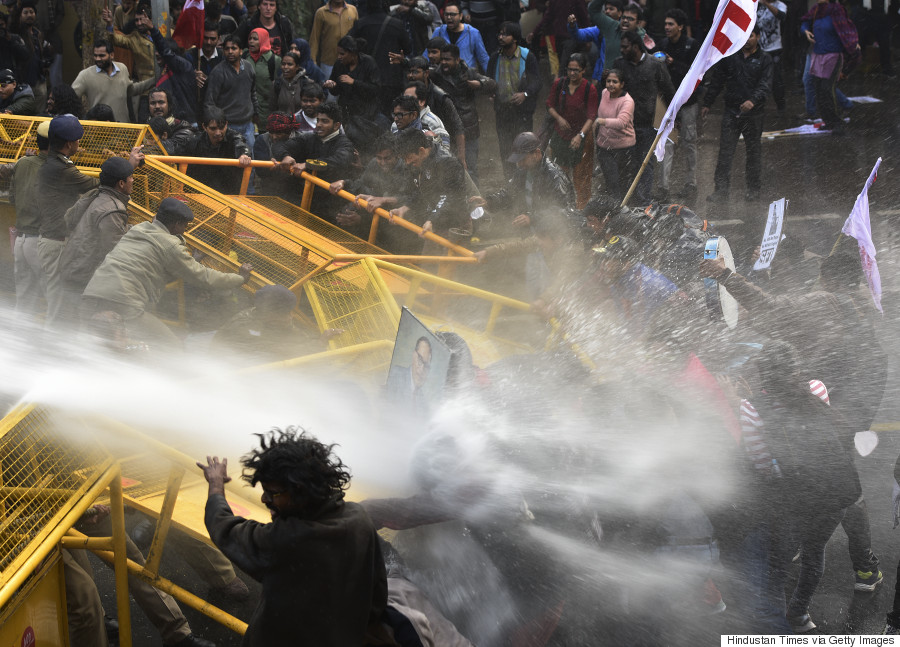 Police use water cannons on activists from various student organizations during a protest on Jan. 18 in New Delhi, India. (Vipin Kumar/Hindustan Times via Getty Images)
The ASA and Rohith's ideas are informed by the Dalit position in the caste system. But this understanding of structural forms of violence and oppression offered Rohith a broader critique of state power — like the use of the Indian army to smother an independence movement in Kashmir, the suppression of religious minorities — particularly Muslims — and the use of capital punishment. This put him at odds with the right-wing BJP and its campus affiliate, the Akhil Bharatiya Vidyarthi Parishad or All Indian Student Council.
On campus, Vemula's conflict with the ABVP began in July 2015 over his opposition to the death penalty for Yakub Memon, a Muslim convicted of participating in planning the 1993 bomb blasts in Mumbai. As friction between the two groups escalated, one member of the ABVP approached Dattatreya, the BJP minister, claiming Vemula and his ASA comrades had assaulted a member of the ABVP. A medical examination disputed the ABVP student's claim.
In August, Dattatreya wrote to his colleagues in government, claiming the ASA was involved in anti-national activities. The Ministry of Human Resource Development put pressure on the university administration, and Vemula and his friends were evicted from the university hostel.
What does it mean to live in this land?
"Rohith and our other four friends set up a small tent, a 'velivada' or a Dalit ghetto, in the center of the university on Jan. 4 after the ruthless administration locked their rooms," wrote Ayoob Rahman, Vemula's friend, in the Hindustan Times. "In the extreme cold of winter, the 'velivada' became the center of all kinds of revolutions."
Yet the punishment clearly left a mark. "Supply a nice rope to the rooms of all Dalit students," Vemula wrote in a letter to the university vice chancellor, accusing him of undermining the Dalit self-respect movement at the behest of the ABVP. "I request your highness to make preparations for the facility 'euthanasia' for students like me."
A month later, Vemula found his rope — the blue banner of the ASA — and hung himself from the fan of a friend's hostel room.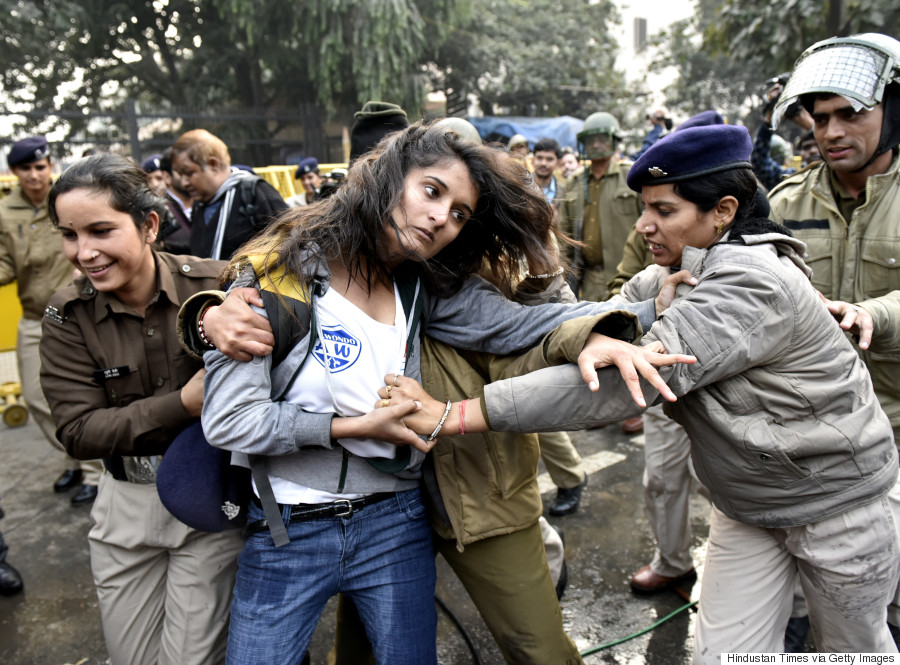 Police detain an activist on Jan. 18 in New Delhi, India, during a protest after Vemula's death. (Vipin Kumar/Hindustan Times via Getty Images)
Like Vemula, Kanhaiya Kumar, too, was raised by his mother, a village midwife who earned a salary of about $60 a month. In September 2015, Kumar won the election for student union president of New Delhi's Jawaharlal Nehru University as a candidate from the student wing of the Communist Party of India. Rama Naga, who won the post of general secretary as a candidate from the All India Students Association, a Marxist-Leninist formation, is Dalit like Vemula and the son of a bangle seller in one of India's poorest districts.
"I gave my entrance exam in Tamil — I didn't have the confidence to write in English before I came to JNU," V. Lenin, a PhD scholar, former student president and the son of a factory worker, told me. "JNU has the most diverse student body in the country, which is why we show solidarity with protest movements everywhere. This also makes us a target."
On Jan. 30, Kumar, Naga and Lenin joined hundreds of JNU students in a demonstration outside the office of the Rashtriya Swayamsevak Sangh, the BJP's parent organization.
"We felt that persecution by BJP ministers like Dattatreya and Smriti Irani [the minister for education] were responsible for pushing Rohith over the edge," Lenin said. "The whole country saw what happened next."
Footage from the march shows policemen and goons in plainclothes violently attacking a group of peaceful protestors, including several women.
"Certain kinds of people are always part of the ruling class," Rakesh Ranjan, a PhD scholar at JNU who also comes from a tiny village with no secondary school, said to me. "When people historically denied the opportunity to see themselves as thinking, independent, autonomous beings begin to assert themselves, the system strikes back. And that is what we saw."
As videos of the attack went viral, the opposition accused the police of working hand in glove with right-wing thugs to suppress a demonstration over the death of a Dalit student.
"The government lost its credibility after Rohith's death," Lenin said. "They were just looking for an opportunity to crush the university."
News filtering in from across the country suggested as much. At Haryana Central University, for instance, the local ABVP chapter filed a police complaint against "anti-nationals" for conducting a candle-lit march in Vemula's memory.
"We complained to the police because they claimed that the BJP and ABVP had a role in Vemula's death," Naresh Chandra, a district president of the ABVP in Haryana, told me. "We noticed that communists from JNU routinely come to our university to spread their ideas amongst the students, and complained to the police about this."
On Feb. 9, the government got its opportunity to attack. A group of students, unaffiliated with any of the parties on campus, organized an event at JNU titled "The Country Without a Post Office." It was described on a poster as a "cultural evening of protest … in solidarity with the struggle of the Kashmiri people for their democratic right to self-determination."
The next day, Zee News, a Hindi television channel, released dark, grainy footage, purportedly from the event, that showed shadowy figures chanting slogans calling for Kashmiri independence, the disintegration of the Indian federation and "Long Live Pakistan." A BJP member of parliament filed a report at a local police station, complaining of seditious activities on campus, and police raided the JNU hostel.
On "The Newshour" on Times Now, India's equivalent of Fox News, Arnab Goswami, a news anchor, invited Umar Khalid, one of the organizers on television, and accused him of treason.
"You are more dangerous to this country than Maoist terrorists," Goswami began, his voice rising to a screaming crescendo. "These students cannot be allowed to disgrace our campuses anymore. These are not leftists — these are a motley combination of anti-national forces."
'You are more dangerous to this country than Maoist terrorists.'
The week following Goswami's broadcast was a frenzy of shocking hysteria. Kumar was arrested for sedition — despite no evidence that he was involved in the event in any way, except for attending it. Prior to his arrest, he stood before his fellow students and laid out his vision for the country.
"We stand for equal rights. We stand for the right to live. Rohith had to lose his life to stand for these rights," he said. "We challenge the central government — we will not allow in JNU whatever it did in the case of Rohith. Rohith will not lose his life here. We will not forget Rohith's sacrifice. We will stand for freedom of expression."
BJP workers responded by releasing a fake video clip that purported to show Khalid and Kumar chanting offensive slogans. Violence broke out in district courts each time Kumar was presented in court. O.P. Sharma, an elected BJP legislator, was filmed thrashing one of Kumar's supporters laid prostrate on the tarmac outside the courthouse.
"I would have shot him if I had a gun," Sharma said when asked to account for his behavior.
Rajnath Singh, the home minister — second only to Modi in seniority — claimed that the JNU event, which most students described as thinly attended, had the support of Hafiz Saeed, a Pakistani cleric with a $10 million U.S. government bounty on his head. Singh's claim was based on tweets from an unverified Twitter account. Saeed released a video response on YouTube, disowning the tweets.
"I was surprised," said the bearded cleric in the video. "I haven't said anything about this. I neither tweeted anything and this account … is also fake."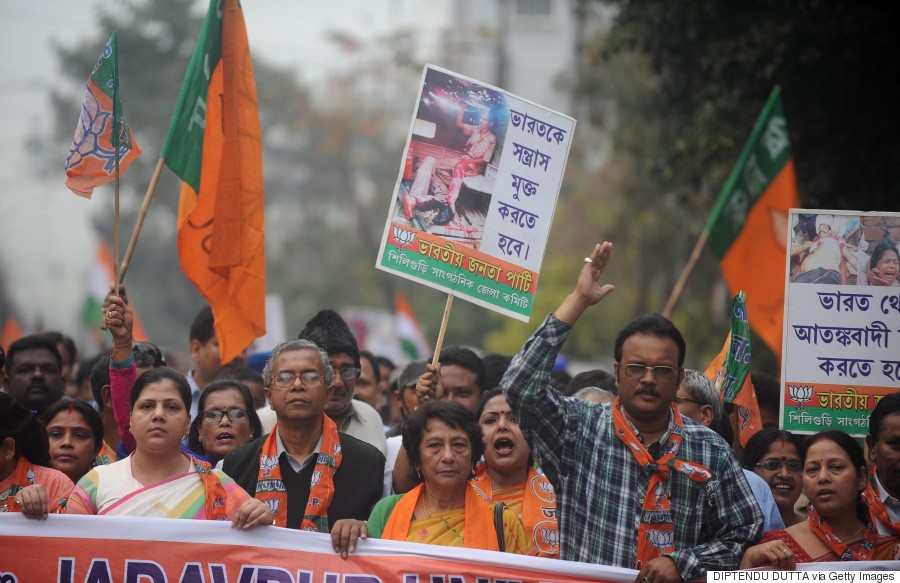 BJP activists protest on Feb. 20 against what they say are "anti-national activities" following Kumar's arrest. (DIPTENDU DUTTA/AFP/Getty Images)
Last week, tens of thousands of students from JNU and elsewhere, alumni, trade unionists, pensioners, artists, musicians and academics marched through central Delhi to demand Kumar's release.
As young scholars chanted slogans against the government, former students, now professors themselves, reflected on what the culture of a university really means.
"JNU doesn't just represent a particular worldview. It is a place where people see themselves as minds, as critical and independent minds," said Mukul Mangalik, who graduated in the 1980s and now teaches history at Delhi University. "This is what I carried from JNU and teach my students today: everything must be questioned."
The night before, at Kumar's hostel, his friends remembered how JNU turned a quiet, soft-spoken village boy into a fiery and sophisticated orator.
"Until the presidential debates last year, no one even knew who Kanhaiya was," Rakesh Chandra, a friend, recalled. "He spoke politely to everyone, immersed himself in party work but didn't really stand out."
On the night of one debate, his friends recalled, he delivered his speech to loud cheers. But the moment Chandra remembers was from when he took questions from the audience.
After a heated discussion on caste, gender and religion, someone stood up and jokingly said, "But comrade, what is the solution for the bedbugs in our hostels?"
"Kanhaiya didn't miss a beat," Chandra said. "'Politics,' he said. 'The solution to the bedbugs will be political.'"
This was produced by The WorldPost, which is published by the Berggruen Institute.