Smog has darkened Beijing's skies and sullied the city's reputation, but northern China's persistent pollution plague is now getting more artful treatment from one of China's most famous filmmakers.
Greenpeace East Asia on Wednesday released a film by renowned Chinese director Jia Zhangke titled "Smog Journeys," examining how air pollution affects families at all rungs of China's stratified society.
"We wanted to make a film that moves people, not frightens them," Jia said in an interview with Greenpeace translated by The Huffington Post. "I hope to touch the audience on an emotional level, and from this create a kind of self-awareness that will push all of society to change the pollution situation."
Shot in subdued and sometimes surrealist grey tones, the seven-minute film follows two families — one from Hebei province, the heavily polluted industrial heartland of northern China, and one from Beijing, the prosperous Chinese capital that has seen several epic pollution emergencies in recent years. Hebei surrounds the Beijing municipality on three sides and the province houses some of China's heaviest coal-burning industries — Hebei produces far more steel than the entire United States, and in 2014 it was home to nine of China's 10 most polluted cities.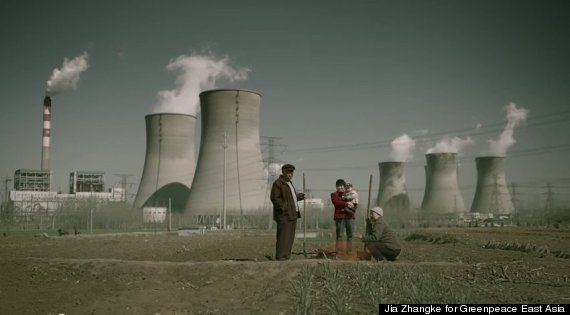 The film depicts the plight of a poor family in Hebei province, where steel production has led to heavy pollution.
Entirely without dialogue, Jia's film first shows a Hebei mining family struggling with a respiratory illness of their newborn child, all while living in the shadow of smokestacks. The film then transports viewers to Beijing, where the young son of a fashion designer and painter imagines life away from the suffocating urban smog. By straddling China's income and urban-rural divides, the film portrays smog as an issue confronting all Chinese — an omnipresent danger that wealthy urbanites can't buy their way out of.
"I don't think this is an isolated case, or a problem that only certain people need to deal with," Jia said. "The issue of smog is something that all the citizens of the country need to face, understand, and solve in the upcoming few years."
In 2010, air pollution from deadly PM2.5 particles led to 2,349 deaths in Beijing, according to one Greenpeace study.
Chinese awareness about the dangers of air pollution has been mounting since 2013, when Beijing found itself consumed in extreme air pollution episodes that were popularly dubbed "Airpocalypse." Public anger has been directed at government data on air pollution, which comes in consistently lower than independent monitoring sites and data released by the United States Embassy in Beijing.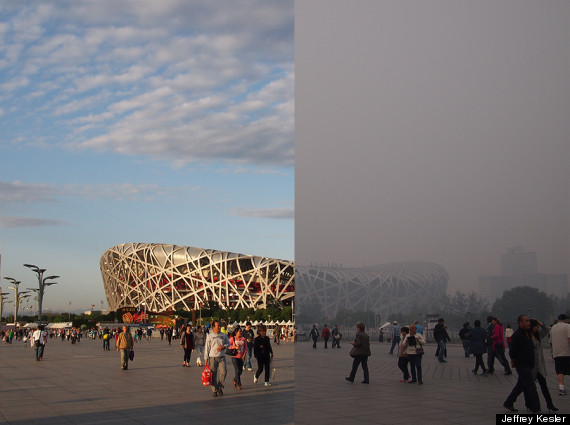 Pictures of Beijing's "Birdnest" stadium on a clear and heavily polluted day.
Representatives from Greenpeace East Asia, which commissioned the film from Jia, said they hoped the work would help stimulate public awareness by cutting straight to the emotional core of the issue.
"Greenpeace has been working on air pollution for three years, and we've produced a lot of data, scientific reports, investigations and all of this." said Li Yan, head of the Climate and Energy Campaign Greenpeace East Asia. "But we started to realize that normal people's lives were already profoundly changed by air pollution, and we wanted to see if an artist could play a role in contributing to the air pollution fight."
Li said Greenpeace will promote the video through its online channels, and hopes it will generate buzz on Chinese social media.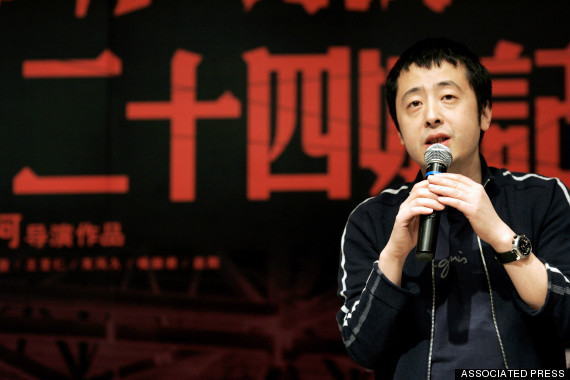 Jia teamed up with Greenpeace East Asia in hopes of strengthening public awareness of air pollution.
It was social media that heightened Jia's own concerns over air pollution. Despite growing up in coal country and losing his father to lung cancer, Jia said in the 1990s Chinese didn't even have a word for "smog," according to a Greenpeace press release. It was only by following the social media account of Pan Shiyi, a famous Chinese property tycoon who made pollution a focus on his microblog, that Jia began to appreciate the depth of the problem.
Jia has for years been revered in Chinese cinema circles as one of the country's most talented and perceptive directors. Following a string of undergound films that won critical acclaim for their unflinching depiction of China's lurch toward modernization, Jia has produced several well-received films within the strictures of China's tightly controlled film industry. His most recent film, "A Touch of Sin," dramatized true stories of violence in contemporary China, but was effectively banned from release in the country.
Many of Jia's period pieces feature stark visuals, and the director said the pollution has begun to affect his craft.
"Sometimes we joke that if you want to film a movie set in the '80s or '90s, it's easy to fix everything except the air," said Jia. "We can make the actors wear costumes from the '80s and sing songs from the '80s, but what do we do without the air from the '80s?"