BEIJING — One of China's most prominent human rights lawyers, Pu Zhiqiang, stood trial Monday while police and plainclothes enforcers violently confronted his supporters, journalists and foreign diplomats gathered outside the courtroom.
Human rights groups described Pu's trial as "an act of political persecution," marking another milestone in a continuing crackdown on civil society under President Xi Jinping that has seen activists, lawyers and artists imprisoned. During Pu's trial, a few dozen supporters gathered and chanted "Pu Zhiqiang is innocent" outside the courthouse.
"Today I came to show my support and to see if the law really exists in China, if China has human rights," Ye Lina, a supporter of Pu's, told The WorldPost.
Pu — a participant in the 1989 Tiananmen Square demonstrations in which the Chinese army shot dead hundreds civilians — has since earned a reputation as a dogged defense lawyer known for taking on difficult and politically sensitive cases. He has defended prominent dissident artist Ai Weiwei and become known as an outspoken advocate of free speech and critic of the ruling Chinese Communist Party.
"Pu Zhiqiang is for justice," said Ye. "The government is suppressing him because he represented the weak and vulnerable."
Several supporters recounted harrowing tales of illegal detentions, police torture and justice denied. Ye said local officials had continued to persecute her and had seized her land and attempted to force her to abort a second child. Many of those in attendance said they coordinated through chat groups that authoritie constantly shut down.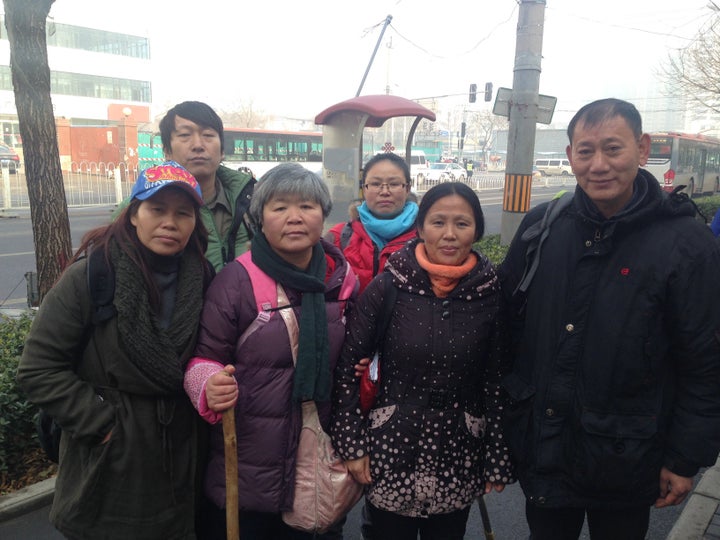 Police reportedly detained several of these demonstrators and plainclothes men shoved several journalists. The video below shows American diplomat Dan Biers being pushed around while he read a statement at the scene calling on China to allow Pu to "contribute to building a prosperous and stable China."
This July, the Chinese government initiated a sweeping crackdown on human rights lawyers, with hundreds detained for questioning and several dozen still under detention and accused as members of a "major criminal gang."
The moment Chinese police prevent senior US diplomat Dan Biers from giving statement outside Pu Zhiqiang trial pic.twitter.com/1qUioILXiK

— Tom Phillips (@tomphillipsin) December 14, 2015
A spokesperson for the United States Embassy in Beijing reportedly expressed "great concern" over the incident, while the Foreign Correspondents' Club of China condemned "the harassment of and violence against" reporters covering the trial. Reporters at the scene said plain clothes police officers hit them outside the courtroom and shoved them to the ground. 
During Monday's trial, Pu stood accused of "picking quarrels and provoking troubles" and "inciting ethnic hatred." In recent years, the "picking quarrels" charge has been used against a wide range of dissidents and activists in China.  The case reportedly rests on seven posts that Pu made on a Twitter-like messaging service, according to Pu's lawyers. In those posts, he criticized government officials as well as policy in China's ethnic borderlands.
Pu was arrested in May 2014 after an informal gathering held to commemorate the 25th anniversary of the deadly military crackdown on the Tiananmen Square demonstrations. Since his detention, human rights groups and foreign diplomats have warned over his deteriorating health and called for his release.
Monday's trial lasted several hours, with no verdict announced. If convicted on all counts, Pu could face up to eight years in prison, though some supporters have speculated that his standing in the legal community may spare him the harshest sentence.