SHANGHAI — Cirque du Soleil is coming to China, and the Canadian performance troupe will kick things off with its adaptation of one of the highest-grossing films ever to hit Chinese markets: "Avatar." Flanked by hunchbacked clowns and dancers bedecked in blue boas, the leadership of Cirque du Soleil on Monday signed an agreement with Fosun International Ltd. — who this spring bought a minority stake in Cirque — that will bring performances to a newly built venue in Hangzhou in 2018. "China, for Cirque du Soleil, is our No. 1, No. 2 and No. 3 priority for the next few years," said Cirque du Soleil chief executive Daniel Lamarre during a press conference. Addressing the chairman of Fosun, Guo Guangchang, Lamarre went even further: "I have the feeling today, Mr. Chairman, that we're becoming a Chinese citizen." Cirque's move into mainland Chinese markets makes it the latest in a long list of global entertainment brands betting big on the growing spending power of China's rising middle class.
China's middle class — defined by consulting firm McKinsey China as households with annual incomes of roughly $10,000 to $37,000 — already rivals the entire population of the United States at over 300 million. McKinsey China says that number could grow to 630 million by 2022.
Chinese people have long been characterized as steadfast savers, but domestic and international brands are hoping for a boom in leisure spending. Disney is putting the finishing touches on its Shanghai Disney Resort, a near 1,000-acre entertainment mega-complex with a price tag of over $5 billion. DreamWorks Studios has announced a $330 million joint venture called Oriental DreamWorks that will bring its content and know-how to Chinese markets. The NBA, NCAA and even Arena Football are all planning to host games in mainland China this year.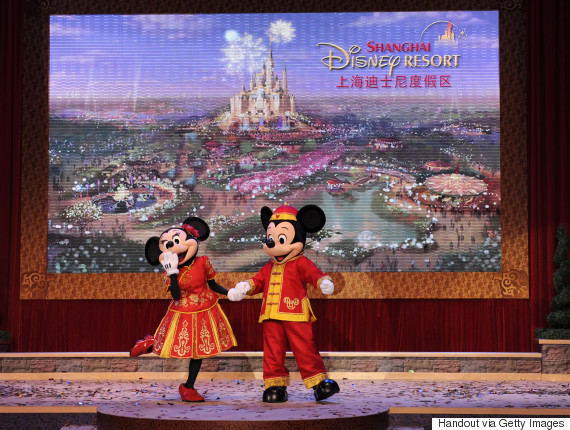 Disney and its partners are investing over $5 billion in the Shanghai Disney Resort, and hoping to combine Disney magic with Chinese culture. The partnership also represents another major entertainment investment by Fosun. In recent years, Fosun has used its core business of insurance to invest in movie studios and buy up controlling stakes in lifestyle brands such as Club Med.
"Chinese people can't always just be making things, be working," Guo said on Monday. "We also have to enjoy ourselves; we have to live. … In the future, what is it that middle class life here most lacks? It's content." Cirque du Soleil plans to bring "Toruk," its interpretation of "Avatar," to Chinese audiences in 2018. The performance will debut in Canada in 2017 and tour North America before crossing the Pacific. "Avatar" was a huge hit in China and it held the title of highest-grossing film until it was displaced by "Transformers: Age of Extinction" in 2014.
Noting that already close to 20 percent of Cirque performers are Chinese, Lamarre emphasized that performances here would be the product of collaboration.
"Not only are we going to bring content from Cirque du Soleil, but we're going to develop content here in China with Chinese artists, with Chinese creators, for China," said Lamarre.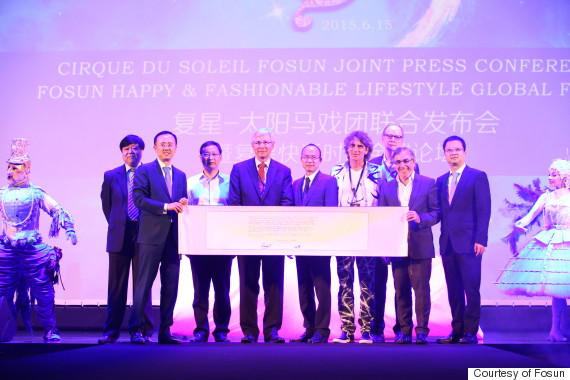 Representatives from Cirque du Soleil and Fosun at an event in Shanghai to announce their partnership in China on Monday. Cirque's venture with Fosun doesn't represent its first foray into Chinese markets. In 2008, Cirque began performing a show called "Zaia" in Macao, the semi-autonomous gambling mecca on China's southern coast. That show was yanked just three and a half years into a 10-year contract due to meager ticket sales.
"I think we were too early in the market in Macau," Lamarre explained during a press conference. "I was working in the casino, and there were 75,000 people in the casino and 300 in the theater. Macau was and still is a gambling city. Unfortunately [it] doesn't matter what you produce there — people are there to gamble."
Both Cirque and Fosun are hoping mainland Chinese are more willing to open their wallets for live entertainment. But as economic growth in China ratchets down, a boom in middle-class consumer spending is far from guaranteed. Last year China's 740 million urbanites averaged $4,350 in disposable income, but thus far they haven't been spending that money as freely as some analysts predicted.
Fosun's Guo waved aside concerns about consumer spending, citing booming business at Chinese movie theaters. Guo's focus on "happy and fashionable" lifestyles has spurred investments in everything from Spanish sausages to Italian suits and now Cirque du Soleil.
Asked if Fosun's preoccupation with these "happy and fashionable" products stemmed from his own belief that Chinese were unhappy, Guo hedged: "Of course we're happy, but I hope we can be happier."