GAZA CITY — Just after sunrise on Sunday, Zeinab, a young Palestinian mother, ran out of her house in Gaza City's Shijaiyah neighborhood with her husband and barefoot 5-year-old daughter. With the sound of Israeli drones overhead and air strikes and tank shelling all around, Zeinab watched as her neighbors poured into the streets and began to run. So she did the same.
"We were running, and [the Israeli Army] was attacking behind us," she said, sitting within the safety of al-Shifa Hospital's compound in central Gaza City, over three miles away from Shijaiyah. "There were dead people around us." Frantic families, many shellshocked and inconsolable, stood around Zeinab, not knowing where to go or what to do next.
Thousands of Shijaiyah residents, some in bulldozers and the trunks of cars, others on foot and in wheelchairs, fled to central Gaza City Sunday as Israel escalated its ground offensive and targeted the crowded Gaza City neighborhood. The Palestinian Health Ministry reported that 87 Palestinians were killed in the attack, and Israel said 13 of its soldiers were killed. At least 417 Palestinians, most of them civilians, have been killed in the two weeks of fighting.
The Israeli military says it gave adequate warning to civilians to evacuate the area, but many residents, along with Palestinians in the rest of Gaza, say they have nowhere safe left to go. People in parts of the south, middle and north of Gaza have been told to leave their homes, but cash-strapped UNRWA, the UN agency that aids Palestinian refugees, says it is running out of space and supplies to support Gaza's mass internally displaced population.
UNRWA spokesman Chris Gunness said in a statement that 63,173 people have sought safe sanctuary with UNRWA in 55 shelters across the Gaza Strip.
The totals are "more people than in the fighting five years ago," during Israel's last major incursion into Gaza, Gunness said. "The number has tripled in the last three days, reflecting the intensity of the conflict and the inordinate threats the fighting is posing to civilians." UNRWA said its supplies could run out Sunday, and the agency is desperately asking for funding to support its relief efforts.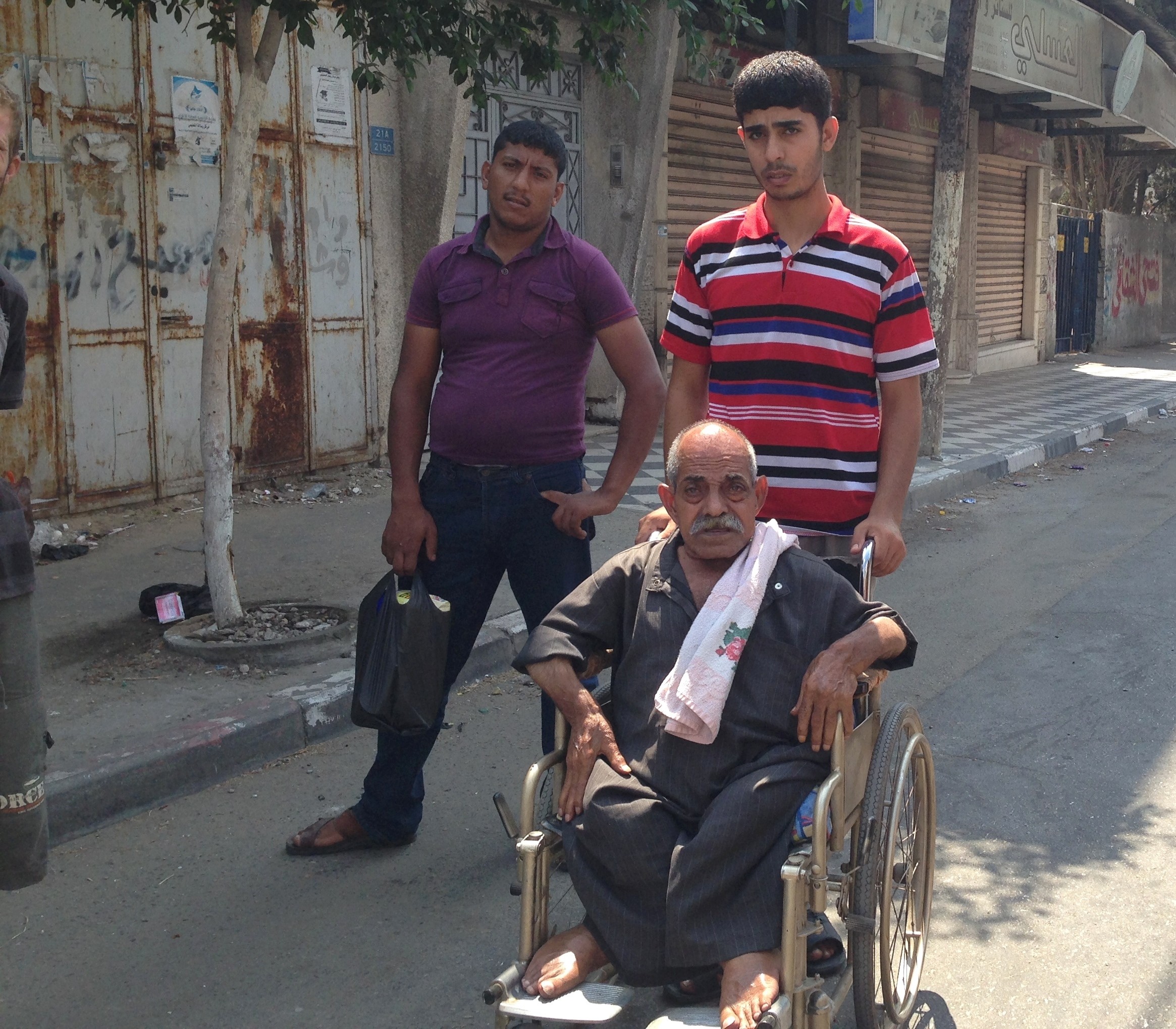 Saad, a 66-year-old Palestinian man, is pushed in his wheelchair from Shijaiyah to Gaza City, four miles away, fleeing the Israeli strike on his neighborhood.
At one of the nearly full UN schools where Palestinians in Gaza have sought refuge, now too crowded to accommodate many Shijaiyah residents, Fatima al-Attar and several of her children and female family members sat on the floor of a bare classroom. She said they have been here for a week after their home in the north was destroyed in an airstrike targeting their neighbor.
"We have no facilities to live a human life now. There isn't enough water. We will die from the smell," she said.
Al-Attar can't imagine staying at the UN school for much longer, she explained, but she has no home to go back to. Around her, little boys and girls splashed through pools of dirty water. One of the girls, just old enough to walk, wet her pants. There were no diapers or changes of clothes.
Many Palestinians who have fled the violence in Gaza cannot afford to rebuild.
"We will live in tents," Zeinab, the mother who fled Shijaiyah hours earlier, said. "Or in this hospital for the rest of our life."
As the death toll rises and destruction in Gaza only worsens, Israel maintains it is acting in self-defense after Hamas has fired incessant volleys of rockets into Israel with little aim or regard for human life. Many of these rockets landed in open areas or were stopped by Israel's Iron Dome interceptor.
Now, Israel says its main goal in the ground offensive is to destroy Hamas tunnels that reach into Israel, along with the militant group's weapons stockpiles.
The Israeli military also says that it warned civilians in Shijaiyah before the attack with pamphlets and pre-recorded messages. But many families ignored the notices, seeing their homes as safer than the war zone outside. Hamas has also asked residents in Shijaiyah, as well as other areas of Gaza, to stay put and ignore the warnings, according to many Palestinians. Israel holds Hamas accountable for most civilian deaths, saying the group purposely fires rockets and stores weaponry in civilian areas. On Sunday, the official Twitter account for the Israel Defense Forces tweeted: "Shuja'iya is a civilian area where Hamas places its rockets, tunnels and command centers."
But for civilians in Gaza like Rajab Farhat, who pushed his 80-year-old mother in her wheelchair all the way from Shijaiyah, staying home seemed like the safest option, despite Israel's warnings. He scoffed at the idea that Israel is only targeting Hamas — or that evacuating was ever an option. Everywhere in Gaza, it seems, has been targeted.
"They attacked the houses randomly," he said while sitting on a street corner in Gaza City, the only place he could find for his family to rest. "What have we done? We are human beings, without any guns. What are we going to do?"
Across the street, more families from Shijaiyah, with nothing but the clothes on their backs, walked past, as if in a daze. Gaza City, shuttered and eerily quiet during most of the past 13 days of conflict, is beginning to look like an open air displacement camp.
"We don't know what to do," Farhat cried, his elderly, barefoot mother shielding her face from the sun. "We have nowhere to go."
Moushira Jammal contributed reporting from Gaza City.