ISTANBUL ― For months, 5-year-old Hala and 8-month-old Oula were confined to the walls of their house in rebel-held Aleppo. Their family dared not venture outside, terrified of the deadly bombs dropped by Syrian government and Russian forces on civilians and fighters alike.
But this week, family members brought Hala and Oula outside for the first time since July, thanks to a Russian and U.S.-brokered ceasefire. As the girls played in the sunshine, the sky above was void of barrel bombs and menacing warplanes. It was an Eid al-Adha miracle. 
"They're happy now," the girls' uncle, Gheyyath, said by phone from Aleppo, as children shrieked with joy in the background. Even he couldn't help but giggle. "Prior to the truce, there was fierce bombing. Now, we can go outside."
The shaky and controversial ceasefire has largely halted hostilities across areas affected by the agreement ― which includes all warring parties except for the self-proclaimed Islamic State and Jabhat Fateh al Sham, formerly known as the Nusra Front. The pause in mass carnage has breathed a semblance of life into parts of Aleppo.
"But," he added, "the situation is still difficult."
The blasts of bombs and heavy weaponry may have largely gone quiet in the past few days ― a welcome respite for many Syrians ― but eastern Aleppo city is still very much under government siege. Access to aid, a condition of the ceasefire, has yet to come to fruition.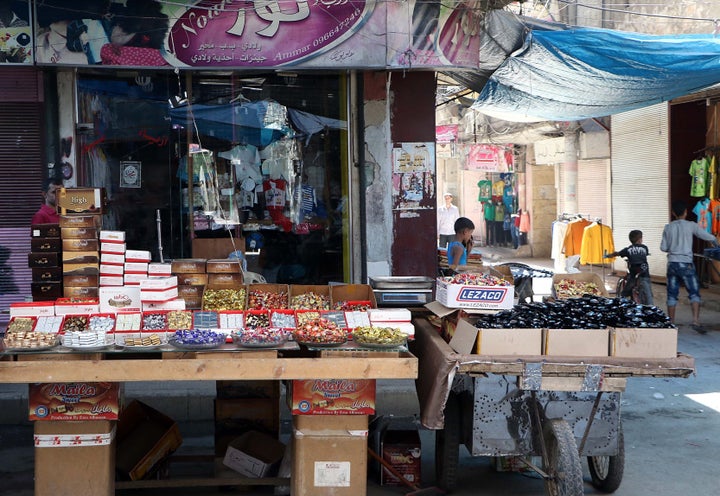 Many pantries are running low on essentials like baby formula and flour. Hospitals are ill-stocked with life-saving medicine and equipment. And gasoline is either too expensive or too scarce for ambulances to run as needed.
Aleppo has been described as an "apex of horror" by U.N. Under-Secretary-General for Humanitarian Affairs and Emergency Relief Coordinator Stephen O'Brien in recent testimony given to the U.N. Security Council.
The infamous divided city, once the country's commercial capital, recently made headlines across America after Libertarian presidential nominee Gary Johnson drew a blank on MSNBC, asking, "What is Aleppo?"
The U.N estimates there are some 275,000 Syrians in rebel-held Aleppo who have essentially been cut off from the outside world, unable to get access to basic goods, as well as some 1.5 million people in the western, government-held part of the city who face impeded access to aid.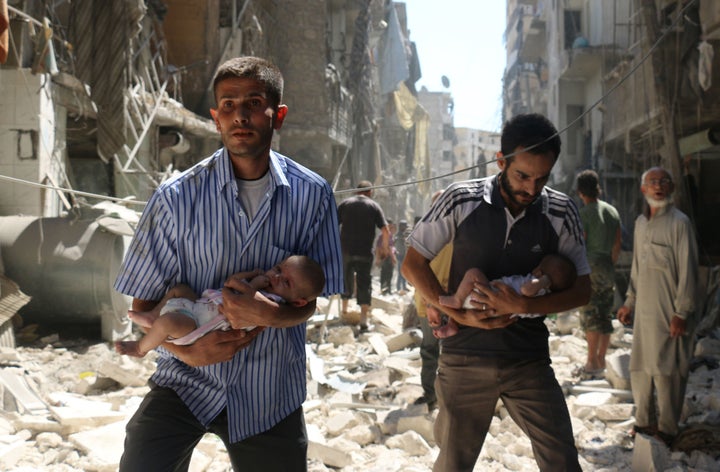 As of Wednesday evening, the people of besieged Aleppo had yet to see an aid truck roll up. The two convoys, each reportedly containing 20 trucks carrying food and flour, were stuck in a no-man's land between Turkey and Syria, according to Reuters.
"Some groups are looking to gain political mileage out of this, and this is something we need to put aside," David Swanson, spokesman for the U.N. Office for the Coordination of Humanitarian Affairs, told Reuters.
"Our biggest problem is not the airstrikes, but the siege," said Mumtaz Abu Mohamed, a Syrian activist and member of Aleppo Media Center. "We can't get our basic needs met."
The Syrian government has warned that it will block any unapproved aid coming from Turkey.
There has also been tension over who can maintain control of Castello Road, a lifeline for rebels in Aleppo and the civilians under their control.
Aleppo residents told The WorldPost they don't want to get their hopes up as they don't know what sort of goods to expect, even if the promised aid eventually shows up. The Syrian government has stripped aid convoys of life-saving medical supplies in the past.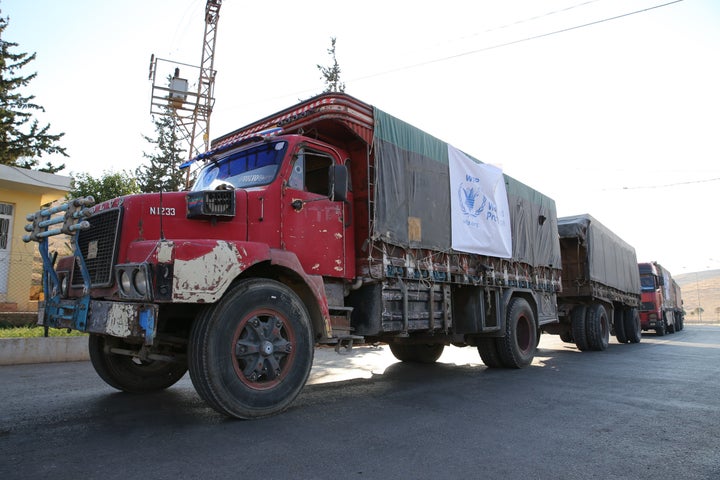 "We're afraid that the aid will go through regime areas and that they'll take all of it," said 26-year-old Suliman al Halaby, who works with international aid organizations in eastern Aleppo. "The city is totally under siege."
Another Aleppo resident expressed concern that civilians won't get adequate aid, even if the convoys are allowed through, because the goods usually "first go to the [rebel] fighting groups."
But there's not much they can do but wait and hope for the next aid delivery ― or until rebel-held Aleppo opens up.
Some will continue growing eggplants and other vegetables in tiny urban green spaces. Others will scrounge together what money they have to buy goods from vendors who charge a premium ― whatever they can do to survive a war that has claimed an estimated 400,000 lives.
Some Aleppo residents, who say they're pessimistic about the longevity of such a shaky truce, say they just hope aid shows up before hostilities inevitably resume.
"The kids are going to the market and playing," al Halaby said. "But they still have this obsession, this fear, that the truce won't last long, that it will all fall apart."