ISTANBUL — After twin attacks Friday that killed 33 security personnel in the restive Sinai Peninsula, Egypt and its pro-government institutions have responded with an emboldened campaign against dissent.
The attacks come as Egypt desperately tries to stomp out terrorism, as well as any opposition to President Abdel Fattah el-Sissi, the former general who led the ouster of the country's first freely elected but controversial president Mohamed Morsi. In a televised speech on Saturday, el-Sissi said the country was facing "an existential battle" against terrorism.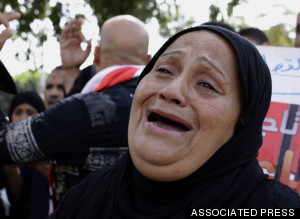 A woman grieves at a military funeral in Cairo on Oct. 25 for security personnel killed the day before in twin terrorist attacks in the Sinai Peninsula.
Following the attacks, Egypt declared a state of emergency in parts of Sinai, and on Monday gave military courts the power to try civilians accused of attacking state facilities or infrastructure like roads and utilities. Previously, only civilians charged with attacking the military could face trial in a military court.
While no group has claimed responsibility for Friday's deadly violence, the hardline militant group Ansar Beit al-Maqdis, which has expressed support for the Islamic State, has recently carried out similar attacks.
Heba Morayef, a leading human rights advocate and Senior Egypt Analyst at the International Crisis Group, took to Twitter on Monday to slam the law as the "latest crazy broad expansion of jurisdiction of military justice." Critics worry the new powers could lead to further crackdowns on protesters.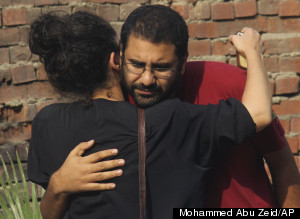 Egypt's prominent secular activist Alaa Abdel-Fattah receives a hug from a supporter on Oct. 26 in outside a Cairo court that convicted 23 activists of staging an illegal demonstration and sentenced them each to three years in jail.
A Cairo court sentenced 23 secular activists over the weekend to three years in jail, along with hefty fines and police surveillance following jail time. The group was arrested in June during a peaceful demonstration against a harsh new law that bans protests not previously approved by the state. Another 21 activists were detained on Monday, including one of Egypt's most well known pro-democracy activists, Alaa Abdel Fattah. Abdel Fattah, one of the leading activist voices of Egypt's 2011 revolution, has been targeted by every regime in his lifetime. The group now faces a retrial on charges of breaking the protest law.
They join thousands of people who have been rounded up and jailed in recent months. Many are supporters of the now-banned Muslim Brotherhood, but others are journalists or secular critics of the current government.
"It's back to business as usual in Egypt, with the Egyptian government brazenly trampling on the rights of its citizens and Western governments supporting it," Sarah Leah Whitson, Middle East and North Africa director for Human Rights Watch, said in a strongly worded statement on Sunday. "The Sisi government will clearly go to any length to crush domestic opposition, whether secular or Islamist."
Egypt's media, long accused of being a propaganda tool of the regime, rallied around the government over the weekend and vowed to reel in press that was critical of the state.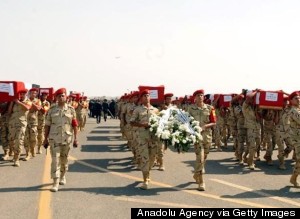 Egyptian soldiers carry the coffins of security personnel, killed in a bombing in northern Sinai, during a funeral ceremony in Cairo on Oct. 25.
On Saturday, the private television channel Al-Nahar TV sacked popular host Mahmoud Saad after one of his guests mentioned Egypt's 1967 military defeat to Israel in the Six-Day War. According to the Egyptian news site Ahram Online, the presenter was suspended for "demotivating the army."
On Sunday, 17 chief newspaper editors in Egypt announced their support for state institutions and security forces, promising they would not publish criticism of the government.
"We assert our commitment to freedom of speech," their statement read. "But we reiterate our rejection of attempts to doubt state institutions or insult the army or police or judiciary in a way that would reflect negatively on these institutions' performance."