ISTANBUL — It may soon be illegal to publish news the Egyptian government doesn't like. And a New York City-based nonprofit has seemingly helped these efforts. Egypt's cabinet on Sunday drafted a new law that, if approved by President Abdel Fattah Al Sisi, could criminalize "reporting false information on terrorist attacks that contradicts official statements," according to Egyptian media. At a Saturday press briefing, the Foreign Ministry provided journalists with a list of words it should be using to describe "terrorist groups." The list included: assassins, slayers, eradicators and executioners. In essence, anything terrorism-related — and these days, the list of potential topics is long — not signed off by the government would be considered unfit for printing and would come with threat of minimum two years behind bars. That threat has only been bolstered by a group called FactCheckEgypt, whose staff was trained by the U.S. "media ethics" news site iMediaEthics and works in tandem with the Egyptian government's State Information Service (SIS).
The draft law comes in response to death tolls published by news outlets and circulated on social media following a wave of violence against Egyptian armed forces that was carried out mere days after a car bombing killed Egypt's top prosecutor in Cairo.
While some outlets cited security officials and reported that attacks by loyalists of the so-called Islamic State left 60 or 70 soldiers dead in the restive Sinai Peninsula, a leading military spokesman insisted extremist fighters had killed only 17 soldiers.
The attacks shocked Egypt, causing some people to voice their doubt over Sisi's promise to restore security after ousting Egypt's first democratically elected but incredibly controversial Islamist president, Mohamed Morsi.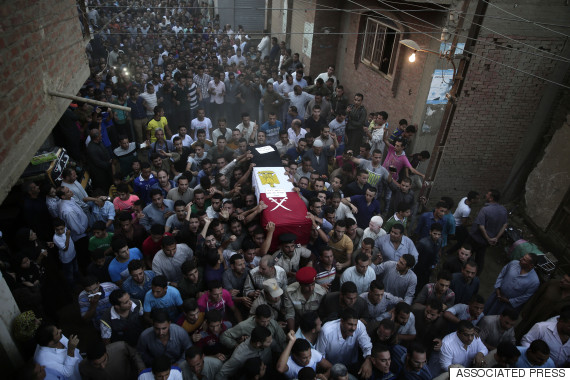 Egyptians carry the coffin of 1st Lt. Mohammed Adel Abdel Azeem, killed in Wednesday's attack by Islamic militants in the Sinai, during the funeral procession at his home village Tant Al Jazeera in Qalubiyah, north of Cairo, Egypt, Thursday, July 2, 2015.
Several journalists who wrote about the Sinai attacks received emails from FactCheckEgypt, asking them to change or add information in their articles, giving at least one journalist a midnight "deadline."
The email did not say if and how that deadline would be enforced and what would happen if the journalist declined to change their article.
"My general sense is that there's no specific threat to what happens if we don't obey their demand for corrections," Ruth Michaelson, a correspondent with Radio France International's English Service and a stringer with The Independent, told The WorldPost after she received an email from FactCheckEgypt. "Actually, I don't really believe that it's about consequences," she continued. "What this tactic seems to be designed to do is make us doubt ourselves and our reporting, to feel under attack and to refrain in future from reporting things that aren't the official narrative."
iMediaEthics Editor-in-Chief Rhonda Roland Shearer said her organization started training the staff of FactCheckEgypt over a year ago, after Ayman Walash, who describes himself as an "expert in political affairs and media" at SIS on his social media accounts, expressed concern over news reports written about Egypt. Walash did not respond to a request for comment.
Shearer said the proposed law that could jail journalists was "completely unknown" to her, but that she felt there was adequate space for press to question the government.
Emails sent by FactCheckEgypt to foreign reporters and seen by The WorldPost say the group is "developing with State Information Service" and Walash, on government payroll, is listed as the editor. On its own website, SIS describes itself as a "media mouthpiece of the Egyptian State that promotes the image of Egypt abroad."
Despite a working relationship with Walash, Shearer maintains that iMediaEthics is independent and unbiased.
"Neither I nor iMediaEthics have any connection whatsoever with any governments!" Shearer wrote in an email to The WorldPost, describing herself as "fiercely independent" and noting she imagined iMediaEthics later advising media in other countries. "We are not paid so we have no material connections with governments or news outlets," she explained.
According to Shearer, her staff helped train — without payment — and develop FactCheckEgypt so that the Egyptians would be able to fact-check the news.
"To have change, there needs to be responsibility taken by both government and media to create improvement in their frayed relationships. FactCheckEgypt can possibly be a bridge," she said, adding that she believed the site would "fail" should it become propaganda. She said FactCheckEgypt's findings regarding certain journalist's reporting on Egypt will soon be published on its own website.
But so far, it seems the group is focused on foreign journalists and not the local press that has long been accused of trumpeting the government line.
If the new draft law passes, it could only add insult to injury in a country where the Committee to Protect Journalists has said journalists face "unprecedented threats." There are currently at least 18 journalists imprisoned in Egypt, according to CPJ.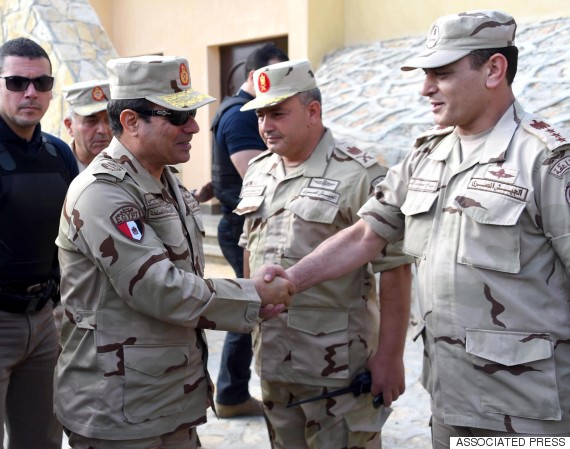 In this picture provided by the office of the Egyptian Presidency, Egyptian President Abdel-Fattah el-Sissi, second left, greets members of the Egyptian armed forces in Northern Sinai, Egypt, Saturday, July 4, 2015.
Local and foreign journalists, along with Islamists, academics and secular activists, have been rounded up over the past two years in staggering numbers since the military ousted Morsi.
Egypt made headlines around the world during its 400-day imprisonment of Australian journalist Peter Greste, formerly of Al Jazeera, who faced charges of spreading false news and supporting the now banned Muslim Brotherhood. Greste made it home, in the end, but his Egyptian-Canadian colleague Mohamed Fahmy and Egyptian colleague Baher Mohamed are still on trial.
"Given the wide constraints that Egyptian journalists face, the work of foreign correspondents is especially important," wrote Spanish journalist Ricard Gonzalez, who fled Egypt two weeks ago after Spanish authorities warned him he faced imminent arrest and possible prosecution — for reasons he says are still unknown to him.
"They are able to cover issues that could never get through the filter of censorship or self-censorship in mainstream Egyptian media," he continued. "Without the coverage of foreign media, the voices of many would be buried in a spiral of fear."
It remains to be seen if the Egyptian government will act on its new draft law, if passed, and lock up journalists who dare to publish information from sources other than the military's press releases or the SIS. Justice Minister Ahmed al Zind has defended the draft bill, saying it has nothing to do with restricting the press and is "just about numbers."
But according to a poem posted on Facebook Monday by military spokesman Mohamed Samir that accumulated more than 10,000 "likes" within just a few hours, Egypt is literally at war with the press.
"The Egyptian armed forces: have faced two different war fronts in the past few days," read the poem, written by Farouk Juweidah. It described a war against a cowardly enemy disguised as being Islamic — the militants wreaking havoc in the Sinai.
"And the other is a fierce war from the media," he continued. "Run by some biased foreign media outlets within the framework of fourth generation warfare and the war of information."