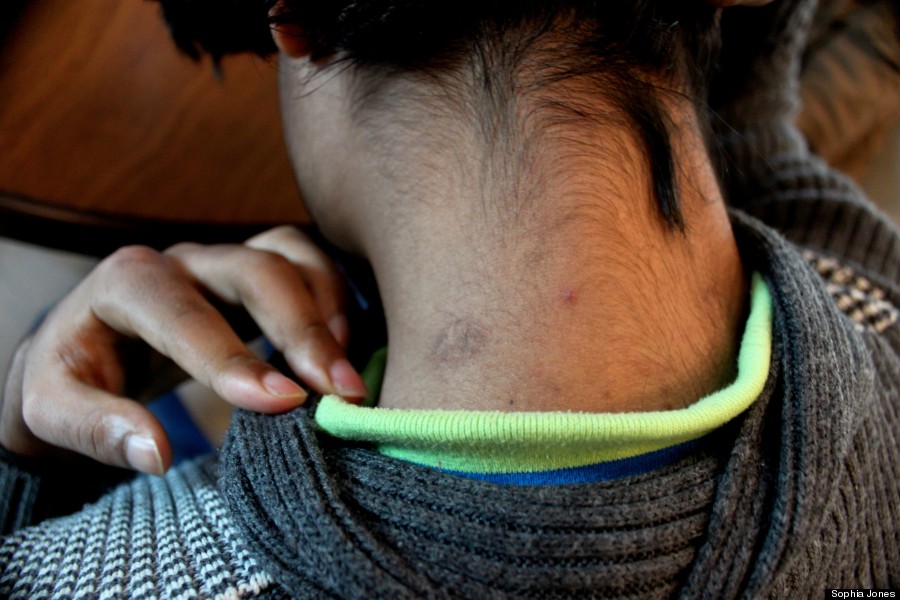 An escaped Islamic State child soldier in Sanliurfa, Turkey, shows the scar on his neck to a reporter on Jan. 27. He says a bullet grazed his neck during battle.
SANLIURFA, Turkey — At age 14, Khaled held his first gun. Fifteen days later, one of the world's most feared extremist groups sent him into battle.
Khaled remembers how heavy the Kalashnikov rifle felt, how the noise hurt his ears. He recalls the terror of waking up in the hospital after a bullet grazed the back of his neck.
Now, this quiet teenager from Syria's eastern city of Deir al-Zour is speaking out against the jihadist group that has violently seized large swaths of Iraq and Syria. His message is simple: Don't join the Islamic State.
Khaled is just one of scores of child soldiers in Syria. While nearly all parties in the Syrian conflict — U.S.-backed moderates, Kurdish fighters, extremist groups and regime forces alike — have been accused of recruiting and using children in combat and support roles, the Islamic State is the most infamous in this regard.
Khaled says he had no idea what was in store for him when he joined ISIS last winter.
When anti-government protests broke out across Syria in the spring of 2011, the 11-year-old wanted nothing more than to take to the streets. He watched with envy as his older brothers and cousins joined the calls for freedom, but his family forbid him from going to demonstrations — it was too dangerous for a child, they said.
They were right. Soon, the Syrian regime brutally cracked down on dissent. His family could only shield him for so long. Protest soon turned to war.
That winter, Khaled's school shut down, and regime shelling and clashes with rebel forces made it impossible for him to play outside. So Khaled spent his days indoors, tending to housework and dreaming of life outside of the confines of his war-ravaged home.
Reuters photographer Khalil Ashawi captures the destruction in Deir al-Zourin a photo posted to Instagram on Aug. 11, 2013.
Death and destruction was inescapable. Khaled's world was falling apart. The conflict began killing off acquaintances, and then, his own family. A regime attack on Deir al-Zour killed his aunt and cousin, leaving other family members injured, according to Khaled. His brother and some of his cousins decided they had to take up arms, joining rebel groups aligned with the Free Syrian Army.
Months passed, and Khaled began hearing about a new rebel group. It would later become known as the Islamic State.
"I heard ISIS were kind — that they were with the revolution," he said, his dark, sad eyes focused on the table in front of him. In a hotel lobby in this Turkish city just a short drive from ISIS territory in Syria, he recounted how he had been gravely mistaken.
"Don't join ISIS," he said with clarity. "Their path is wrong."
On a Thursday in January last year, Khaled left home in Deir al-Zour without saying goodbye to his parents. "I thought I would see them again soon," he explained with a nervous laugh.
Khaled took a bus with his cousin to the nearby city of Mayadeen, to the southeast, where he says there was an Islamic State headquarters at a former soccer club. His cousin changed his mind at the very last minute, heading back home. But Khaled walked straight into the rebel building and announced his wish to become an Islamic State fighter.
Driven by boredom and desperation to defeat an army that was shelling his neighborhood, he resembled nothing of the hopeful boy who spent his days playing soccer and studying before the war.
"Khaled was so polite, so shy," his cousin Osama, a teacher, told The WorldPost by phone. "He never got into trouble. But he was confused. When ISIS came to the area, they acted like they were good people."
At the Islamic State headquarters, fighters asked for Khaled's name, where he lived and his age. When he said he was only 14, they didn't blink. "They liked me because I'm tall," said the lanky teenager, his boyish face showing just a hint of a mustache.
"Come back on Saturday," he remembers one of the fighters saying.
And so he did. That Saturday, Khaled joined ISIS. The next day, with only a few changes of clothes from home, he boarded a bus with other recruits to travel 30 miles to a training camp in al-Tibni, known for its salt mine. The camp was roughly 60 miles from the Islamic States stronghold of Raqqa, now infamous for its strict Sharia law, crucifixions and gun-wielding militants patrolling the streets.
According to Khaled, his new salary was set at 7,000 Syrian pounds (roughly $37) a month to train and fight. Married fighters would receive twice as much.
The WorldPost could not independently verify Khaled's story, but his account lines up with that of one of his family members, a friend and numerous reports coming out of Syria detailing al-Tibni and other ISIS training camps.
Khaled says he was one of roughly 30 other children. The rest of the recruits were grown men.
Laurent Chapuis, child protection adviser for UNICEF in the Middle East and North Africa, says the Islamic State uses extreme violence as a means to desensitize youth. "[The Islamist State] openly promotes the recruitment and indoctrination of children, and more so than other groups, has instrumentalized children for propaganda purposes, glorifying their combat roles and 'martyrdom' in the conflict," he explained. "They have also employed a strategy of exposing children to extreme violence as a means to desensitize them."
For just over two weeks, Khaled went through intense training. He learned to use multiple weapons, including Kalashnikov rifles, PKC machine guns, and pistols, and trained in endurance and sports. He also took Sharia courses on how to be a good Muslim. Khaled says he was shocked at how extremist the religious classes were — the teachings resembled nothing of the Islam he knew.
If anyone, including the children, hinted at dissent, or was caught smoking or stealing, they would be whipped 20 times, Khaled said. He saw some fighters being whipped with a plastic water hose. If they were caught "misbehaving" again, they would be tortured.
"I saw a lot of people being tortured," Khaled said, quietly. "Every day they whipped people, even the children. Nobody was allowed to leave."
"I saw a lot of people being tortured.Every day, they whipped people, even the children.Nobody was allowed to leave."
The training was terrifying, Khaled recalls. He felt alone and afraid. When asked if he liked any of his teachers or superiors, he could think of one name only: Abu Musab al-Fransi.
Khaled describes him as a funny, blond Frenchman who spoke little Arabic and taught the recruits sports through a Tunisian translator. A pro-Islamic State Twitter account under the same nom de guerre, in both French and Arabic, seems to fit the description of Khaled's sports teacher. It details things ranging from news in Syria, to the attack on Charlie Hebdo, to the protests in Ferguson, Missouri. The WorldPost could not confirm if the account was indeed that of Khaled's former teacher.
The memory of al-Fransi is just about the only remotely positive thing Khaled can remember from his experience at al-Tibni. Most of the time, he was terrified.
"I missed my parents," he said. "I thought about escaping. But I was so far from my village. They wouldn't let me contact my family and my parents didn't know where I was. My family thought I was dead."
Khaled says most recruits go through at least three months of training. But due to an urgent need for fighters, he was sent in after only 15 days, only to be injured in his first firefight. Khaled's superiors allegedly told recruits that they would fight "thieves and gangs." He believed them. It wasn't until later, when Khaled was injured, that he overheard other fighters talking about how they were actually fighting members of the Free Syrian Army. He would later learn that some of his cousins, fighting with the FSA, had been killed by ISIS.
Khaled says the children were forbidden from speaking with their families. They were rarely allowed to leave once taking up arms with the group, even if their parents protested. After Khaled's parents learned of his location by asking a contact in ISIS, Khaled's mother came to the camp, requesting to see her young son. She was turned away and told to come back again in a week. When she returned one week later with one of her grown sons, determined to see Khaled, the fighters allowed them inside and led her to the home of one of the top Islamic State leaders at the camp.
Khaled will never forget seeing his mother for the first time since he joined the extremist group.
"She was crying," he said. Khaled can't help but smile, remembering. "We were all crying and hugging."
Khaled told his mother he wanted to come home, and they decided to ask his superiors for a few days of vacation — and not return.
"Activists in Deir al-Zour are talking about them brainwashing children, taking them out of school and launching what they call defense camps, in which they train young children and youth more generally," said Tony Badran, a research fellow at the Foundation for Defense of Democracies.
Al-Tibni has been an ISIS stronghold of both local and foreign jihadists for months, explained Hassan Hassan, an analyst with the Delma Institute in Abu Dhabi who has conducted research on ISIS training camps.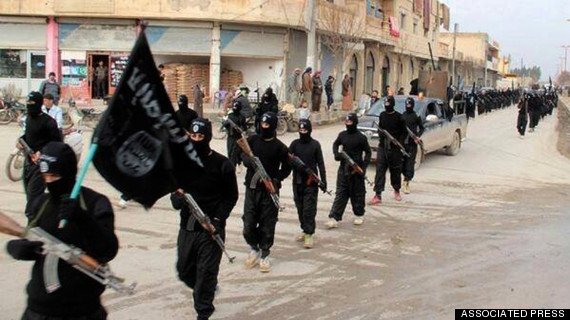 This image posted on a militant website on Jan. 14, 2014, shows ISIS fighters in their de facto capital in Raqqa, Syria. (AP Photo/Militant Website, File)
According to Hassan and Syrian sources, both the Syrian regime and the U.S.-led coalition striking the Islamic State have recently targeted al-Tibni. There have been reports of casualties, including at least one child. Many Islamic State fighters reportedly have since left the training camps and bases in the area and spread out for security.
A spokesperson for the U.S. Central Command task force on the Islamic State fight confirmed on Tuesday that the U.S. had identified ISIS targets in the Deir al-Zour region but insisted that U.S. forces took precautions to reduce potential civilian casualties.
But the U.S.-led coalition likely doesn't have the level of intelligence it would need within Syria to avoid hitting training camps that host child soldiers, said Jennifer Cafarella, a researcher on the Syrian civil war at the Institute for the Study of War.
Khaled was one of the lucky ones. He managed to escape after three months with ISIS by convincing them, with the help of his pleading mother, to let him go home for a brief break. When he returned home to Deir al-Zour, the hardline rebel group Jabhat al-Nusra, or al Qaeda in Syria, detained him for 12 days. The group was locked in a bitter fight with ISIS, and Khaled was the enemy. But once again, his mother helped secure his release, unharmed.
Despite Khaled's brief detention, he says al-Nusra, along with the Free Syrian Army, which also had control over the area, gave him sanctuary from the wrath of ISIS.
But when ISIS drove out other rebel groups from his area months later, Khaled's mother decided it was time for him to leave, terrified that they would hunt down her son. "I was very afraid for my family and afraid that they would come to my home and force me to fight," Khaled said. He had no intention of returning to a group he said was slaughtering civilians.
Khaled paid for a fake ID card and in November traveled with a family that claimed him as their own, passing through ISIS checkpoints. His mother stayed behind with family members who couldn't afford to make the expensive and dangerous trip. Khaled breathed easy when he and the family made it across the Turkish border with the help of a smuggler, but when they parted ways, the 15-year-old found himself alone in a country that was not his own.
Now, this child soldier turned refugee has no easy way of continuing his education or finding work in Turkey. He lives in a hotel with strangers, surviving off of cash sent by his brothers who sought refuge and work in Saudi Arabia. He desperately wants to join them.
Khaled can't return to that Thursday last January and turn back from the ISIS recruitment office, as his cousin did. But he wants others to know the hard truth about the extremist group. Because if he had, he never would have joined.
Zaher Said contributed reporting from Sanliurfa, Turkey; Akbar Shahid Ahmed contributed reporting from Washington, D.C.; and Eline Gordts contributed reporting from San Francisco.