ISTANBUL — The European Parliament passed a strongly worded resolution on Thursday slamming Egypt's increasingly dire state of human rights and the brutal killing of an Italian student, widely thought to have been tortured to death by Egyptian security forces.
Giulio Regeni's killing was hardly a freak incident, according to the resolution, but instead occurred within a "context of torture, death in custody and enforced disappearances across Egypt."
The Cambridge doctoral candidate went missing on Jan. 25, the five-year anniversary of Egypt's revolution, a day when security forces were cracking down on could-be protesters. Regeni's body was found one week later, partially naked in a ditch outside of Cairo.
His nails had been ripped out, according to findings from an autopsy in Rome, his ribs broken and his skin burned with cigarettes — injuries that have been well-documented in cases of Egyptian security forces interrogating civilians.
Regeni, 28, had been in contact with government opponents during his research on Egyptian labor unions, a controversial subject in the eyes of the government given workers' history of rising up to demand more rights.
#EPlenary calls on #Egypt to fully collaborate with IT authorities, provide all info on killing of brilliant&brave researcher #GiulioRegeni

— EP President (@EP_President) March 10, 2016
Egypt's government is guilty of conducting a "large-scale campaign of arbitrary detention of critics," said Thursday's resolution, calling for the immediate release of political prisoners.
An Egyptian government spokesman did not immediately respond to request for comment on the resolution.
Cairo insists systematic state torture does not exist and has denied any involvement with Regeni's death. Egyptian police initially said he had died in a car accident, despite unmistakable marks of torture.
In mid-February, The Associated Press reported that the Egyptian police officer in charge of Regeni's case had been convicted 13 years earlier for torturing and strangling a detainee to death, prompting suspicion over whether the young man's killing would be fairly investigated.
Italian Foreign Minister Paolo Gentiloni said last month that Italy would not accept "easy reconstructions and convenient truths."
Marietje Schaake, a Dutch member of the European Parliament, told The WorldPost that she hopes the resolution leads Egypt to "realize that the European Parliament cares about the human rights of Egyptian people and intends to keep them on the agenda."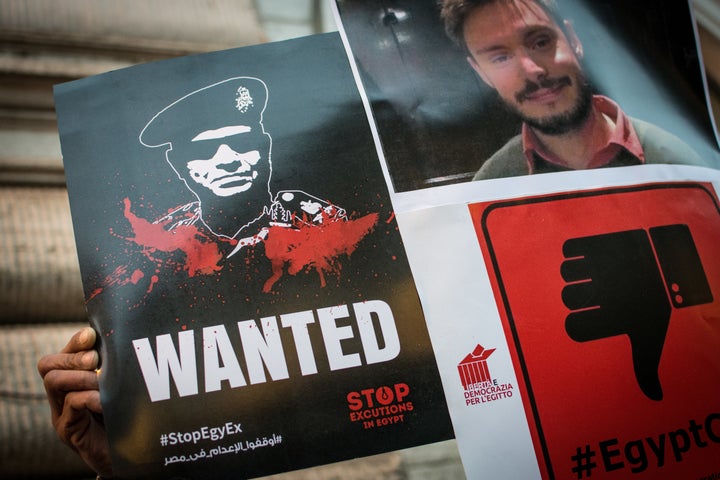 Parliament slammed the country's deadly habit of forcibly disappearing its own citizens, and demanded that the prominent organization El Nadeem Center, which helps victims of torture and was recently shut down by the government, be allowed to resume its work.
Given the country's poor track record on human rights, lawmakers recommended EU member states "suspend export licenses to Egypt of any equipment which might be used for internal repression," specifically mentioning surveillance tools.
But it remains to be seen whether or not the resolution will have any impact. EU reforms are not legally binding.
Citing a February Privacy International report that showed how EU laws failed to halt the flow of potentially dangerous equipment to Egypt, Schaake said she worries Thursday's resolution won't be enough to make a real impact.
A number of EU member states —  including France, the United Kingdom and Germany — have particularly close military ties with Egypt costing in the billions of dollars.
While Egypt says they need military and surveillance equipment to protect the country from threats like hardline extremists in neighboring Libya and the Sinai Peninsula, critics say they could be used by the government to squash dissidence.