ISTANBUL — Dozens of images showing mangled, bloodied corpses flashed across television screens and filled Facebook timelines and Twitter news feeds in Egypt on Wednesday.
The graphic photographs — shared on social media by Egypt's military spokesman Mohamed Samir — show what are said to be extremist fighters in the lawless Sinai Peninsula, killed by Egyptian armed forces. In another set of images, published by the Ministry of Interior, bloody men lie lifeless next to weapons on the floor of a Cairo apartment.
As Egypt beats the drums of war after a shocking uptick in violence targeting officials and armed forces, the state faces an uphill public relations battle to portray itself as undefeatable and morally in the right.
"It's clear that there's a lot of focus on managing public perception and public relations," Michael Hanna, Egypt expert and senior fellow at The Century Foundation, told The WorldPost. "There's too much information out there for Egypt to really be able to do this successfully."
A Monday car bomb in Cairo that targeted and killed top public prosecutor Hisham Barakat shocked many Egyptians, stoking fears that already worrying levels of violence across the country could spiral into something even more deadly. No group claimed responsibility, though the state blamed the Muslim Brotherhood, which has been banned since September 2013. The group vehemently denied links to the attack.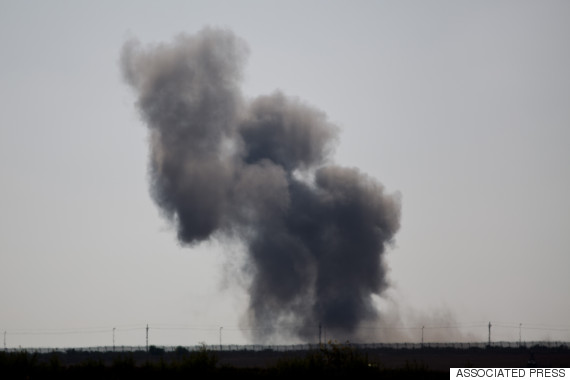 Smoke rises following an explosion in Egypt's northern Sinai Peninsula, as seen from the Israel-Egypt border, near Kerem Shalom town, southern Israel on July 1, 2015.
Then on Wednesday, Islamic State loyalists in the restive Sinai Peninsula launched a massive attack against Egyptian armed forces — most of them stationed there were young men in their late teens and early twenties — leaving 17 soldiers and 100 militants dead, according to the military. Some Egyptians have eyed that death toll critically, expressing doubt that so few soldiers could have died, compared to such a high number of militants. Several news outlets cited higher death tolls given by security sources.
"When Egypt comes out with casualty figures that are flatly contradicted by official sources and other media, it doesn't help their credibility," Hanna said.
"It might be enough to to placate regime supporters, but it will shake confidence among others," he added. "It's antiquated and unrealistic to imagine that this kind of PR campaign will be able to shroud the bottom line — that things are going badly in Sinai."
Prime Minister Ibrahim Mehleb has declared that Egypt is in a "real state of war," although military spokesman Samir said the situation in North Sinai was "100 percent under control," in a phone interview with state-run MENA TV station.
Egyptian radio hosts — long accused of being mouthpieces for the government, like much of the country's press — have instructed listeners not to spread or repeat information, be it photographs, videos or death tolls numbers, that is not officially released by the state.
Some TV channels barely mentioned the soldiers' deaths, instead focusing on the high militant death toll.
Attacks on security apparatus and state institutions have intensified after the military sacked Egypt's first democratically elected yet wildly controversial Islamist president, Mohamed Morsi, in July 2013. Since then, Sisi has led a security crackdown, detaining and imprisoning everyone from Islamist supporters of Morsi to secular activists to academics to journalists.
Also on Wednesday, Egyptian police raided a Cairo apartment and killed nine men accused of being linked to the Muslim Brotherhood, including one senior leader. While the government hailed the raid as a great success, saying the men were plotting terrorist attacks and died in a firefight with police, some Egyptians say it was nothing more than extrajudicial punishment meant to place blame on the blacklisted group for attacks.
"Come out in rebellion and in defense of your country, yourselves and your children," read a Muslim Brotherhood statement published Wednesday after the killings. "Destroy the citadels of his oppression and tyranny and reclaim Egypt once more."
The statement vowed it would now be impossible "to control the anger of the oppressed sectors," referring to the nine killed men as "martyrs."
The Egyptian state has said the Muslim Brotherhood and extremists in the Sinai are one and the same, although the groups have denounced one another.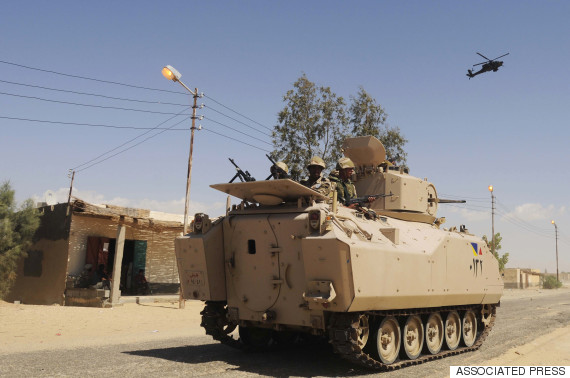 In this Tuesday, May 12, 2013, file photo, Egyptian Army soldiers patrol in an armored vehicle backed by a helicopter gunship during a sweep through villages in Sheikh Zuweyid, north Sinai, Egypt.
Since Wednesday's attack, Egypt's air force has pounded extremist targets in North Sinai, bordering Israel and Gaza, with U.S.-provided F-16 warplanes and Apache helicopters.
Meanwhile, in the restive peninsula, especially in Sheikh Zuweid — a border town where extremists launched deadly attacks — many residents are without electricity or water, trapped in their homes as war rages outside. Ambulances reportedly could not reach civilian victims on Wednesday, due to clashes.
"All residents of Sheikh Zuweid have taken shelter in lower levels and left buildings," Sinai-based Egyptian journalist Mostafa Singer posted to his public Facebook page in Arabic on Wednesday. "Mosques are announcing through megaphones the presence of dead bodies and injured and calling for help."
For two years, the Egyptian state has blocked most media from reporting on military operations, demolitions of homes and forced evictions in North Sinai, leaving little means to corroborate death tolls of militants, armed forces and civilians reported by the government.
After two years of what are often said to be increasingly authoritarian laws that squelch freedom of speech, free press and nongovernmental bodies monitoring state human rights records, President Abdel Fattah Al Sisi has vowed to enact even tougher laws to tackle terrorism. Following Barakat's funeral, Sisi said "the hands of justice are shackled by laws." Egypt's judiciary, infamous for handing down mass death sentences, is often slammed as a mockery of justice.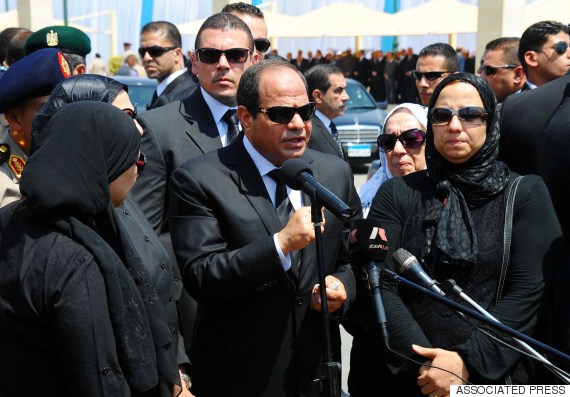 Egyptian president Abdel Fattah Al Sisi, center, speaks at the funeral for Hisham Barakat in Cairo, surrounded by his family members, on June 30, 2015.
Now, a new set of anti-terrorism laws — approved by the cabinet and waiting on state council approval before going to Sisi for ratification — have raised alarms among activists and human rights groups fearing they will only fuel more persecution.
"There are very broad and vague definitions of a terror act, a terror group/person and funding [in the new law]," explained an Egyptian lawyer and human rights advocate who spoke to The WorldPost on condition of anonymity, out of fear. "The law also singles out 'espionage charges' to be levied at entities or persons found to be 'colluding' with foreign nations… in a manner that is seen to harm Egypt's national security."
Anyone charged with espionage could face the heaviest sentence: the death penalty.
"We are effectively bringing back emergency law, to a more severe extent, in a civilian cloak," the lawyer said.
May Kamel contributed reporting from Cairo.