YARI PLAINS, Colombia ― As a child growing up in south central Colombia, Roberto Méndez never had a chance to study beyond the first grade. From a young age, he was forced to work on coffee farms in the hills surrounding his home, where leftist guerrillas have ruled for decades.
Military sweeps of the region by the Colombian government often led to arbitrary arrests and abuses of civilians believed to cooperate with guerrillas of the Revolutionary Armed Forces of Colombia, or FARC. Once, the owner of the farm where Méndez was working was dragged out of his home in the middle of the night. He never heard from him again.
"I got angry," Méndez told The WorldPost. "So I joined the FARC to fight back."
He was 20 when he joined and rose to become a squad commander. Now 29, Méndez said he's ready to give up his guns as part of a peace deal the FARC reached with the Colombian government, putting an end to Latin America's longest-running war, which wracked the country for 52 years.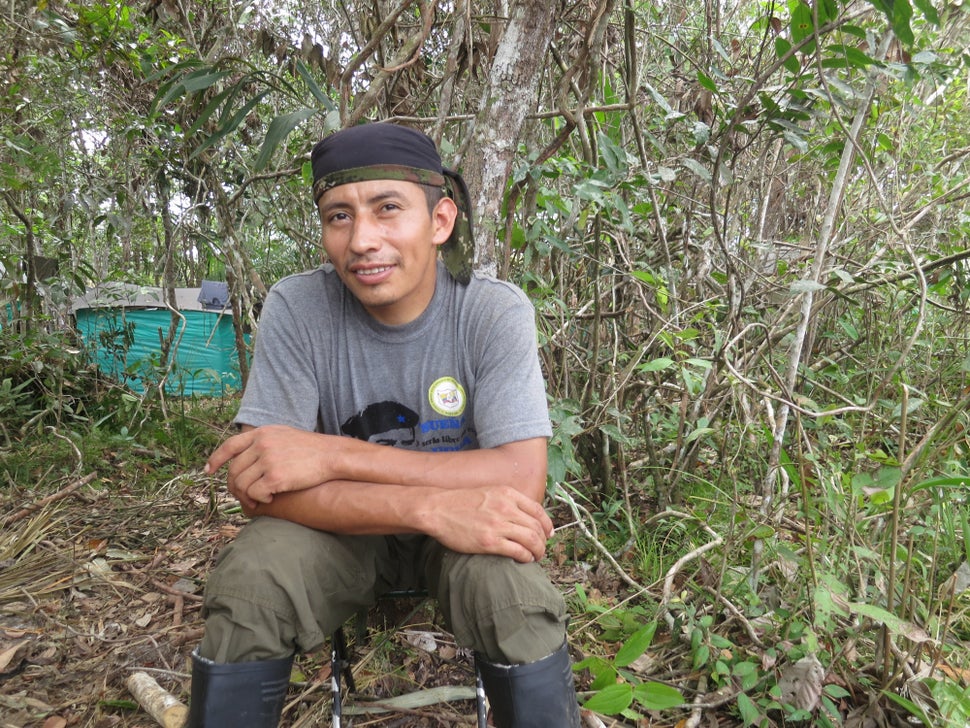 On Monday, President Juan Manuel Santos and FARC commander-in-chief Rodrigo Londoño signed a peace agreement after four years of negotiations in Havana. On Sunday, Colombian voters will decide whether to approve the accord in a national plebiscite. Critics are everywhere but polls show a majority supports the deal. If the agreement is ratified, Mendez's life will take a dramatic turn and Colombia will begin a process unknown for decades: peace-building. 
After turning in his weapons, Méndez wants to finish school. "Today I read a little but very slowly," he confessed. He stoked the embers of a fire where he smoked meat outside a rebel camp. He would eventually like to become a civil engineer to build rural roads and bridges ― "to help communities," he said.
Colombia sorely needs those roads and bridges in order to bring modern governance to isolated communities, including where Méndez grew up, which long ago were abandoned by the state. Colombia's failure to provide for rural regions is both a root cause and a consequence of the conflict.
'They see us as demons. They tell children that we are rapists and killers.'
Under a banner of social justice, land distribution reform and proletarian idealism, the FARC was born in 1964 as a communist-inspired peasant army. It grew from a handful of poorly equipped fighters to a powerful army that at its peak boasted as many as 18,000 fighters and had effective control over as much as 40 percent of the country. Using kidnapping, extortion and the drug trade to finance itself, and fear and coercion to control the population, the FARC won itself many enemies.
Thousands of its fighters were forcibly recruited as young children. But it also attracted many who suffered abuses by the state. Some joined to escape poverty or were lured by the romance of guns. Ideology and politics were often an afterthought. Many young women were motivated by a boyfriend already in the ranks.
The FARC were debilitated by the U.S.-funded military offensive against them under former President Alvaro Uribe. By the time Uribe left office in 2010, the FARC's ranks had been cut in half. Weakened and weary but not defeated, they agreed in 2012 to begin negotiating a peace deal with Santos.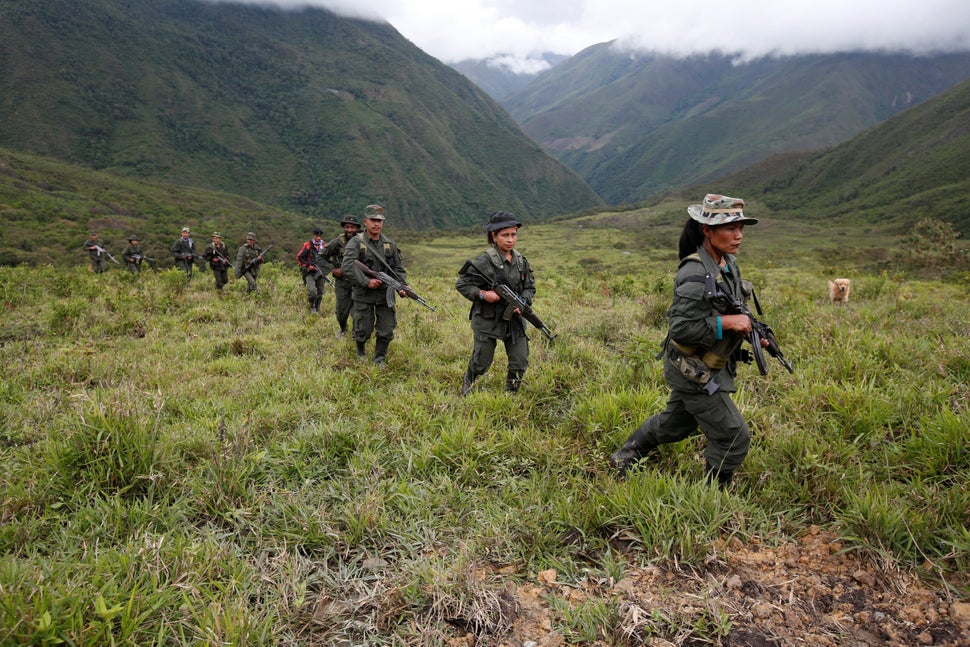 If the referendum passes, the FARC agreed to demobilize an estimated 7,000 troops and an equal number of urban militia members and to hand over an arsenal of weapons to a United Nations mission within six months. Demobilized and peaceful, the FARC can become a legal political party.
FARC delegates debated their political future at their 10th conference as a rebel army, held last week in remote southern Colombia. The previous conferences over the past 50 years were secretive, clandestine events. This time, it was a festival of sorts. Media from around the world were invited to attend and musicians performed each night on a large stage in the middle of a sweeping savannah.
Under the accord, the FARC will be guaranteed at least five seats in the Senate and another five seats in the House of Representatives in 2018 congressional elections, even if they don't get enough votes for those seats. The FARC like to say they have the broad support of people who live in areas where they have traditionally operated, but more residents of several FARC zones across the country consistently say they would never vote for a former rebel.
'I will ask the old man to forgive me,' said Méndez, who remembers only that his captive's last name was Zuluaga.
However, Pastor Alape, a member of the FARC's ruling secretariat, said the first goal will not be winning elections but working with grassroots movements. "You can participate in politics without seeking office by acting as a watchdog, by mobilizing people to demand their rights," he told The WorldPost. Alape, whose real name is Félix Antonio Muñoz, added that they will seek a "convergence" with other leftist parties.
The illegal drug business has sustained the FARC financially for decades. But as a part of the deal, it has committed to severing all ties with the trade. "We won't be protecting the coca anymore," said Méndez.
The deal also includes reparations to victims and sets up a transitional justice system for crimes committed during the conflict. FARC members who committed or ordered atrocities but who confess their crimes will avoid serving their sentences in jail and will rather be sentenced to carry out acts of reparation to their victims.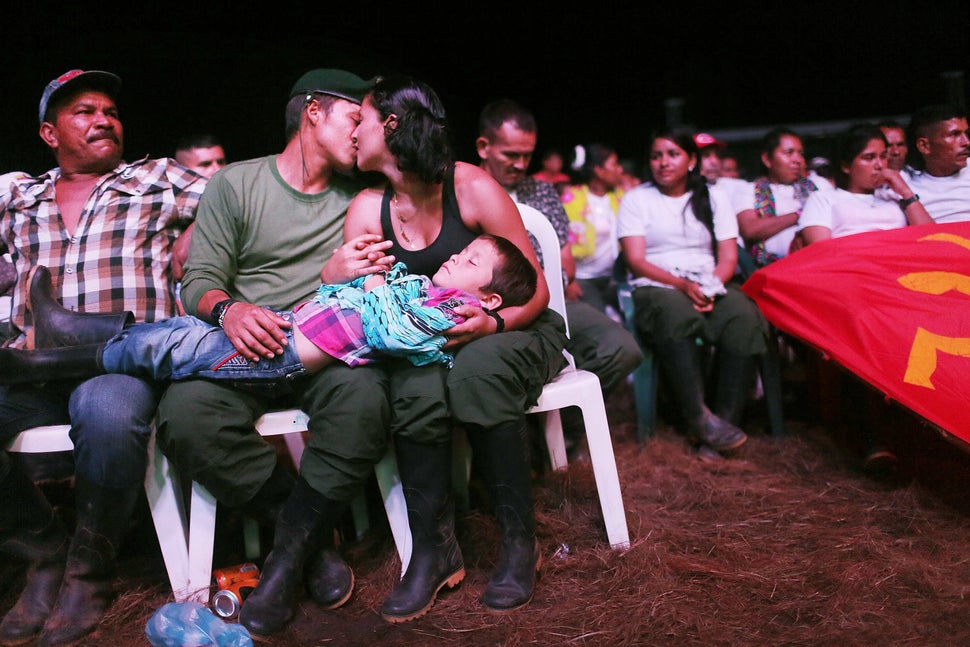 Méndez's unit, the Teófilo Forero Mobile Column, is known for brutal and bold attacks, kidnappings and bombings. He admitted he once was in charge of holding a kidnap victim in jungle camps for about a year.
"I will ask the old man to forgive me," said Méndez, who remembers only that his captive's last name was Zuluaga. "But they can't put me in jail for even one minute!" he said forcefully. "Not one!"
That point is at the center of controversy surrounding the accords. Human Rights Watch welcomed the peace deal as an "opportunity to curb abuses" but is sharply critical of the justice system established in the accord. A report released last month noted it could lead to impunity for some of the FARC's worst crimes, including kidnapping, raping and murdering civilians, using child soldiers, forcibly displacing civilians, and killing and injuring civilians with landmines.
'They can't put me in jail for even one minute! Not one!'
Throughout the conflict, about 220,000 people ― mostly civilians ― have been killed, and more than 6 million have been displaced from their homes. Since 1990, nearly 11,500 Colombians have fallen victim to landmines, most of which were planted by the FARC. And the group is responsible for over 24,000 kidnappings registered between 1970 and 2010.
"Allowing confessed and convicted war criminals to be 'punished' by no more than orders for community service is grotesquely insufficient," José Miguel Vivanco, the Americas director of Human Rights Watch, said in a statement. "The international community should not turn a blind eye to this façade of justice in the name of peace."
Former President Uribe, now a senator, couldn't agree more. A critic of the peace talks from the start, he is leading the campaign for the "no" vote on the referendum in the plebiscite, claiming the deal reached by negotiators is akin to handing the country over to the FARC. He says the accord should be renegotiated to include jail time for crimes against humanity and a ban on those convicted of such crimes from holding public office, although both government and guerrilla negotiators say no other deal is possible.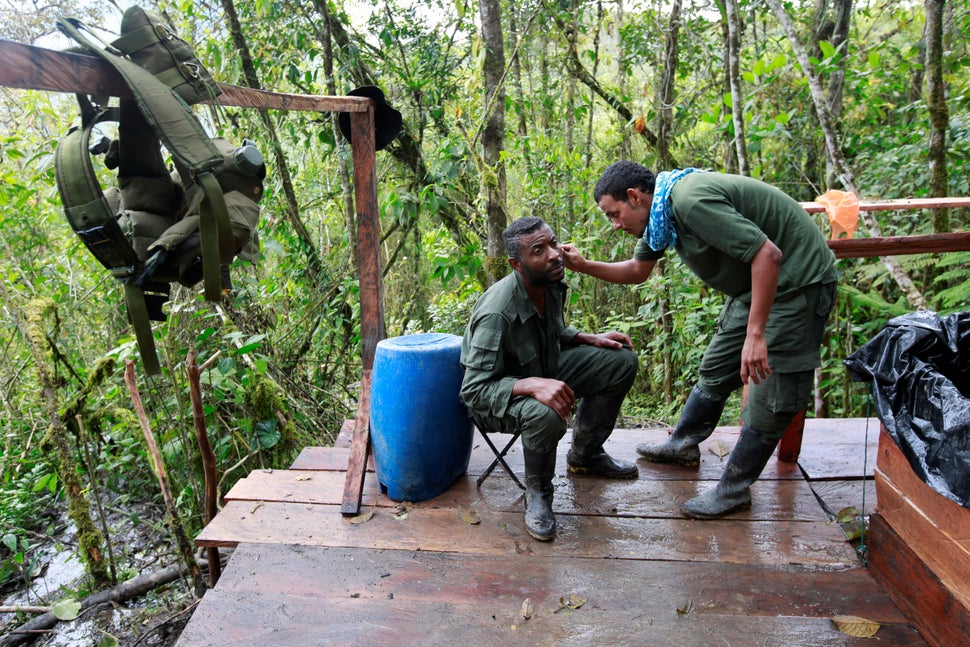 The "no" campaign has found support among many Colombians who are wary of the FARC. Alexander Rivera, a resident of the southern city of Florencia, where Méndez's unit operated, is one of them.
Rivera's friend Oscar Donald Rosas, an engineer, was kidnapped by the FARC in 1997 when he was called to a rural area to make an extortion payment, known here as a vacuna or "vaccine." The family received two proofs of life months after Rosas was taken hostage ― then never heard from him again. "Is it right that these bandits get off without paying for this crime?" asked Rivera during a "no" rally in Florencia's central square, while a van blaring a "yes" campaign song circled the plaza.
Many Colombians also doubt the government's capacity to make good on the promises of investment in social projects and infrastructure needed to support the peace deal and to provide security in rural areas currently controlled by the FARC.
"So many years paying vacunas to the FARC for protection, and now we will be orphans," said Giovanny Ospina, a cattle rancher in San Vicente del Caguán, another area long under rebel control. "I'll feel cheated if they leave because the police and army aren't going to come out to my farm to protect me."
'Is it right for these bandits to get off without paying for this crime?'
Still, most polls show the "yes" vote will win. A survey conducted by polling firm Ipsos showed 66 percent of those voting would approve the deal, while 34 percent would vote against it. But if reaching a peace deal was hard, maintaining peace will be even harder.
The implementation of the accord ― including victim reparations, stipends for demobilized fighters and landmine removal ― is estimated to cost around $31 billion over the next decade. The timing couldn't be worse. Colombia has seen its fortunes fall in tandem with oil prices and has had to tighten its budget. U.S. President Barack Obama asked the U.S. Congress for a 40 percent bump in aid to Colombia, from $320 million to $450 million. But Colombia will be footing the bulk of the post-conflict bill.
Méndez and his comrades are counting on the government to follow through on its promises, though they know it won't be easy. The FARC's worst fear is that once unarmed, they will be defenseless against organized criminal groups born of demobilized right-wing militias that may try to settle scores with the guerrillas.
"We are going to begin a period of many risks ― for example, the risk that we're murdered," said Alape, the secretariat member.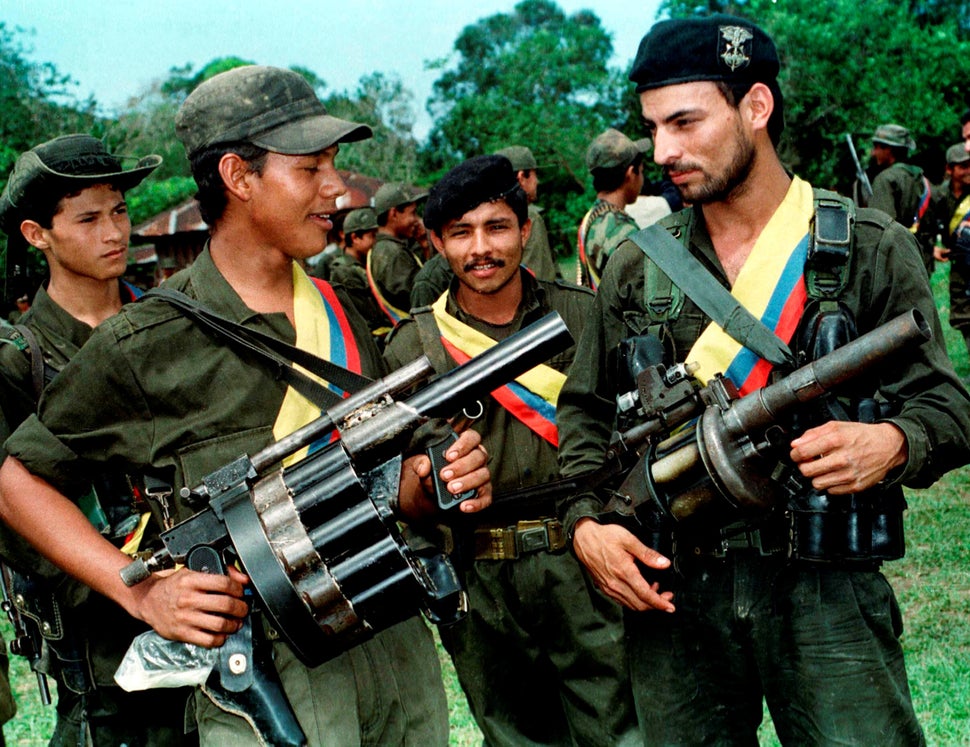 Eduardo Pizarro, a Colombian sociologist and conflict analyst, said the threat organized crime poses is less about ideology than about an interest in taking over the criminal economies the FARC would leave behind. "There will be a fight for territorial control that could pose a threat to peace-building," he said.
Colombia's second-largest active rebel group, the National Liberation Army, or E.L.N., is another threat. Though it says it wants to negotiate a peace deal, it has continued to kidnap civilians and destroy infrastructure. There is evidence that renegade members of the FARC are already finding refuge in the ranks of the smaller guerrilla group.
However, Pizarro suspects they are just holding out while the FARC deal is finalized. "Every group wants their 15 minutes of fame, so the E.L.N. will hold off until the spotlight is off the FARC. Then they will probably get serious about peace talks with the government."
'So many years paying vacunas to the FARC for protection, and now we will be orphans.'
Méndez is both hopeful and nervous about transforming himself from a guerrilla to a law-abiding citizen. "In the city, they see us as demons. They tell children that we are rapists and killers. What will it take for them to accept us and understand that we're not evil?" he wondered.
"We are going to begin a difficult period as Colombians. But it's got to be better than what we've lived in the past," he said.
The first thing he'll do is shed his nom de guerre, which has identified him for the past nine years. "I will go back to my real name," he said. But wary because the promised amnesty for guerrillas has not yet gone into force, he won't reveal what it is yet. "You can't be too careful," he said.
This was produced by The WorldPost, which is published by the Berggruen Institute.