AL AOUR, Egypt –- In the dead of night, there was a pounding at the door and a scream. It was members of the Islamic State, who had come to kidnap and kill the Christians.
Survivors say they're haunted by the memory of that cold Jan. 3 night when thirteen Coptic Christians were taken from their compound in Libya's coastal city of Sirte, days after seven others had been abducted. All twenty of the captured Egyptian laborers, along with one other man thought to be from Ghana, were later beheaded in a widely-viewed propaganda video.
But as media attention fades, the men who narrowly escaped the Islamic State that night are back in Egypt, beginning to piece together their lives. For them, the nightmare only continues. They say their thoughts are now turned to the living: the men they left behind in Libya.
"[The Islamic State] is looking for Egyptians now," Shenouda Malak, 27, said grimly, sitting in a Coptic Christian church in Al Aour, an impoverished village three hours south of Cairo. He fled Libya after he received a phone call from Sirte saying that his friends had been kidnapped. "They have to be rescued," he said, speaking of the men still in Libya.
Following the release of the brutal execution video on Feb. 15 and the Egyptian airstrikes on extremist positions in Libya that followed, thousands of Egyptians have been desperately trying to return home.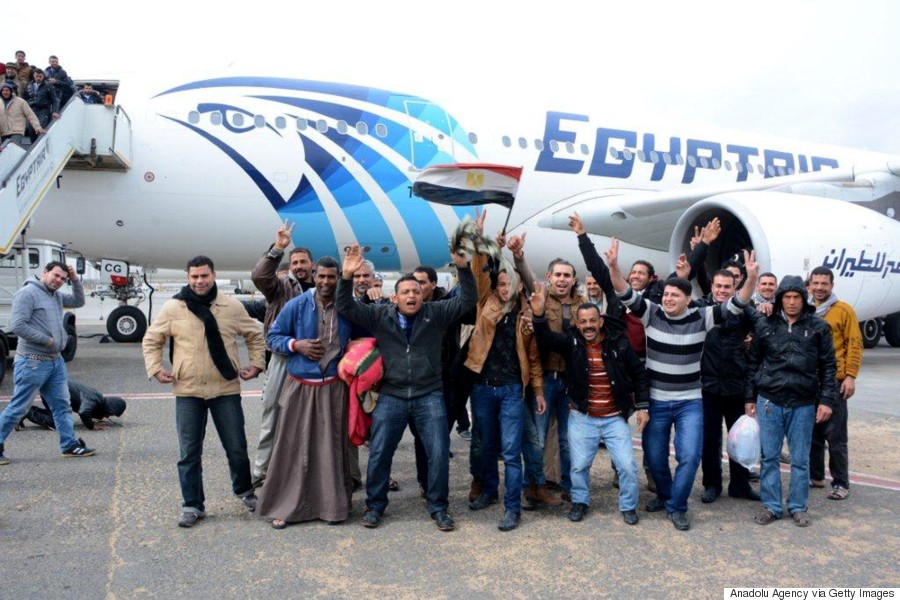 Egyptians who fled Libya and safely made it home to Egypt cheered upon landing at Cairo's airport on Feb. 23.
Some 3,000 Egyptians and their families reportedly crossed the Libyan-Egyptian border on Sunday alone. But not everyone can get there. It's a perilous journey to the border, wrought with Islamic State militants and criminal gangs. Some Egyptians have had to go through neighboring Tunisia to get home. Ministry of Civil Aviation spokesman Mohamed Abdul Rahman told Daily News Egypt that on Friday, over one hundred Egyptian workers landed at Cairo's airport after fleeing Libya by way of Tunisia.
But an estimated hundreds of thousands of Egyptians are still in volatile Libya, where two warring governments are fighting for power and hard-line fighters continue to gain ground. The survivors who made it back to Egypt are all too familiar with the dangers facing those they left behind, specifically the Coptic Christians, who face even more risk because of their faith.
Some of the laborers still stuck across the border are from Al Aour, where families are mourning the deaths of 13 of their beloved husbands, sons, cousins and friends.
Sitting in a bare room in Al Aour, several survivors flip through phones, showing smiling photos of their friends and relatives before they were killed by the Islamic State. One phone video shows the men laughing and goofing off while smoking hookah on the floor of a room in Sirte. It was one of the group's last recorded moments.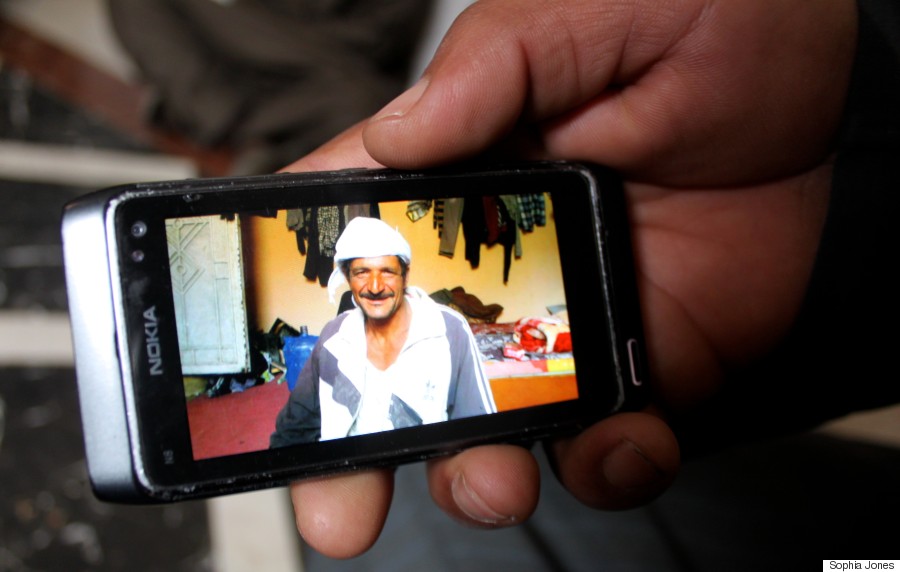 An Egyptian Christian man who survived an Islamic State kidnapping in Libya shows a cell phone image of his friend who was taken and killed by the extremist group.
The survivors recall that harrowing January night like it was yesterday: the rapping of knuckles coming closer as the militants walked down a row of rooms, petrified men huddled together in fear as their friends and family were pulled from their rooms, the thick iron door separating them from death.
"They knocked five times," Hana Aziz, 35, remembers solemnly. "We kept quiet and prayed to God."
Aziz, a father of three, physically barricaded the door to his room with his body so nobody else would open it. Another survivor, Youssef Khamis Zikri, says a phone call from a friend one room over saved his life.
"We got a phone call from the next room saying 'don't open the door," Zikri says. "No matter what'.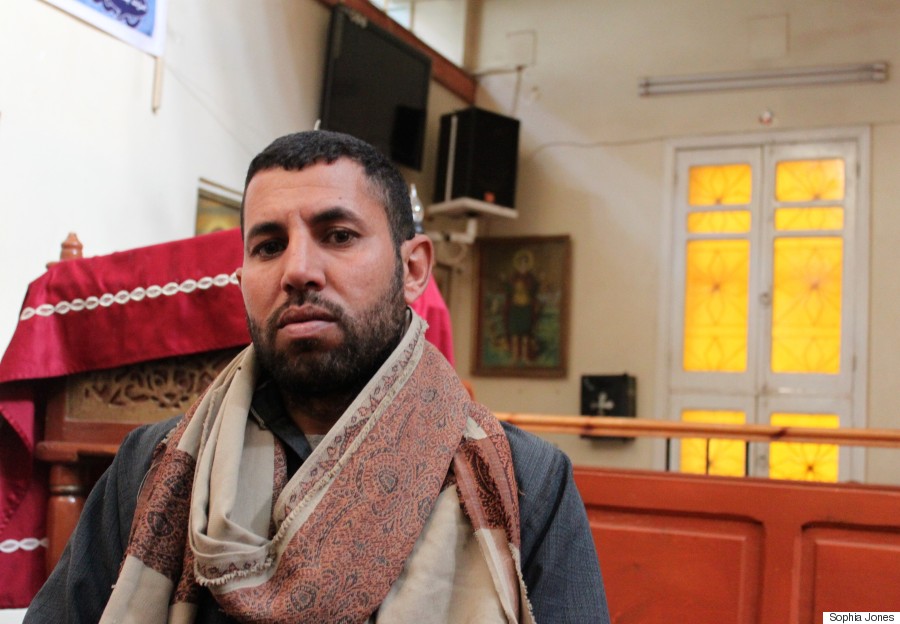 Hana Aziz, a 35-year-old Coptic Christian from Al Aour narrowly escaped a kidnapping by the so-called Islamic State in Libya.
They explain how the extremists forced the Muslim Egyptians in the compound, under threat of death, to point out where the Christians were sleeping. They remember how these same Muslims wept after the militants left.
"They were crying and saying it was against their will," adds Zikri, defensively. "It wasn't their choice."
The militants pulled the Christian men from two rooms. Many of them, survivors say, were identified as Copts by the religious tattoos on their wrists and arms. Before the fighters got to the other rooms, they said they would come back later for the rest. When their cars, which witnesses say were marked with black flags, pulled away, the surviving men came out of hiding and fled into the pitch-black desert.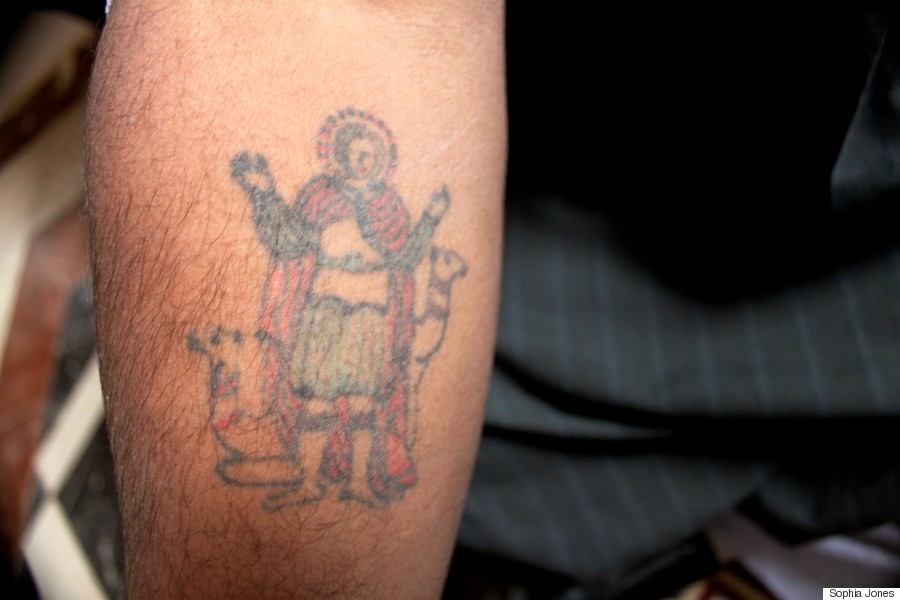 An Egyptian man who survived an Islamic State kidnapping in Libya shows the tattoo on his arm that identifies himself as Coptic Christian.
Along the way, Libyan friends and strangers risked their lives to shelter the escaped Egyptians in their homes. Yet the roads home to Egypt, a journey of several days, were treacherous, with militants and armed thugs stopping any car they found.
Migrant workers who made it home safely say they arrived empty-handed — everything, including their hard-earned money from months of dangerous work in Libya — was taken from them on the road. These are the dangers the Egyptians still stuck in Libya will face if they try to come home.
One man, who asked not to be named, said his nephews — two brothers — decided only one of them would risk the journey back to Egypt.
"You can be half blind, but not completely blind," Zikri, a friend of the family, piped up, speaking of the worst-case-scenario in which the family loses both young men to Libya's lawlessness.
Many of the men -– now faced with survivor's guilt and unimaginable loss — say they wish they had been taken that night. They were afraid to come home and face the families of those who didn't make it.
"I wish I was with these people," says Malak, speaking of his friends who were killed. "I would be in a better place in this world."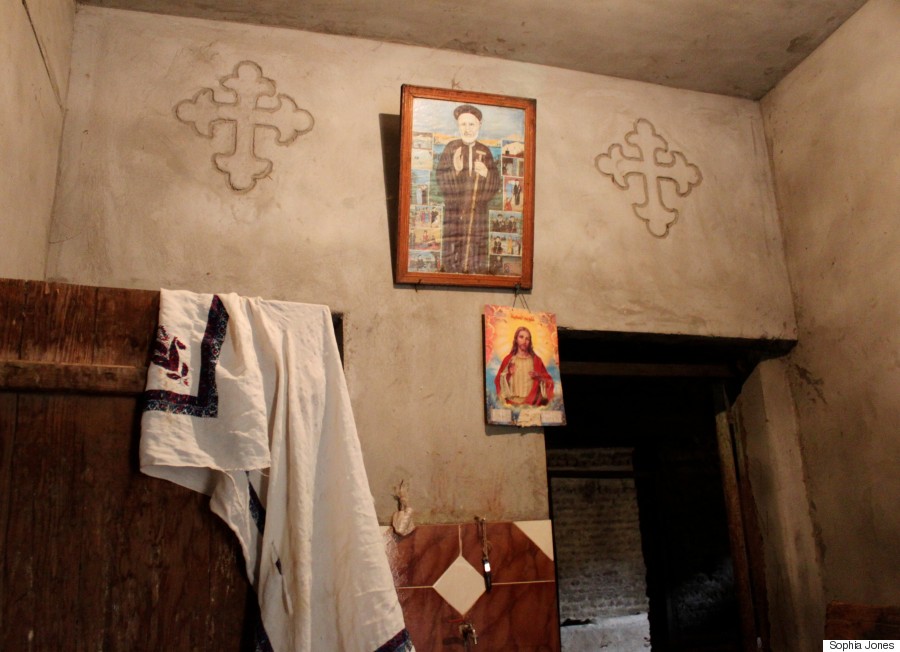 The home of Coptic Christians who survived a kidnapping by the Islamic State in Libya.
Although Egypt has barred its residents from traveling to Libya, the allure of a better life, despite the risks, is impossible to ignore.
Egyptian migrant workers tell The WorldPost that they make four times the money in Libya than they do in Egypt.
As the men wait for news of those left behind and grieve over their friends and family killed by extremists, they now face the same crippling conditions that drove them to Libya in the first place.
"If there's no work, we'll have to go back to Libya," survivor Malak Nagah says, laughing defeatedly. "I'm going to go back and you'll see my picture. I'll probably be killed."
The Islamic State has made a point to target religious minorities in Iraq and Syria as well. Early on Tuesday, the extremists kidnapped at least 90 Assyrian Christians from several villages in northeast Syria, according to the Syrian Observatory for Human Rights.
May Kamel contributed reporting from Al Aour.
This story has been updated to include further information about the Islamic State's targeting of religious minorities in the Middle East.