JIANLI, China — As the Eastern Star cruise ship was fighting to stay upright in the midst of a storm on the Yangtze River, Xia Sougui was trying to crack open a locked door for an elderly woman in the nearest town. A locksmith by trade, 38-year-old Xia (pronounced "shyah") had driven through knee-high water to get to the partially flooded house.
"It all came down so hard in one hour's time," Xia said of the storm that night. "It was like water being dumped from buckets."
The next morning, Xia woke up to the news that the cruise ship carrying 456 people, many of them retirees, had capsized just miles away.
Since that morning, Xia and hundreds of local Jianli residents have volunteered their homes, cars and kitchens to help rescue teams and distraught families that are pouring into the county. Taxi drivers and car owners have tied yellow ribbons to the side-view mirrors of their vehicles, marking them as "compassion cars" that give free rides to rescue teams, families and journalists.
On Thursday and Friday, those cars could be seen all over town. According to a government spokesperson, 200 taxis and 1,500 private cars were taking part in the effort as of Thursday. A local TV station was giving away the ribbons, and a radio station dedicated itself to broadcasting the contact information of local residents who were offering up meals and their spare rooms to help.
"To me, compassion isn't about how much money or resources you can put out there," Xia told The WorldPost. "You do what you can. If you have this much, then you give this much."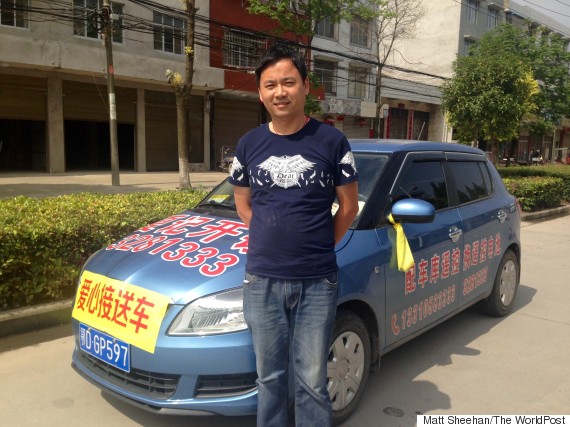 Xia Sougui in Jianli.
Xia worked for eight years on boats hauling coal and corn before he learned the locksmith trade. As soon as he heard the news of the accident, he called up an uncle with a motorboat. Rescue crews were taking a while to reach the remote city, and Xia wanted to help. Unfortunately, the boat was being repaired in a nearby city.
Instead, Xia outfitted his car with the yellow ribbons and a sticker offering free rides. Friday morning, he gave a ride to an older woman whose family was on the boat. Other drivers said they have transported soldiers, police officers and journalists.
Wang Xiang, a taxi driver who has volunteered his vehicle, said he heard Tuesday night that busses were dropping off families at the nearest highway exit. In response, so many volunteer drivers rushed to the scene that when Wang got there, all the families had been taken care of.
"I think we've had the best response of anywhere in China," Wang said. "We're all one family. Who doesn't have parents? Who doesn't have kids? When something like this happens we want to put out a hand to help."
In recent years, China has experienced something of a "bad Samaritan" crisis. Stories and viral videos have emerged showing pedestrians ignoring people bleeding on the street. In the most infamous incident, 18 pedestrians averted their eyes and walked around a 2-year-old girl who had been run over by a car. A closed-circuit video of the incident became one of the most-watched videos of the year, sharpening the national crisis of conscience.
The grassroots efforts in Jianli have also compared well with mounting tensions over the official response to the accident. Families in several cities have grown angry over the lack of information or access to the crash site. On Wednesday night, a group of families forced their way through a police cordon to get to the site, and on Friday a distressed family member burst into a closed press conference to demand a central government probe into the incident.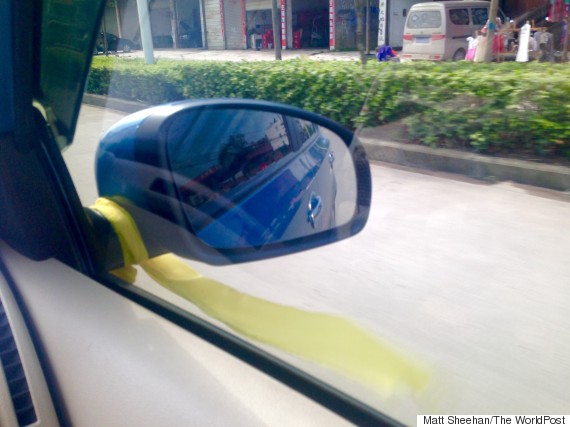 As of Friday, just 14 of the 456 people on the boat had been rescued, and 103 people were confirmed dead. Authorities began lifting the boat on Thursday night in an attempt to speed up the recovery of bodies.
For a place like Jianli, the sudden influx of national and international media attention is a highly unusual phenomenon. This "small" county located in central China is home to 1.5 million people. Without tourist attractions, major manufacturing or even a train station, the county's economy rests largely on corn, farming and fishing. Per capita GDP is around $2,000.
"We're just a small town," Xia said. "When this accident happened, you could say that the whole world suddenly knows this place. I feel that the people here, the people from all different walks of life, are really caring."
More from The WorldPost on the Eastern Star tragedy:

– A Son Waits For Word Of His Mother In China's Cruise Ship Tragedy– Chinese Government Refuses To Give Up On Cruise Ship Rescue, But Little Hope Remains– Dramatic Video Shows Rescuers Saving Woman From Capsized Ship In China– Photos Of China's Cruise Ship Tragedy Capture The Desperate Effort To Rescue Survivors