BEIJING – When Tim Lin arrived at Miami University in Ohio – 6,763 miles east of his hometown in northeast China – he wasn't quite ready for the whopping dose of American college culture that was headed his way.
On Lin's second day in his freshman dorm he woke up to find a naked woman sleeping in his roommate's bed ("Oh, so this is what it really is," he remembers thinking). From there, Lin was quickly inducted into the rights and rituals of collegiate America – smuggled beers, campus controversies and senior job searches.
What struck him most upon arrival in the U.S.? Tequila shots and the crash course in sex ed.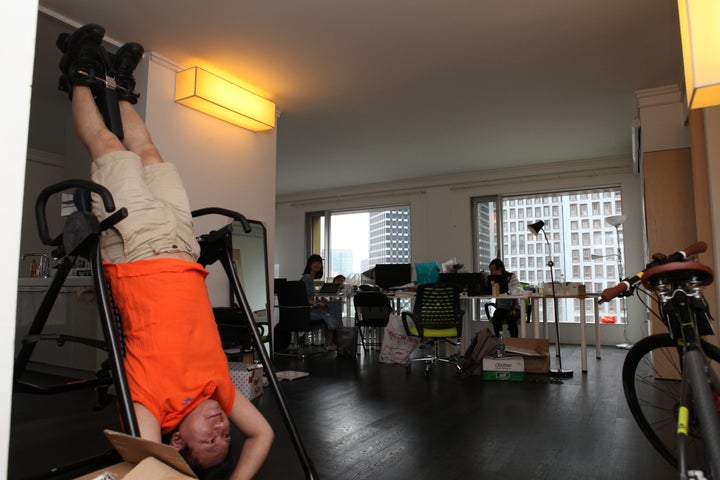 Fast-forward three years from graduation, and blood is rushing to Lin's head as he hangs upside down from a spine-stretching device at his startup's headquarters in Beijing. A few yards away, his team of writers is mashing up the day's slate of stories and blasting them out to hundreds of thousands of Chinese students in the U.S.
This is the headquarters of College Daily, a Chinese-language digital media startup tailored specifically to Chinese students in the United States and Canada. Star Wars posters and the New York Times front page from the first moon-walk adorn the walls. The content is sourced primarily from current students, and it reflects their needs: pointers for using Tinder ("Those interested in Chinese people are just in it for the novelty"), think pieces on Donald Trump ("taking America charging hysterically into the unknown – a place with politics, dark humor and 100 percent naturally grown hair"), and how-to guides on getting Social Security cards.
By mixing hard news from American campuses with practical lifestyle content, the editors have carved out this niche in a small but coveted market.
Explosive growth in admissions from China has made the country the No. 1 source of international students in the United States. During the 2013-2014 school year (the last for which there is good data), the 274,439 Chinese students in the U.S. were more than those from the next four countries (India, South Korea, Saudi Arabia and Canada) combined. Double-digit growth rates have almost certainly pushed that total above 300,000 this year, with around 80 percent pursuing bachelor's or graduate degrees.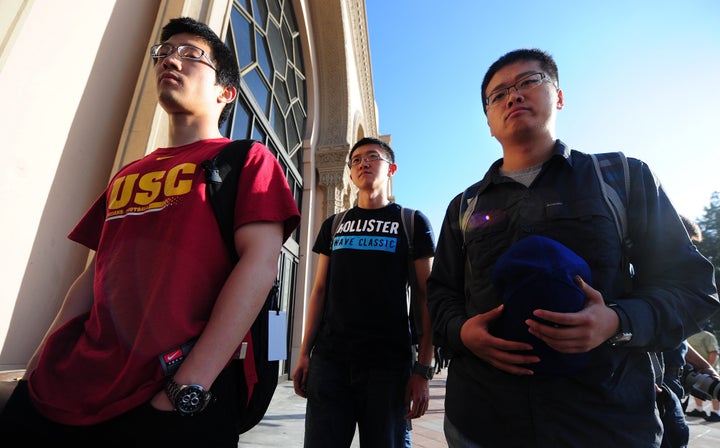 According to Lin, College Daily has 400,000 subscribers to its main news feed on the messaging app WeChat, and half of them are currently abroad. That likely makes it one of the most-read media outlets for this generation of Chinese students in the U.S.
It's not just the huge numbers that make this batch of students notable – they also represent a new brand of overseas students. For the past 30 years, Chinese arriving on American campuses were the absolute cream of the academic crop. Many graduate students arrived on full scholarships, pinching pennies while pursuing technical Ph.D.s and a chance to make a life for themselves in America.
That has all changed.
A three-decade economic boom in China means that millions of households can now afford to splurge on a luxury overseas education. Many Chinese parents see American schools as a welcome breath of fresh air compared to the rote memorization involved in Chinese education. With U.S. colleges enthralled by the prospect of full-tuition international students, and a range of businesses willing to falsify applications for students, admission is easier than ever for rich Chinese students with decent academics and some modicum of English.
The result is a complete reversal of stereotypes about Chinese students in America.
"Ten years ago nobody bought Mercedes, BMW or luxury brands. They bought second-, third- or even fourth-hand 1995 Toyota Corollas," Lin told The WorldPost. "But right now it's 2015. We see a lot of students fly first-class to the U.S. When they arrive in the U.S. they've already bought the [luxury] car. They ask the students who are already there to buy the car first and just give them the car at the airport."
Also strikingly different are the post-graduation plans of this cohort. While no reliable data exists about current homecoming rates, students and observers say these students are much more likely than their predecessors to go back to China.
Just a decade ago, China was still a predominantly rural society — ambitious scientists and engineers who had clawed their way out of poverty saw little to go back to in their home country. One study reported that 92 percent of Chinese who earned doctorates in the U.S. remained in the country five years after graduation.
But China's economic transformation and the wealthier family background of students have shifted the calculus. Attending American colleges is no longer the golden ticket out of an impoverished country. Instead, the undergrad lifestyle of Chinese students in the U.S. is starting to resemble that of many Americans: a time to cut loose, have fun and explore.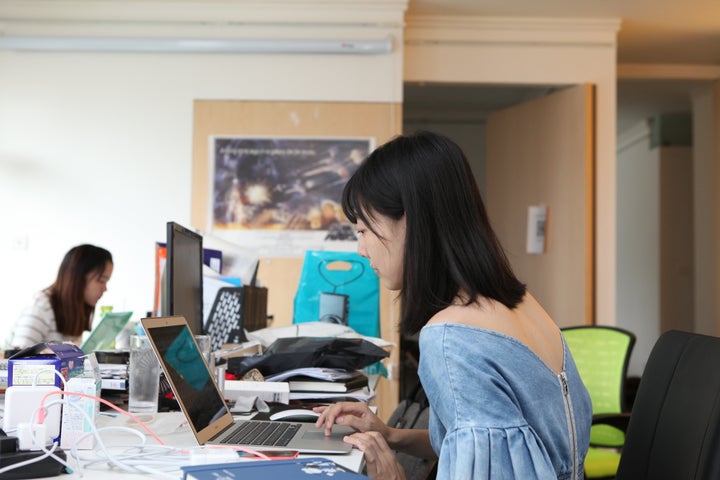 "They are enjoying the time studying there," said Lin. "They're not pursuing some better life. They can have a better life back in China."
Zhuo Xing, chief content officer for College Daily, was one of the students driving a 1995 Toyota Corolla when he earned a master's in journalism from the University of Illinois at Urbana-Champaign. He says Urbana-Champaign's nearly 5,000 Chinese students often socialized along class lines: Children of the super rich stuck together, as did middle-class kids whose parents had spent half their life savings on tuition.
Now overseeing a Beijing newsroom that documents these social circles, he worries about resentment directed at some Chinese students.
"I don't think it's necessary to demonize Chinese students who are enjoying their luxury life," Zhuo told The WorldPost. "It's no different than preppy students who are enjoying their American life."
Zhuo witnessed a broad range of reactions to American lifestyles, with some friends joining frats and others socializing exclusively with other Chinese students.
"At the core of it, we're still talking about individuals," Zhuo said. "After all, it depends on them. How do you like that perspective? … Do you embrace it? Do you deny it? Do you want to crawl back to your own comfort zone?"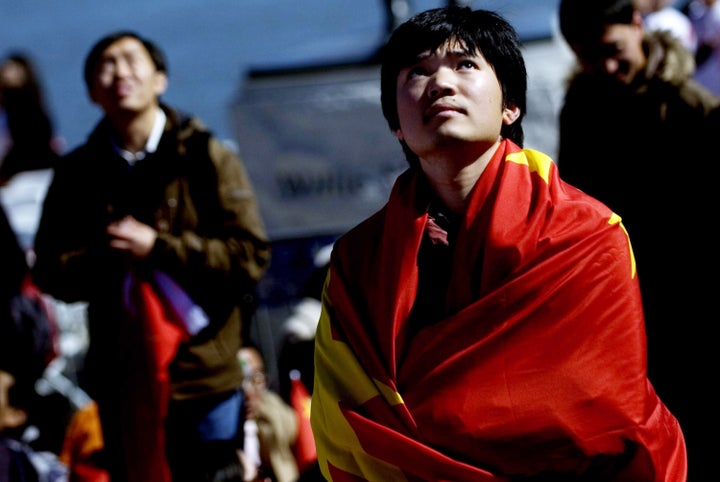 Tim Lin wanted to embrace it during his years in Ohio. He chose Miami University in part because it had few Chinese students. He says his straightforward personality meant it was easier to make friends with Americans than fellow Chinese.
But after graduation things changed.
"When I graduated from college, I believed in American dreams: I can get a good living, a good future in America, we follow the rules and blah blah blah," said Lin. "But when we start to work we realize there is a glass door for Chinese students."
Lin's internship at a Silicon Valley accounting firm fizzled over cultural barriers. He was lost during football-watching parties with the partners, and he felt that the deck was stacked against Chinese and other Asians when it came to promotions.
A patchwork of internships and travel took Lin to Shanghai, Kenya and finally Beijing. It was there that he began writing the how-to tips and lifestyle guides that he wished he'd had during his time abroad. Eighteen months later, he's armed with angel funding, full-time staff and the eyeballs of a key market segment.
He hopes with A-series funding, College Daily can branch out: open offices in California and New York, host college fairs, create new social networks for applicants. It's a blend of ambition that would be at home somewhere between Beijing, Silicon Valley and Ohio.
"When Chinese students go to American colleges they immediately find out that life can be many ways," Lin said. "Not a linear one, not a single way."