BEIJING — Recently, two of China's most infamous digital pirates breathed their last when YYeTs.com and Shooter.cn, websites providing crowdsourced Chinese subtitles for American TV shows, announced their closures. The winner from such a move appeared clear: Hollywood. The Motion Picture Association of America had long railed against YYeTs as one of the most notorious enablers of digital piracy, undercutting the value of U.S. studios' licensing deals with Chinese video sites. In an emailed statement, the group said it welcomed the move "to build a level playing field where legitimate business can flourish." But there was a second and less celebrated winner in the takedowns: Chinese media censors. That's because the crackdown on piracy will boost, and several experts say is largely motivated by, efforts to push super popular foreign TV shows into the Chinese pre-approval and censorship regime.
While Chinese regulators are providing Hollywood the revenue it thirsts for by squashing piracy and promoting paid licensing, the same regulators are simultaneously pushing new rules that subject all foreign shows streaming online to pre-approval by Chinese censors looking to erase politically sensitive or simply "unhealthy" content.
"Of course U.S. business wants the Chinese to pay for content rather than pirate it, but at the same time this empowers the government to strengthen content controls," said Rogier Creemers, a post-doctoral researcher at Oxford University who focuses on Chinese copyright and media issues.
"What is great for U.S. business — having more paid licensing for the largest audio-visual market in the world — may not be what you want from a democratic or human rights point of view."
Announcements that by April 2015 all foreign shows streamed must receive pre-approval from censors came just three weeks before the closure of YYeTs and Shooter.cn, which allowed viewers to watch the original programs in unadulterated form.
"The MPAA is probably a good covering factor in that [Chinese regulators] can say, 'It's piracy, it's not good and we're a nation of laws,'" said one Beijing-based media analyst who spoke off the record in order to frankly discuss government policies. "But I think the effect that they're after is making it that much more difficult to view shows that are both unlicensed and unvetted. Being able to do it in a way that's makes it about standing up to piracy, it's a win-win there."
YYeTs has announced its service in mainland China is permanently closed, but as of Monday the site remained accessible outside the country and by using software that circumvents Chinese Internet controls. Chinese media regulators did not respond to an emailed request for comment.
Long accused of being one of the most notorious global violators of American media copyright, YYeTs won't see many tears shed on its behalf in America. But among China's rapidly growing community of rabid American TV fans, the website was seen as something else: a grass-roots movement of world-class cultural interpretation, which provided crowd-sourced translations that creatively mixed in current slang while remaining faithful to the original English.
Founded in 2004 by young Chinese students in Canada, YYeTs recruited bilingual and multicultural volunteers who raced against competitors from other sites to crank out the best renditions of dialogue for hugely popular English-language shows. Armed with these high-quality subtitles, Chinese aficionados of American shows could freely download and enjoy pirated versions of "Homeland" and "The Walking Dead."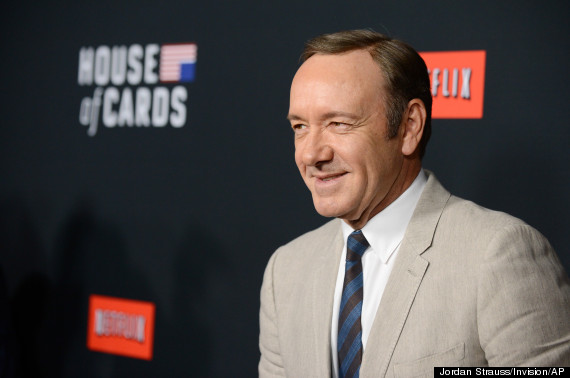 A top Chinese official reportedly enjoys the depiction of Washington in "House of Cards," which stars Kevin Spacey. (Jordan Strauss/Invision/Associated Press)
America's golden age of "prestige TV" has coincided with a surge in Chinese access to and interest in foreign shows. Comedies such as "The Big Bang Theory" and dark dramas like "House of Cards" built up huge online fan bases, with China's top anti-corruption official Wang Qishan reportedly adoring the latter show's depiction of Washington machinations.
While American shows make up a small portion of broadcast time (where foreign content is highly restricted), professor Stan Rosen of the University of Southern California, an expert on China's relationship with Hollywood, said the U.S. shows attracted one of the most coveted consumer niches online: educated, internationally oriented and generally wealthy young people.
"This is the future in China, this cosmopolitan group: the people that travel abroad and buy foreign goods. They're the rising middle class and the rising upper class," Rosen told The WorldPost. "[They have] an appreciation of Western culture and they want to watch these shows uncut."
China's Internet Network Information Center reported that 428 million Chinese people were streaming video online by the end of 2013. That year reportedly saw $683 million in licensing fees paid for domestic and international shows, a 31 percent increase over a year earlier, according to research firm EntGroup.
Feeding into this revenue surge is a steady stream of agreements between Chinese video portals and American studios, such as video portal Sohu's licensing of Conan O'Brien's show "Conan" earlier this year and Tencent's licensing agreement last week with HBO for "Game of Thrones" and other programs.
But public enthusiasm for foreign television shows hasn't always been matched by government authorities, who in recent years have taken to framing cultural imports as weapons in an ideological invasion of China. In 2012, then-President Hu Jintao wrote that "international hostile forces are intensifying the strategic plot of Westernizing and dividing China, and ideological and cultural fields are the focal areas of their long-term infiltration." That essay and recent speeches by President Xi Jinping called for strengthening China's cultural output at home and abroad.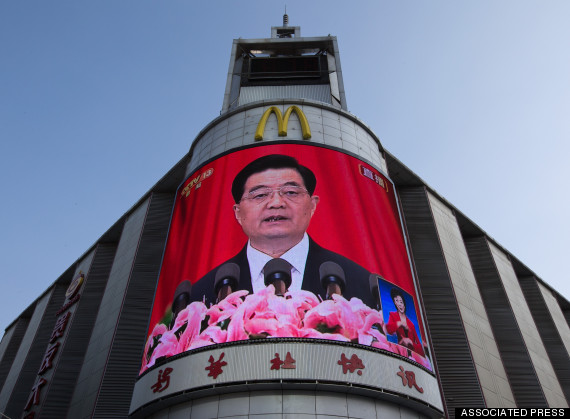 Then-President Hu Jintao railed against the insidious influence of Western culture in China in 2012. (Andy Wong/Associated Press)
"The Chinese government has never been very happy with easy availability of foreign content, but in recent years that paranoia has been stepped up," Creemers told The WorldPost.
Streaming online TV shows came squarely under the glare of government regulators this year. In late April, "The Big Bang Theory" and three other shows were abruptly removed from legally licensed websites, with state broadcaster CCTV promising to re-subtitle a "green version" of the popular comedy. In September and November, regulations came out mandating that all foreign shows receive season-by-season approval before being streamed, and limiting foreign content to 30 percent of domestically produced shows from the previous year.
Such rules are routine for television stations in China, but marked a new application to the previously unregulated realm of online content.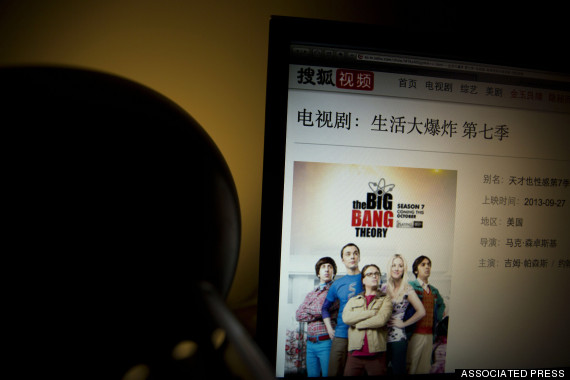 In April, Chinese authorities removed the tremendously popular "The Big Bang Theory" from streaming sites and promised to replace it with a re-subtitled "green version" on state TV. (Ng Han Guan/Associated Press)
The majority of American shows will likely never come in contact with a censor's scalpel, barring an errant reference to hyper-sensitive topics such as Tibet or the 1989 Tiananmen Square massacre. But dramas that feature China-related storylines may be at risk. The second season of "House of Cards" incorporated a timely Chinese subplot that waded into factional politics and corruption, and censors reportedly nixed two episodes of "The Blacklist" this year that contained Chinese plots.
While regulators can simply excise offending episodes before streaming in China, perhaps the greater threat is self-censorship by Hollywood studios eyeing Chinese viewers' tastes and censors' sensitivities. In 2012 the makers of action film "Red Dawn" used CGI technology to retroactively change the identity of foreign forces invading the U.S. from Chinese to North Korean.
Experts say such hedging moves are inevitable as Hollywood looks to the booming Chinese box office to supplement stagnating North America markets. Despite any nipping and tucking by censors, the recent surge in licensing agreements and film co-productions between Hollywood and Chinese studios still means that the average Chinese viewer currently has more legal access to American cultural products than ever before.
But for die-hard fans of unadulterated and impeccably subtitled versions of foreign TV shows, the closures of the freewheeling subtitling sites marked the end of an era and a nudge toward viewing the officially approved translations.
"I never thought it would suddenly be shut down. Going to other sites all I can see are these castrated versions, and after a minute I just lose any desire to watch," wrote a 30-year-old man posting on the YYeTs message board. "This finally made me realize that the original flavor put out by YYeTs is what I want."