HONG KONG — As the vehicle came into view from around the corner, a group of young men wearing surgical masks sprang into action, taking up positions in the center of the road. The vehicle inched forward expectantly, but finally ground to a halt with its front bumper just meters away from demonstrators sitting cross-legged on the cool concrete.
It's a well-choreographed routine in Hong Kong these days, but this time the roles and the rhetoric were reversed: The delivery truck was laden with Wednesday's edition of the Apple Daily, Hong Kong's tabloid-style and passionately pro-democracy newspaper, and the demonstrators were here to block its delivery to newsstands around the city.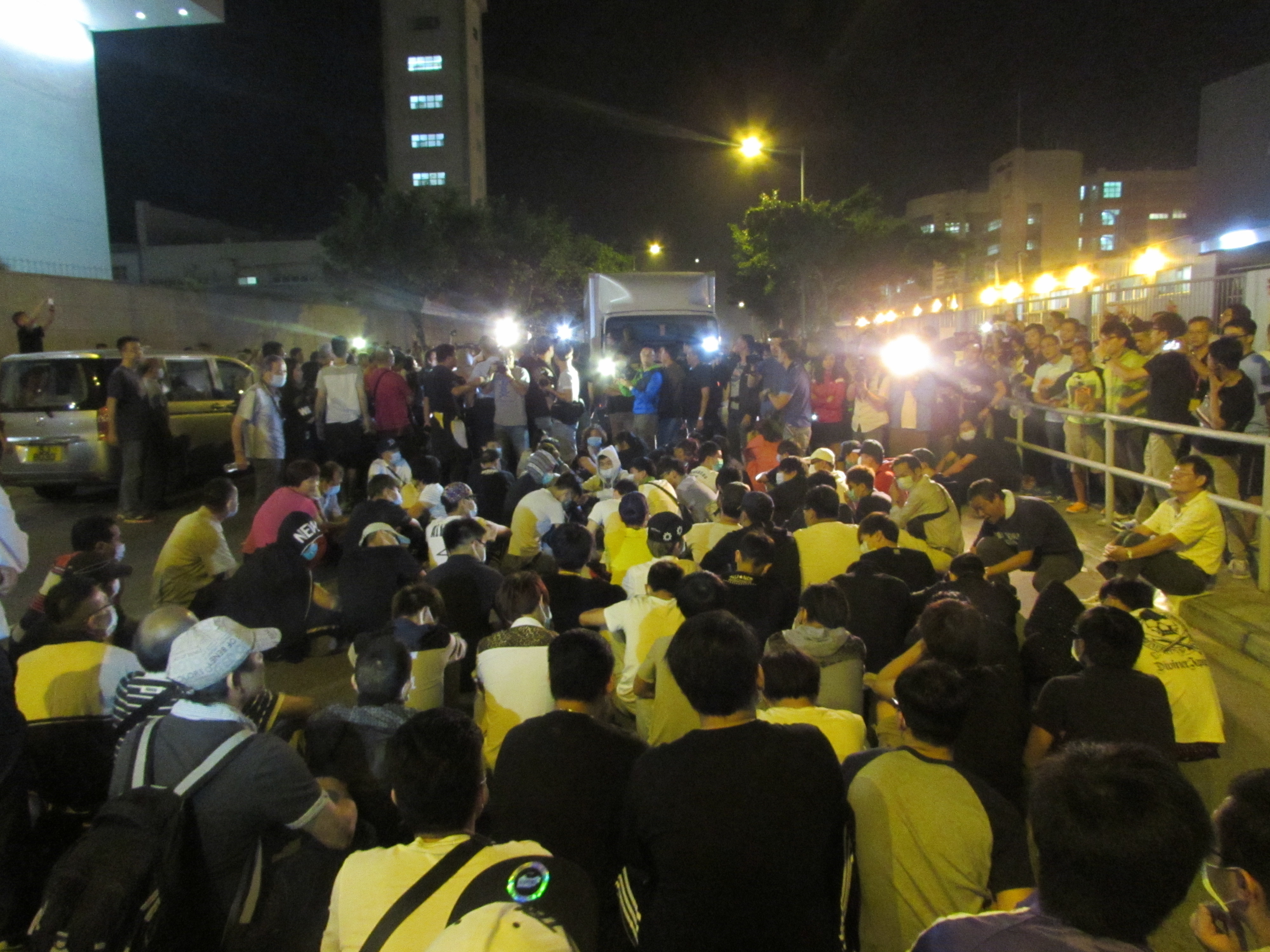 Dozens of demonstrators blocked delivery routes for the pro-democracy Apple Daily newspaper. Matt Sheehan/Huffington Post
Three weeks into a civil disobedience campaign known as the "Umbrella Movement," some opponents of the pro-democracy occupation are trying to turn the tables on the movement's most vocal media backer. For four consecutive nights, anti-occupy forces have gathered outside the Apple Daily's headquarters to obstruct newspaper deliveries.
Rival papers sympathetic to the mainland have rejoiced in Apple Daily "reaping what it sows" in advocating civil disobedience, but the paper's reporters saw none of the karmic resonance.
"The logic is different," said Joel Ko, a news editor who has worked for Apple Daily for more than a decade. "The students are fighting for the public, but these people are blocking a private company which has the right to make deliveries."
On Tuesday, more than 100 of the newspapers' employees came out to face down the demonstrators, with both sides hurling insults across police cordons. Journalists kept their cameras clicking and yelled that the protesters should "go back to mainland China," while the demonstrators denounced the paper's employees as traitors.
"They are the human scum of the Chinese nation," screamed Dai Sunliang, pointing an accusing finger at the assembled Apple Daily journalists. A 35-year Hong Kong resident originally from the mainland, Dai carried a sign denouncing Apple Daily. "They're put up to it by by external forces who are against China and attempting to destroy Hong Kong."
But Apple Daily and its supporters claim it's the blockading demonstrators who represent outside forces. In interviews and on the paper's pages, Apple Daily representatives claimed the blockages are carried out by pay-to-play "protesters" hired for a night of civil disobedience.
Interviews with some of the demonstrators appeared to support that theory. Several pleaded ignorance as to why they were there. Some elderly participants who claimed to have come out just to watch, soon took seats in the street when ordered to do so by a young man with a walkie-talkie. Other protesters reacted angrily to interview requests.
"The mess in Hong Kong right now was created by you Americans!" barked one older protester who refused to give his name. "Hong Kong people need a booming economy, not freedom and democracy. They're fake! You Americans beat black people to death, and American cops are way more violent than those in Hong Kong."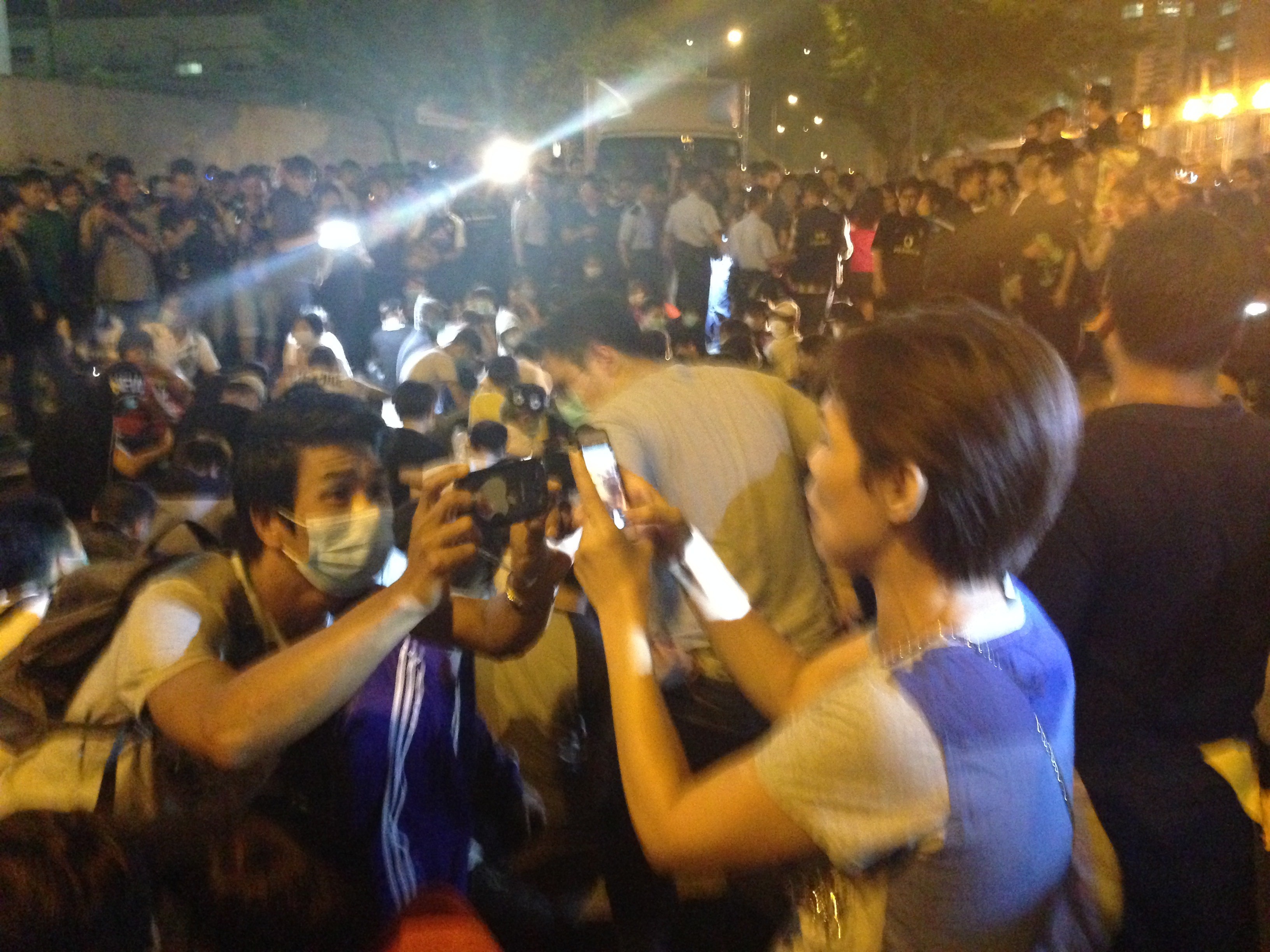 One demonstrator responded in kind when a journalist tried to take pictures of his face. Matt Sheehan/Huffington Post
If any mystery remains over the authenticity of the demonstrations, there is little doubt as to why they targeted Apple Daily. With one of the largest readerships in Hong Kong, Apple Daily is known for its defiant pro-democracy positions, shrill and sensational reporting style, and occasionally lax standards for fact-checking.
The paper is run by brash media mogul Jimmy Lai, a man who makes no secret of his deep loathing for the Chinese government. As a 12-year-old, Lai smuggled himself out of famine-stricken China in 1960 and into Hong Kong. There, he went on to build a clothing and media empire that he now deploys in a running grudge match with Beijing. His paper subsidizes pro-democracy advertisements and has in the past printed two-page spreads that can serve as anti-government banners at protests.
While some local journalists cringe at what they see as the paper's affinity for gossip and sex scandals, they say it remains one of the few bulwarks against a creeping pro-Beijing influence in Hong Kong media.
"We treat [Apple Daily] as a very precious organization because they have their own stance without being cracked down on by Beijing," said Lui Ping Kuen, a professor of journalism at Hong Kong Baptist University who occasionally freelances for Apple Daily and other local papers. "Bosses of other big media businesses aren't just doing media … and sometimes they sacrifice the independent operation of their media companies if Beijing gives them more benefits in other sectors."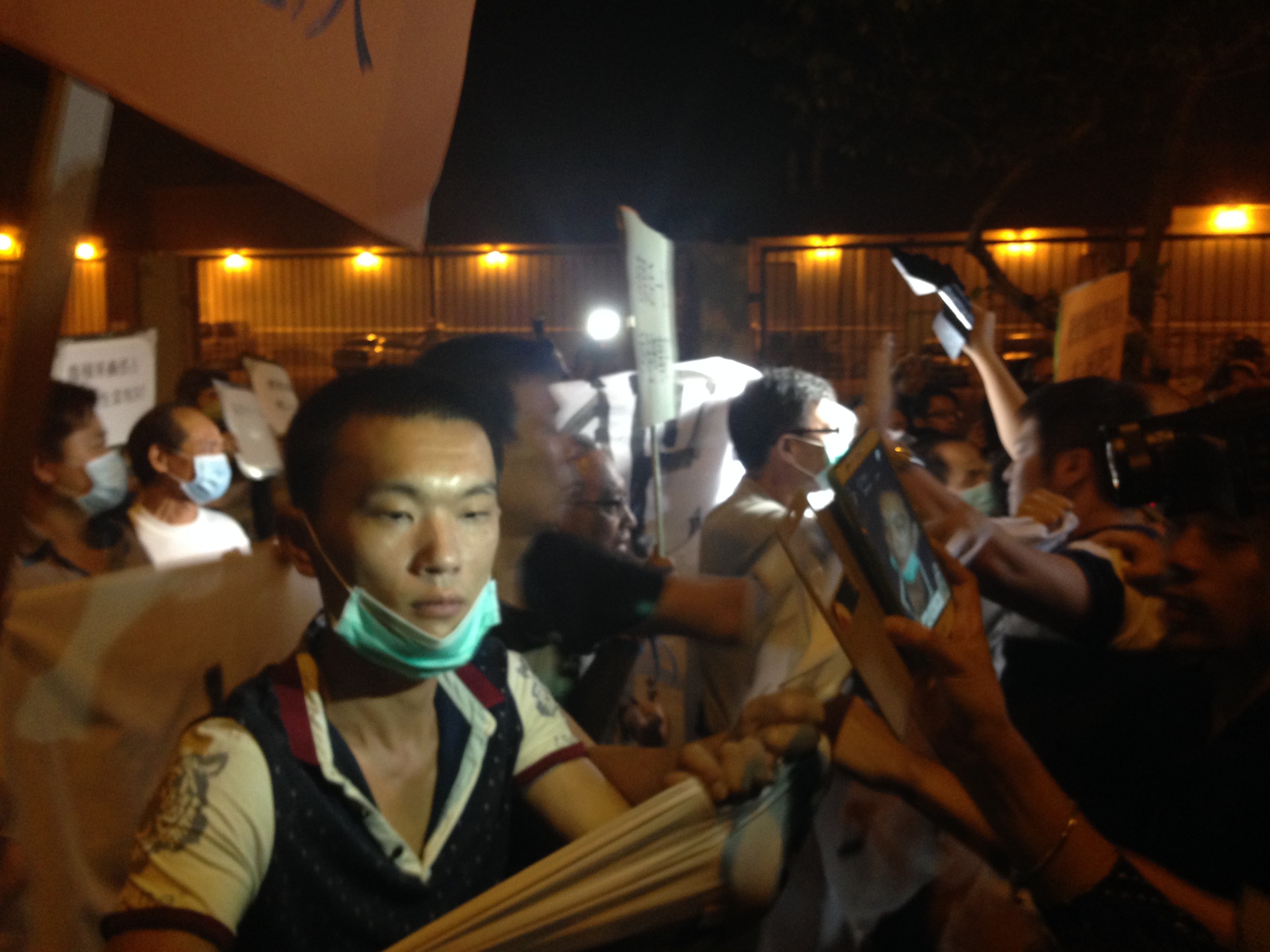 Police were forced to intervene and diffuse tensions between Apple Daily employees and anti-occupy demonstrators. Matt Sheehan/Huffington Post
Freedom of operation and distribution is what the protesters targeted on Tuesday, with anti-occupy crowds either sitting in front of delivery trucks or holding aloft banners. The young men and elderly attendees blockading the delivery truck generally sat with heads bowed, while a crowd of young Apple Daily employees taunted them and pushed flashing cameras in their faces.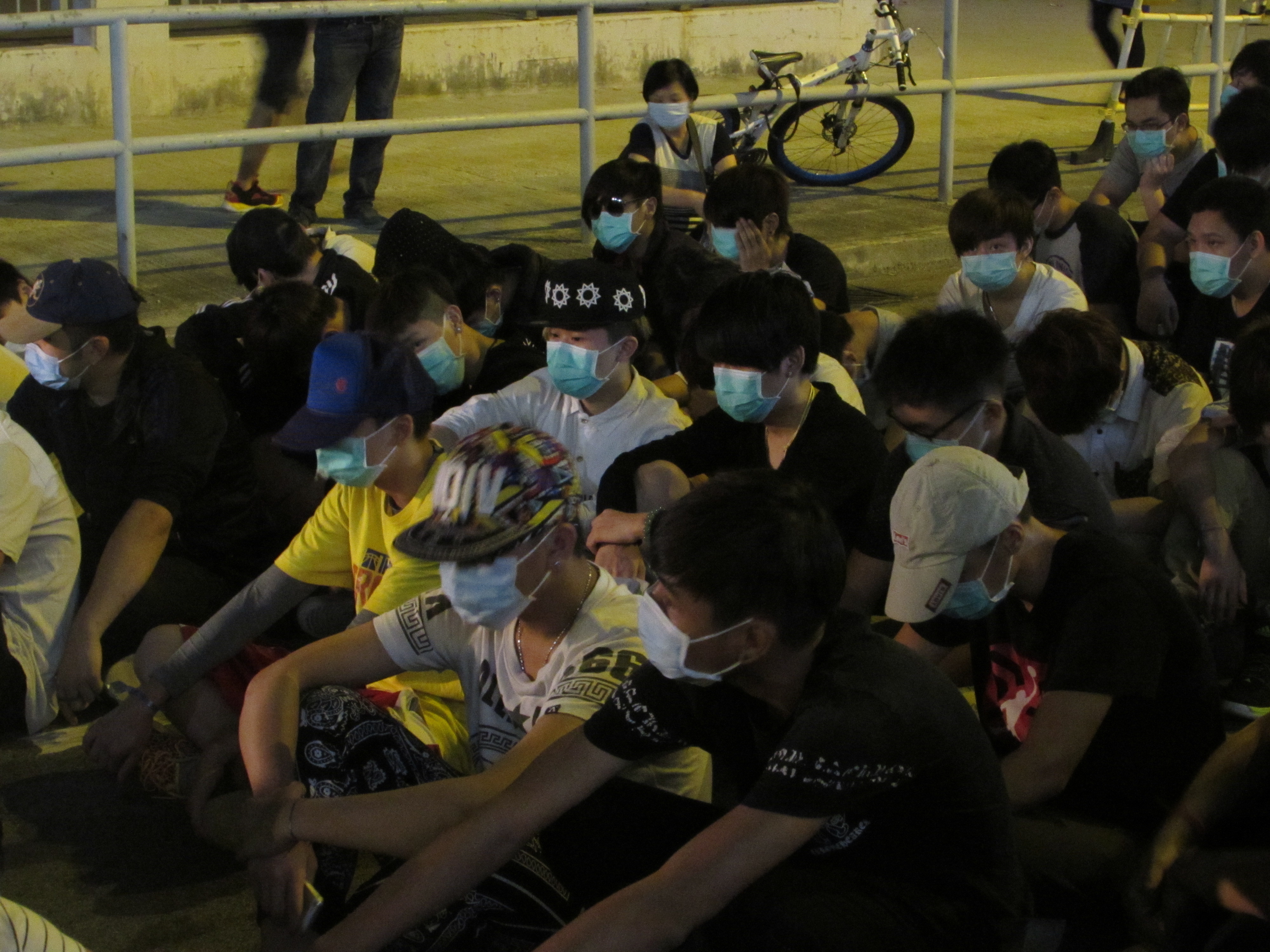 Young men in baseball caps and surgical masks blocked passage of Apple Daily delivery trucks. Matt Sheehan/Huffington Post
In recent days, the paper has used cranes to airlift newspapers over the blockades and onto delivery trucks. Though many papers still didn't hit newsstands until after 9 a.m., Apple Daily has dedicated its cover to the paper's victory over the demonstrators, all while publishing headshots of suspected paid instigators.
But not all in attendance fit the hired hand description. Hong Kong native Chan Lap Kuen organizes with a local anti-occupy group and he debated the journalists who shot questions at him. Asked whether he'd received money to attend the protest, Chan said "no" and pointed out that the questioner, in fact, was paid to be there.
"How can the occupiers say that they are for democracy when the way they pursue it is totally the opposite?" Chan asked. "How is it that the students are supposed to represent the people of Hong Kong? They're not elected by us."
Chan, 42, runs a recycling business on the northern outskirts of Hong Kong. He said his friends' fruit selling business has been hurt by the demonstrations and he remains uninspired by student calls for democracy.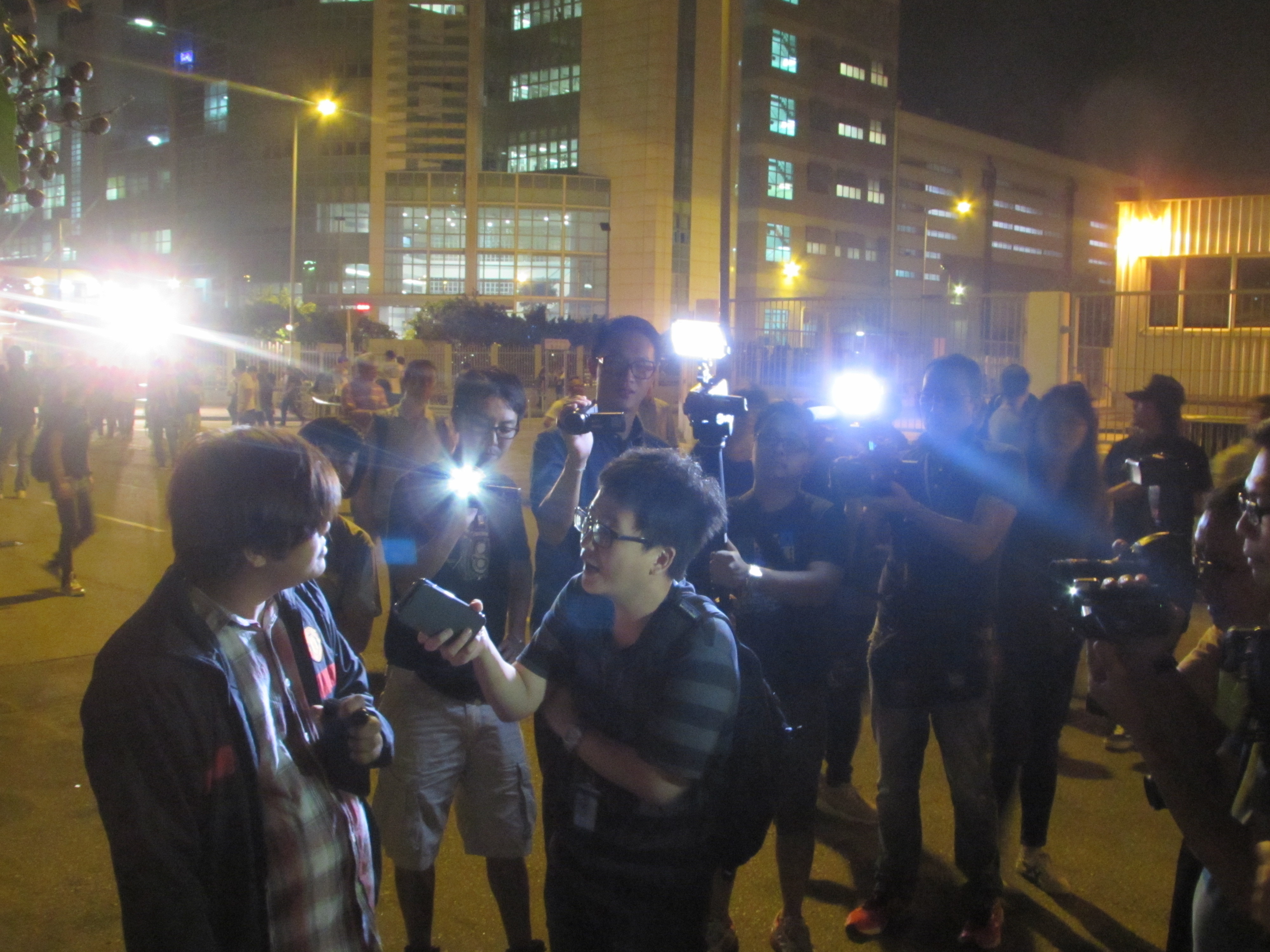 Chan Lap Kuen defended his anti-occupy positions in questioning by a crowd of journalists. Matt Sheehan/Huffington Post
"I don't care about not having democracy," said Chan. "While some countries do well with democracy, others have collapsed because of it. Just look at the former Soviet Union, Eastern Europe, and now Thailand."
While the blockade at the Apple Daily headquarters managed to hold up some delivery trucks, batches of the newspaper were showing up on newsstands by 6 a.m. Wednesday. Speaking Tuesday night, Apple Daily's assignment editor Norman Choi expressed optimism that the protests would be too costly for their alleged financial backers to maintain much longer. But he also said legitimate political debate would be welcome.
"If the protesters don't receive money to come, if it's just for their political ideals, I can respect that," Choi said.
Wayne Chang contributed reporting from Hong Kong.