HONG KONG — Hong Kong government leaders and student organizers of the massive pro-democracy protests that have paralyzed parts of the Asian hub for more than a week announced on Tuesday they would start talks on Friday to discuss the crisis.
"We agreed that the meetings should start this week," Lester Shum, deputy secretary of the Hong Kong Federation of Students, said at a press conference in Hong Kong. "We want it to be a substantive dialogue, not just a casual chat or a consultative session."
Shum told reporters he was disappointed that the talks would be limited to the current legal basis of reform. The Hong Kong Federation of Students said it was planning further civil disobedience in order to keep up pressure on the government. The group declined to offer details on the timing or nature of future actions.
A top Hong Kong official had said late on Monday that talks with the students were imminent, the Associated Press reported, but a date or agreement for the meeting had not been set.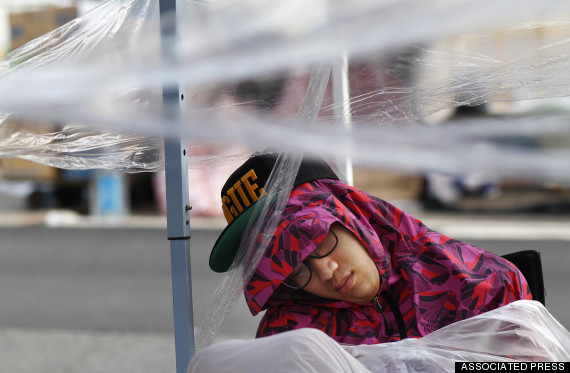 A pro-democracy student protester sleeps in the occupied areas surrounding the government complex in Hong Kong, Tuesday, Oct. 7, 2014. (AP Photo/Wally Santana)
Protesters have been rallying in Hong Kong for more than a week to demand an end to Beijing's role in the election for the city's top position. Tens of thousands of demonstrators took to the streets after Hong Kong police used tear gas last Sunday to clear the demonstrations, and protesters shut down major sections of the city. But exhaustion and a growing public backlash against the occupation have taken their toll. The size of the protests in several key locations dwindled on Monday, although demonstrators still occupied major swaths of road surrounding the government's headquarters.
Student leaders and the Hong Kong government had announced an agreement to hold talks last week, but those discussions were postponed by protest organizers last Friday when they accused the police of failing to protect students from violent attacks by members of notorious local Triad gangs. With losses to local businesses mounting and numbers of demonstrators falling, however, both government and student leaders have an incentive to come to an agreement.
Though most analysts are in agreement that Beijing will not yield to the protesters' demand for public nomination of election candidates, some pro-democracy activists hope that they can win certain concessions.
Hong Kong's Chief Executive, its top political leader, is currently selected by a committee that is widely considered to be pro-Beijing. In 2017, the election for chief executive will be the first to adopt universal suffrage. However, the Chinese government announced in August that under new election guidelines, candidates who want to contend in the 2017 vote need to be pre-screened by the 1,200-member committee, effectively barring pro-democracy candidates from participating.
Some protesters now hope they can force changes to the make-up of the nominating committee.
Hong Kong was returned to mainland China in 1997 following 150 years of British colonial rule. Hong Kong's leaders during the colonial period were appointed by London, but the agreement that brought Hong Kong back to Chinese rule stipulates the goal of elections based on universal suffrage.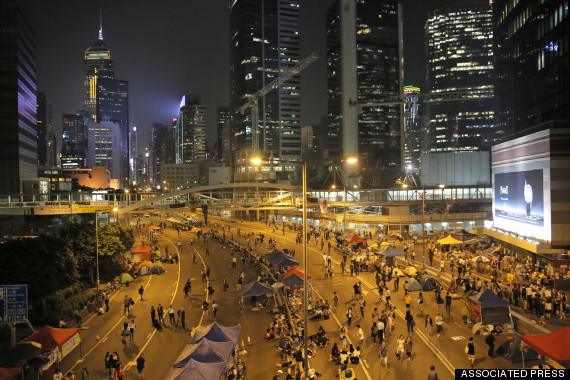 The heart of Hong Kong's business district where demonstrators are blocking streets in Hong Kong, Tuesday, Oct. 7, 2014. (AP Photo/Vincent Yu)
Wayne Chang contributed reporting from Hong Kong.