HONG KONG — Representatives from trade unions, women's groups and left-leaning political parties marched on the house of Hong Kong's Chief Executive C.Y. Leung on Wednesday after he told media outlets that free elections would give poor people too much power.
On Tuesday, Hong Kong's Chief Executive said in an interview that Hong Kong required a nominating committee to screen electoral candidates, claiming that if the city allowed the direct civil nomination demanded by democracy protesters, "you'd be talking to the half of the people in Hong Kong who earn less than $1,800 a month."
Several hundred marchers railed against Leung's comments and a system they claim is rigged to favor business interests, marking a concerted effort to build support among Hong Kong's working class for the student-led democracy protests that have paralyzed parts of the city for weeks.
"The rich men and most of the capitalists use their power and money to control our Hong Kong economy," said Ray Cheng, a student who was at the demonstrations representing a group that assists low-income workers. Cheng carried a sign decrying the "bloodsucking capitalists" who he says hold sway over Hong Kong's political decisions.
"We come from the lower class, low-income class, and we are oppressed by them," said Cheng.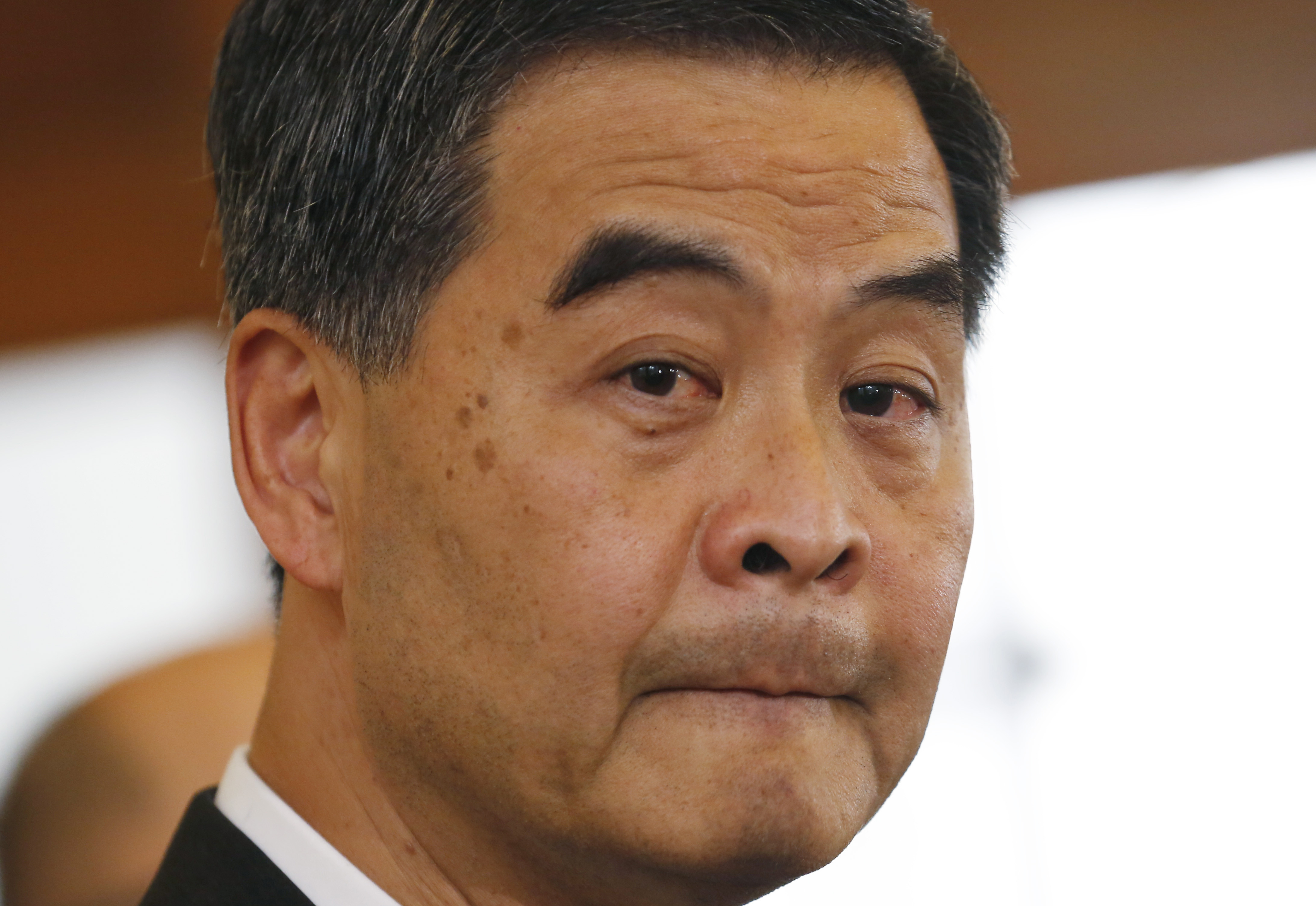 Chief Executive C.Y. Leung's call to protect Hong Kong politics from the city's low-income residents has given democracy demonstrators an opportunity to appeal for support from working-class Hong Kong people. (AP Photo/Kin Cheung)
Democracy protests have gripped the city for weeks in response to restrictions on Hong Kong's 2017 elections for chief executive, the highest post in the semi-autonomous Chinese city. The mainland Chinese government has agreed to allow universal suffrage for the elections, but has required that all candidates be approved by a 1,200-member committee that opponents say is firmly in the hands of the Chinese central government.
Leung defended the functions of that committee, which is made up of representatives from different industries and sectors of society, claiming that it prevented elections from becoming "entirely a numbers game."
The comment has given pro-democracy demonstrators an opportunity to link their cause to the struggles of low-income residents, many of whom blame the protests for disrupting their lives and cutting into their earnings. Ongoing protests have divided the city, with many small business owners reporting significant losses due to traffic snarls and reduced tourist flows.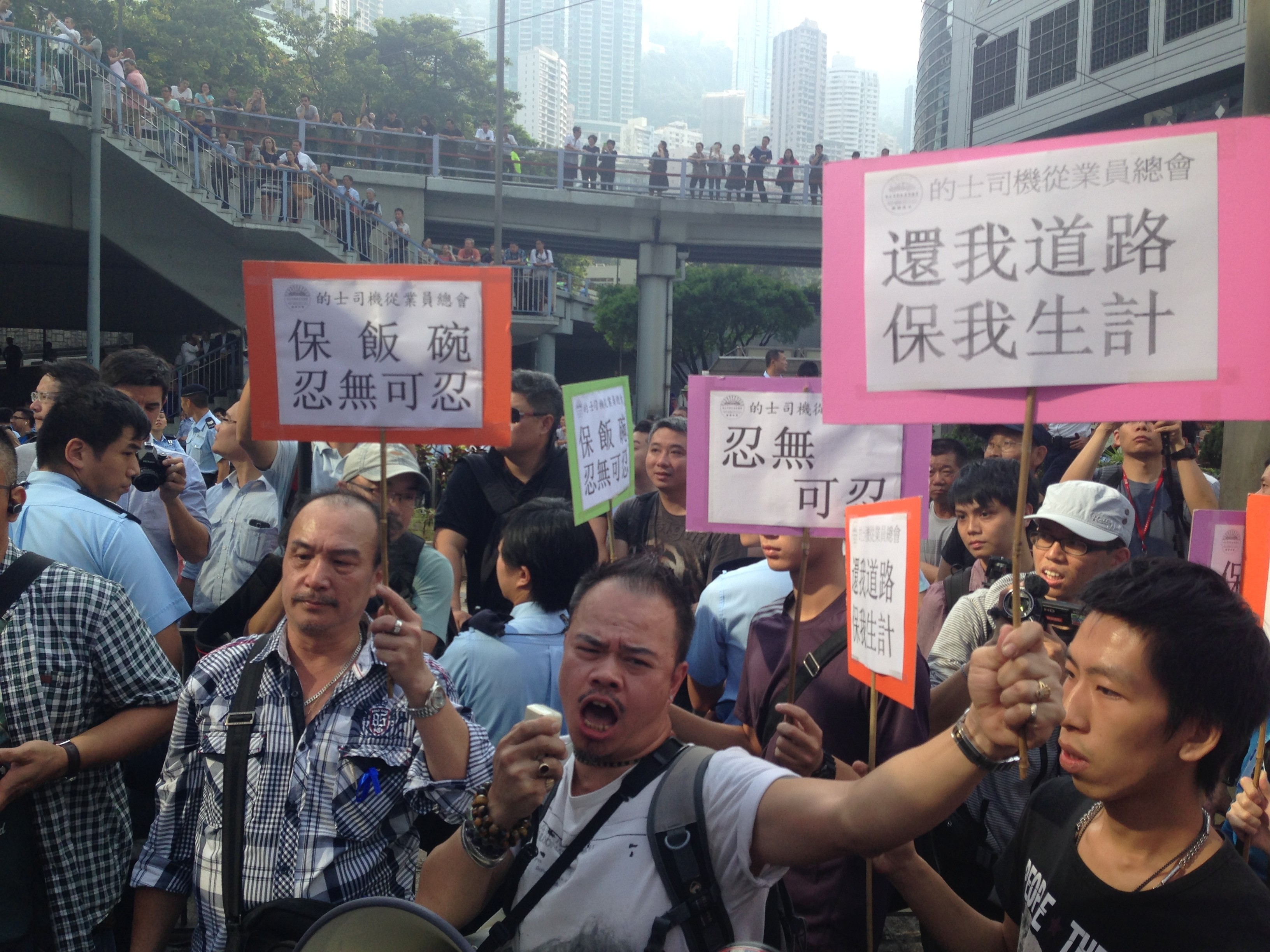 Hong Kong taxi drivers have held anti-occupy protests, claiming that the occupation has cost them over 30 percent of their income.
"[Leung's comments are] a good chance for us to state the connection between democracy and the grassroots," said 20-year-old Ma Wan Ki, an activist with the leftist League of Social Democrats political party. "We are sorry for the inconvenience [to working people], but at the same time we hope that they can understand that the government should be blamed for causing the suffering they are experiencing. It's the government who stands by rich people; it's the government who makes our lives so insecure."
Several protesters argued that the current political arrangement encouraged collusion between business interests and politicians. They cited government land sales to developers as a cause of soaring housing prices, and lamented an inadequate pension system.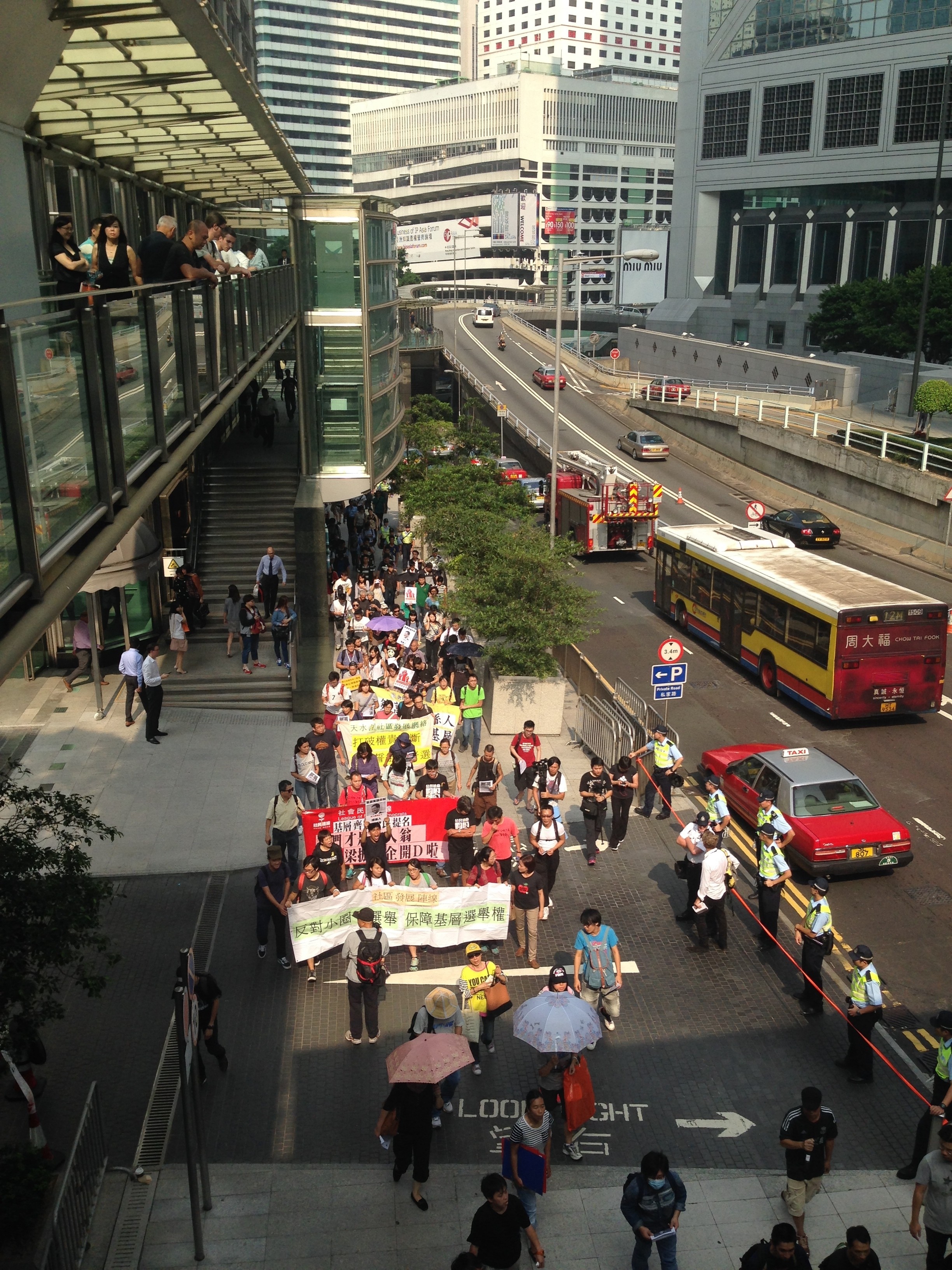 Several hundred demonstrators kept to the sidewalks while marching from the main occupation site to Chief Executive C.Y. Leung's residence.
A few hundred marchers joined the protest as it wound its way up from the main occupation site to Leung's gated mansion on a hill. Demonstrators stuck to the sidewalks and avoided any confrontation with police, who guarded the protest route and the chief executive's mansion.
Organized by traditional activist groups such as the Hong Kong Confederation of Trade Unions and the League of Social Democrats, the event lacked some of the spontaneity that has characterized the pro-democracy protests known as the Umbrella Movement. Organizers stood at the gate to Chief Executive Leung's mansion, delivering speeches and leading call-and-response chants with protesters, who held up printed signs.
Hong Kong's chief executives reside in the luxuriously adorned mansion previously inhabited by Great Britain's colonial governors to the city. Great Britain returned Hong Kong to mainland China in 1997 after 150 years of colonial rule, with China granting Hong Kong semi-autonomous status under a "one country, two systems" model. That arrangement made Hong Kong a part of China — one country — but promised that the city could work toward democracy never achieved under British rule and maintain personal liberties not allowed on the mainland — two systems.
The mainland Chinese government says that it has followed through on that promise with universal suffrage for the 2017 elections, but protesters say that only public nomination of candidates can be called "true universal suffrage."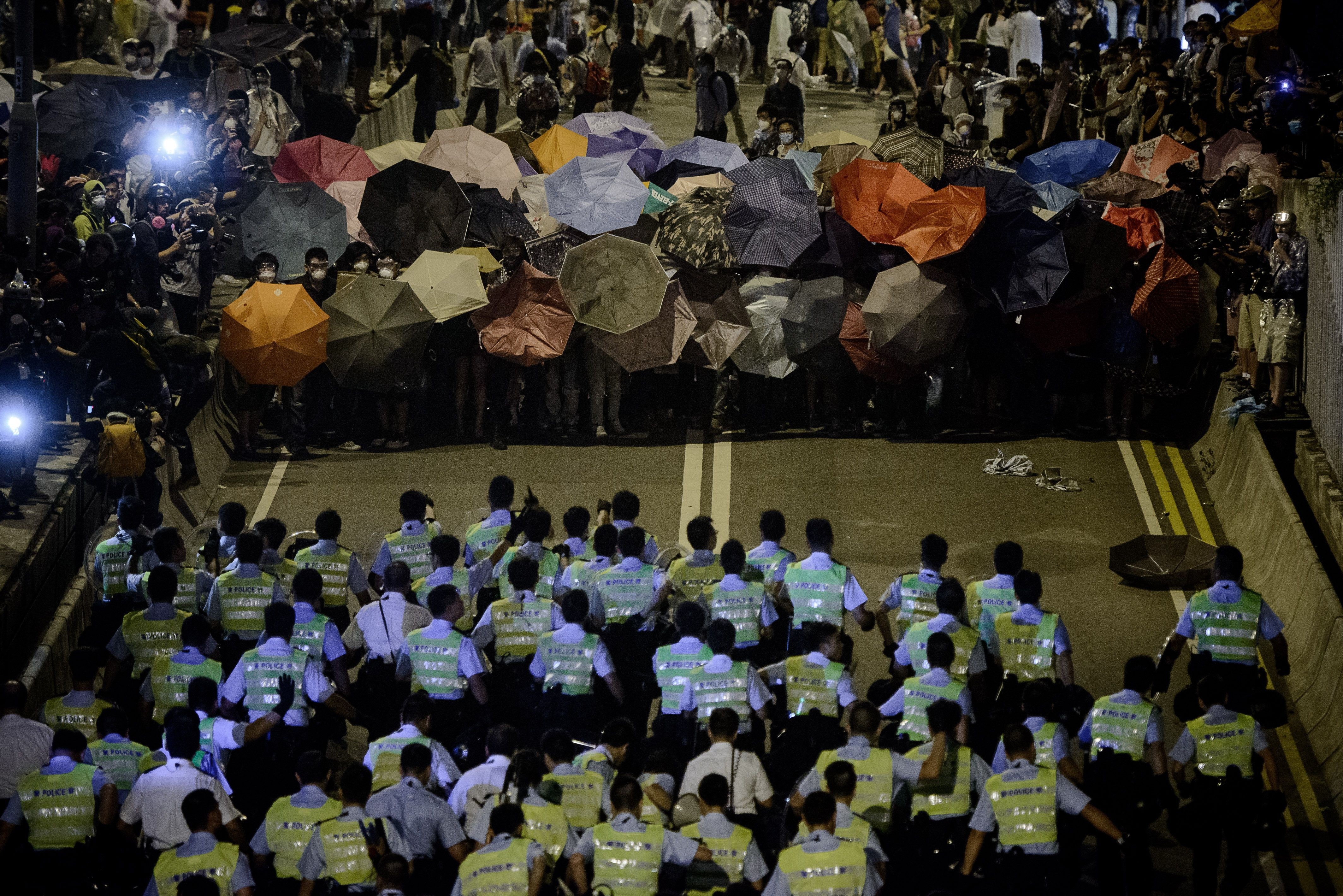 Pro-democracy demonstrators have occupied city streets and faced off with police for over three weeks. (PHILIPPE LOPEZ/AFP/Getty Images)
Protests demanding public nomination of candidates have drawn tens of thousands out to occupy city streets, but also elicited a backlash from many Hong Kong locals who say their lives are being disrupted for a political pipe dream. Taxi drivers, restaurant owners and tourist vendors reported 30 to 50 percent drops in business during the early weeks of the protests, as all-important income from mainland tourism fell and many Hong Kong residents chose to avoid the traffic-snarled streets.
Participants in Sunday's protest acknowledged the toll demonstrations have taken on many local businesses, but hoped that the city's low-income population could see the potential long-term gains from a more democratic distribution of power.
"Some of the anti-protest people … have their reasons: They have to earn their living, they have their lives, and I agree that the protests are affecting their lives," said Cheng, the student from a group supporting low-income workers. "But I think that's just short-term. The long-term effect is real democracy. They can choose the people that represent them."