ISTANBUL — Following international outcry over the Syrian regime's tactical starvation of civilians in Madaya, there seemed to be a glimmer of hope this week. Aid groups managed to gain access to the besieged town and its some 40,000 people through a complicated deal negotiated between President Bashar Assad's government, rebel fighters and other actors.
But the operation was far from easy. As aid vehicles made their way toward Madaya on Monday, another convoy was en route to the Shia-majority towns of Foua and Kafraya, besieged by rebels who have blocked food, water and medicine from some 20,000 civilians there. That's when disaster nearly struck.
One of the aid vehicles got stuck in the mud during bad weather on the rural roads to Foua and Kafraya, according to a spokesperson for the International Committee of the Red Cross. And everything ground to a halt.
The fates of some 60,000 people, some of them at death's door, depended on coinciding aid deliveries to the regime- and rebel-besieged areas. That was the deal, synchronized to the very last minute, said ICRC's Pawel Krzysiek, who took part in the aid delivery on Monday.
"We worried that in such complicated and sensitive operations, something [would] go wrong," Krzysiek said. "You're not worried for yourself, but for the people who are waiting for this aid and need it so much."
That something as trivial as a truck stuck in the mud could threaten an entire humanitarian mission neatly encapsulates the overwhelmingly complex nature of aid efforts in besieged Syria.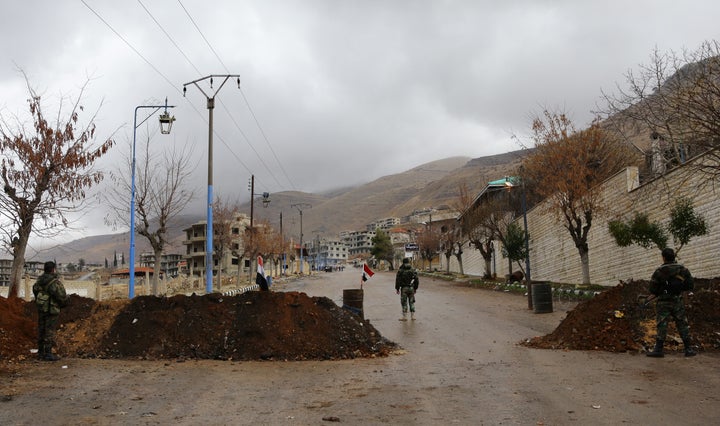 It took a while, but the vehicle was finally pulled out of the mud and the convoys were able to simultaneously deliver aid to Madaya, Foua and Kafraya.
Monday's operation mainly focused on providing medicine, surgical kits, blankets, baby milk and food.
Aid groups including the United Nations, ICRC and the Syrian Arab Red Crescent also teamed up to deliver wheat flour, clothing and hygiene products to the towns on Thursday, and to transport nutritionists and health teams to the region to care for people. Some civilians have been subsisting on meals of water, salt, sugar and cooked leaves.
The Syrian Observatory for Human Rights, a monitoring group based in the U.K., says 27 people have died in Madaya due malnutrition and lack of medical attention. At least 13 people have died in Foua and Kafraya for similar reasons, according to the group.
Only 10 percent of U.N. requests to deliver aid to besieged areas, as well as to what the U.N. calls "hard-to-reach" areas, have been approved in the past year.
Meanwhile, across Syria, hundreds of thousands of people are without aid. An estimated 400,000 people live in besieged areas where they are routinely denied basics like food, water and medicine. Some 4.5 million live in what the United Nations considers hard-to-reach places.
Five years into a civil war that has killed at least 250,000 people, many Syrians are denouncing the international aid community, particularly the United Nations, as hopelessly ineffective.
BBC pictures showing Syrian Arab Red Crescent trucks with food aid for Madaya #Syria pic.twitter.com/cqaHjy8aM8

— Richard Colebourn (@rcolebourn) January 11, 2016
More than 100 community leaders and opposition figures in Syria signed an open letter on Thursday addressed to Stephen O'Brien, the United Nations' under-secretary-general for humanitarian affairs. The United Nations has turned from a "symbol of hope" to a "symbol of complicity," the letter argues.
"Your colleagues in Damascus are either too close to the regime or too scared of having their visas revoked by the same powers that are besieging us," the letter says, addressing O'Brien just a week ahead of planned Jan. 25 peace talks in Geneva between Syria's warring parties. "Those whose loved ones die from malnutrition-­related illnesses or a lack of basic medical care will never forgive the UN staff who sit minutes away in luxury hotels, within earshot of the bombings."
Aid groups say they're doing their best in often calamitous scenarios, where various forces vying for power and territory purposely starve civilians and bar humanitarian assistance.
"We're not an army," said Linda Tom, spokeswoman for the Syria program at the U.N.'s Office for the Coordination of Humanitarian Affairs, on Monday. "We don't have any way to work without the consensus of all parties to the conflict. We can't go into an area if armed groups do not want us in there."
Two humanitarian operations in one week within besieged Syria could be a step in the right direction, and aid organizations hope to complete a third delivery this coming Sunday. But it remains to be seen whether aid will be allowed on an ongoing basis in Madaya, Foua and Kafraya for the long term — even though such humanitarian access is clearly granted by international law.
Messy politics could easily get in the way of lifesaving aid, as has been the case so many times before.
"It's not South Sudan, where you take a truck and bring goods or load your plane and fly over a place to drop food," Krzysiek said. "You have to meet complicated administrative procedures and negotiate to deliver aid and obtain security guarantees of different parties. You have to notify them of movements and make sure there won't be combat."
"Many people have died in action [in Syria] while doing their heroic humanitarian duty," he added. "It's just unacceptable."
This article has been updated with information about a third aid delivery to be carried out on Sunday.
Read more: 
Syria's Hunger Crisis Goes Beyond MadayaStarving Syrian Town Where People Are 'Walking Skeletons' To Get AidStarving Syrians Use Tunnels To Escape Besieged Town