COPENHAGEN, Denmark — On a sunny September afternoon last year, the Danish consultant and writer Lisbeth Zornig witnessed something she had never seen before. Hundreds of refugees carrying kids and a few belongings were walking on the Danish highway on their way to Sweden, Zornig told me. She swung her car to the side of the road, opened the door to a Syrian family with two 5-year-old twin girls and, with her husband, helped them reach their relatives in Sweden.
That September day, Zornig embarked on a new route: Illegal activism to help refugees and oppose the Danish government's strict asylum laws. And hundreds of thousands of Danes from students and doctors to public employees and policemen have followed her example in a fresh uprising tearing this Nordic kingdom apart.
A new movement called "Venligboerne," or "Kind Neighbors," has mushroomed via social media from town to town across the country and now counts some 150,000 members. The core principle of the organization is to be kind to others, and many citizens have joined to help and befriend refugees. Venligboerne is just one of several organizations like Fair Welcome and Vinkegruppen crystallizing the mood in Denmark.
The refugee crisis is balkanizing both the continent and the individual countries from the inside.
Last year, around 20,000 people sought asylum in Denmark. In response, the center-right party Venstre that leads the government has initiated controversial initiatives to lower the number of new arrivals. A new law allows authorities to seize valuable items, in some reports including jewelry, and lengthens the amount of time from one to three years that admitted refugees must wait to sponsor close relatives for immigration. The government's strong rhetoric and strict immigration laws are pitting followers and opponents against each other, unleashing a climate of almost all-out war.
The Danish authorities indicted the Zornig couple on human smuggling charges for helping the refugees reach Sweden. If convicted, they face a fine of up to 25,000 kroner, or $3,700, each. But that's just the money, Zornig told me.
"What has really shocked me is the hatred that has been directed against me, threatening even my family on social media."
Zornig has even prepared an escape route from her home. Her experience epitomizes the situation in Denmark right now, and in Europe in general, where the refugee crisis is balkanizing both the continent and the individual countries from the inside.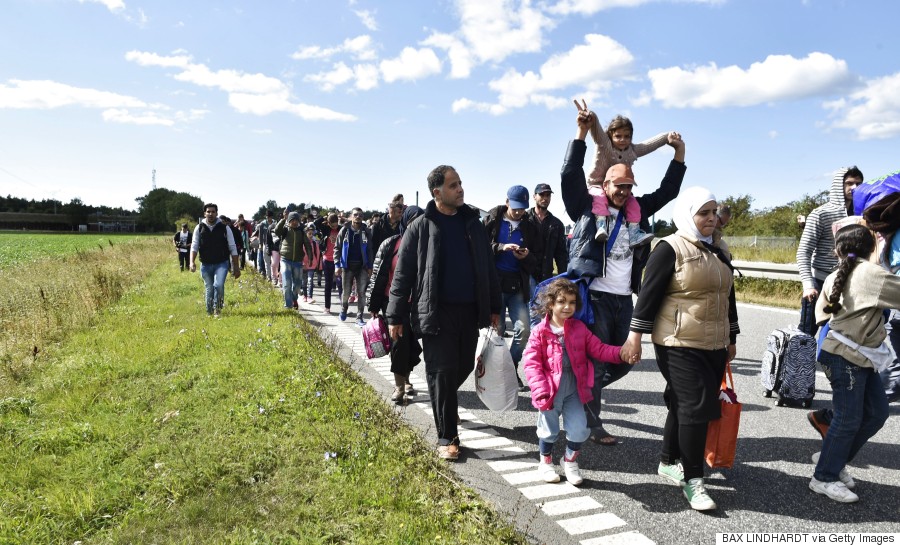 Migrants and refugees, mainly from Syria, walk on the highway 12km north of Rodby, Denmark to Sweden on September 7, 2015. (BAX LINDHARDT/AFP/Getty Images)
A Strong Polarization
"We are witnessing a strong polarization," Garbi Schmidt, professor of intercultural studies at Roskilde University Center, told me. "Venligboerne and like-minded movements are very strong and rising. But so is the national-conservative camp led by the Danish People's Party." The two camps both see themselves as defenders of moral imperatives.
"Venligboerne and other groups define themselves as defenders of the principle that a human being is a human being and that we are obliged to help people who suffer," Schmidt added. "To the opposing group, the national-conservatives, the moral imperative is that you must protect your people, your country. If flooded by foreigners, you did not protect it, their thinking goes."
But the new environment of activism and philanthropy is even attracting members of the nationalist Danish People's Party.
Simon Alexander Vanggaard Nielsen, a teacher and member of the city council for the Danish People's Party in Ikast-Brande, made the news when he decided to collect toys for refugee children.
"We collected a lot of toys and gave them to refugee children for Christmas," he told me. "Philanthropy is an important focus for our school."
A local chairman of the Danish People's Party in January suggested in his Facebook update that members of Venligboerne should have their heads shaved — like the Danish women who slept with German soldiers during World War II.
In the island Langeland in southern Denmark, city council member Elisa Hansen recently quit the Danish People's Party and joined Venstre because she wanted to attract refugees to the island.
"In my opinion, we need to work with the reality that refugees are here instead of against it," she told me. "Refugees create jobs in Langeland, which we need. The Danish People's Party told me to leave the party because of this — and I did."
Tiny Langeland, with around 12,000 people, boasts 250 associations in the civic society and is an expression of the national trend of citizen activism that are both for and against the refugees. So is Nyborg, a town with some 15,000 inhabitants torn by the influx of refugees.
A local Nyborg chairman of the Danish People's Party in January suggested in his Facebook update that members of Venligboerne should have their heads shaved — like the Danish women who slept with German soldiers during World War II humiliatingly were shaved as punishment after the war. The mentality of civic war in the local community stirred thousands of new members to join Venligboerne. "The new thing is that the inflow of new members are not your usual activists," Janne Andersen, a journalist from Nyborg, told me. "They are ordinary people, with families, jobs and houses. They just had enough."
"We just had enough" is the refrain of Venligboerne and other organizations: they are fed up with the foreigner-skeptic rhetoric and political acts of the government.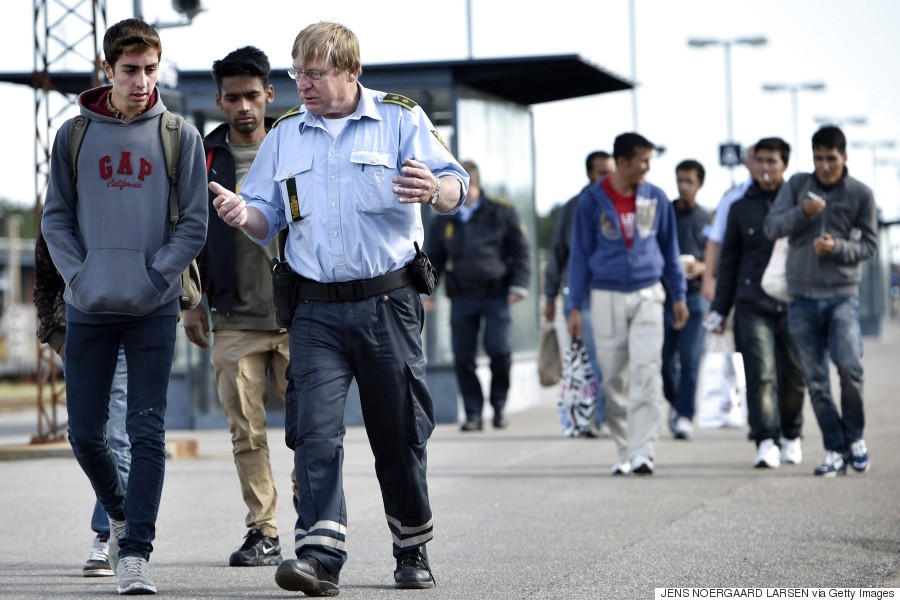 Refugees, mainly from Syria, speak with a Danish policeman after arriving in Rodby, Denmark, from Germany on September 7, 2015. (JENS NOERGAARD LARSEN/AFP/Getty Images)
"We are facing a new skepticism towards the role of the state in both camps. People are taking things into their own hands, like they did to help Jews escape to Sweden during World War II," Professor Garbi Schmidt said, referring to the escape of the Danish Jewish population from the Nazis to Sweden in 1943, a source of national pride.
One of the founders of Venligboerne, the writer Mads Nygaard, described Venligboerne and the new activism as a "collective backlash" to the policies of the government.
"I wanted to change the negative attitude towards refugees in politics and media," he told me. "Meeting refugees inspired me. It was a gift to hear their fascinating human stories — so full of life and hope. They are proof of the human will to survive. We created Venligboerne as a forum for refugees to share all their amazing resources."
As one of his first acts for Venligboerne, in 2014 Nygaard brought a Syrian refugee, Fawaz T. Alzatto, to a Danish school and said the following:
Fawaz is a school teacher. Many of his colleagues had been shot in Syria and his school was bombed. When we were at the school in Hjørring and the students streamed out of the buildings for a break, he started to cry. 'This is the music of the school,' he exclaimed. That was a defining moment for me. Of course Fawaz should not be left in a camp — but enter a school. That was his oxygen.
Historically, movements in civic society have had strong potential. Before women achieved the right to vote, they were considered an outsider group with no rights.
'Meeting refugees inspired me. … They are proof of the human will to survive.'
"Over time, groups like Venligboerne can change things," Liv Egholm, associate professor at Copenhagen Business School, told me. "Societies, have insiders who enjoy solidarity from other insiders, and outsiders who don't."
"Strong civic forces and the market — big companies who want labor — can push outsiders towards becoming insiders in society," Egholm said. Large companies like Microsoft and Grundfos have sided with Venligboerne in welcoming refugees, fearing the government's strong rhetoric will scare talented labor away from Denmark. "But the fight is dramatic," Egholm added, "because the opposing forces are also strong."
Fawaz T. Alzatto, the Syrian teacher, has had his share of drama and hate mail since Venligboerne brought him to the Danish school. But it hasn't stopped him, he told me. In June of last year, he moved to Hobro, a town with 11,000 inhabitants in northern Denmark.
As he explained to me in Danish: "In Hobro, there was no local Venligboerne group, so I created one. Today we have more than 440 members, 70 percent Danes."
When he spoke to me, he was on his way to meet a local scout leader.
"Our aim is to build bridges between newcomers and locals," he said. "I can tell you, I have a friend — a home — in almost every city across this kingdom."